#BlackPodcastWeek starts this week (March 20-26)—so in celebration, we've decided to give a short history of this exciting new medium for the culture, and share a few of our favorites. Check it out below!
The black influence is so real and has been real for the last century or so. But right now? It feels like right now our influence on mainstream media is as prevalent and powerful as ever.
Fashion trends like cornrows and bantu knots have made it to international runways (despite feeling more appropriated than influenced). Television programs like Black-ish, Insecure and Atlanta have taken America by storm. Movies like Hidden Figures and Get Out are crushing expectations with their box office dwarfing their budget. Even earlier this year at the GRAMMYs during Adele's acceptance speech for Album of the Year, she spent much of her acceptance speech gushing about the impact that Beyoncé and her Lemonade album had on her life and her friends' life.
One of the finest moments came just a few weeks ago during the Oscars, when Moonlight won the award for Best Picture, the first film to win featuring an all black cast. It's truly a beautiful renaissance that doesn't just happen at the top, but it trickles down and inspires. Cue your favorite black podcast.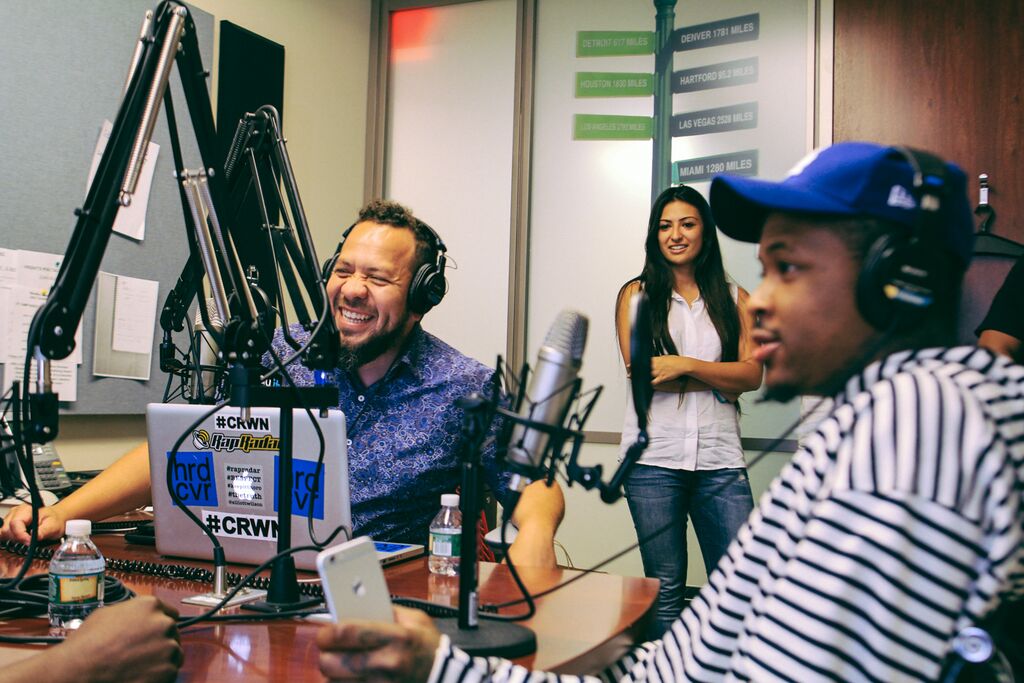 YG on Rap Radar, hosted by Elliott Wilson and Brian "B.Dot" Miller
Almost running parallel to this explosion of black influence in the arts is a social media revolution. Beyond television, music and fashion, social media has become the pulse over the last decade—constantly pumping news and information to the masses in the most accessible way. But one medium that has experienced serious growth over the past few years has been the podcast. Podcasts are the new furbies. Or pogs. Or Desiigner. We don't know how long they plan to last, but they're here for now. Within the last couple of years, their popularity has surged within the social and business realm, with over one-third of Americans listening to podcasts in 2016—triple the amount from when the concept was originally introduced in 2006.
But why are more people listening to podcasts? Especially when podcasts have been around for over a decade. It feels more on the side of convenience and the sign of the times. As long-form blogs have moved to lists, album downloads have moved to streaming, the general public absorbing knowledge and listening to different experiences through podcasts just feels like the next natural route. It's not only opened up a new realm of engagement and within this new realm—black podcasts have been flourishing.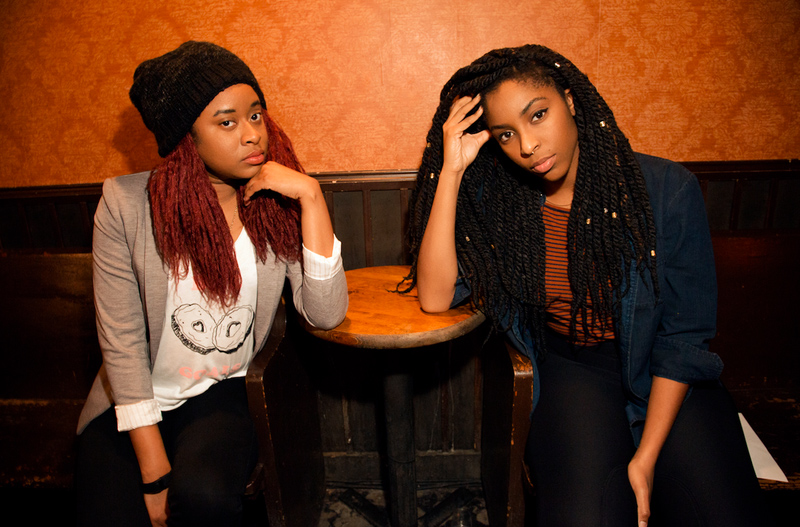 The 2 Dope Queens podcast, run by Phoebe Robinson and Jessica Williams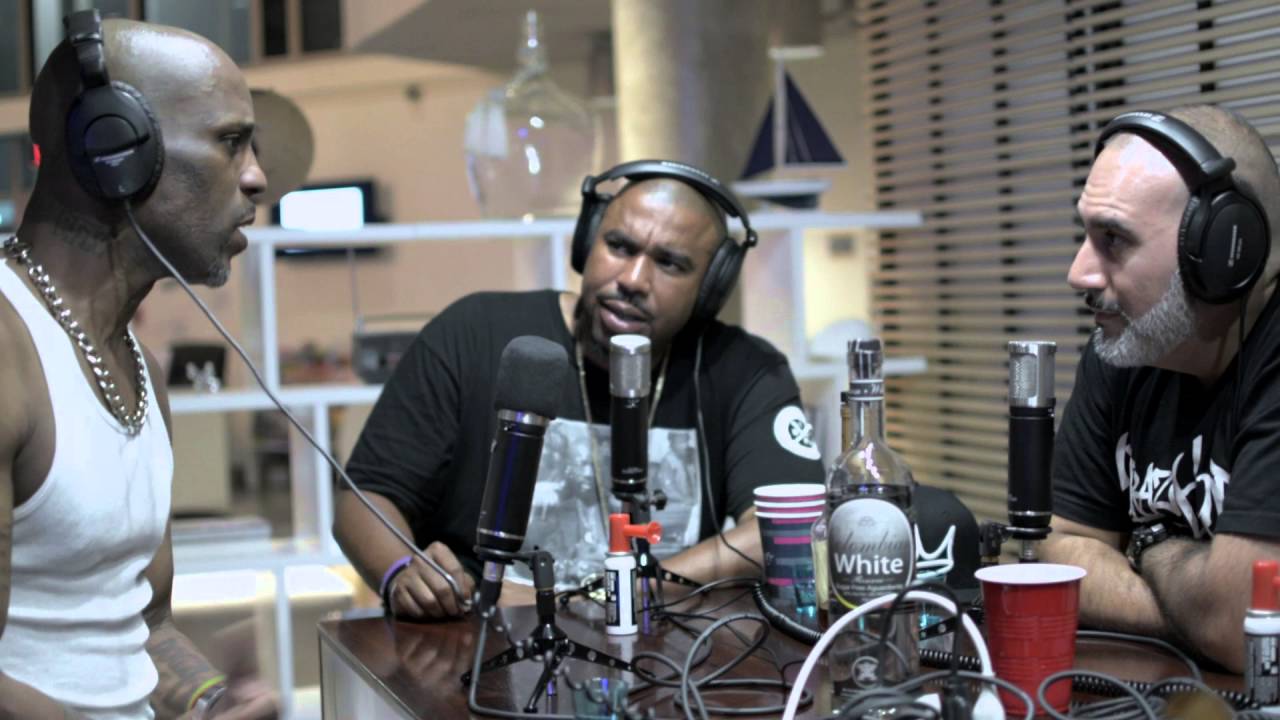 DMX on N.O.R.E. and DJ EFN's Drink Champs, "the most professional,
unprofessional podcast"
Black podcasts have become a vessel for communicating African American culture over the last five years. While previously events within of our culture was only delivered through photos, books, and films, podcasting has seemingly become a conduit to deliver the black experience in real-time by real, relatable people. It's become sort of an unfiltered medium to get thoughts across in the black community, without much. Also there's a sentiment about the do-it-yourself aesthetic of creating a podcast that feels very black; where opportunities may not have afforded for us, we've created our own. We've kicked in the door and through smart, thrilling, and entertaining conversations have transformed relative unknowns into the new voices of our community.
"There's a sentiment about the do-it-yourself aesthetic of creating a podcast that feels very black; where opportunities may not have afforded for us, we've created our own."
The Read, hosted by Kid Fury and Crissles, has reached cult status in record time according to an article in Business Insider. Their brutally honest brand of comedy and social commentary ranges from running through the follies of Love and Hip Hop stars to political and racial issues that affect the black community. Their dedication and strong fanbase has garnered them over 250,000 weekly listens, and that's solely on the strength of their personalities with only a handful of guests appearing in the show's four year history.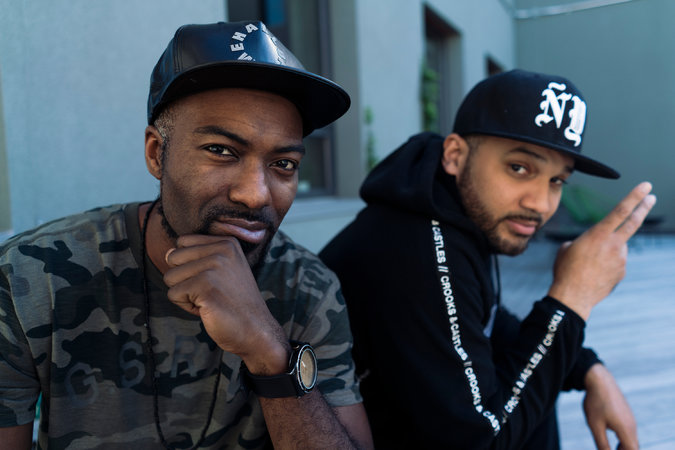 Desus and Mero of Bodega Boys
Another podcast whose popularity rests solely on the morals of their own entertaining-but-crude personalities is the critically-acclaimed Bodega Boys, featuring Twitter-personalities-turned-late-night show hosts Desus Nice and The Kid Mero. Originally the product of Complex Media under the title Desus vs. Mero, they've since expanded their "extremely brolic brand" to MTV2's Guy Code and Uncommon Sense before reviving their podcast series under the sponsorship of Red Bull and eventually scoring a late night show on VICELAND (Desus and Mero). Nothing is safe from their reach, making light of situations like the "President Cheeto" Donald Trump and the consistent woes of the NY Knicks.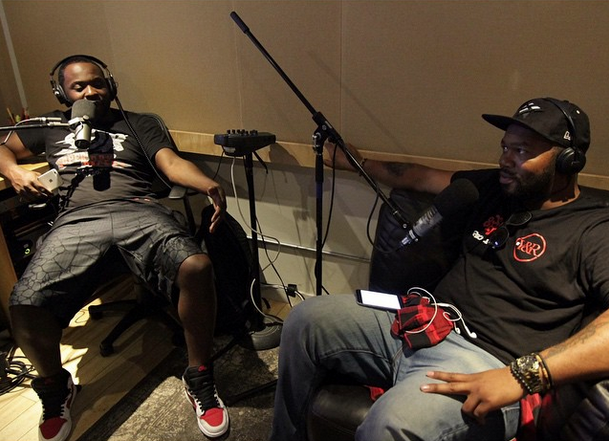 Taxstone's Tax Season, BlogXilla episode
But quite possibly one of the most controversial yet prominent figures in today's very black spectrum of podcasts has to be Taxstone. Through an appearance on Charlamagne Tha God's The Brilliant Idiots podcast and the backing of Combat Jack's Loud Speakers Network, Tax Season was born and its success was immediate. Through the eyes of fans, Taxstone represents one of the most authentic street characters-turned-borderline journalist. His controversial street experiences have only added to his allure, and he's arguably introduced the streets to podcasts—tapping into a whole new market. Taxstone's brand of street authenticity has caught the eye of many and has garnered him interviews with the likes of Beanie Sigel, The LOX, Meek Mill, Jeezy, Fat Joe, Remy Ma—some of whom wouldn't trust the standard journalist who might benefit from manipulating quotes for a story. Despite his current setbacks, which includes him being indicted on weapon charges after his initial arrest in January, his reach and impact in a short amount of time has been undeniable within black culture and hip-hop culture.
Hip-hop radio was previously successful at documenting hip-hop culture, but over the last twenty years that effort has dissolved in the way of big business. Ratings, ads, and analytics have been pushed to the forefront in the path of meaningful, engaging conversations highlighted with awe-inspiring music. But podcasts—while slowly emerging as a business themselves, feels more liberating without the bounds of structured business protocol.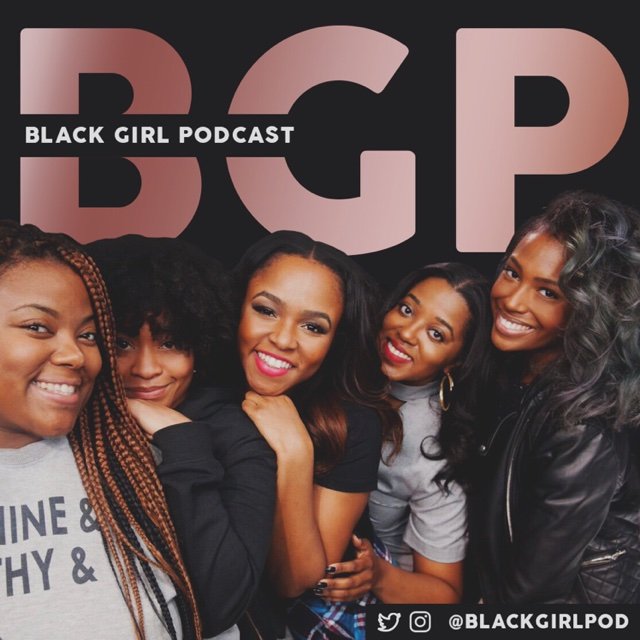 Black Girl Podcast, hosted by Scottie Beam, Gia Pappers, Sapphira, Bex, and Alysha P, who all met and became friends at iconic hip-hop station Hot 97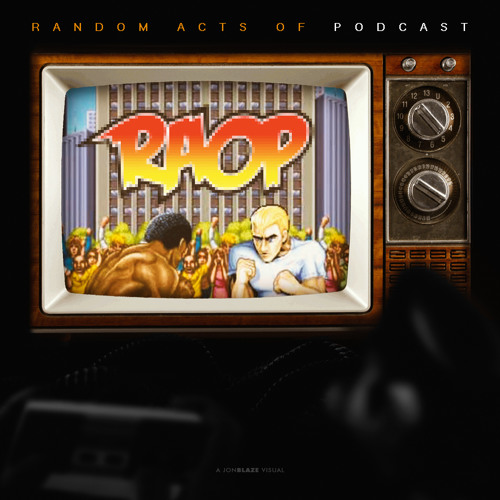 Random Acts of Podcast, broadcasting from Jacksonville
Gripping conversations featuring black female empowerment and unity as told on the Black Girl Podcast wouldn't be possible, nor would the comedic, satirical takes on urban pop culture of Ampaveli and Devin Davinci on the Random Acts of Podcasts (recently forming a full bracket dedicated to fictional "Bitch Ass Niggas" including Eddie Winslow, Goku, Frank Mitchell and Air Bud). The New York Times's Still Processing podcast gem features writers & critics Wesley Morris and Jenna Wortham having much-needed conversations from our point of view on the full spectrum culture. The 4CAST, featuring three young creatives in Nelson, Rob, and Steve are positioning themselves to be another breakout success from The Bronx. Justin Davis's Voice of the Voiceless podcast continues to be a conduit for stimulating and controversial conversations about current music to the masses. No matter the scale—whether it's big or small, the emergence of black podcasts in has provided new voices and opportunities for African Americans.
The black experience is currently making strides in all forms of media from television to film to music and the arts. Somewhere within that spectrum, the contribution of black podcasts over the last couple of years have added to the value. It's opened up a conversation and added a different perspective on politics, technology, music, pop culture, lifestyle, comedy, video games, and just about everything else. The black experience is as significant as it's ever been, and podcasts have added to that.
***
Let us know what you're listening to in the comments. Jameel Raeburn's current black podcast queue:
2BELTZ (New episodes every Sunday)
The Read (New episodes every Thursday)
Voice of the Voiceless Podcast (New episodes every Friday)
Random Acts of Podcast (New episodes every Thursday)
The Sunday 4Cast (New episodes every two weeks)
Bodega Boys (New episodes every Friday)
Black Girl Podcast (New episodes every two weeks)
Drink Champs (New episodes every Friday)
The iLLogical Sense Podcast (New episodes every Monday)
2 Dope Queens (New episodes every Tuesday)
The Combat Jack Show  (New episodes every Tuesday)
Tax Season (Currently on hiatus)