Since taking the dance world by storm—with a succession of releases on mentor Dennis Ferrer's Objektivity label, as well as collaborative work with Seth Troxler on Tuskegee—Stevie Jr. and Chris (better known by their fans as The Martinez Brothers) have made it their mission to skillfully represent the New York house sound that has brought them to the foreground of the electronic scene, one that has largely ignored its black and brown origins. Home grown natives of the same musical tradition that birthed Fania, Masters at Work, and Paradise Garage, the young Bronx brothers began working late night DJ sessions at the Shelter during high school, immersing themselves in the disco, salsa, house, and Latin vibes that made New York the cultural capital of the world.
Now, with production work ranging from the legendary Nile Rodgers to El Barrio's hometown hero, Bodega Bamz, it's clear that the fraternal duo has their finger on the pulse of what is to be the future. In tune with their recently released single at the time, "Stuff in the Trunk" featuring Miss Kittin, the two took some time out of their busy tour schedule and chatted with us about life in New York, themes crucial to their development as artists, the lack of visibility of of brown and black artists in the global house scene, and what it means to come out of the Bronx.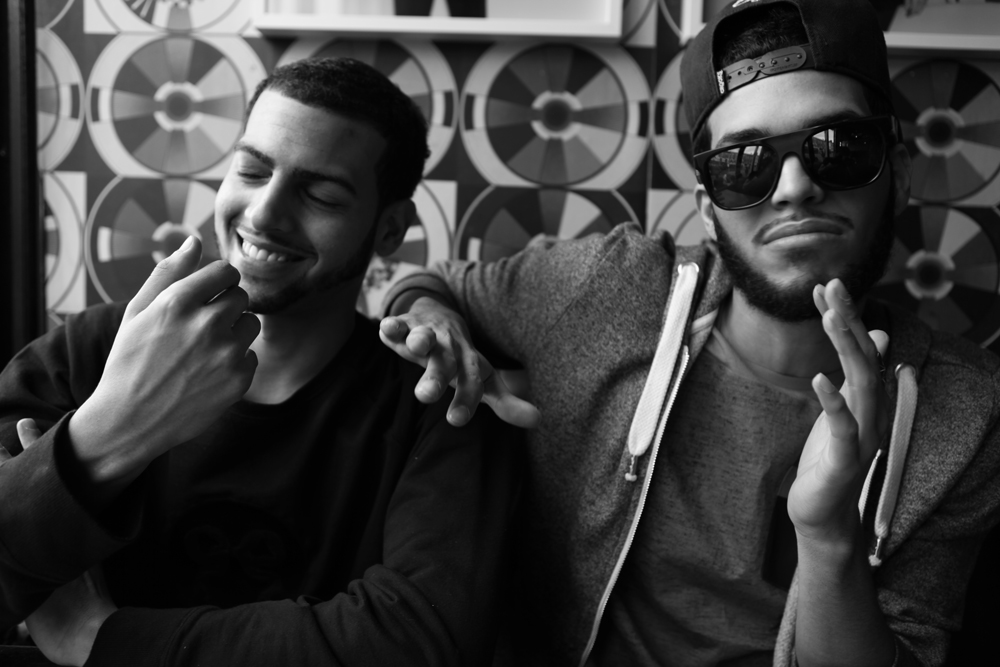 SENAY KENFE: I read that your pops was a pastor in Washington Heights. Talk about how you guys balanced being invested within hip-hop music—which got under his skin—while keeping your ears open to the disco and house music he was bringing to your attention?
THE MARTINEZ BROTHERS: Well, being in school at the time, in the Bronx, it was impossible not to be up on the latest trends, as far as hip-hop. That was like our day life. Once we got home, it was mostly everything else, which was not only house and disco, but loads of jazz and gospel as well. There was definitely loads of musical diversity in the household.
How do you feel coming out of the Bronx has impacted you two as artists?
[It's impacted us] in loads of ways. We tend to like things a lot more grittier and dirtier per se. I mean, even the sounds of the Bronx itself—there's always commotion, people, cars sirens. That alone shapes the different way we hear things. And just the attitude in general; Bronx people have their own attitude. Whether you make it out or not, it never leaves you.
Do you feel like the Latino contribution to electronic music, and nightlife culture in New York in particular, doesn't get the proper attention it deserves?
That's tough to say. In our eyes, the contribution is clear. However, I think Blacks and Latinos, unfortunately, will always be the underdog in anything. But I think that in turn fuels the fire and makes us do great things.
"…Even the sounds of the Bronx itself, there's always commotion, people, cars sirens, that alone shapes the different way we hear things."
Now that you've traveled and toured the world, where can you say you get the best reception to what you two spin?
Man, lately there's been a lot of love from everywhere. There's been great reception in South America, which is definitely important to us as Latinos. The U.K. is always great, Italy has such a dedicated crowd, New York will obviously always be love. I think it's been great everywhere for the most part; every scene seems to have its 'thing' that we love about it.
How did it feel to work in the studio with a legend like Nile Rodgers?
Nile is the man. You know, it's so dope to see someone who's a legend in music and has been doing it for so many years, to still be so humble and fired up for the music. It was definitely inspiring on loads of levels. He has so much experience and knowledge when it comes to this music thing—you gotta be an idiot not to take something away from it.
What made you guys move from being DJs to producing your own EP?
They always have come hand it hand. Our first ever track came out like in like 2007, which is right around [when] everything started happening in the DJ aspect of things. It was just always something we wanted to do. Making music is as much apart of our lives as DJing—they really go hand in hand.
***
Follow the Martinez Brothers on Soundcloud and Facebook.