Frank Kozik got his start as an artist by mailing random people his work. No, really. He would draw on postcards or letters and send them to people who were into mail-art, and then they would send their mail-art back to him.
If you're under the age of 30, the "mail" is this archaic system of communication our people used to utilize in order to transmit messages long distances. You would write a note (or draw some art) on a piece of paper, stuff it in an envelope, put it in your mailbox, put the red flag up to let the mail carrier know you wanted to send something, and then the mail carrier would take it and ship the piece of paper wherever you said for like 37 cents so the person on the other end could read your letter like a week later. So dumb.
But that's how Frank Kozik dipped his toes into the vast sea of artwork he would go on to create. After serving in the military, Kozik found himself in Austin, Texas, and enamored with the local punk scene. He started going to shows at the local clubs and eventually put his skills to good use by making promotional posters at the clubs for upcoming shows. It didn't take long before bands started asking him to create artwork for their tours or albums, and the rest was history. Kozik created some of the most iconic imagery in rock history, working with countless bands, including some (or most) of your favorites.
Kozik went on to find success as a fine artist for a time, and then ultimately found another stratosphere of success as a vinyl toymaker, a then-niche international market that has since exploded globally. He is now the creative director of Kidrobot, arguably the biggest player in the space.
But Kozik is never just doing one thing. He's run a music label, he writes about outlaw biker gangs, he restores vintage tools. Seriously, I was engrossed in an Instagram post of his the other day where he detailed his restoration of a 24″ case hardened pipe wrench. Magical stuff.
While he's worked in almost every medium possible and continues to innovate all these years later, Kozik's iconic punk posters are how most of us found out about him in the first place, and they hold a very special place in many hearts.
As I was researching Kozik for an interview that drops later this week alongside our The Hundreds by Frank Kozik collection, I realized there is a massive market online for his concert artwork. From old paper flyers printed in black and white to huge glossy poster prints signed and framed, these relics have maintained every ounce of odd. And as his name grows ever larger in stature, so do the prices on some of these timeless pieces.
But not all Koziks will set you back a modestly sized house, and there are a ton of incredible pieces online for less than two Virgils. Take a look at some of the best Kozik posters I found available online, and good luck out-bidding me.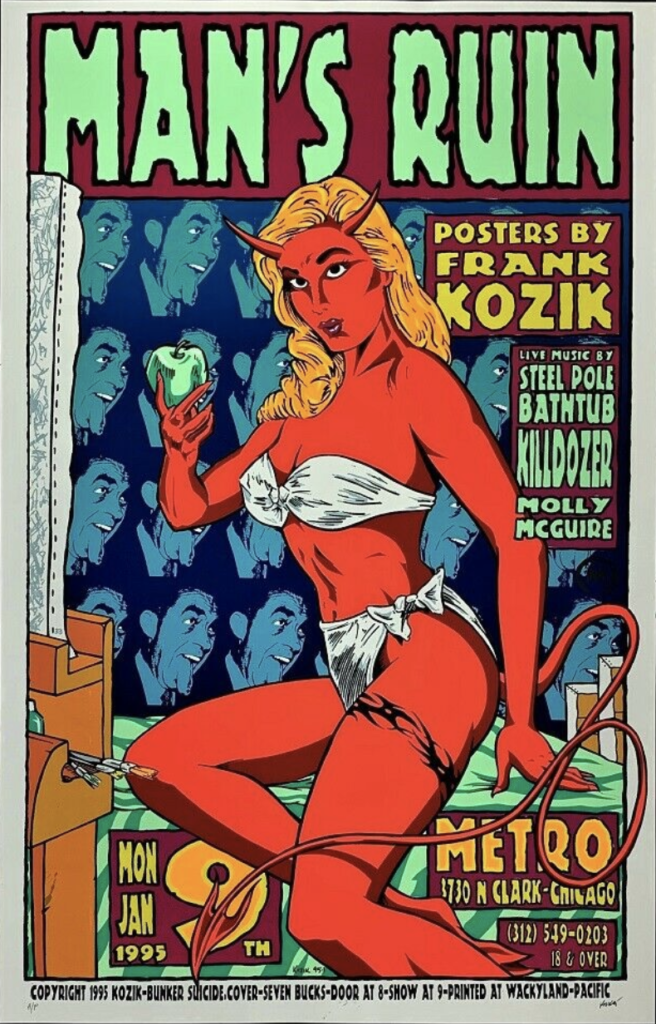 Mint condition Man's Ruin poster for a Steel Pole, Bathtub, and Killdozer show at Metro in Chicago in 1995. Silkscreen artist proof signed by Kozik. Price: $75
---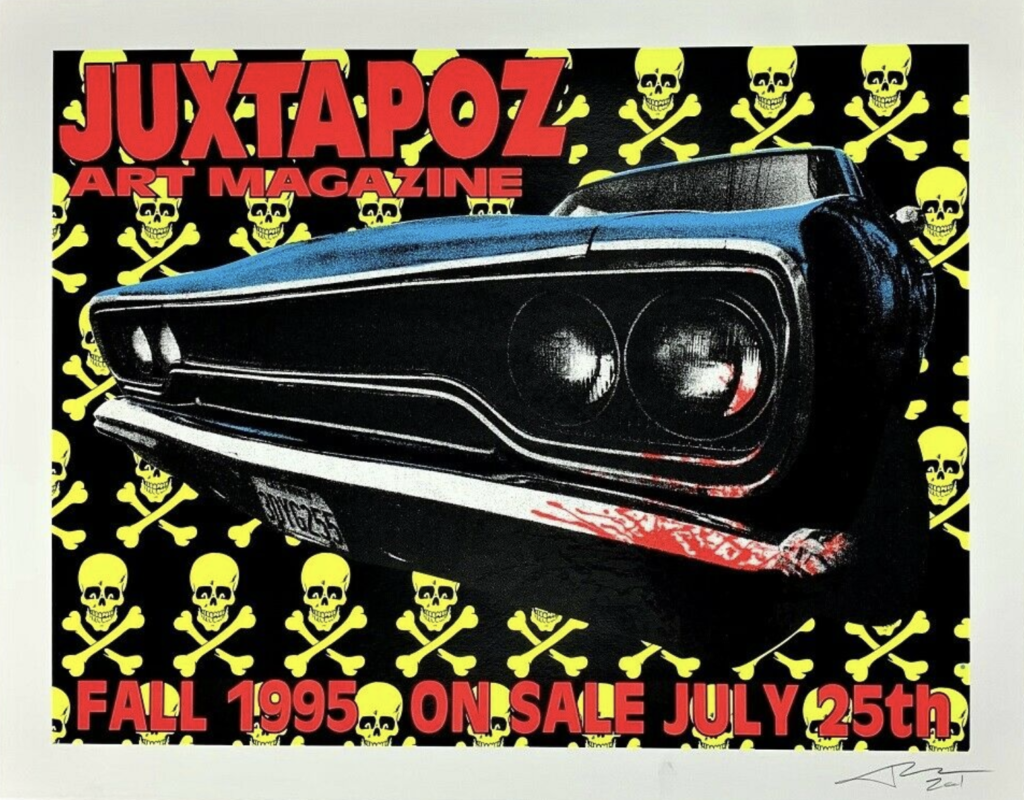 "Hit and Run" for Juxtapoz Magazine in the summer of 1995. Mint condition silkscreen poster signed by Kozik. Price: $100
---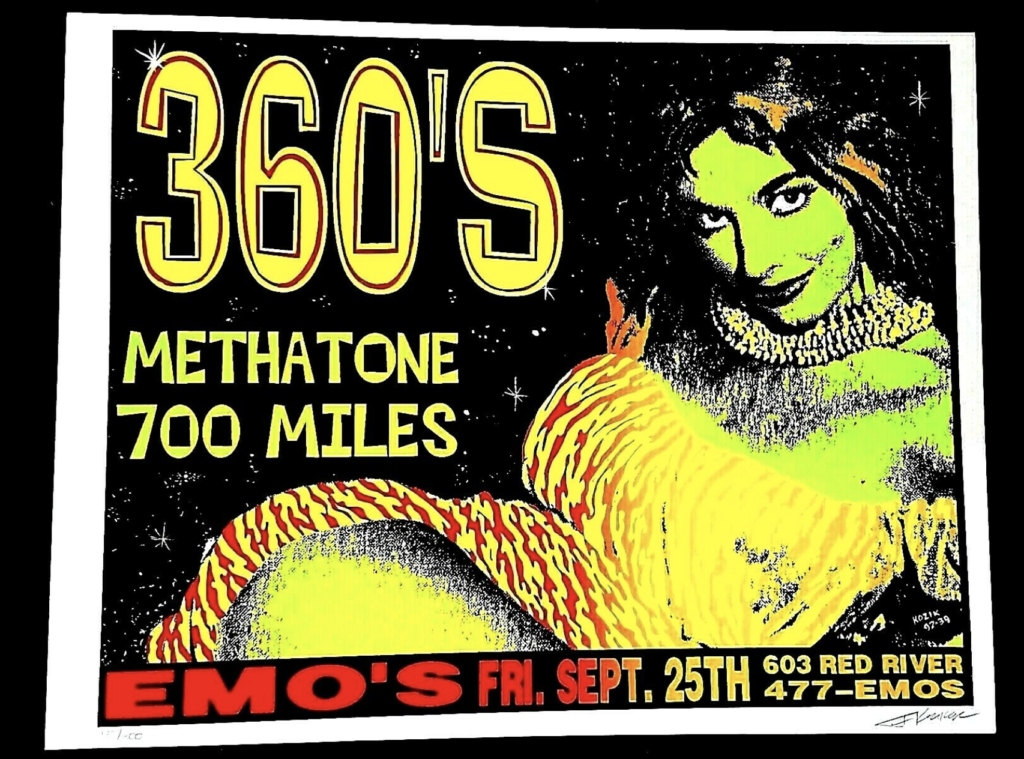 Original poster for The 360's at Emo's in Austin, Texas in 1992. Excellent condition and signed by Kozik. Price: $80
---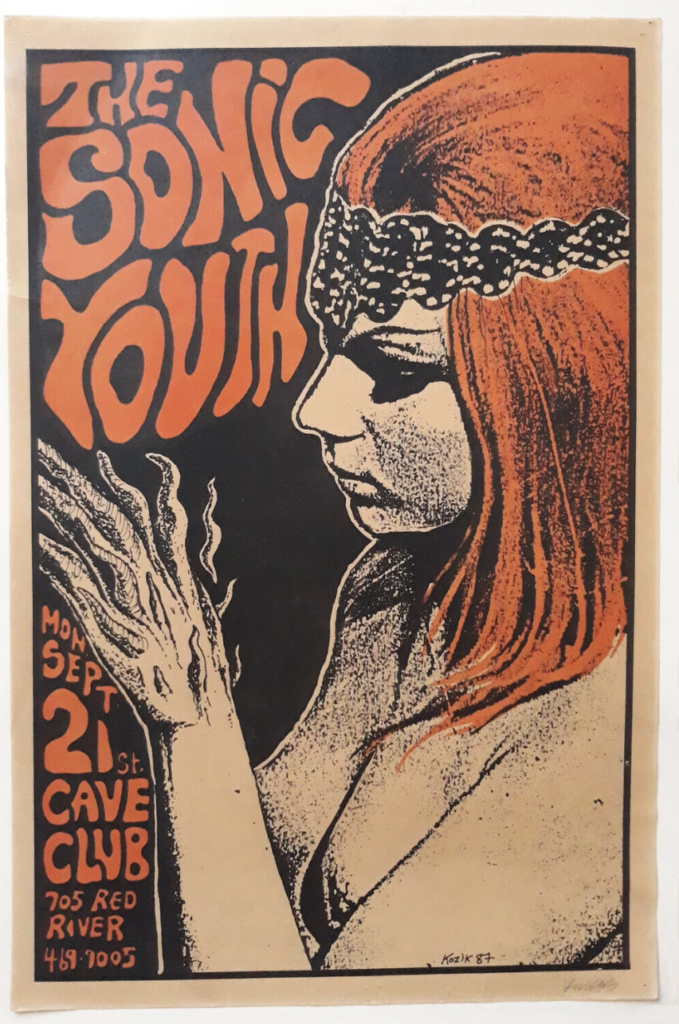 Original poster for The Sonic Youth at Cave Club in Austin, Texas in 1987. Very good condition with a few pinholes in the corners, signed by Kozik. Price: $450
---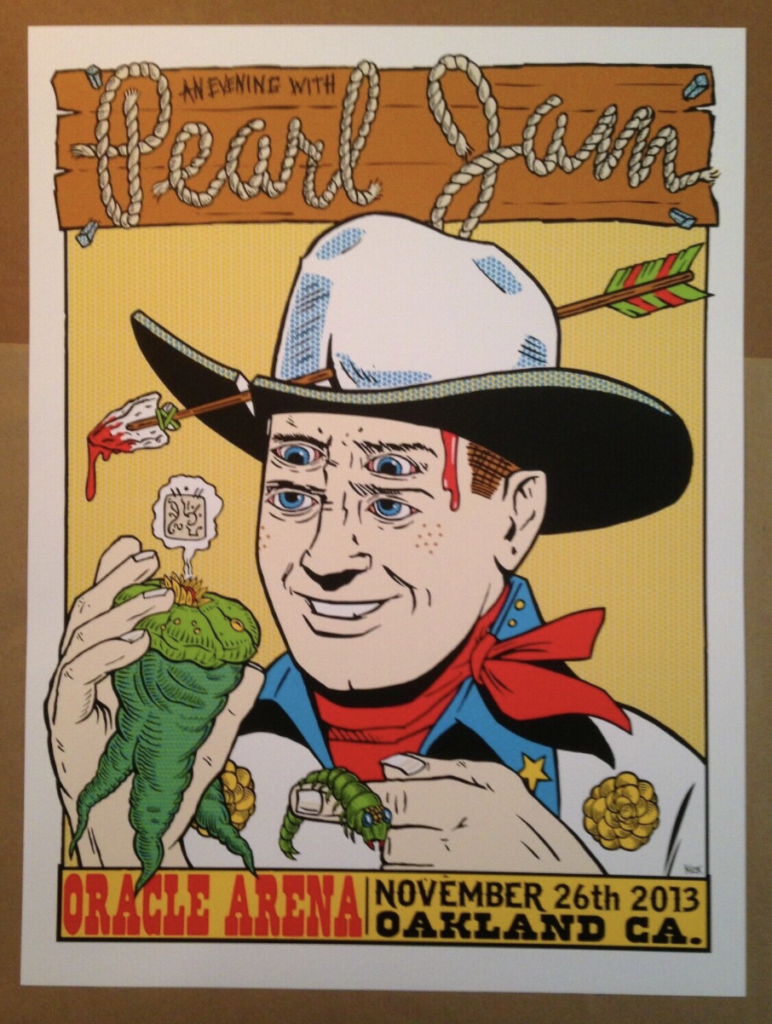 Mint condition original poster for Pearl Jam at Oracle Arena in Oakland, California in 2013. Price: $100
---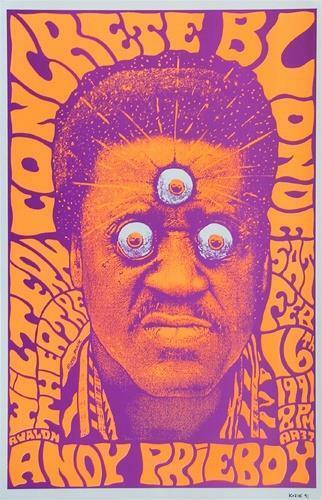 Original 1991 concert poster designed by Frank Kozik for the Concrete Blonde Concerts at the Wiltern Theater in Los Angeles, California. Mint condition and signed by Frank Kozik. Price: $40
---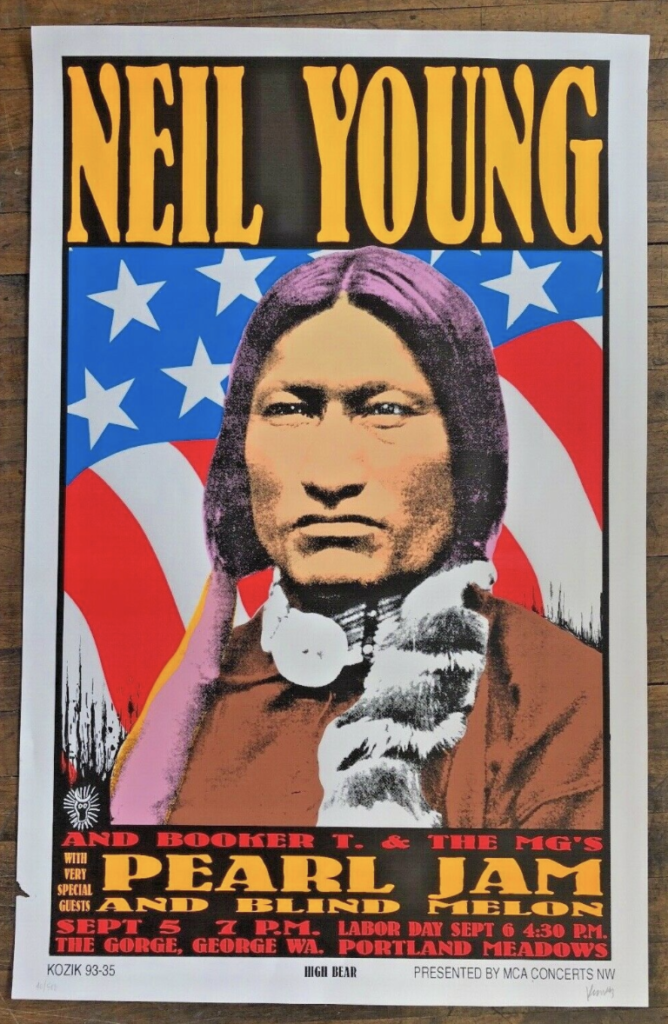 Original concert poster from two Neil Young shows in 1993, at the Gorge in George, Washington and at Portland Meadows in Portland, Oregon. Booker T. & The MG's, Pearl Jam, and Blind Melon also played. Signed by Kozik. Price: $2,500
---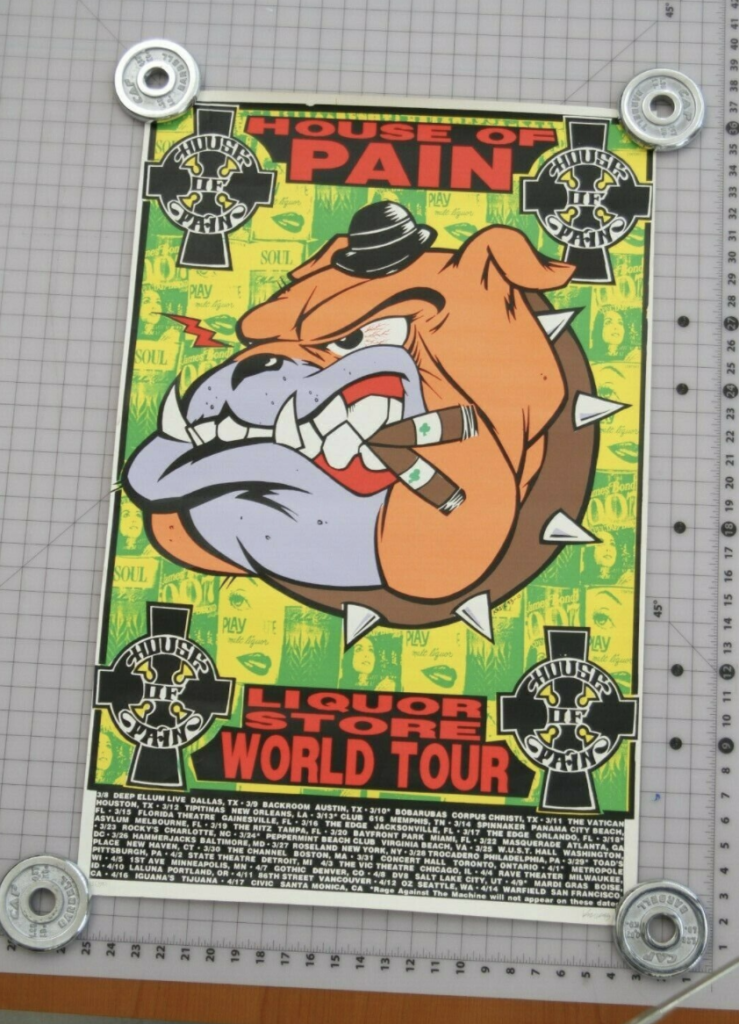 Decent condition with some pinholes and scotch tape remnants in the corners, this original silkscreen poster from House Of Pain's 1993 Liquor Store World Tour is signed and numbered by Frank Kozik. Price: $850
---

This tour flyer was from Sub Pop Records' Lame Fest concerts in Japan in 1993, featuring Supersuckers, Fastbacks, Seaweed, and Supersnazz. C'mon, you remember Supersnazz. The mint condition poster is signed by Kozik. Price: $150
---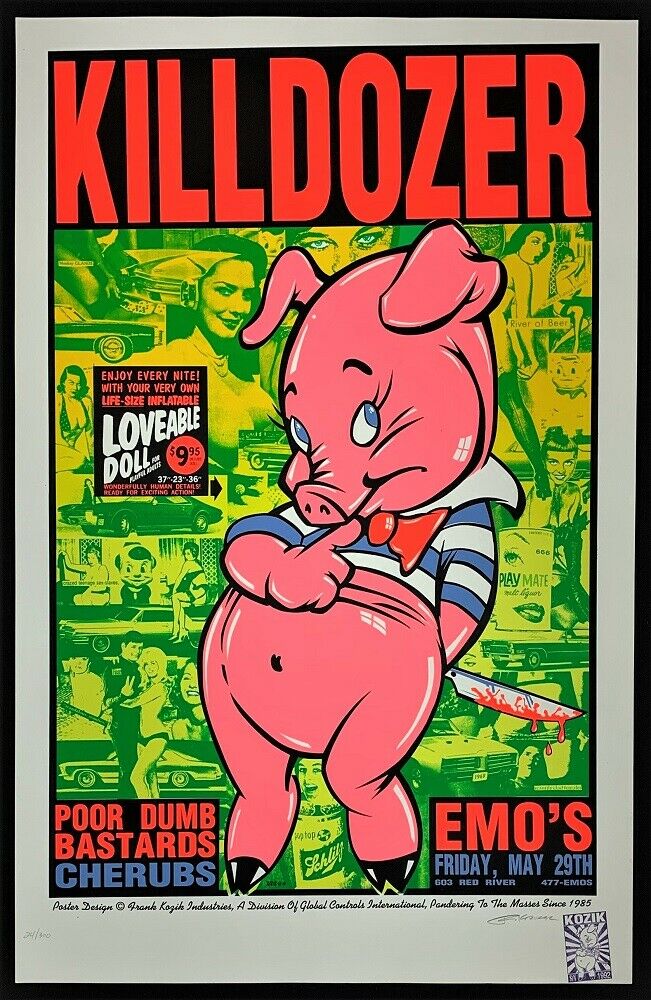 This Killdozer poster from a 1992 show at Emo's in Austin, Texas with Cherubs and Poor Dumb Bastards features a character who you'll soon get to know very well. In time, in time. Oh yeah, and this beauty is signed by Kozik. Price: $125
---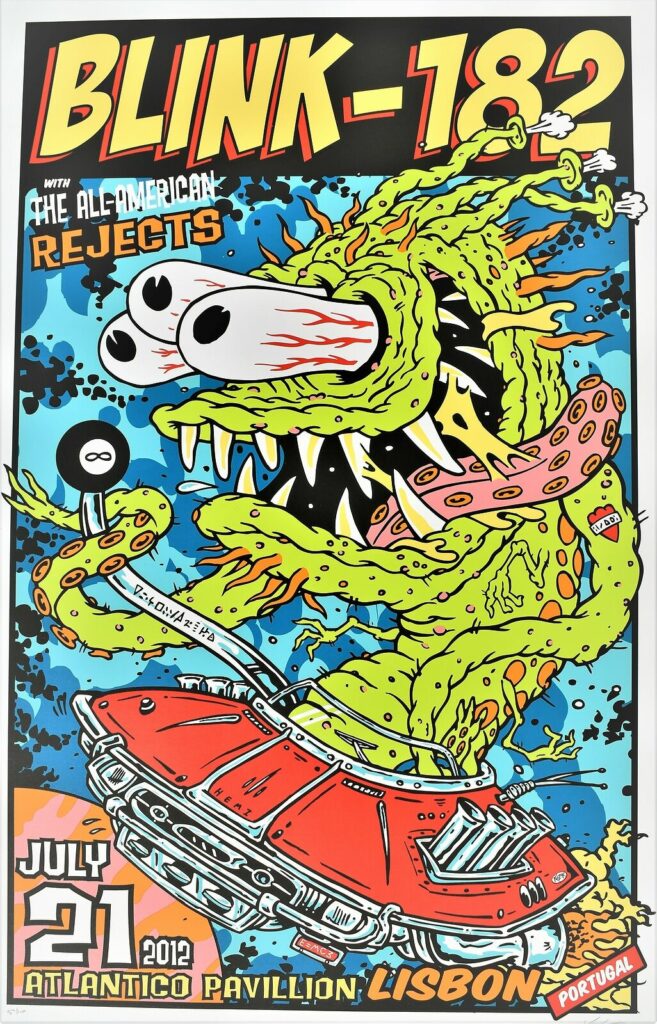 These posters from Blink-182's 2012 show in Lisbon, Portugal were limited to 100 prints and signed by Kozik. Price: $145
---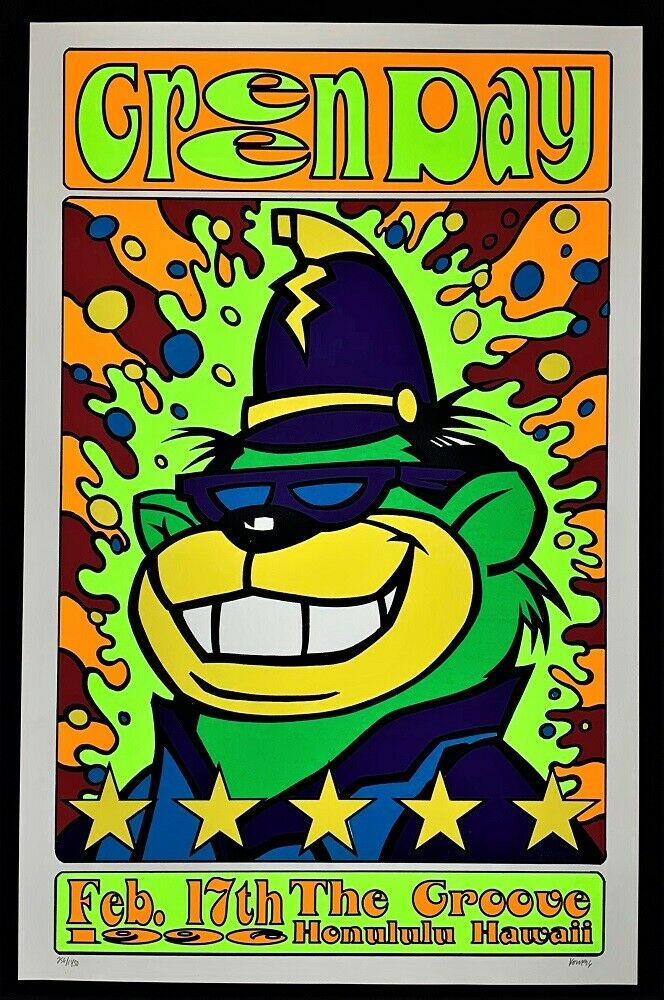 This mint condition poster is from Green Day's 1996 show at The Groove in Honolulu, Hawaii. The seller doesn't mention it in the listing, but I'm now realizing that Honolulu is spelled wrong in the graphic. I checked some other posters from this same show and it's misspelled on all of them. That makes this one even cooler. Price: $80
---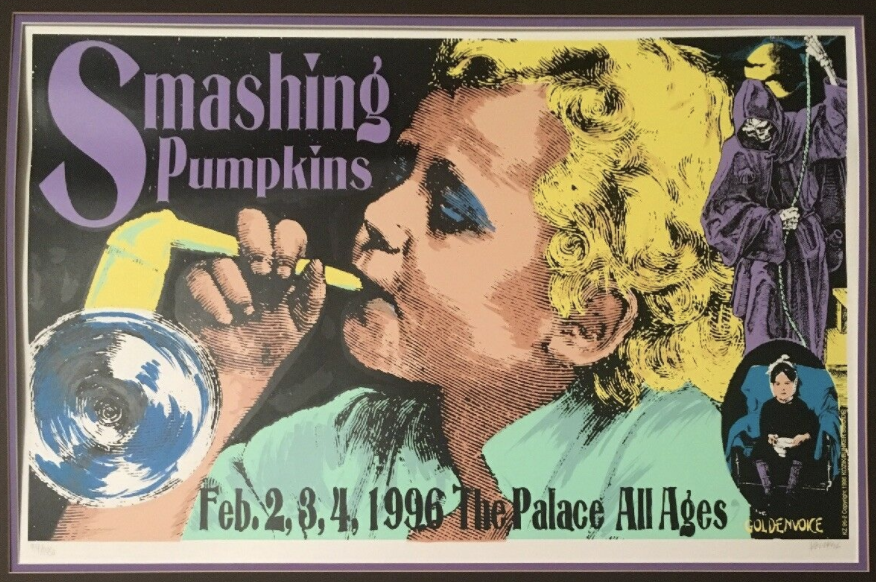 Mint condition poster from three 1996 Smashing Pumpkins shows at The Palace in Los Angeles, California. Signed and numbered by Kozik. Price: $495
---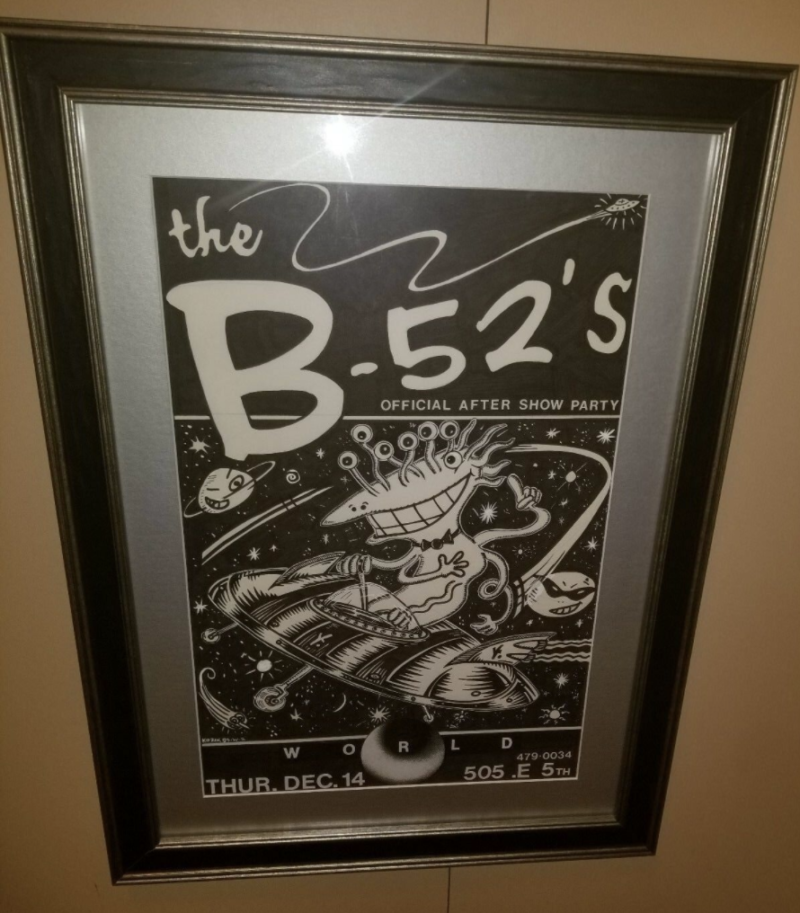 This 1989 ink drawing by Frank Kozik was made to promote a B-52's after-party at The World in Austin, Texas. This is one of the original posters and is signed and numbered by Kozik, plus framed. Price: $3,000
---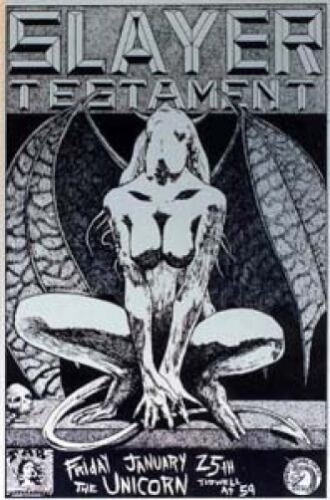 Signed by Kozik himself with a silver marker, this original poster was from a Slayer and Testament show at The Unicorn in Houston, Texas in 1990. Price: $30
---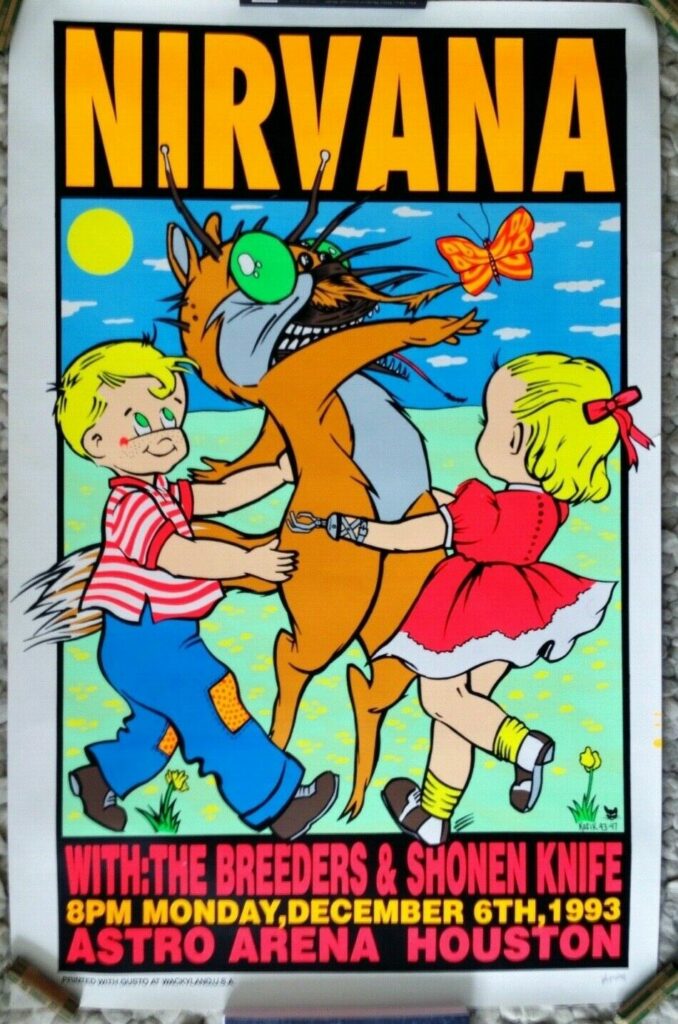 This very rare poster is from a 1993 Nirvana show at the Astro Arena in Houston, Texas, where the grunge superstars played with The Breeders and Shonen Knife. The print is signed and numbered by Kozik. Price: $1,800
---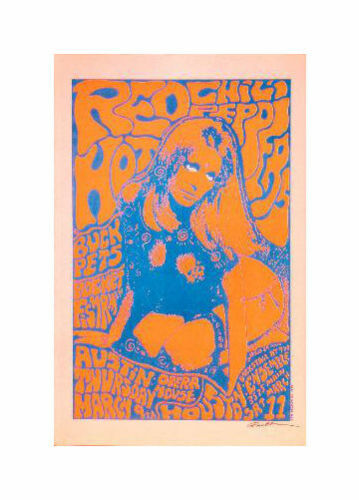 This poster dates back to 1989, when the Red Hot Chili Peppers played two Texas shows in Austin and Houston, and Frank Kozik made this Sharon Tate design to commemorate the occasion. Original print signed by Kozik. Price: $86
---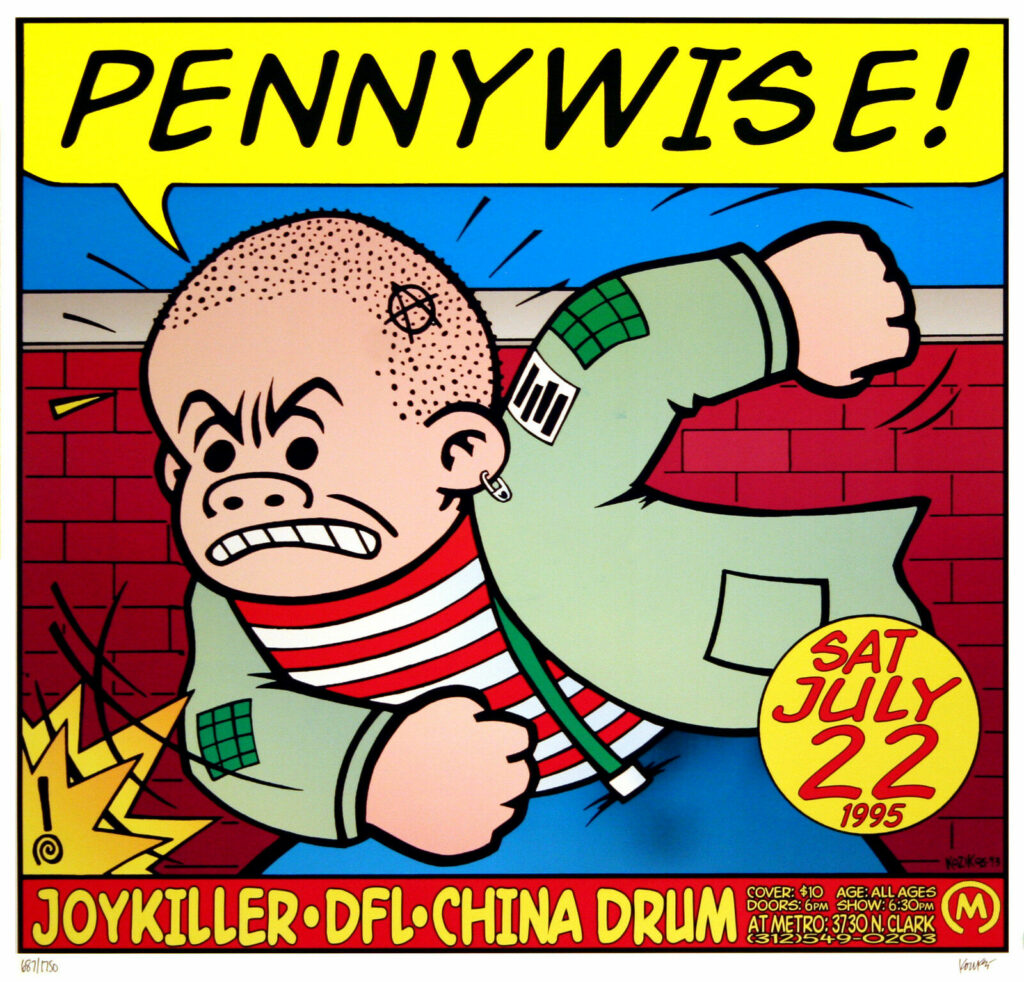 This original poster from a 1995 Pennywise show at The Metro in Chicago that also featured performances from Joykiller, DFL, and China Drum. Kozik signed and numbered the print. Price: $28
---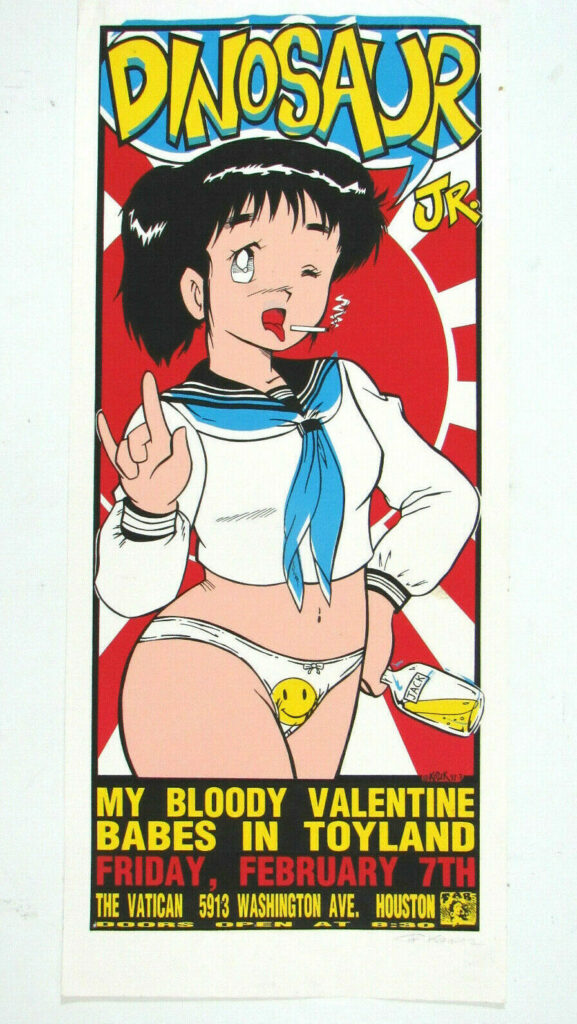 This absolute gem is a poster from a 1992 Dinosaur Jr. and My Bloody Valentine show at The Vatican in Houston, Texas. It is signed and numbered by Kozik. Price: $150
---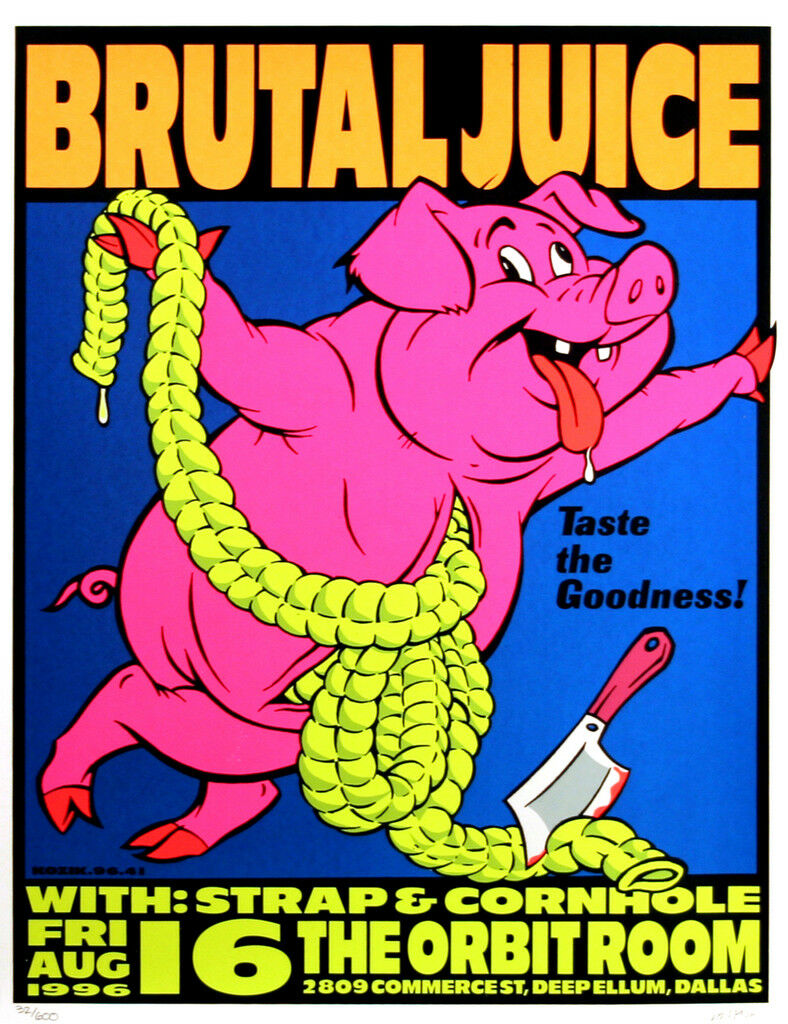 I can tell through my screen that this one smells like Farmer John's but if you must have it, it's a rare print from Brutal Juice's 1996 show with Strap and Cornhole at The Orbit Room in Dallas, Texas. It is signed and numbered by Kozik. Price: $28
---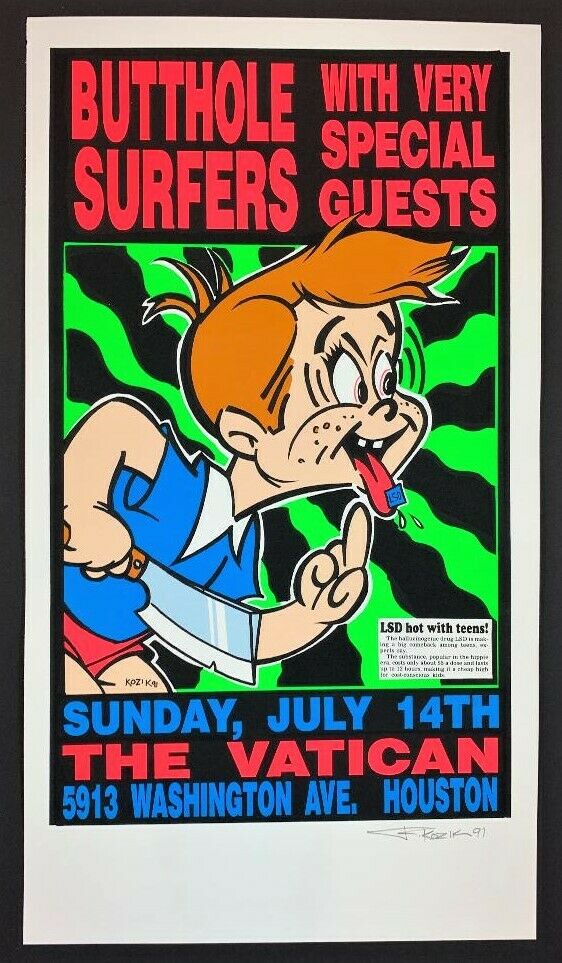 Some of Kozik's weirdest work came in the form of posters for the Butthole Surfers, including this 1991 show at The Vatican in Houston, Texas. Signed by Kozik. Price: $300
---
Though I found virtually every classic Kozik poster I was looking for available to purchase somewhere online, the one that escaped me is the very one that inspired this collaboration in the first place. This Anna Sui poster from 1996 in New York is what first attracted Bobby Hundreds to Kozik's work. He became obsessed with the good and evil bunnies and eventually found a sticker set featuring the two characters, which are still in the packaging and pinned to his mood board today. Thankfully, we were able to bring the two iconic characters out of retirement for a new spin on "Passion and Patience." You can hear more about Bobby's love for this piece on the most recent episode of Dropping In on The Hundreds TV.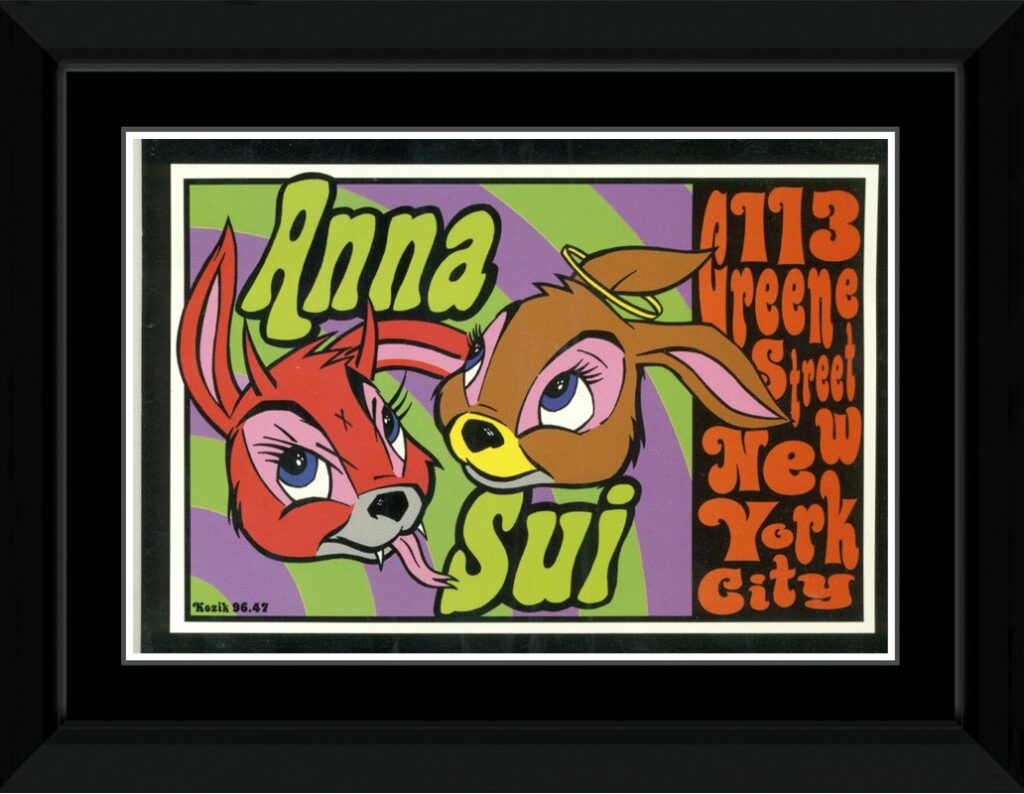 THE HUNDREDS BY FRANK KOZIK DROPS THURSDAY, JUNE 25TH