I love movies but I hate the Oscars. It's old and stodgy, it's void of ethnic people and diversity (The Oscars are maybe the last place on Earth where it's okay to ignore the fact that other races exist. Like an awards-show version of The Bachelor or Arizona. The "white flight" of televised ceremonies).
But that's all about to change! I think! Because the Oscars have brought our friend Jensen and his team at Gallery 1988 onboard to spruce things up a bit, clean up all the irrelevance. To start things off, they were asked to create the official 85th Annual Oscars poster. And of course they pulled in the favorite, Olly Moss, to execute this idea. Anyways, it's nice to see the old guard finally acknowledge the new, and also work with the right talent to get to that next level. This is the clever poster that Olly Moss and Gallery 1988 came up with; to see each statuette in detail, click HERE.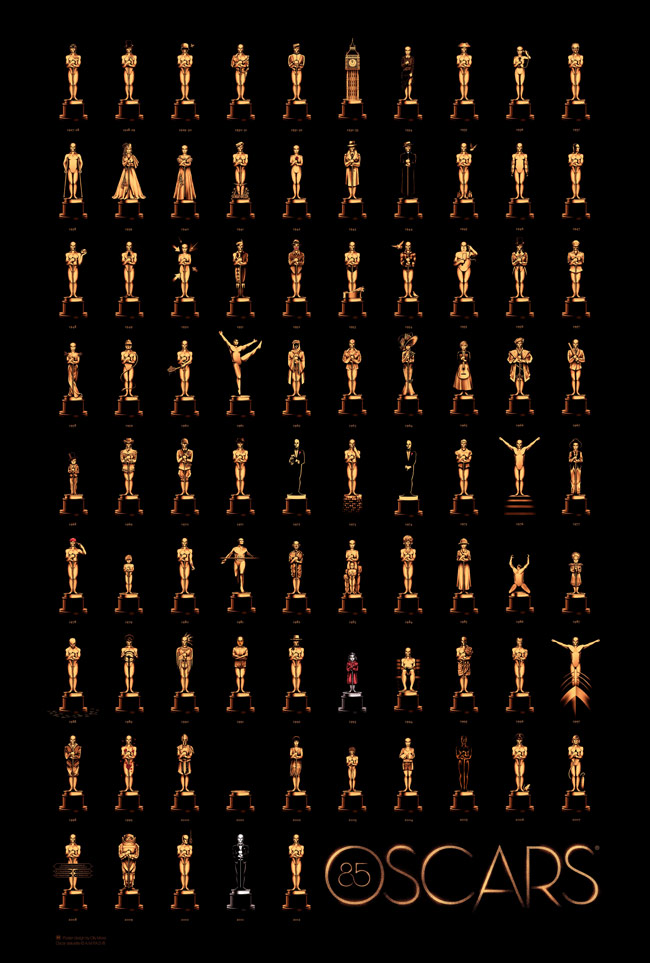 The other thing Gallery 1988's announced is "For Your Consideration," an exhibition dedicated to art inspired by the Oscar nominees. Silver Linings Playbook was alright. Speaking of race and tokenizing, I enjoyed Chris Tucker's turn as the MAAF.