The first time I saw the "Bowery" Compton parody hat by New York-based SSUR years ago, I thought to myself, "One day we will have a neighborhood and community of our own in L.A. to claim like that." Over the years, we did that in the Fairfax Village of Los Angeles. Along with the pioneers Supreme, Freshjive, SLB, Diamond, Hall of Fame, and Flight Club, "Fairfax" as we came to know it in modern Streetwear vernacular was born.
Today our street is home to the world's foremost brands, galleries, and retail in our space, so we partnered with SSUR to bring that dream full circle and introduce our first collaborative project for The Hundreds' 10-Year anniversary. And a big Thanks to Russ for making it happen.
I shot this photograph at Ben's birthday party in 2005. Pictured is Ben, Marlon, Russ, Arnold, and Arsen and I bet they are SO pissed at me right now for this.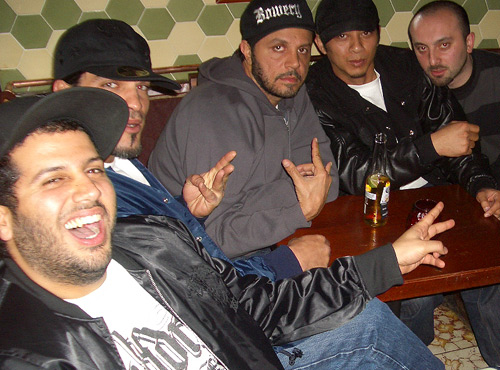 The Hundreds X SSUR "Fairfax" hat (and tee) now available in our 4 flagship stores, including our Pop-Up Shop, as well as right here in our Online Shop.