The Salish Sea has been home to many Indigenous nations, on either side of the so-called U.S.-Canada border, for thousands of years. It is one of the world's largest inland seas, comprised of over four hundred islands, home to over eight million people, as well as hundreds of different species. But all of it is at risk, including Southern Resident killer whales and large populations of Pacific salmon, a keystone species on the coast.
The sea is surrounded by ongoing threats – from unfettered marine shipping traffic, sewage runoff, fish farm activity, and ultimately, a lack of Indigenous governance to monitor and protect the marine ecosystem. While concerned communities have been leading the charge to end disruptive and destructive activities, corporate interests have pushed harder for more access to development, ignoring Indigenous jurisdiction, lands, and ultimately, lives.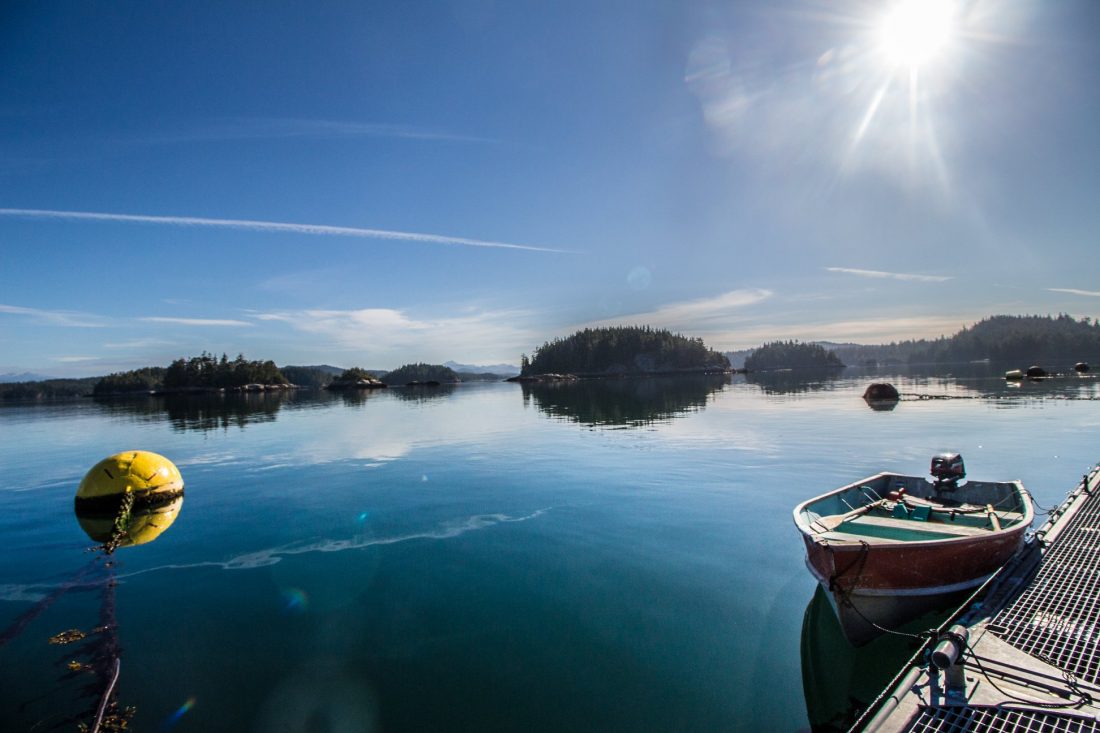 Multi-layered problems require multi-pronged solutions.
Fights to protect the Salish Sea have been ongoing, including legal petitions to protect the marine rights, calls for a moratorium to vessel traffic, protests to prevent pipeline expansion projects, and occupations on fish farms operating in unceded territories, to name a few. 
While some have recently chosen to join the fight to save the Salish Sea, in a time when the planet's climate crisis is scientifically undeniable, others were born on the frontlines.
Sii-am Hamilton and Ta'Kaiya Blaney aren't blood relatives but they might as well have been. They have the same fire in their eyes, share the same no-holds-barred sense of humor, and have both been fighting for their cultures, lands, and lives since birth.
Sii-am is Stó:lō and Nuučaan̓uł, and Ta'Kaiya is from the Tla'amin Coast Salish nation.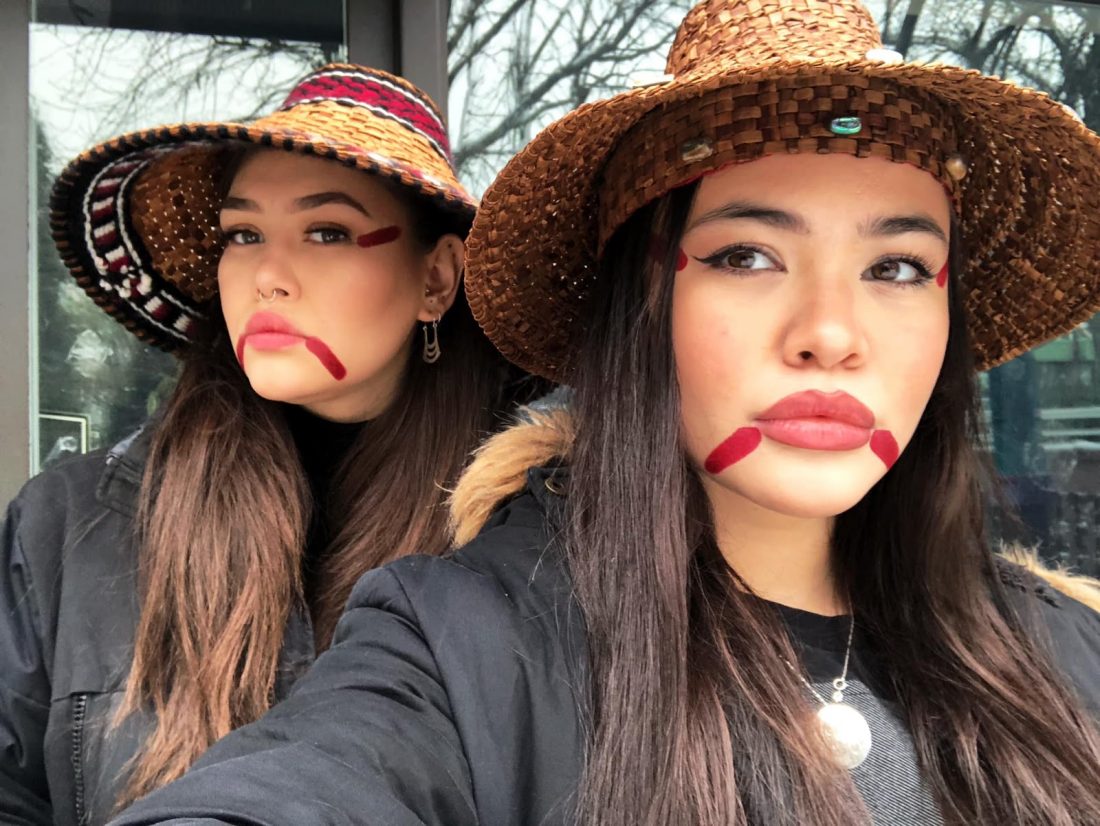 In the spirit of Indigenous Peoples' Day, I managed to track down Sii-am, who was kicking it with relatives in Portland, and Ta'Kaiya, who was in the middle of climate summit events in Montréal.
Both took a moment to talk about their land defense work. Their siblinghood was tangible, even over a conference call.
They joked, making light of the very real situations they're both implicated in. But the mood turned serious fairly quick and they took turns spitting fire, holding truth to power, addressing what they see as major political, social, and environmental obstacles, offering tangible solutions for moving forward.
Sii-am identifies as a non-binary femme involved in land protection and conservation work in their own territory, as well as territories they've been invited to. Sii-am has focused on the protection of wild salmon, in particular, because salmon connect Stó:lō people to their homelands, ceremonies, cultures, and languages, they told me.
"Everything about our society is dictated by wild salmon," Sii-am said. "They're the backbone of who we are."
They were recently preparing for a family potlatch in her aunty's basement when they realized there wasn't as much salmon in the cellar as usual. The shelves were usually stocked and overflowing, as their aunty would give salmon out to the community during every potlatch. But times have changed, and jars were sparser than they had ever seen before.
This moment, among many others, drove home for them why they dedicate their lives to land defense.
A few years ago, when they heard that relatives from other Coastal nations had started an occupation on two separate fish farms in the Broughton Archipelago, they were quick to join. Sleeping on fish farms and plunging waste-deep into rivers to rip out the pipeline corporation's anti-spawning mats are just a few actions they've been involved in.
It's not just fish farms that have poisoned the health of wild salmon and other marine species. Tanker traffic, mega industrial project development, and even exploitative ecotourism have all played a role, Sii-am said over a conference call.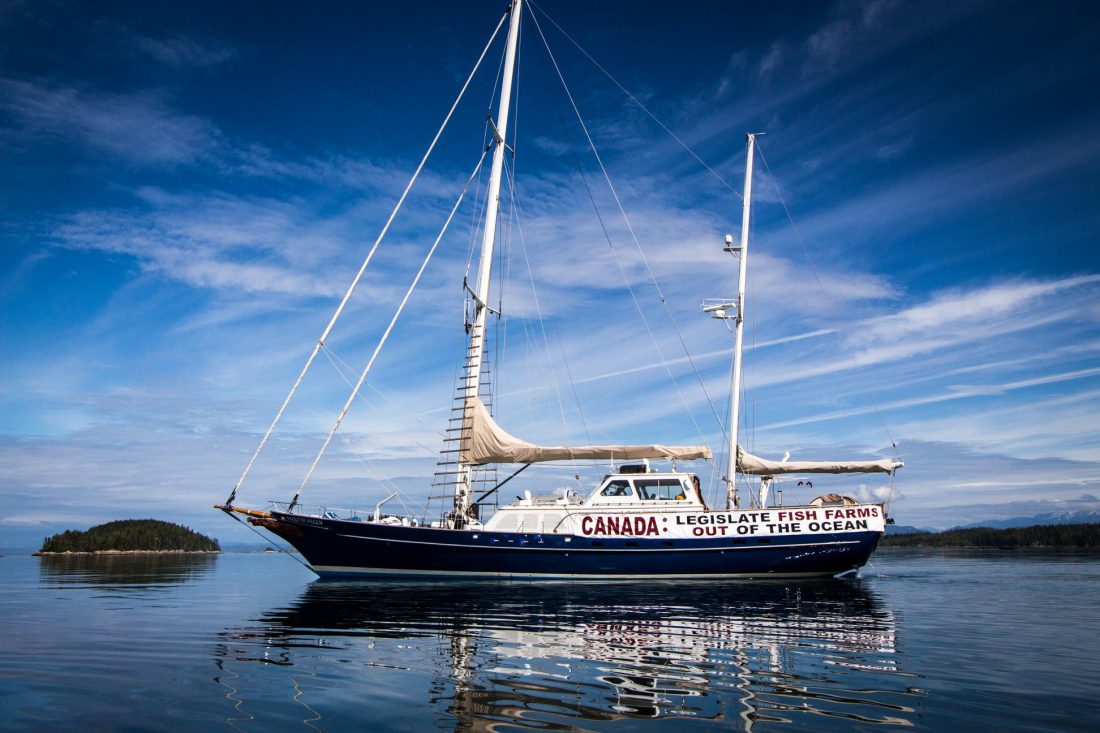 While the media has painted land and water protectors as protestors, rebels, and shit disturbers, both Sii-am and Ta'Kaiya both say their lifestyle is not a choice.
Ta'Kaiya Blaney said right away that she's not an activist.
She works to protect lands, waters and community "in reaction to the violence that myself and Coastal Indigenous communities face every day," she explained.
"I don't seek out this work. It's very much essential to my ability to live safely," she said. "The frontline goes with us. If I'm in the city, if I'm in a rural area, as an Indigenous person, I'm always at risk. The dangers that I find on a daily basis are a direct result of settler colonialism, a direct result of climate change, a direct result of the desecration of the environment."
Ta'Kaiya has been invited to various climate events, including those organized by the UN in New York, where she observed how Indigenous voices are often tokenized rather than truly heard in the conversation about sustainable pathways forward.
"We need to be looking for Indigenous frameworks for sustainability," Ta'Kaiya pleaded. "Otherwise, it's still exploitation of Brown, Black, and Indigenous people."
"We need a paradigm shift, where we're not just listening to Indigenous voices but we're making sure Indigenous people have power on every level in the conversation." – Ta'Kaiya Blaney
These were powerful, clear words from someone widely known for her successful acting and singing career, a young person with a timeless voice.
"Indigenous people are holding down the frontlines, in desperate need of the incredible pool of resources available at these White UN and NGO-level events," she continued.
But how are Indigenous people received, when they're not giving keynote lectures, speaking on panels, writing novels or creating art for their communities? What about when Indigenous people are occupying their territories, living their lives, or protecting their laws and lands, by any means necessary?
"We're criminalized," Ta'Kaiya said. "Canada pushes around words like consultation with no emphasis on consent. They don't understand that no means no. So, we're forced to take to the lands, put our bodies on the frontlines, and risk our own safety in the process."
Indigenous peoples with arms, used for hunting and harvesting traditional foods, are often painted by the media as militant and violent, both Ta'Kaiya and Sii-am stressed, forcing people to "be on defense," performing  "peaceful Indigeneity" in order to be validated.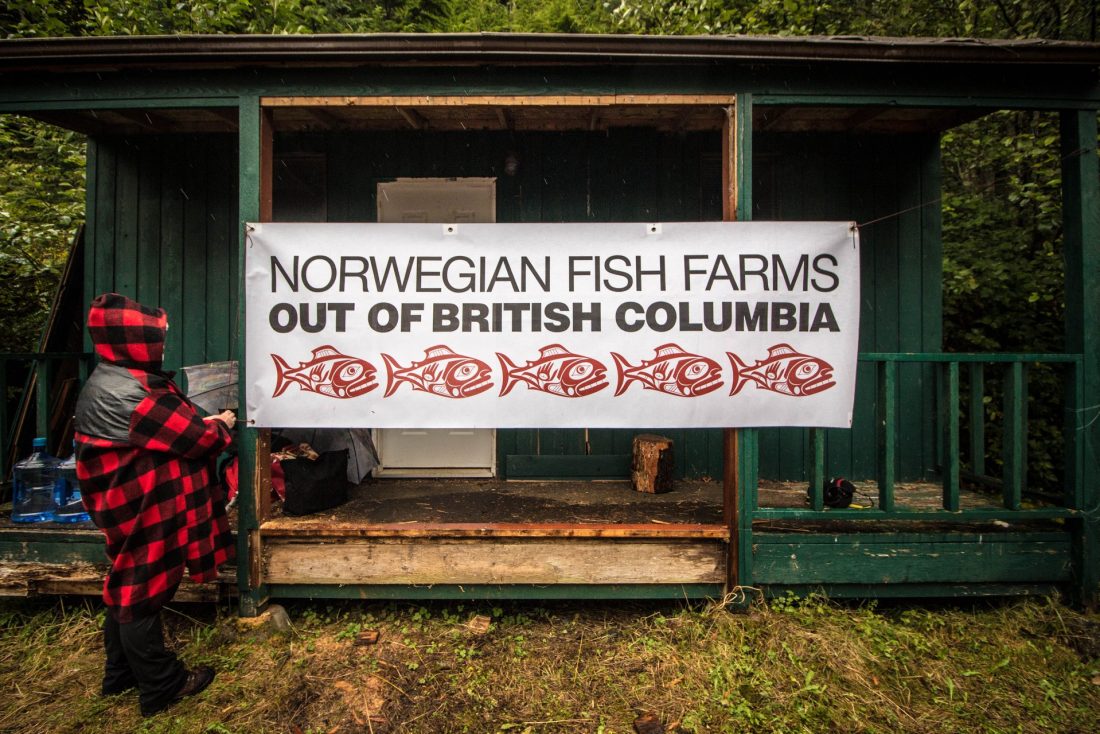 "Look back at the Oka Crisis," Sii-am said, "remembered by Mohawk communities as the resistance at Kanehsatake," where Canada sent in their army to try to stop Kanien'kehá:ka people from protecting sacred burial sites from being turned into a golf course.
But one doesn't need to look back to 1990 to find incidents of land desecration. What about Standing Rock, where land defenders were attacked by police dogs and blasted with water? Or earlier this year, when Wet'suwet'en people had their camp violently torn apart by Royal Canadian Mounted Police? Canadian and American police forces and military are often sent to Indigenous communities to prevent self-determination and land defense, siding with corporate interests, disregarding inherent, constitutionally protected and internationally acknowledged rights.
"There's a weird misconception around how taking up arms when you're living in the bush is an issue if the Canadian government says it is. It becomes unsafe when we're not the ones communicating for ourselves and the media is in control," Sii-am added.
"We don't need to be a passive people to be valid as people on our homelands, protecting it by any means necessary."
The narrative needs to change, Ta'Kaiya said, from "we are a peaceful people out on the land," to "we have the right to be here."
The violence that has occurred is often the result of violence perpetrated against Indigenous people living on their lands.
But everywhere, the industry sees the potential for resource extraction and economic growth, lands, waters, and sacred sites have been threatened. From the fight to save endangered orcas, to protect wild salmon, to a group of Tiny House Warriors placing their bodies directly in the path of Canada's proposed Trans Mountain expansion project, or the Tsilhqot'in Nation spending decades in court trying to protect Teztan Biny from a copper and gold mine.
Across the pacific, Kanaka Maoli has led a massive movement to protect Mauna Kea from a thirty-meter-telescope, while communities further south have been constantly mobilizing to protect their amazonian homes from unprecedented deforestation. Indigenous people are born on the frontlines and have been leading so-called environmental protection efforts since time immemorial.
Resistance is not a choice, it is a matter of survival. It is a matter of whether there will be food, land, and water for future generations. It is a matter of preventing further genocide. It is a matter of life and death.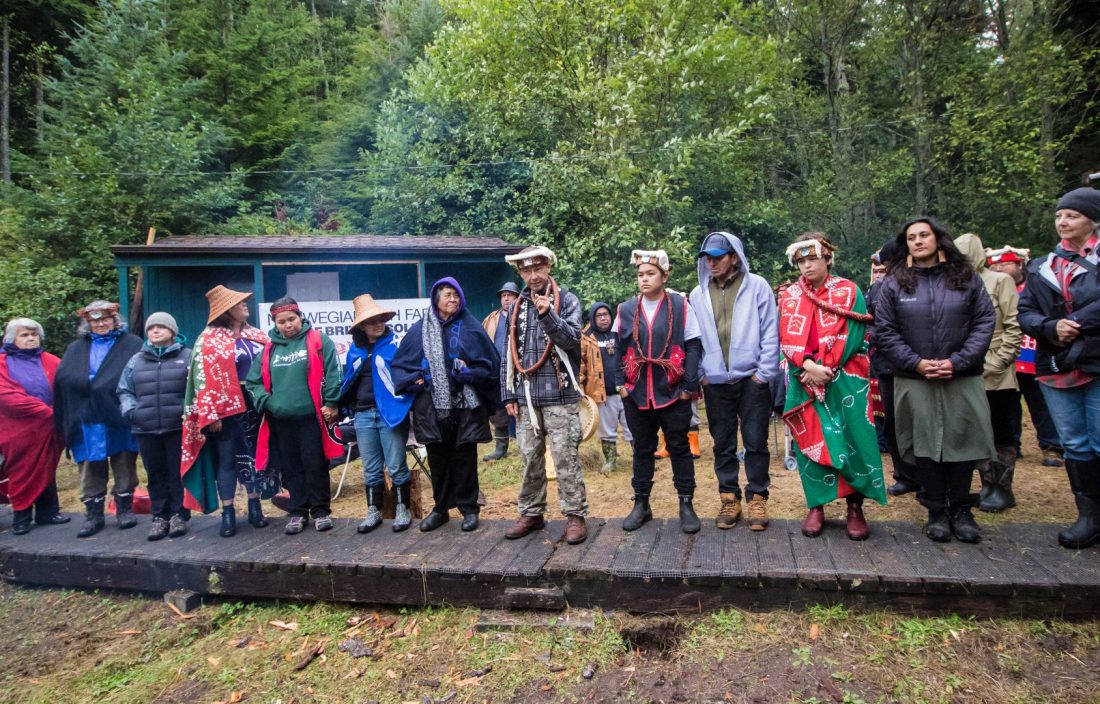 Sii-am and Ta'Kaiya know this better than anyone, and they fight with that fury every day. Are they hopeless? Absolutely not. Indigenous people know better than anyone how to survive the end of the world.
"Indigenous people have been surviving in an apocalypse since the first contact," Ta'Kaiya said. "We have survived an active and ongoing genocide and the destruction of our environmental systems since 1492, so we know how to adapt and survive."
Many non-Indigenous people have lost their connection to the land, according to Sii-am, and feel no personal responsibility, so they can mistreat it. This cavalier attitude extends to the women, children, and two-spirit people who are the backbones of their communities.
"The world needs to be looking to us for solutions," Ta'Kaiya said. And one of the first things both of them offer as a reliable solution? #LandBack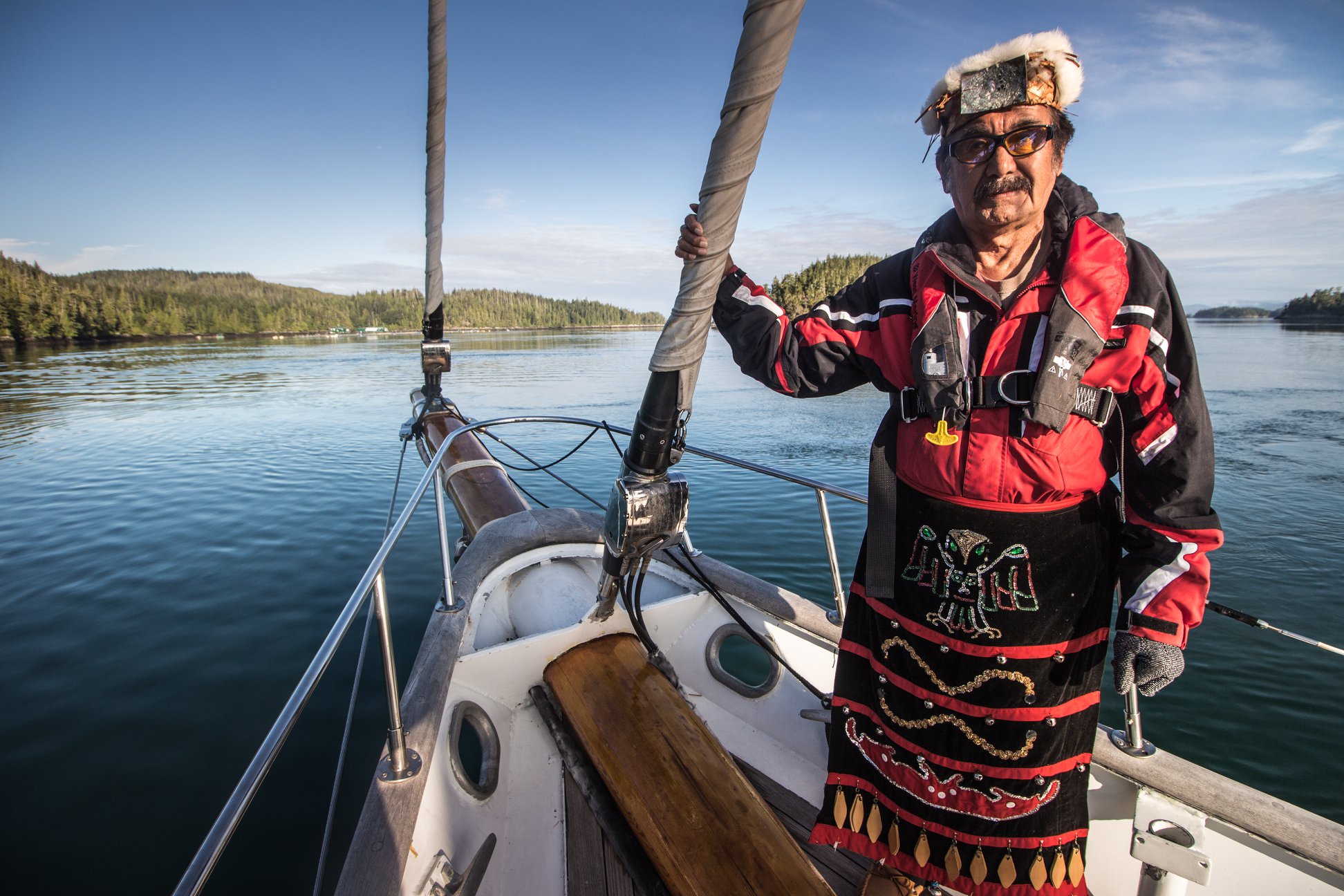 Photos Courtesy of Emilee Gilpin
***
All profits from The Hundreds X Obsidian Collection will be donated to support Indigenous-led efforts, with the contribution being split between two causes. We're supporting the Tiny House Warriors, whose mission is to halt the construction of the Trans Mountain pipeline, and Obsidian, as they teach Indigenous youth healthy coping skills through expressive arts, traveling the Americas spreading their message of hope and resilience.