I often get asked what camera setup I shoot with, and the answer's been the same for over 2 years now: The Canon 5D Mark II. But perhaps more importantly is what I store my camera in, and for the past half year or so, traveling around the world, on me everyday no matter where I go, it's been my trusty Paparazzi 2 backpack, which is now available HERE.
I've also been getting asked what the difference is between the Paparazzi backpack and Paparazzi 2. Aside from the price differential, the original Paparazzi is a better fit for the casual blogging photographer, the bag comfortably fits an SLR camera and a couple lenses or so, as well as acting like a typical laptop backpack.
The Paparazzi 2 is a little steeper in price, I admit, but worth it especially if you're a more serious shutterbug. The backpack as a whole is larger, more spacious and luxurious (word to Home Alone 2). One of the best features for the active photographer is that the camera compartment has a side-entry so that you don't have to take off the backpack to access your rig.
This is what mine looks like below, you can arrange the body and lenses however you want with the velcro shelving, and the top compartment of the backpack has all kinds of room. And of course, as with all our backpacks, there's a laptop compartment in the back.
We are one of the only brands in our category who regularly offers multi-purpose backpacks accommodating photographers of all skill levels. It's important because clearly, photography is an integral component of The Hundreds aesthetic and lifestyle.
Now back to your regularly scheduled program.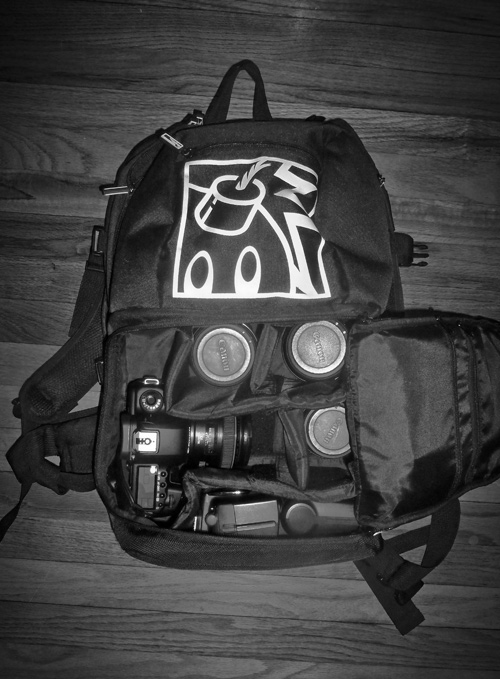 by bobbyhundreds