Twitter is a weird one for me. It always was. It wasn't so easy for me to talk about myself all the time in that format, and I felt funny selling product or advertising our brand, so back when I signed on in '07, I used the network to write bad jokes, which was my way of being involved, but still evasive.  After years of running that game, my biggest frustration was that most of my Followers were looking for me to talk about The Hundreds or Streetwear or rap or something. I mean, that's fair. You figure the guy who runs The Hundreds is probably obsessed with limited-edition sneakers and hip-hop trends and can't get it off his mind. But if you really know me well, all that stuff can be the furthest thing from my universe.
And so nobody got it. My followers took everything I said quite literally because they expected and wanted that from a Designer, I guess. They were hoping I'd talk about street-goth, not throw puns; they didn't think of me as a comedian or a writer, so all my sarcastic comments were being taken at face-value – which, if you think about it, makes me sound like I'm either wholly ignorant or flat-out stupid in the head.
I have this problem – I wish I hadn't – that I hate to be misunderstood. It bothers me to no end when the rest of the world can't catch up to what I'm doing, or they mistake my work for something else.  Even worse, when they criticize me for something that they were on the wrong side of the whole time. Now you can see why I pretty much quit tweeting altogether.
EDIT: Case in point, the Facebook Comments for this list! #foreheadslap #firstworldproblems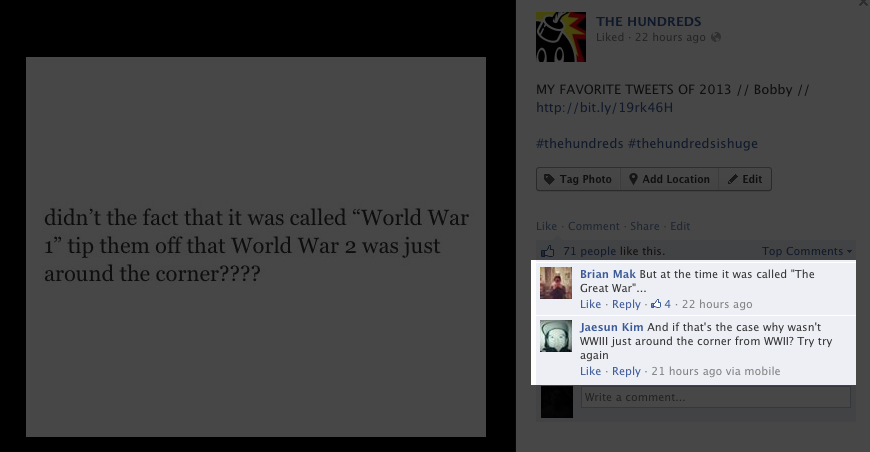 BUT, I still use Twitter. I continue to follow all my favorite writers and comedians, and star all their crazy thoughts and ideas that are so dryly obvious, but no one puts together.  Here are my favorite 60 tweets of the year that the rest of the Internet appreciated because they had nothing to do with Streetwear.