With his sophomore studio album now in the rearview, Quality Control signee Duke Deuce is applying full force to the gas pedal, breathing in the rarefied air atop the mountain of Memphis hip-hop. In a relatively short time in the spotlight,  his audience has grown exponentially, gravitating toward his highly energetic delivery, gritty bars, and a dancing style you can't look away from.
The self-coined "King of Crunk" has taken 2020 by storm following the release of smash hits like "Whole Lotta" and "Yeh." After one DM from Offset and a massively viral video, Duke is ready to be considered amongst the Memphis elite. While acts like Young Dolph and Tay Keith have been putting on for the city the last couple of years, the 27-year-old Duke Deuce is carving out his own lane — and it's a wide one. "I'm 300 pounds, you feel me? That alone says a lot," he told me.
As an adolescent, Duke Deuce, real name Patavious Isom, was exposed to hip-hop through his father's bubbling career at the time. From attending studio sessions to shows at local venues, his career interests were always  based around becoming an artist himself. In 2016, Duke set the streets ablaze with his debut project, Deuce Live Music. Over the years, he spent time developing his craft before finally dropping off the first installment of his Memphis Massacre series. "It was really just to make a statement and show the world that I'm coming," he points out. The 15-track effort contained a pair of features from Project Pat and Offset, who Duke eventually signed to.
In late-2019, Duke caught the eyes of many with "Crunk Ain't Dead," which amassed over 12 million YouTube views relatively quickly. The video went viral after the opening scene became a buzzworthy meme. Thanks to the original visual's success, "Crunk Ain't Dead" also earned a monster remix featuring hometown legends Juicy J, Project Pat, and Lil Jon. The Wikid Films-directed effort follows the artists around Memphis and serves as a standout cut on Duke Deuce's Memphis Massacre 2. 
Confident and hungry for success, it should be no surprise that Duke's demeanor is propelling him to the top. In our recent conversation, I sat with Duke Deuce to talk about his rise to fame, embracing his Memphis roots, and Memphis Massacre 2, amongst a range of other topics.
MALCOLM TRAPP: What was it like growing up in Memphis and which artists paved the way for you?
DUKE DEUCE: Growing up in Memphis was rough, but we had things that made it fun. There's a lot of music coming out of there, from blues to rock and roll. My pops paved the way for me. I pretty much grew up in the studio watching him. I'm a huge fan of Three 6 Mafia and Project Pat so I'd say they pretty much made a way for me.
Since taking off, how has your hometown treated you?
It's been a lot of love, but of course you know, with a lot of love comes hate.
What sets you apart?
I feel like I have a different way of thinking. I'm creative when it comes to crafting my flows, my music, and just my versatility. Not only that, but I can dance. We don't like to call it dance down here, we call it "gangster walk." Plus, I'm three hundred pounds, you feel me? That alone says a lot.
How'd you master the art of dance?
I've been dancing since middle school. That was just something that came from Memphis, it's a thing I've been doing for a long time, it definitely took practice. I gotta teach you some moves man.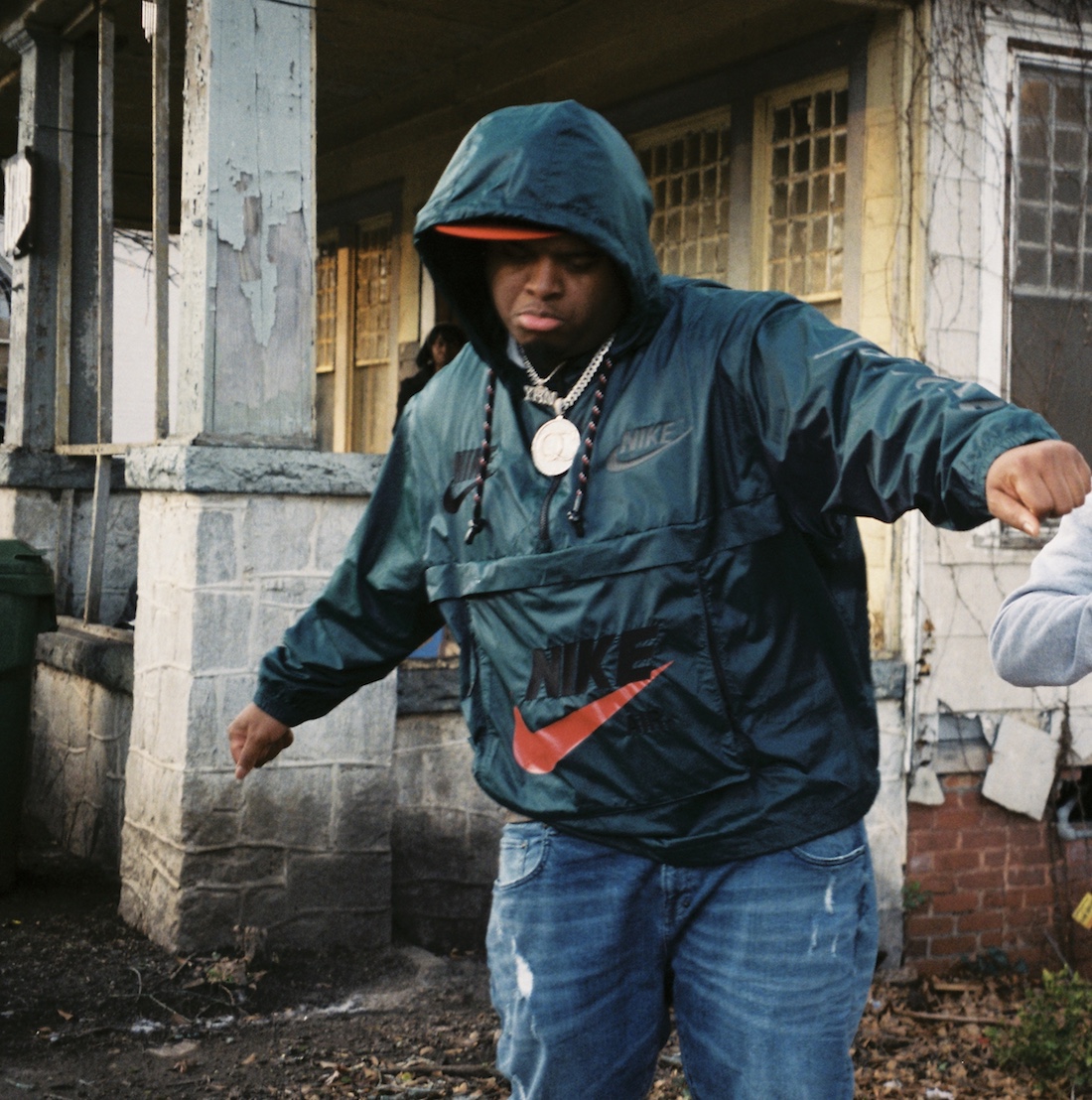 Looking back on the first installation, what's the proudest moment you had crafting the original Memphis Massacre mixtape?
Memphis Massacre was just my rookie stage. I was really just ready to put something out around that time. I worked hard, I gave people a good tape. It was really just to make a statement and show the world that I'm coming.
As a father, how does your daughter inspire you and push you further?
My daughter is the reason I even went hard the way I did. When I had her, I was in a real dark space, struggling. I was living in an apartment with no lights so I used to pray and talk to her. I would tell her that I was going to make it rapping and take her out of the situation we were in at the time. I spoke it into existence, now we have a mansion in Atlanta.
What's the story behind signing with Offset and how has being a part of Quality Control opened the door for more opportunities?
I dropped a single called "Whole Lotta" and the video went crazy. Maybe a week after the video, Offset hit me up on Instagram and since then, it's been up. I've been doing a little bit of everything since the deal. I've been doing plenty of interviews, lots of promotion, and I got a chance to meet a lot of living legends and OGs like P Diddy.
For those of those who don't know, what is crunk music?
Crunk music is an energy. I like to look at it as our gangster rock and roll. It's just energy and expression.
How did the "Crunk Ain't Dead" remix come about as far as getting Lil Jon, Juicy J, and Project Pat to lay their verses down?
The video was going crazy and Pee was like, "let's do a remix." So I was cool, he asked who I had in mind and I said Juicy J and Project Pat because you know, the beat was originally his. Those were the first people I thought of, but a lot of people were saying to get Lil Jon on there. I went and got Pat, then he gave me the connection to get Juicy. Then finally, Pee got Lil Jon and we made magic.
We shot the music video in Memphis and went crazy. Lil Jon, his energy is crazy. He didn't come to play. It was really dope, it was a real Memphis feel. There were people I grew up with and around the hood who came out to that shoot.
How did it feel to finally release Memphis Massacre 2 and what do you want people to take away from the project?
I've been ready to drop for so long. To finally drop my project felt good. I felt like I finally got something off my chest. It's a stress reliever because I felt I was slept on and people didn't know how talented I was. Now that they know, everyone is waiting for something.
I want people to know that I'm versatile and that crunk ain't dead. I'm pushing the movement and I believe people will have to follow the wave. If not, they're going to drown.
Speaking of inspiration, what drives you creatively?
Really, I want to say the grind. I'm motivated to knock things off my list of goals. It's a lot of things I want to do outside of rap. I want to invest, you know what I'm saying? Until I reach these goals, I just gotta keep going. Plus, I really just love music. This is a job that I really love.
Other than your own, what's the last project you listened to that made you go "ooh"?
My favorite project right now is Young Thug's new project, So Much Fun. It's a well put together project, he wasn't playing with that one.
Now that the project is out, the real question is what's next for Duke Deuce?
You're finna see me on tour soon. I'll be going this summer, Coach K confirmed it. You know what, I'ma try my best to drop another project in two months. I want to stay consistent and keep giving them pressure.