Basketball players are not known for their ability to bow out gracefully. They're like the guy who sticks around your party until 3 AM, Snapchatting pictures of your dog even though every other guest took off and you're out of beer. Legacies that at one time appeared to be untouchable, have been completely tarnished just because all-star ballers overstayed their welcome. Everyone knows about Michael Jordan's dismal Wizards run, extending arguably the greatest sports career of all-time into a forgettable second incarnation that, despite spawning the cinematic masterpiece Space Jam, became a punchline. Sure, Wizards-era Jordan still became the oldest player to score 50 points in a game and is still the only 40-year-old to average 20 ppg in a season, but there isn't an NBA fan who felt good about seeing Air Jordan in a jersey that wasn't red and black. It was like if Tupac wore a Bad Boy Records T-shirt.
Shaquille O'Neal went from being, what I believe to be, the most dominant center in the league's history, to a marginalized utility player for the Suns, Cavs, and Celtics, wearing 3 different jerseys in 3 consecutive years. Even Karl Malone tarnished a storied 18-year career with the Jazz by playing a forgettable final season with the Lakers. For every Kevin Garnett – who will hang up his Nikes at the close of next season wearing his original Timberwolves jersey at the perfect time – there's a handful of players like Charles Barkley, who played a few injury-riddled final seasons on the Rockets that made his rapping Taco Bell commercial seem like a good idea (I see you, Lamar).
Did you know Tim Hardaway ended his career by playing 10 games on the Pacers? How about that Patrick Ewing rounded out his Hall of Fame resume on the Seattle Supersonics and Orlando Magic? Dominique was a Clipper, Hakeem was a Raptor and, make no mistakes about it: all your heroes eventually die. I only bring this up as a warning, a premonition even, for every Lakers fan who may stumble across The Hundreds website, because very soon, Kobe Bryant will fuck your dreams.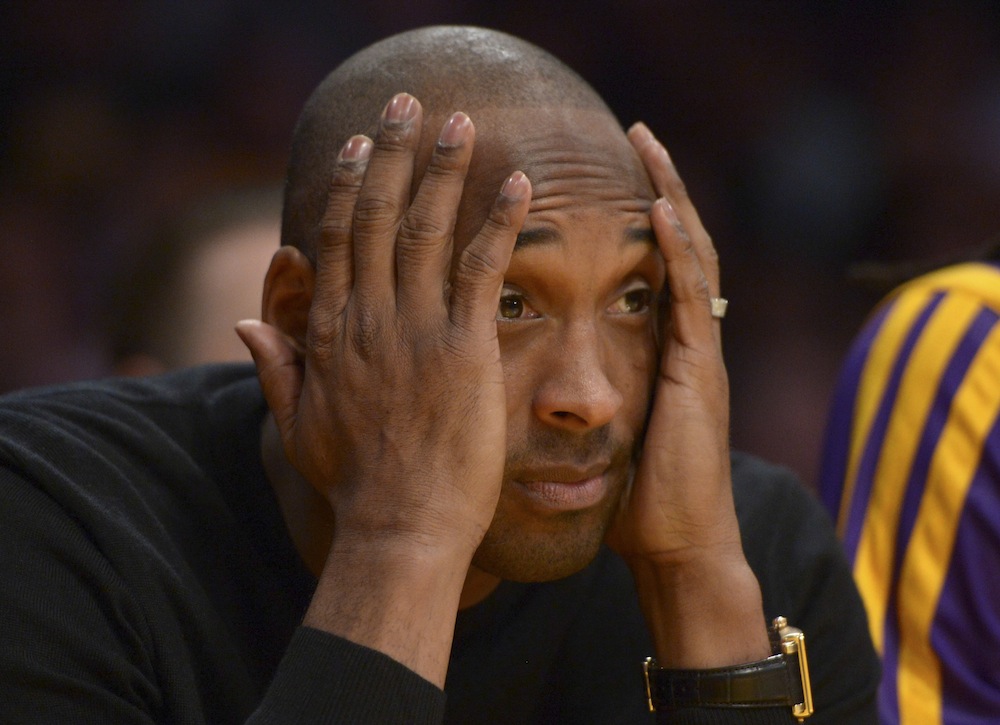 2 years ago, when the Lakers decided to reward the 37-year-old Bryant with a $48.5 million dollar contract extension, many analysts saw the gesture as a "thank you" for his years of loyalty, and undeniable success, for the team he's worked for since his rookie year. But in reality, Bryant has only played 41 games in the past two seasons, battling numerous injuries and struggles with a below average team roster. As he promises a comeback next season, a year where he will make $25 million, a lot of questions still loom unanswered. Beyond his shoulder, a body part that's been treated for a torn rotator cuff, the biggest problem may just rest in his brain, the only real place that really knows if he'll be joining the long list of basketball legends who ended their careers in the saddest, and most selfish, ways.
If you've been listening to Lakers GM Mitch Kupchak since last December, Kobe Bryant plans on retiring at the end of next season. In an interview with NBA.com he said, "All indications are, to me, from him, that this [contract] is going to be it." In February, Magic Johnson, the man most synonymous with the organization (and beating AIDS), even suggested that Kobe should retire during the off-season if the Lakers can't sign a big name free agent, since his expensive contract leaves very little room to make progressive moves. And on the other side of the spectrum, just last week, Lakers coach Byron Scott said on The Jim Rome Show that he is "not convinced" that Kobe's career will end with this latest contract, despite Kupchak formally repeating his retirement beliefs on basically the same day, in what appeared to be an announcement for possible free agent signings more than fans. So at this point, the only person not talking about his definite plans beyond next year is Kobe Bryant.
There is no doubt that he's adamant about returning next year, so the Magic Johnson suggestion of voiding his contract and returning his salary is being ignored from every angle, and that makes sense, cause money is amazing. But the last time we really heard from Kobe about this was March 11th when he asked reporters, "Who the hell said I'm retiring?" and admitted that although he currently didn't see himself continuing to play, "that could change." And if I know anything about egomaniacal sports heroes, Kobe Bryant won't exactly know when Father Time is telling him to quit.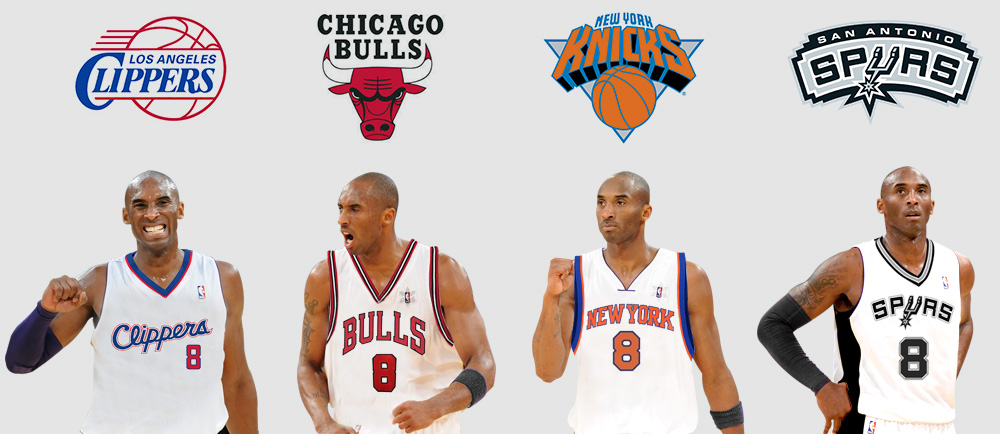 Kobe doesn't even have to leave Staples Center to infuriate Lakers fans, he can just put on a Clippers jersey and lead that team with the experience they so dearly need. Kobe can also take Derrick Rose to the promised land, if not just their shared physical therapy appointments. My money is on a reunion with the Knicks'  Phil Jackson though, but, honestly, my real hope is that he'd join the old men of the Spurs, because it would make for one awesome AARP cover. Also, I have a theory that Kobe should end his career wearing #8 once again, leaving the league sporting the same number as when he entered. 
In my opinion, unless both his legs get amputated, he'll be on the court in a wheelchair like Drake on DeGrassi High playing Muderball. If we learned anything about Kobe in Denver, it's that the one thing he doesn't like to hear is the word "no." Like Locke on LOST, don't tell the dude what to do. If he thinks someone doubts him (p.s. everyone does), he will work as hard as humanly possible to prove them wrong, even if he is wrong. Another reason I see Kobe playing beyond 2016 is Garnett's preemptive retirement announcement. I don't believe that Kobe, a player well known for his problems sharing anything, would want to bid farewell alongside another future Hall of Famer, no matter how much he insists he doesn't want a farewell tour.
But most importantly, Kobe Bryant isn't ready to let go of the attention. We're talking about a man whose first film project was producing a Showtime documentary about himself. Kobe Bryant's ego has always been as large as the ring he bought his wife as an apology, and that kind of self-importance needs to be stroked. He sees himself as a basketball God, and he clearly feels the need to be treated as that kind of savior. If you think Kobe Bryant is willing to hand his legacy over to a backcourt that includes no names like Ronnie Price, Wayne Ellington and Xander Morris, you're dead wrong. By the way, I just made up the name "Xander Morris." That isn't even a player. But it didn't stand out to you because it makes sense that the Lakers would have a guard you've never heard of. That's how bad the team is. I can't see Kobe allowing this team of misfits to tell him when he should, or shouldn't, retire.
So here's my theory. Kobe Bryant plays a majority of next season, usually with limited minutes, but almost always with impressive results. He'll be joined by a new #2 draft pick, a recovered Julius Randle and what I predict to be a decent signing like Dwayne Wade or Rajon Rando. He'll focus on getting his assists up (he will), the team will barely miss the playoffs and they'll put together a respectable comeback season from the woes of 2015, leaving Kobe Bryant wanting more. He'll turn back to the Lakers for a slightly reduced extension, and they'll have to say no, now focusing on signing restricted free agents like Damian Lillard and Anthony Davis, and unrestricted superstar Kevin Durant. They'll be running full steam ahead, building a new era and, like bonehead Jared Dudley recently said in an interview he should never really be giving (and Dwight Howard once proved a few years back), "Most guys don't want to play with Kobe." ESPN posted a similar sentiment earlier in the year when the results of an anonymous league survey stated Kobe was to blame for almost all of the team's newfound failure. One front office executive went as far as saying Kobe "jeopardized careers." An almost 40-year-old version of this player, still battling numerous injuries, won't get his asking price when he sends a "Sup" text to Mitch Kupchak at the end of the 2015-2016 season, hoping the man, who banked on Kobe retiring so much that he announced it himself, will see the value in brining back expensive damaged goods.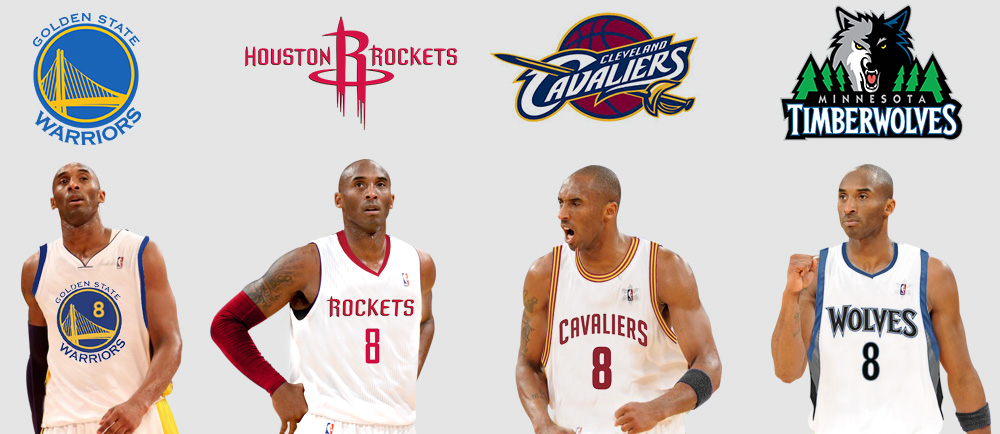 Imagine Kobe playing alongside the Splash Brothers, or really giving the finger to the Lakers and rebuilding a bridge to Dwight Howard to accomplish what should've happened a few years back. "Kobe to LeBron" is something I wouldn't hate hearing for an entire season and no team needs leadership more than the Timberwolves, who will now have more fresh young talent than a Brazzers website.
But here's the thing: one man's trash is another man's treasure. After hearing rejection from Kupchak, a mission will build inside Kobe to prove he's still got it. He'll start talking to other teams, looking to be the productive veteran to help a Championship driven squad, similar to what Paul Pierce did for the Wizards this year. And just like that, Kobe Bryant will sign with a new team, for much less money and with a new goal. He'll bring his A-game to Staples Center to face his former team and drop 40, winking at Xander Morris or whatever bench scrub he didn't end up having to mentor, finally proving he indeed did still have it. And no matter how much it hurts to hear: Kobe Bryant will retire wearing a completely foreign jersey.
Now, this is my actual theory, not just something I wrote to troll the comments section we re-opened just for this article. But I do understand that his health may end up so debilitating that he has to call it quits, and if that does happen; just know that the above scenario is what Kobe wishes could happen more than anything. He dreams that he could shove this vengeful ending in the faces of Lakers fans saying, "Don't worry about it. He's going to retire next year and avoid all that awkwardness." That's the last thing he wants to hear. Truthfully, he doesn't quite have the loyalty you think he has, especially since the only thing the current ownership has in common with the management that nurtured him as a rookie is a last name.
But, if he can stay just healthy enough, in the same way that Def Leppard's drummer was able to still rock out, get ready to see him in one of these new jerseys come 2016 because if we've learned anything from Kobe Bryant in the past two years, he genuinely doesn't give a shit what you think.
::
Follow Jensen Karp on Twitter @Jensenclan88.