Not many art school graduates are getting written up by CNN for their living room art galleries within a year of matriculation, but not many art school graduates are Adi Rajkovic, either. The 24-year-old artist and curator has an infectious energy and a deep-rooted DIY sensibility, both of which helped her turn the work space she found after graduation from CalArts (Rajkovic studied photography) into Sunday, an art gallery that has hosted shows by some of the most interesting emerging artists in Los Angeles, including Yung Jake and Audrey Wollen. Along with the help of her partner Teryn Brown and friends and fellow artists Ryan McGuffin and Kaya Yusi, Rajkovic overhauled their living room and curated a group show featuring work from all of her friends from art school and the LA art community, aptly called No New Friends, in April of 2014. Since then, the shows Sunday has curated have drawn the attention of some mainstream media, particularly the most recent exhibition, a group show curated by Rajkovic entitled Hot In Here which featured work from nearly 50 female artists, including Arvida Bystrom, Molly Soda, and Signe Pierce, as well as pieces from Brown and Rajkovic themselves. Now, over a year since Sunday launched, the gallery boasts a mini store chock full of art, zines, and Sunday-gear, and Rajkovic is hard at work programming shows to fill out the rest of the year. Next up? Soggy Bodied, a group show curated by artist and fellow CalArts alum Michael Ray-Von opening this Sunday, October 18th.
I interviewed Rajkovic about the gallery, her motivations and inspirations, and her future plans for Sunday and for herself: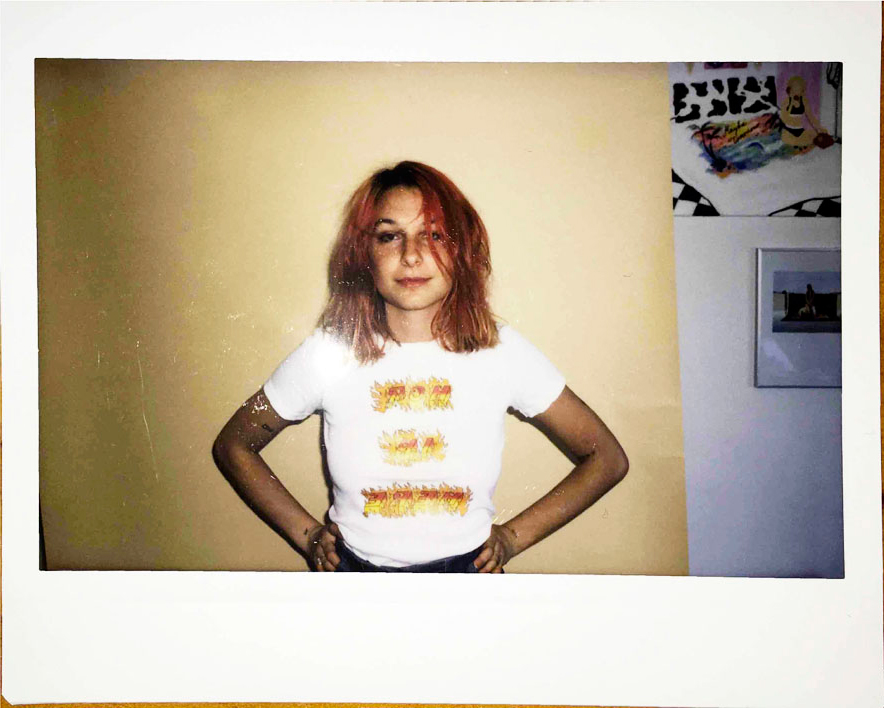 YASI SALEK: Tell me the story behind Sunday—what made you want to open your own gallery?
ADI RAJKOVIC: I started Sunday with a group of friends—Kaya Yusi, Ryan McGuffin , Teryn Brown, and Thomas Alvarez—after graduating CalArts. All my friends were artists and musicians and I wanted to have a place for us all to make and show work. That's how it all began!
You've had a diverse variety of artists show at the space in the relatively short time you've been open, with solo shows Internet art hero Yung Jake to Queen of the sad girl movement Audrey Wollen, as well as your recent all female group show "Hot In Here," from which you culled many of the contributing artists from Instagram. What do you look for when finding artists to put on shows at Sunday?
There is so much out there! I found out that I could curate shows from my phone and was amazed. I mostly just look for what I like—whatever catches my eye, makes me feel something. Or artists that I already know from school or just being in LA, having those connections make it easier.
You studied photography at Cal Arts and graduated in 2013. Did you imagine while you were there that you would open a gallery so soon after finishing school?
I'm not from LA but I didn't really want to leave after school so it just seemed like the most natural thing. I went traveling for a few months with my friend and then when I got back I had all this inspiration and momentum to do something.
What are the biggest challenges of running a live/work space?
Mostly just keeping it going. We are constantly going to festivals and meeting people, trying to expand our audience and finding artists that we like. Making sure the place looks nice and planning new shows.
What do you find most fulfilling about running your own gallery?
It's cool to see people working together. Teryn and I are always collaborating with whatever artists are showing. We help a lot during installation and have an opinion about everything because the gallery is pretty much our living room, so we have to see it everyday. It's really cool to be able to be around creative people all the time.
The ceiling at Sunday.
What are three most played songs at Sunday?
Hmm… Teryn and I have a Sunday playlist that we share on Spotify but I've listened to all the songs way too many times so I don't even know if I can chose from that. But the last three songs I added to my Spotify were Justin Bieber "What Do U Mean," Spiritualized "Cool Waves," and Drake "Hotline Bling." We like to blast the music real loud when the church is having services underneath us.
Can you give us a teaser as to what kind of stuff you have planned for Sunday coming up?
Our next show is October 18th! My friend Michael Ray Von has been living in Mexico City the past few years and is curating a show with some artists from there. Also it will be the opening of the new store!!!
Who are some female artists on the rise that we should look out for?
I just got really into these girls on Instagram: @michel_e_b , @lauracallaghanillustration and @sensitiveblackperson, who uses her Instagram as a political platform. Also anyone that was in the Hot In Here show!!!
You can find Adi on Instagram at @adirajkovic and @sundaylosangeles.