Parties and events are usually the last thing on my list to cover. Younger me used to do it often, but present me just HATES it. Going to a party/show to zig-zag my way through a crowd to snap a shot is just a headache. Taking photo recaps of an event everyone will forget after a week is not gonna feed me creatively nor monetarily. I like to be in a controlled environment. But, the only thing I like about it is the advantages that you get with the media pass. Forget the VIP pass, that brings you nowhere. The media pass gives you access to every corner of a stage or venue. You can be in and out like a ninja. You just need to be nice and get a long with security and the stage manager, they will most likely be tolerant of you positioning yourself to capture that moment you want. Just don't be an asshole.
Shooting shows and concerts is an art form of its own and I am just an amateur. Yes. Amateur. I've rubbed elbows with a few veteran photographers that either shoot for big magazines or newspapers and I've visualized the way they work. Some are more aggressive than others and do not care if they are standing one foot away from the artists just to get that money shot. They usually carry more than one lens and look like they are going to war with all their gear. They are constantly shooting. As for me, I try to get a few shots and end up more likely to party than to actually shoot.
I really enjoy watching the show from the sidelines because there's usually no one there besides the security guards and me. Most of the time I pretend that I am shooting, but I actually watch the show in peace with no drunk fans elbowing me and spilling beer everywhere. No one is there to bother me on the sidelines. The crowd thinks I am working, security thinks I am shooting, and the real event photographers are running around taking photos. That is the true VIP experience.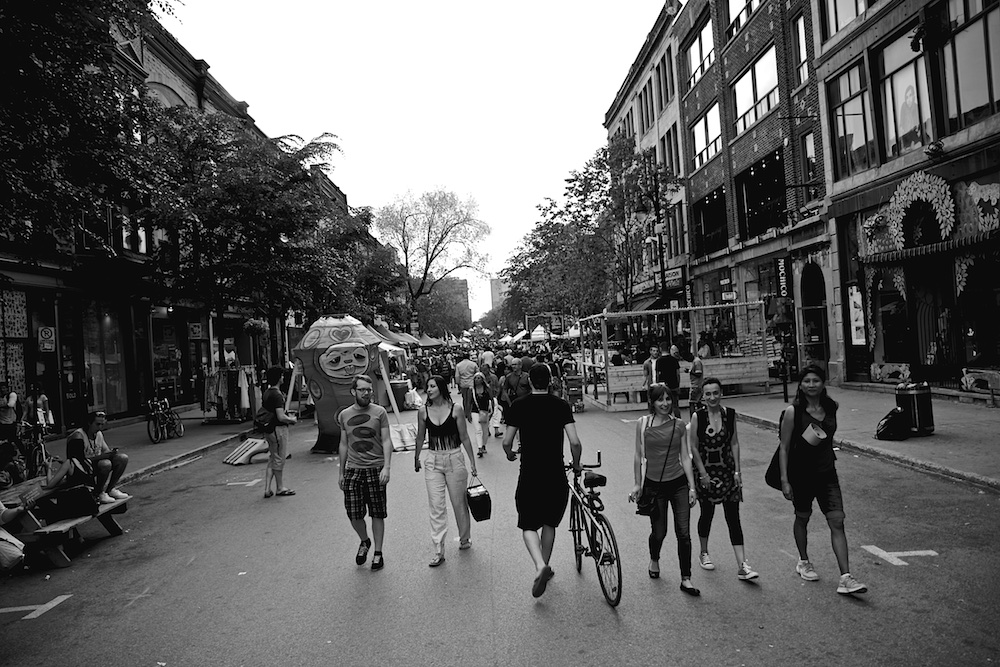 Last Sunday, I managed to get a pass to the Fool's Gold Homecoming Party at the Festival Mural. Just to bring you up to speed, Mural Fest is a big urban art festival that is held on our main St-Laurent street. You've probably seen the Hanksy episode about Montreal and he drops a few words on it. The street was closed for 11 days and many urban artists get to put their work on a giant wall—hence the word "mural." So during those 11 days, you can watch the artists work on their pieces while the whole street is filled with events and lots and lots of parties. Montreal does not sleep. Ever. There are festivals overlapping other festivals and there is always something to do.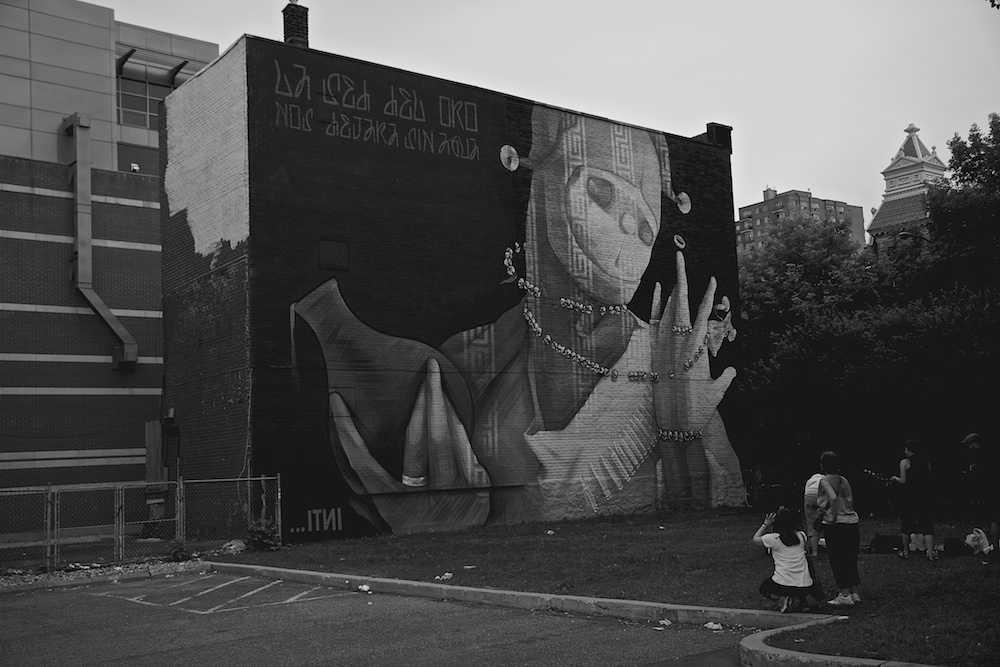 But the Mural Fest has been around since 2013, and it has been a starting point to reviving the main street that used to be dead. Many local businesses are slowly starting to go back there. There are a lot of young entrepreneurs, like Zach Macklovitch from Saintwoods, opening clubs and restaurants on the strip. It is starting to look good and the city is starting to take notice and pour some money into it. The future is promising.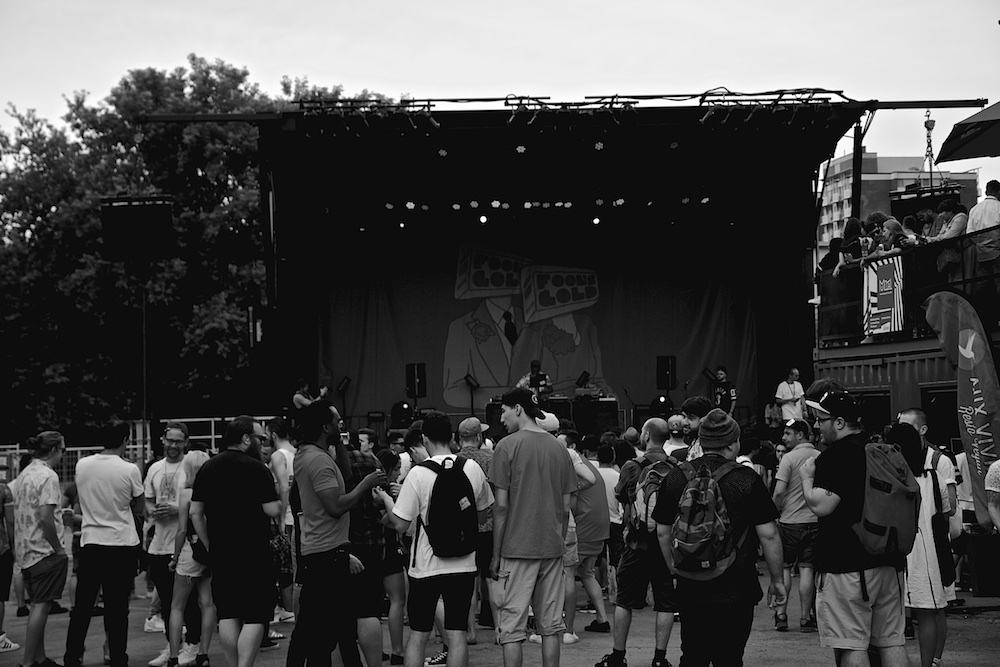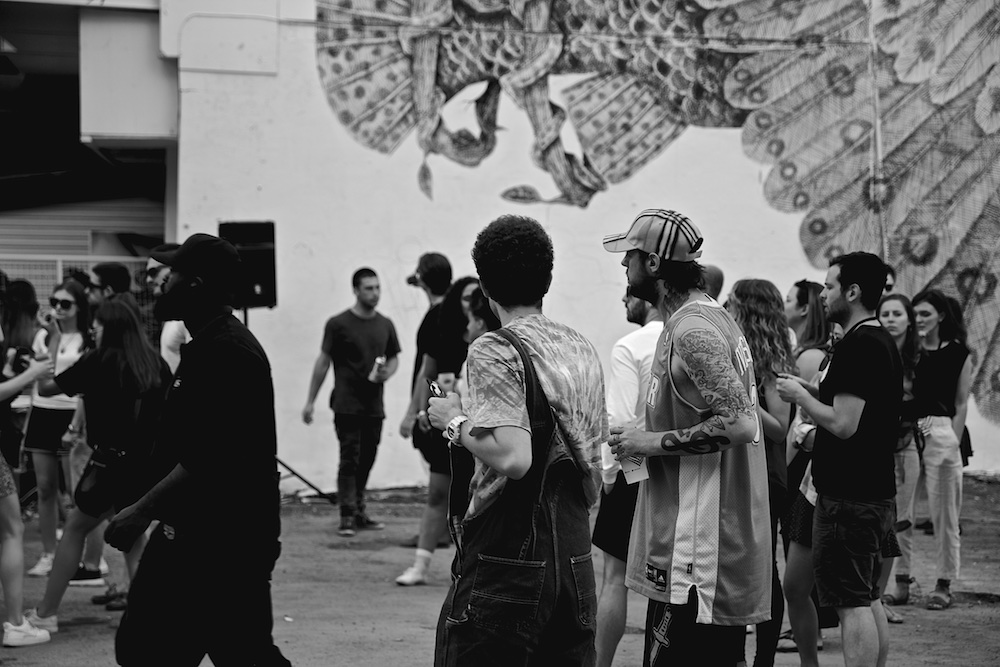 Back to the party. Fool's Gold—owned by Montreal's very own child prodigy A-Trak—had a block party on the last day of the festival. The lineup was filled with local talent on an international tip. Remember when I said we had great DJs and producers? Well, many of them played at this party. Dave Lux, Simahlak, High Klassified, Shash-U, and A-Trak. Locals. Then we had Post Malone, STWO, and Nick Catchdubs as well. Rome Fortune couldn't make it, so they replaced him with another of our own Lunice. The lineup was great. So, with my pass I went through the "VIP" and into the name-dropping stage lineup.
The area where the party was held was a parking lot. That section, which is lower St-Laurent, is known for the high percentage of douche bags and bro clubs.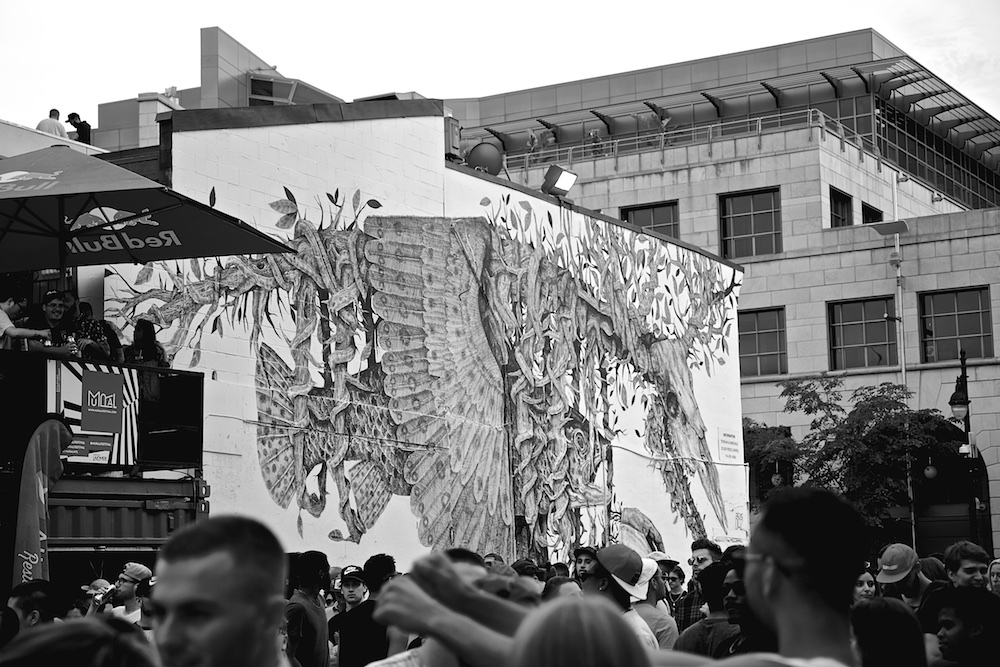 This is the side of the stage. Everyone wanted to go up. Everyone was name dropping. I know this guy's cousin brother related to his grand-mother, etc. The stage manager heard it all and was a bit fed up I think. I had my media pass. I just named dropped The Hundreds.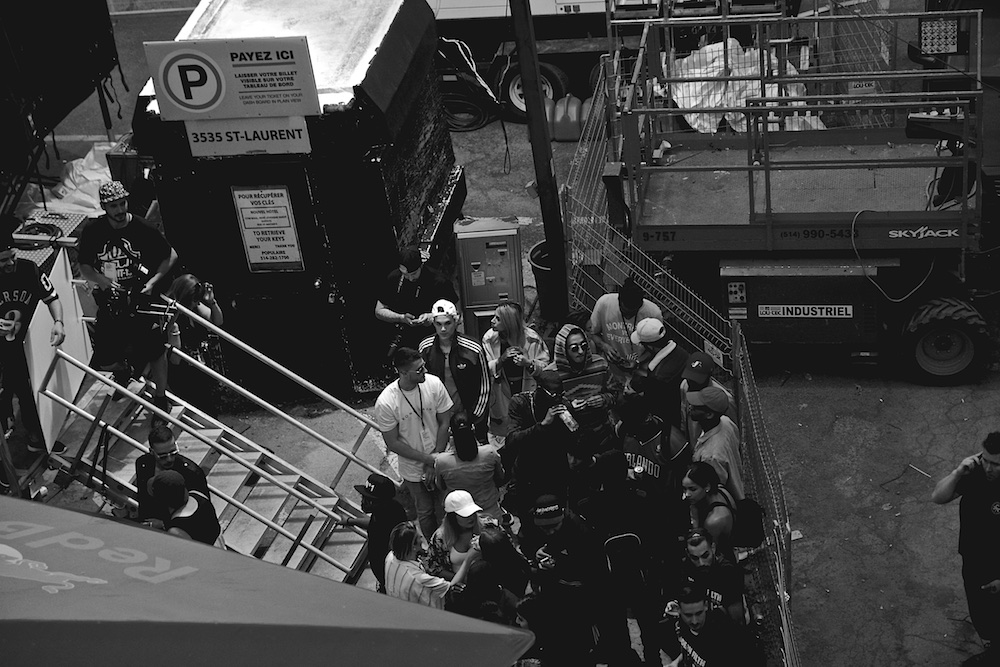 Bird's eye view with my rep Frank!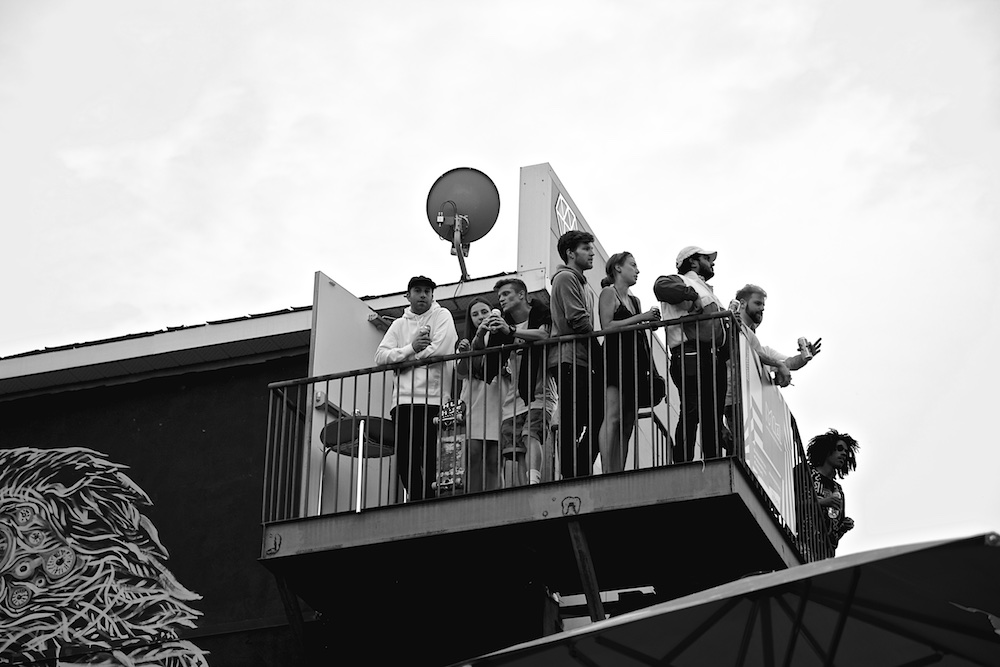 Shash-U looking like Morpheus.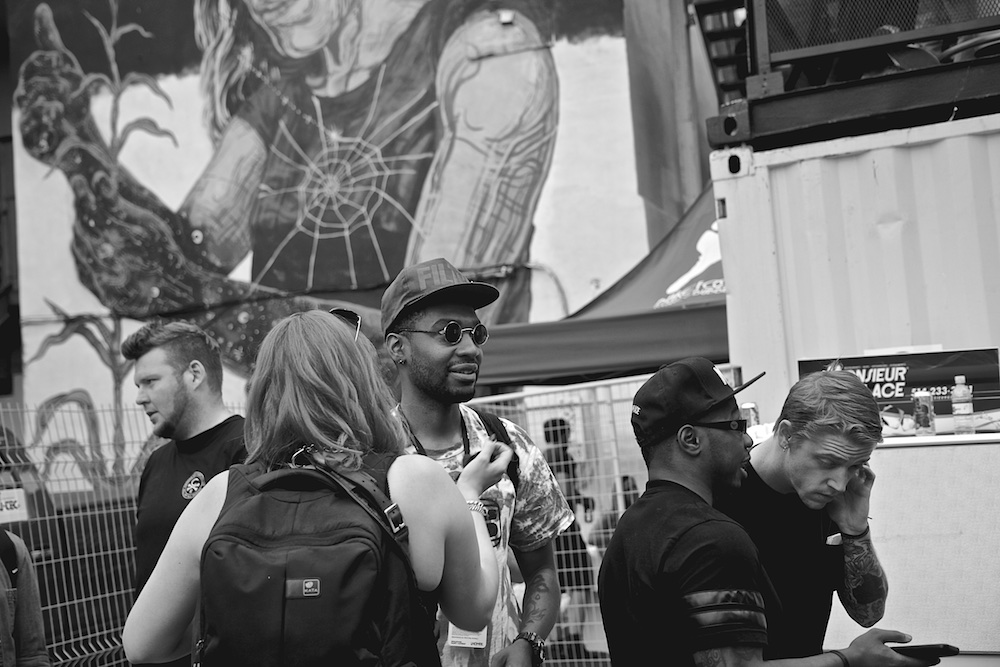 Okay, this is Loud Lary Ajust, local bilingual rappers that are making a lot of noise. They were not on the lineup, so I really don't know how they managed to squeeze in a few tracks. I guess they sweet talked the stage manager.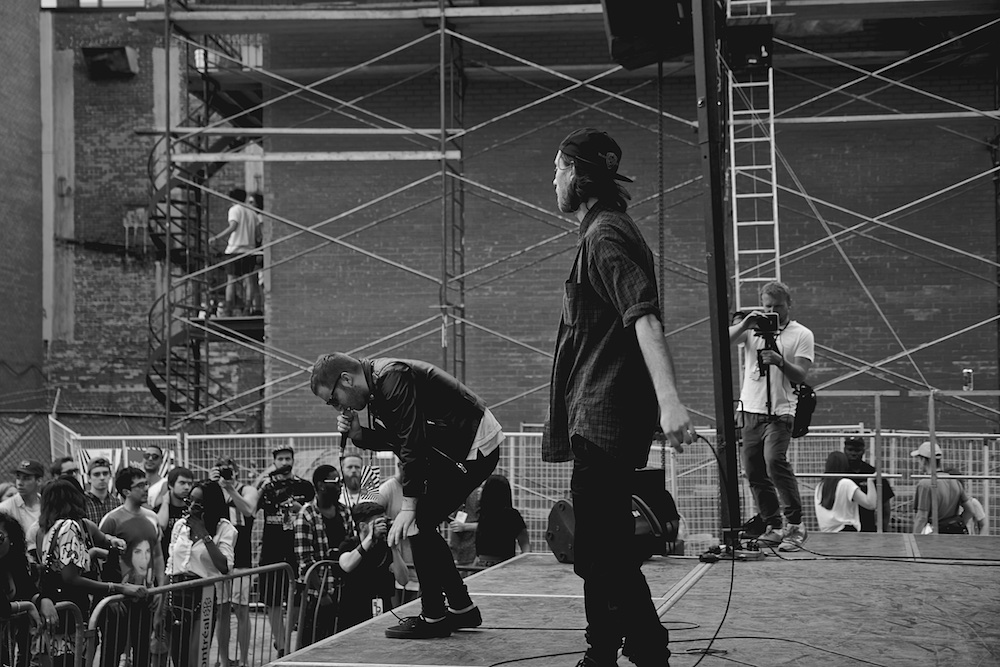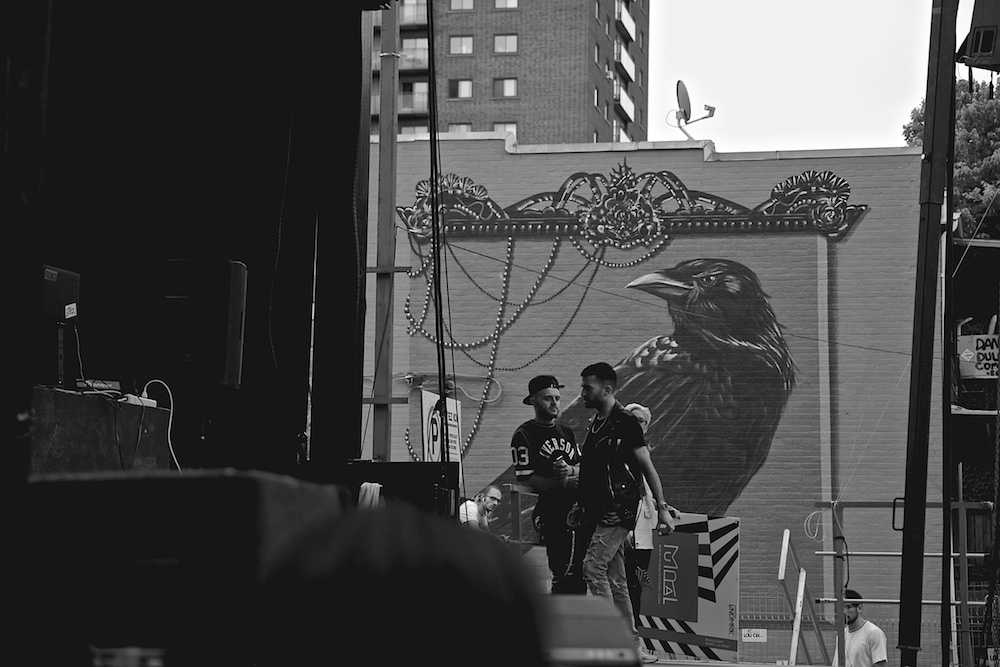 Young Jeremy pro sign holder. I see you.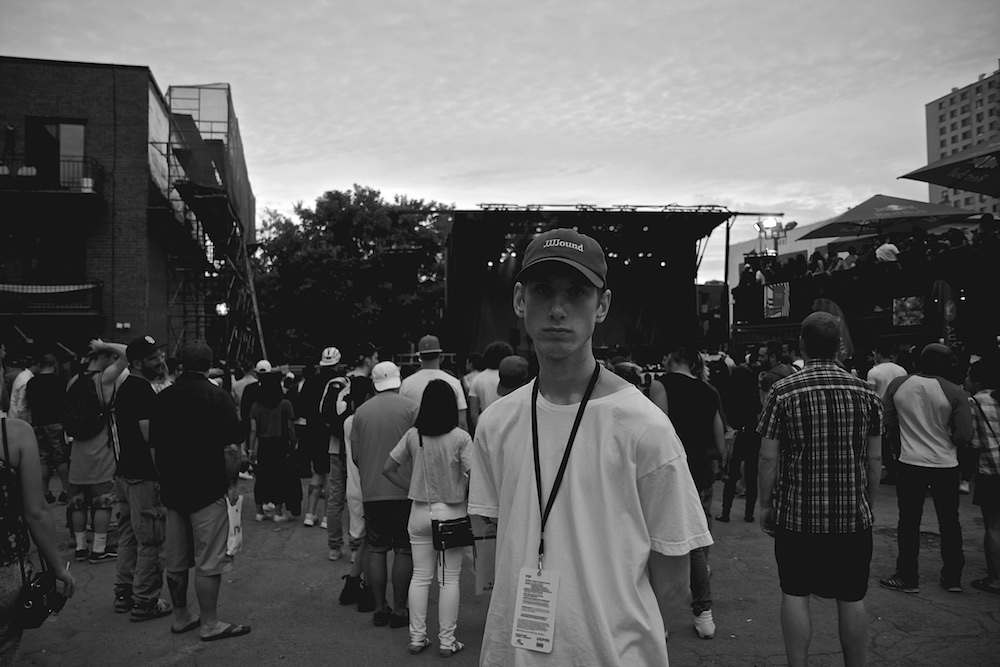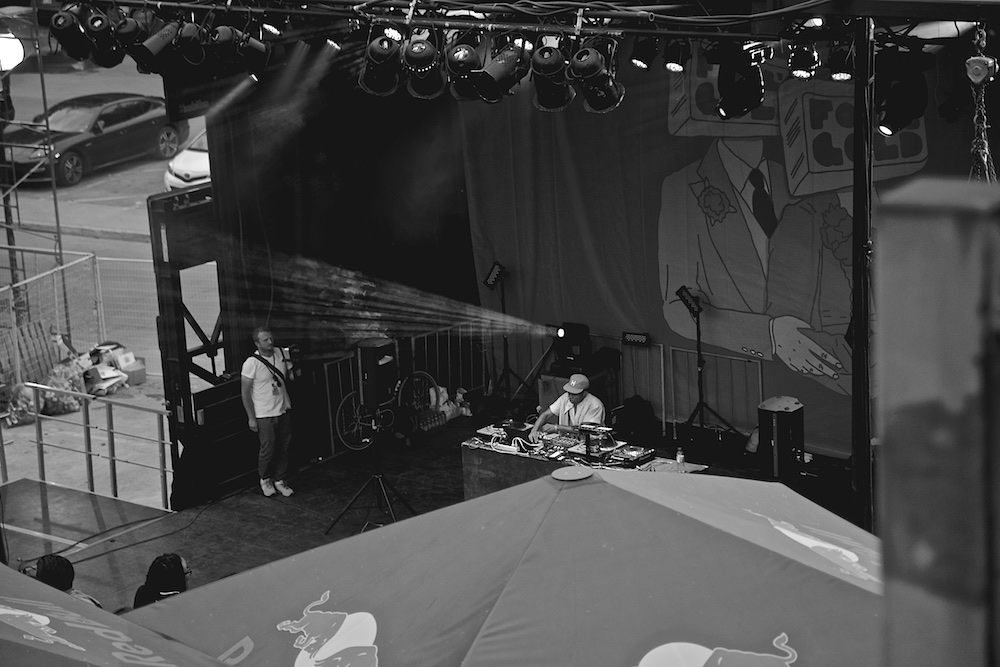 I've known Lunice for a while now and have done a few projects with him in the past. He is one of the most humble dudes out there and he's always giving 110% on stage no matter what day it is. Every time I capture him, he always surprises me with his dance moves. He has so much energy and charisma. Just watching him go is entertaining enough.  That DJ and crowd connection was there for sure.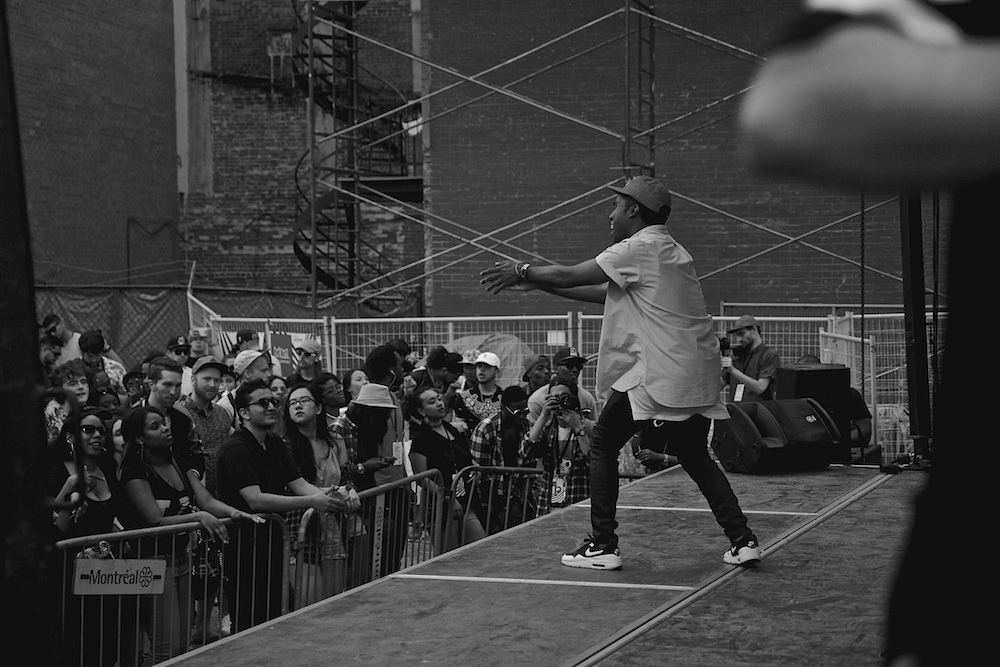 I clearly had the best view in the building.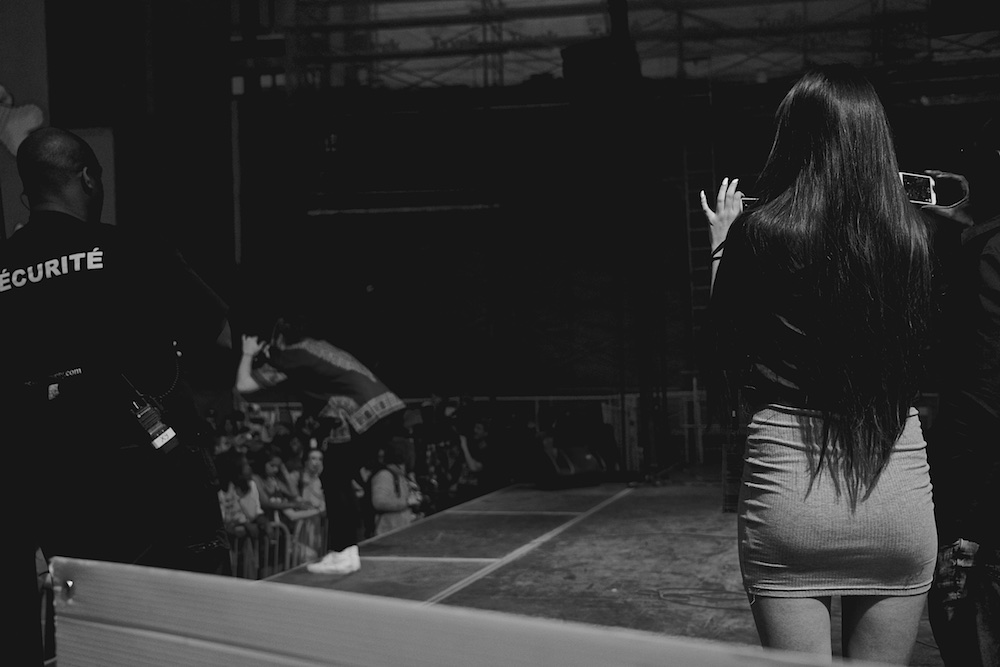 Post Malone be White Iverson-ing all night.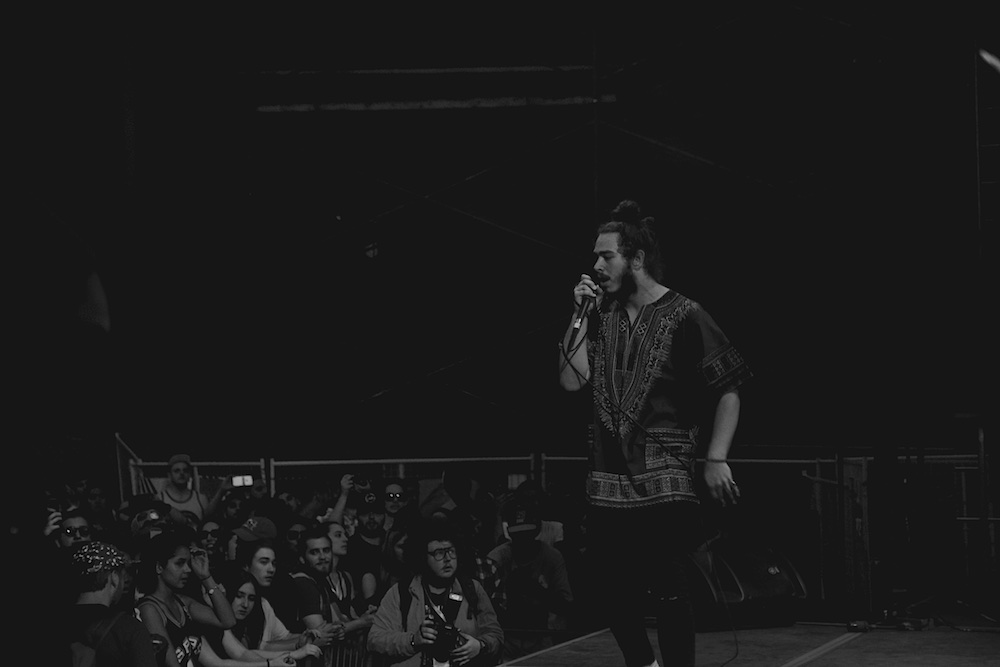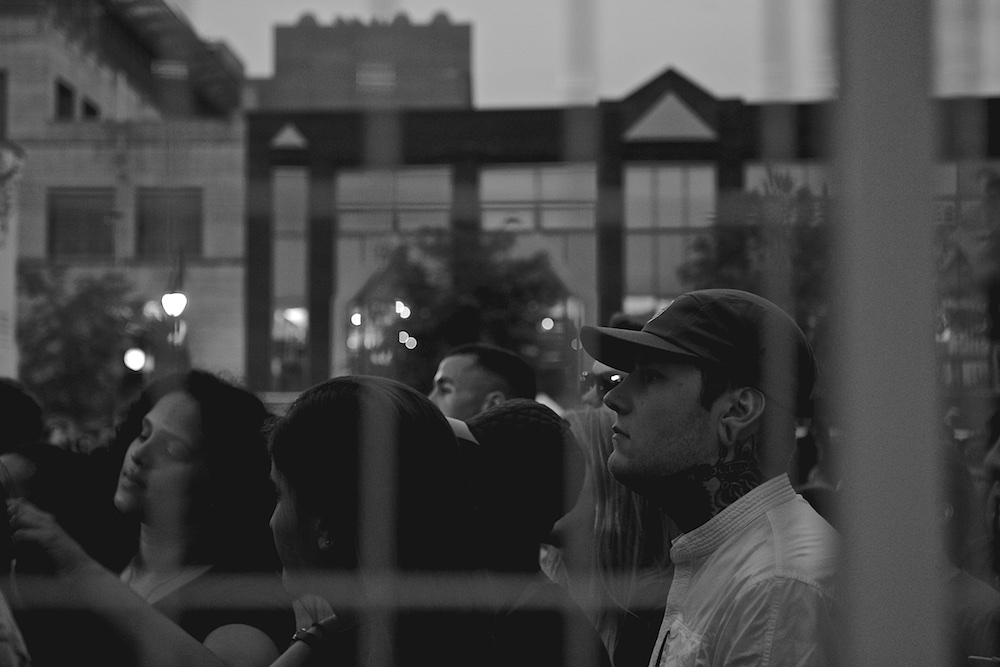 A-Trak closed the night and brought the whole sideline on stage. He always gives a good set and the track selection always blows my mind. I've been a fan of him for a long time and always admired his talent. Not many DJs, nowadays, can rock a crowd like him and combine actual DJ skills. He has the perfect balance when it comes to mixing and entertaining—something that many people should look up to. Still my favorite party DJ.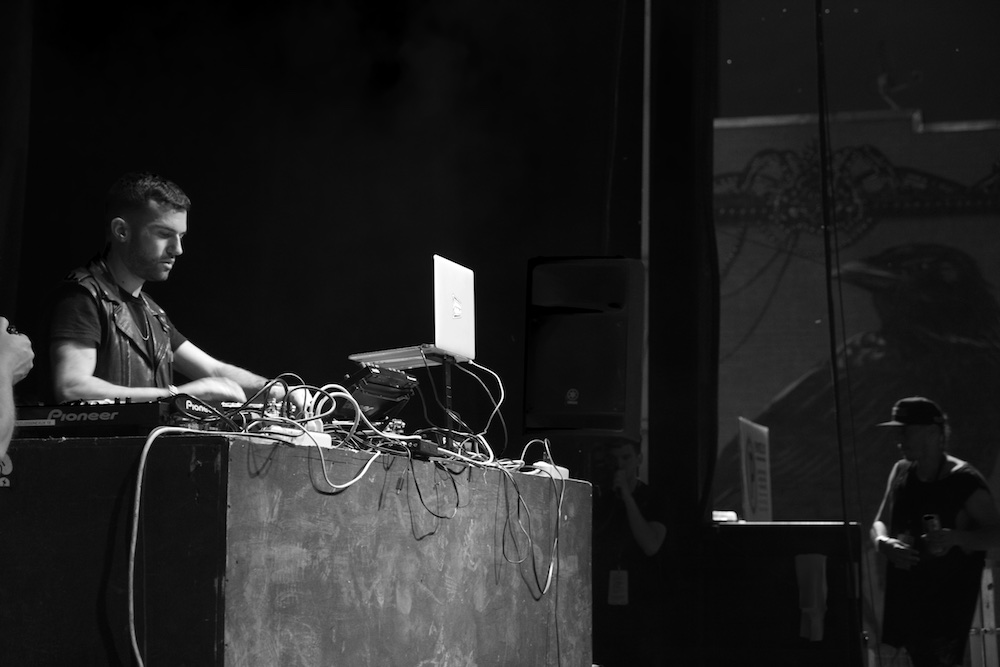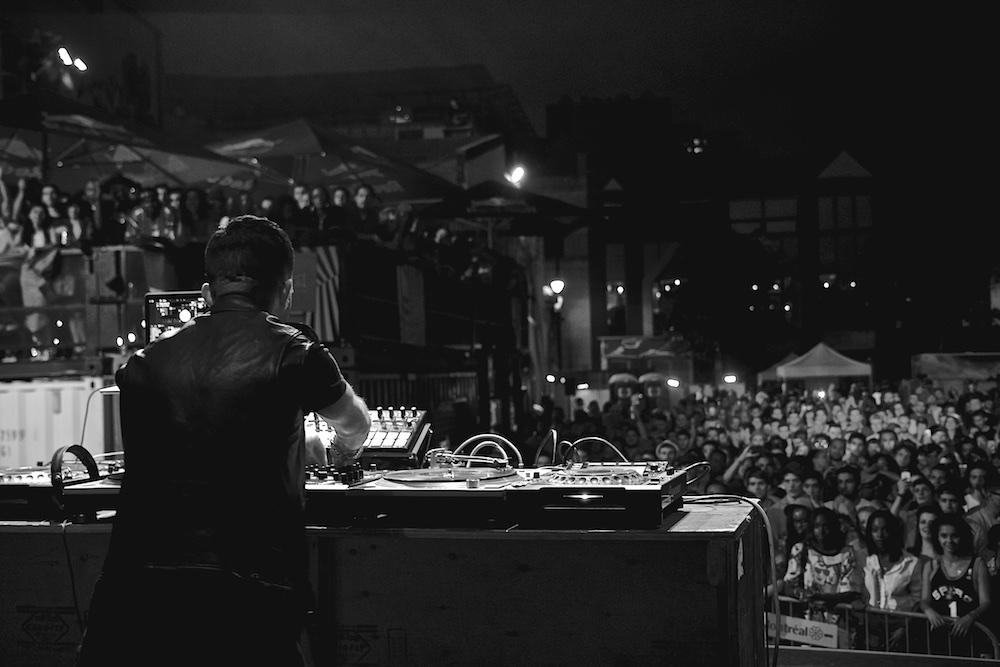 This is my favorite shot of the night. A dude in a Lucha Libre mask having a cigarette.  I call this one Adios El Smoky.