A Tacoman at heart, Umi Wagoner met his partner in crime Perris Wright in 9th grade while on a summer academic challenge at the University of Puget Sound. After spending a couple years managing the flagship The Hundreds RSWD store in Fairfax, he decided to reconvene in his hometown to plant the roots of eTc Tacoma, a cleverly curated shop with a winsome sense of humor, with Wright. Where many prospective business owners would set sights on a bigger city (Wagoner formerly tended shop at Seattle's Blackbird), Wagoner opted for Tacoma. Read on for everything from Wagoner's thoughts on the rarewear eTc has become infamous for stocking to where to get the best slice in T-town.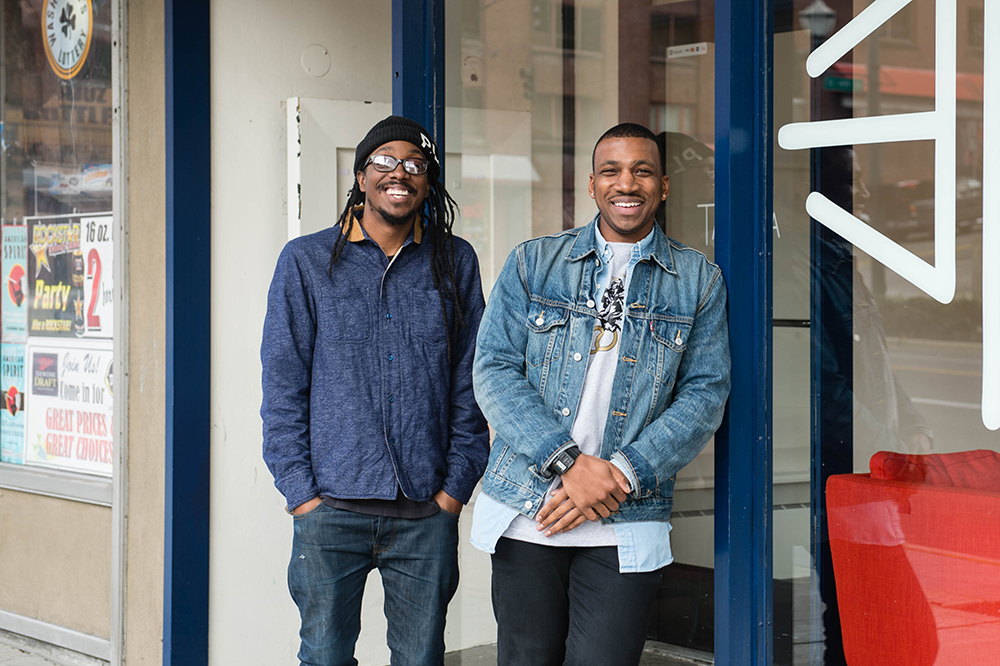 Left: Umi; Right: Perris.
CHONA KASINGER: What's the idea behind the name eTc?
UMI WAGONER: eTc came from our want to own a T-shirt shop in Tacoma that carried brands that were extremely rare mixed in with blank T-shirts, which at the time were big in hip-hop fashion and on trend – companies like Pro Club, Hanes, Stafford, etc. It was going to be a T-shirt palace. And the T in eTc obviously represents Tacoma as well. That was our original idea. The idea evolved and we started using the name more literal. It became more about carrying the extras (lifestyle products) from all the brands that we wanted to carry – we wanted to convey the lifestyle even more than stock product. Since then, Tacoma as well has evolved, so the void for a mesh of both ideas needed to be filled. That is where we set our sights.
How has the transition from LA to Tacoma been?
Moving back to Tacoma from LA has been a eye-opening experience. When I was only flying in for holidays and three day vacations to see loved ones,  Tacoma was a haven that meant relaxation and solitude that was night and day from the bustling West Hollywood streets. Now the goal is to make sure that I'm keeping the party going, eyes and ears open for a cool scene, and doing our portion to add to the scene by throwing an event in-store at least once a month, versus having some much to do the hardest part is making a decision of who you are going to text that you can't make it. Double-booking hasn't become an issue here just yet. Surprisingly, the drastic change of climate has had little to no effect either.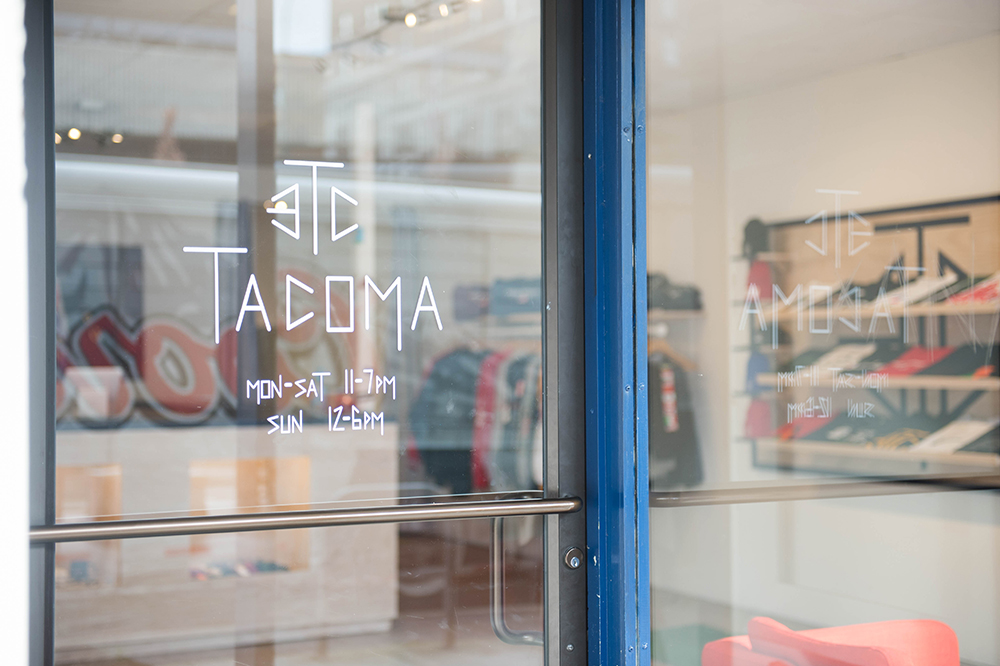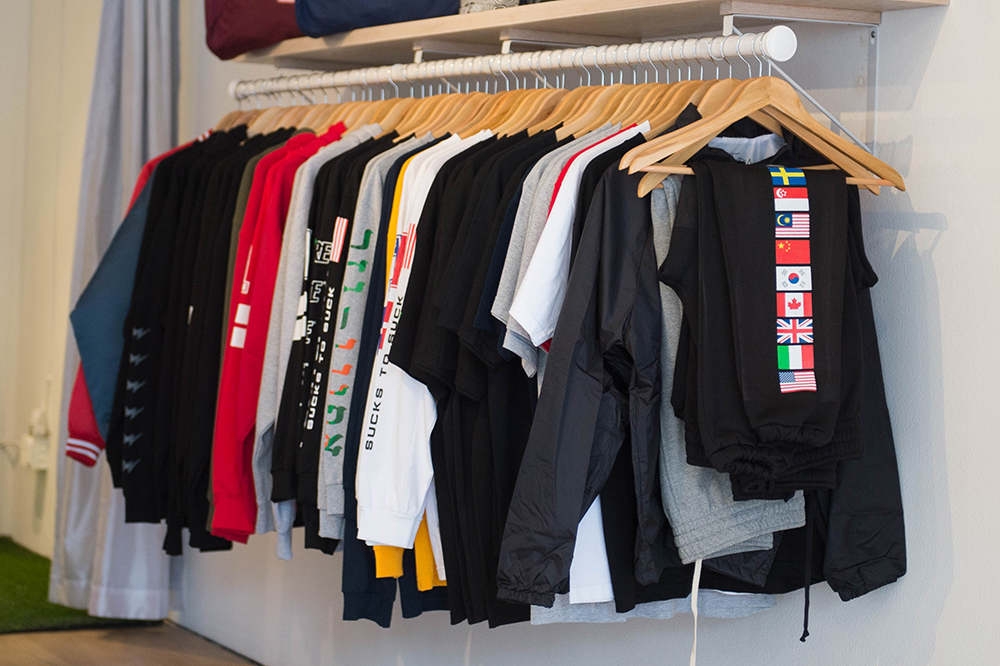 [I] love the tongue-in-cheek nature present in a lot of the items you carry. Is this an accurate representation of your personality? What are some of your favorite things you've carried in store?
Yes, and thank you. This store currently is the mesh of Perris and I's personalities, it may not remain that way for long. The clean open floor plan is all P, while the grass turf patches and rectangle island-esque countertops are myself. Carrying brands is a personal thing for us as well. We only work with companies that we have built connections. There are very few brands that we are fans of but we only want to work those brands. We have to be fans of what we are carrying and doing in-store or our business model doesn't work. CLSC Josh and Sylvester are two incredible talents and we share similar values on the industry – so of course their brands [CLSC and Rare Panther] are anchors for us. Knightmare USA, Above Average, and Go Fuck Yourself Co. are personal favorites of mine as well. Those brands are from LA and you can't find 'em there but you can in li'l ole Tacoma and that's special – that is the whole idea behind the culture and the concept of streetwear, rarewear, and eTc Tacoma.
What are some of your biggest inspirations at the moment in fashion?
As much as rarewear is what we do, high fashion is where all the inspiration lies for myself. The ideas are so much more complex and developed, it serves as a good platform for starting concepts. Raf Simons trainers and Takahashi's Undercover are constant inspirations. The adidas Raf Simons Bounces are amazing. Designer T-shirts are always a great reminder for how to keep things simple and remember that proper branding builds perceptions. Looking back always helps too. Searching the Internet for retro Freshjive, Stussy, FUCT, and Maiden Noir helps a lot too. But getting bogged down with everyone else's ideas can be a barrier, too, so there are long spans where we do our best to not pay attention to anything.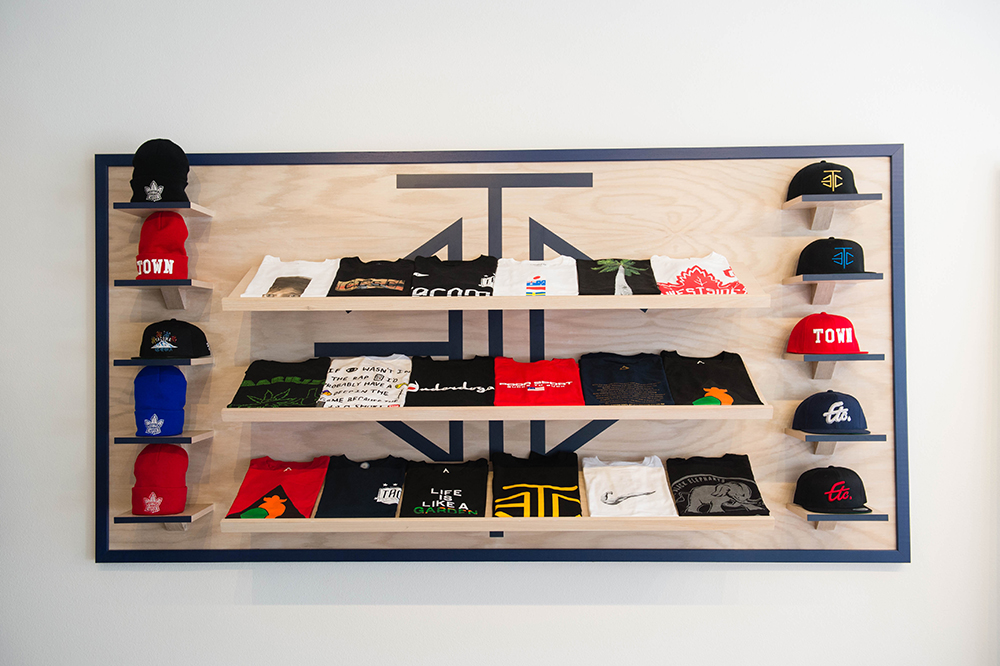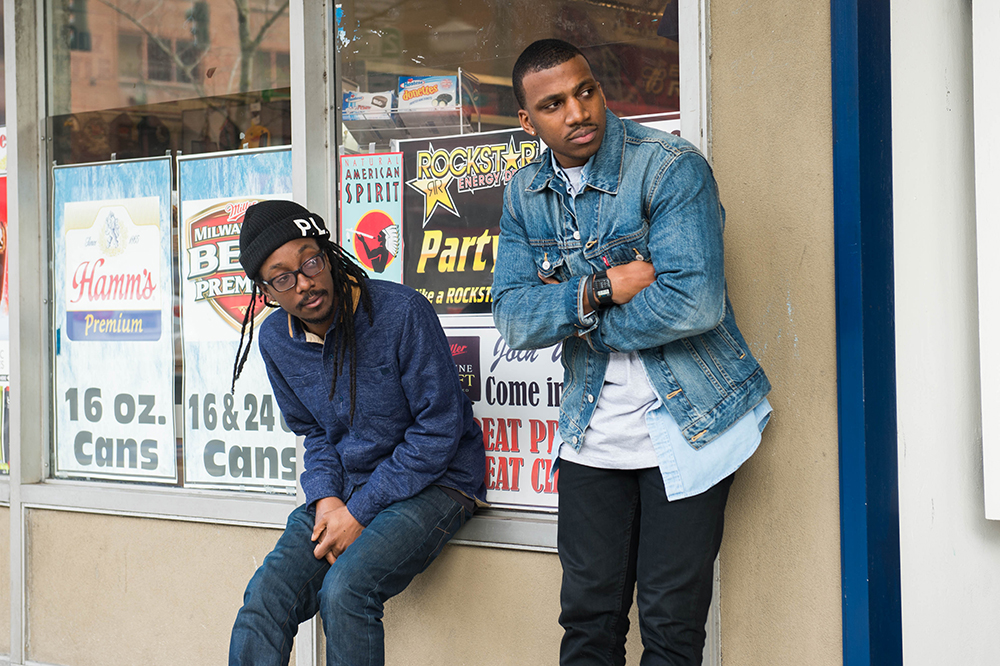 What is your daily style like?
Get up and go. Between Public Label, custom products I've made, SLB T-shirts, rare streetwear T-shirts and eTceTera, there is no thought to getting dressed. I've never had a wardrobe that works so effortlessly. Unbranded days are all about fit and comfort and I wear PL. Branded days I blindly reach for a T-shirt from overflowing drawers and it could be anything from Diamond x Raekwon to eTceTera x GFY Co. But layering is the most important part – it's cold here so three or four layers are a given and I get to wear more of my wardrobe. It feels great to feel as though there are no limitations and no wrong answers.
Any local music you're digging at the moment?
Local music is the best that it has ever been! It's really an exciting part of being back home – being a fan of local acts and being able to see them at different venues in front of different crowds is a joy. ILLFIGHTYOU has been able to gain national success because of their gnarly content in a time when that sound is so influential and producer Khris P is the best that Tacoma has seen. Seaanbrooks is a other young rapper with the energy, work ethic and sound that compliments the times nicely. West Village Records are a bit further South from an area named Lakewood – group members Aramis and Taj7 are impressive. :30 is another sound that we've been listening to – their sound is complete, modern and you can sense the camaraderie between members. Rat Path is a punk band that GLENN from IFY introduced me to and now I'm a fan for sure.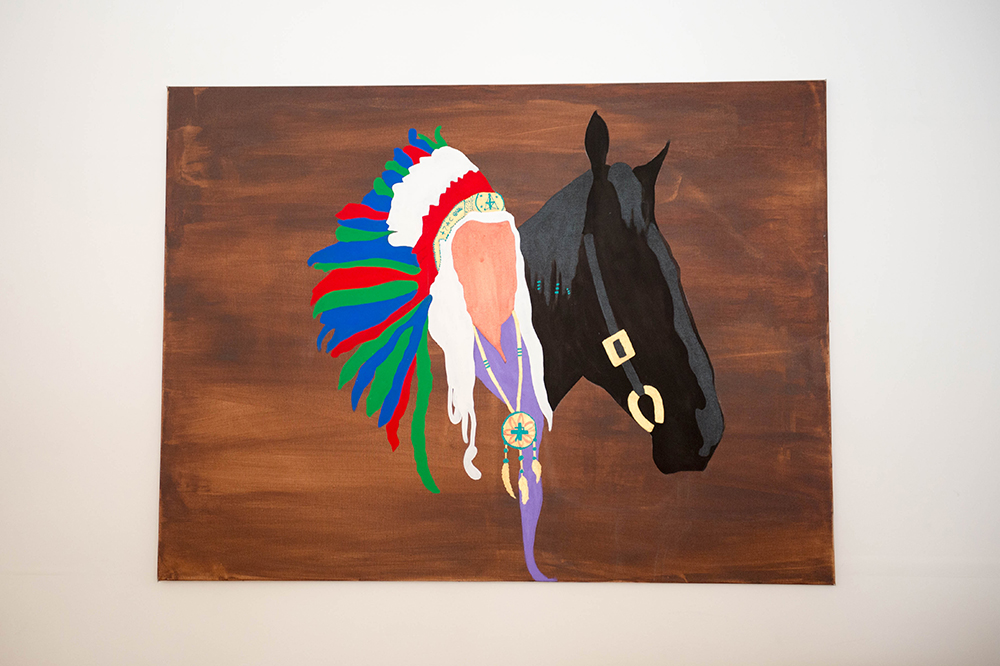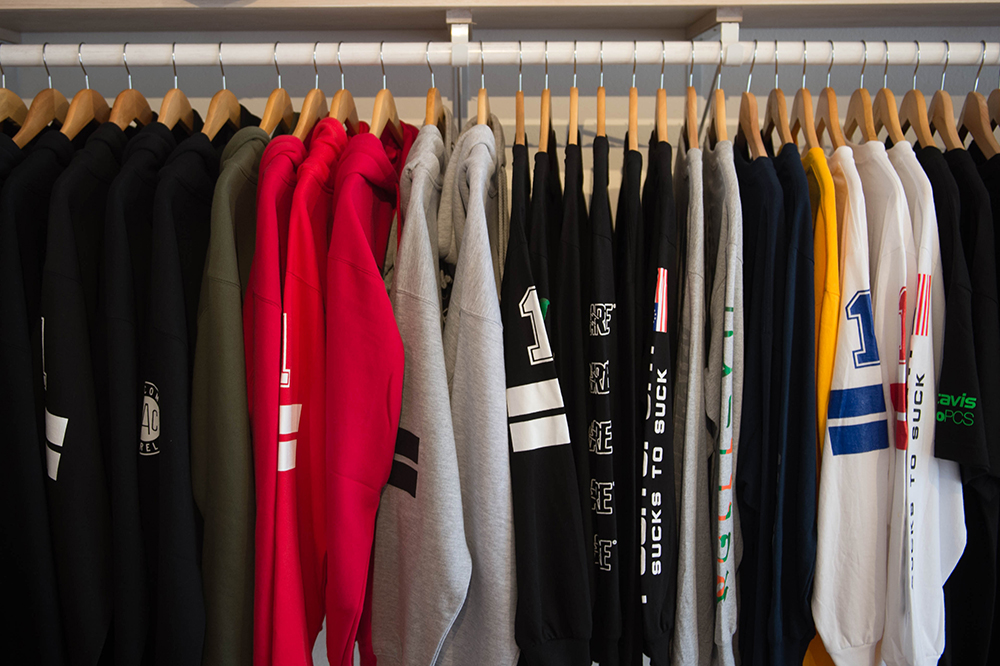 What are some of your favorite spots around town?
I have also discovered quite a bit since moving back to Tacoma. There are great hidden food spots in downtown Tacoma that weren't here when I was a youth or that have been tucked away for years and I was uninformed. Infinite Soups, Meconi's, The Orange Door, Puget Sound Pizza, and Maxwell's are all places that you have to hit if hanging out in downtown Tacoma most of which were not open before I moved to California. Hilltop Kitchen is another amazing place that wasn't around before but is certainly some place that I would recommend although the Hilltop residents have accused them of attempting to gentrify neighborhood. Hangouts/ lounges are one category that Tacoma has also struggled with, but 6th Ave has built itself up a bit and Dirty Oscar's Annex is a great place to shoot pool, drink, and mingle. But Dorky's a 1400+ square foot brick building with mixed drinks, beer and arcade games wall to wall. It would be easier to list what they don't have versus what they do.
::
Learn more at ETCTACOMA.COM. Keep up with their latest on Twitter @etctacoma.