Paris-based artist and illustrator Ermsy re-invents classic cartoon characters in his imaginative work. In one drawing, the limbs of Homer, Marge, Lisa and Bart are twisted and stretched into a peace sign, and in another, Marvin the Martian blows out a puff of smoke that reads, "Take me to your dealer."
"I love pop culture," Ermsy explains, "and I love exploring it." His graphic exploration of pop culture uses popular cartoons in the same way that graffiti writers use letters. "Using well-known characters provides me with a base point, a frame to work within," he explains. "With graffiti, the idea is to pick some letters from the alphabet, then go crazy with them or do whatever you want. Everybody starts with the same base point, and that's graffiti. My starting point is to use characters in my artwork." From there, Ermsy transports the characters from their familiar cartoon universes and into his own topsy-turvy and smoke-filled world.
For his ongoing series, "Say No to Soft Drugs," for example, characters like Garfield and the Pink Panther smoke spliffs and trip out on their extra hands. "Through trial and error, I've found out which characters are best for manipulating with the styles I have," Ermsy discusses in following interview, along with how he developed his aesthetic, 1980s cartoons, and whether Donald Duck or Goofy would win in a fight.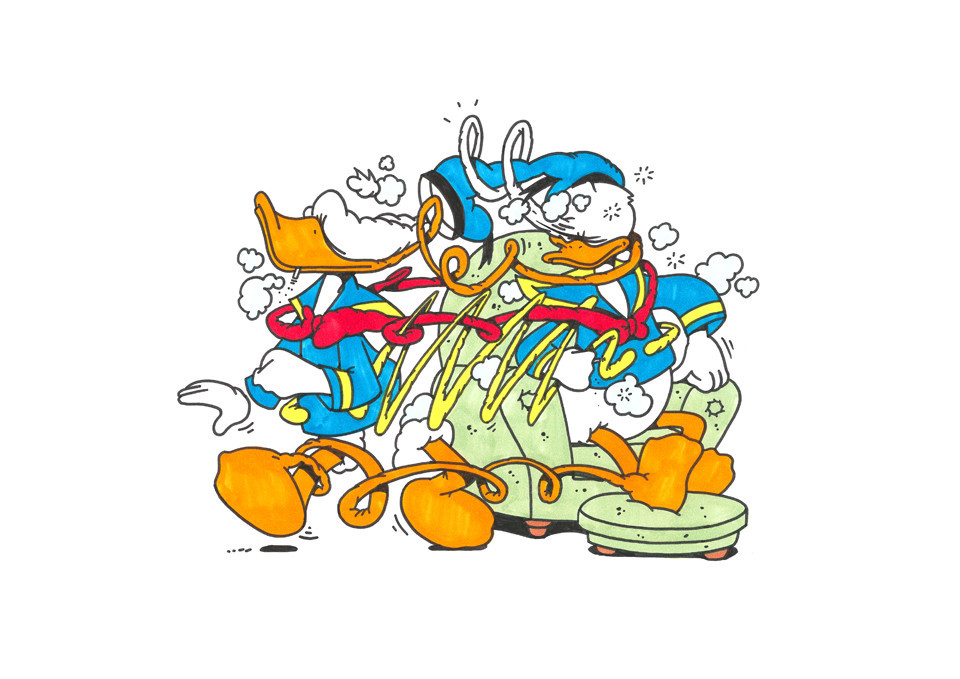 ZIO: Where are you from? What was it like growing up there?
ERMSY: I grew up in small village in the north of England. It was nice growing up there—there was space, not too much traffic, and green fields. It's kind of the opposite of where I've been ever since then. But I prefer the city to the countryside; it's more interesting to me.
Where are you based now? How does it inform your work?
I moved to Paris about 7 years ago. It's a pretty different vibe here to England. As I live inside the city, I get to see lots of big art shows, and try to see new parts of the city whenever I can. When I was doing more graffiti, I traveled around to nearly every part of Paris and Ile-de-France (the wider Paris suburbs) to see what was going on there.
What cartoons did you love most as a kid?
As a kid growing up in the 1980s, I liked Filmation cartoons like He-Man, The Real Ghostbusters, M.A.S.K., Defenders of The Earth or whatever was flavor of the month on the four TV channels that we had. Then there were things like Beavis and Butthead or Ren & Stimpy when I was a bit older. In England, we were pretty much lapping up whatever cartoon shows America gave to us. I also liked Ulysses 31, a slightly spooky space cartoon that was a Japanese/French collaboration.
What's happening in your studio right now? What are you working on?
I've been doing quite a lot of really sweet commercial work. I try to keep drawing as much as possible too, and try to keep releasing my own products in limited editions for the people that are really connected to my stuff or just want something nice. For instance, I've just finished some new stickers, shirts, screenprints, and pins that I'm trying to get back before Christmas.
How did you develop your aesthetic? Were you self-taught or did you go to art school?
It's been quite a long journey. I was interested in art from a very young age. I won a prize at school when I was about 6 years old for a painting of a church. And after that, I think that I believed I was good at art. I was always enthusiastic about art, and a few years later, I got into graffiti. When I left school I wanted to be a graphic designer, which I also studied at university. The whole time I was still painting graffiti and into drawing freehand. From graffiti and graphic design, I arrived at where I am now. There's been a lot of experimentation, trying to see what works, a lot of learning and a lot of exploring and trying to understand the work of other artists.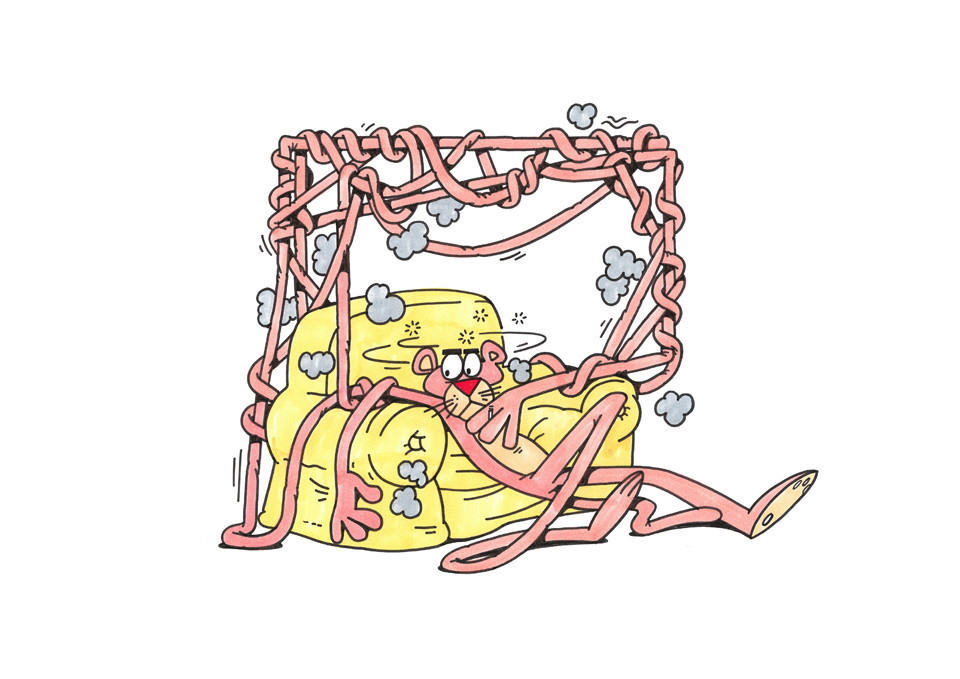 You often re-imagine pop culture characters in your work. Why?
I've always been drawn to American pop-culture ideas and design. I think with the Internet it's now possible to revisit pop culture trends of the past which were left for dead, as more and more of the past gets published somewhere online. I find that really inspiring. At the same time, much of what I'm influenced by comes from objects I find at flea markets or in old stores. In a way, using well-known pop culture characters provide me with a base point, a frame to work within. With graffiti, the idea is to pick some letters from the alphabet then go crazy with them or do whatever you want. Everybody starts with the same base point, and that's graffiti. My starting point is to use characters in my artwork.
Bart, Garfield, and the Pink Panther are constant subjects in your work. What do you love about these characters?
I think that those characters are all brilliant examples of modern design—very accessible and with their own universes that their creators have built up. After playing around with Garfield, I started to get into drawing his owner Jon, who I think is a funny character. I like trying expand his universe in an amusing way and trying make people think differently about him.
Why do you often give these characters Stretch Armstrong arms and twist them all up?
This is one style that I've used in the past in my graffiti and elsewhere, long before I got into my latest "Say No To Soft Drugs" series. I like the way it looks and I can do it pretty easily.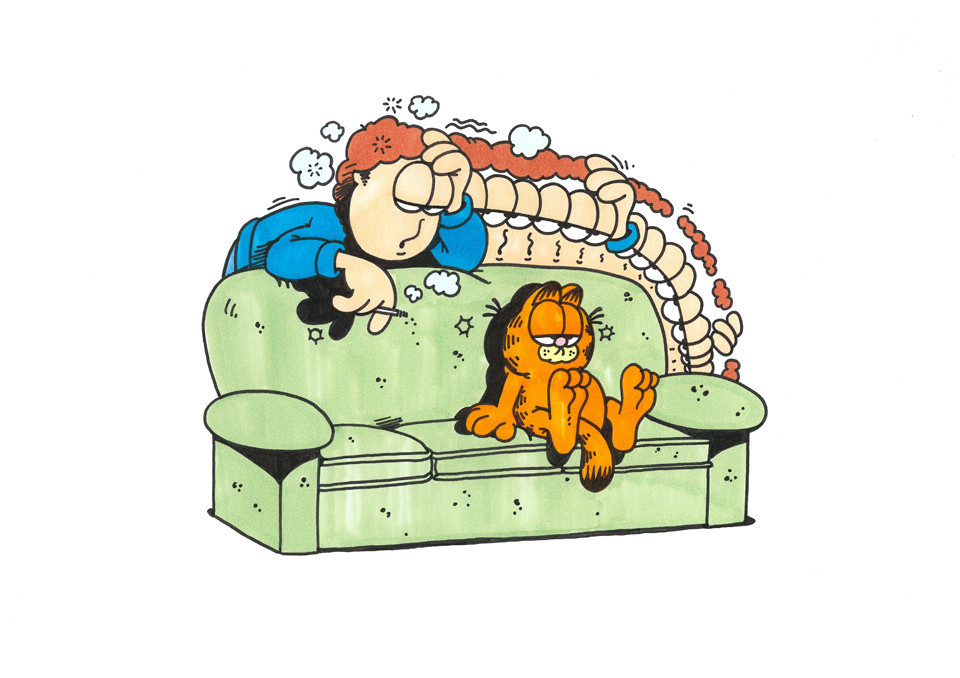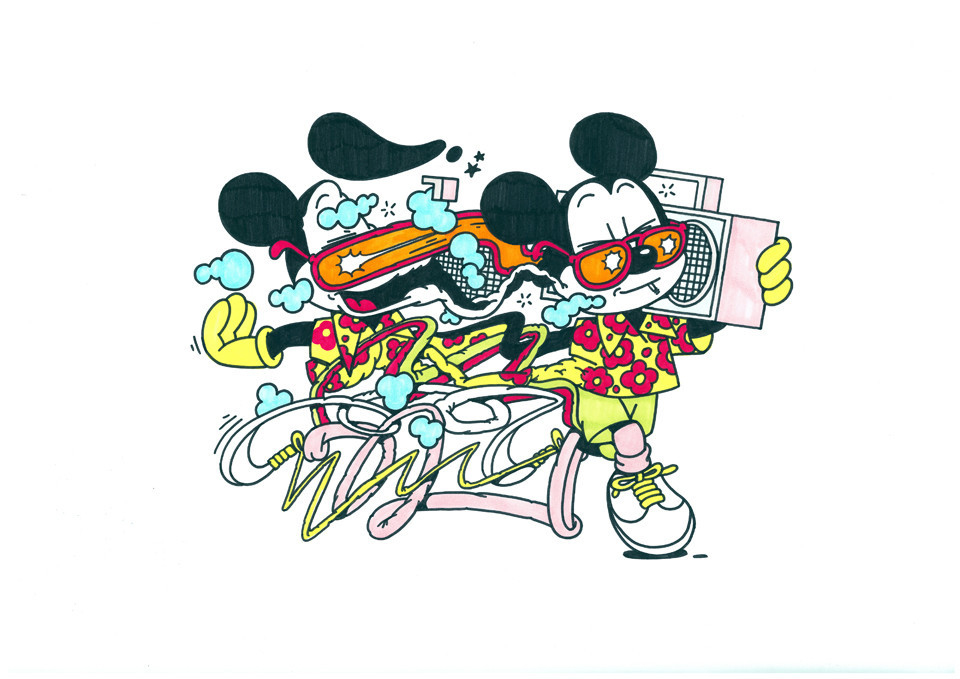 Who would win in a fight—Goofy or Donald Duck?
I think Goofy would probably put one foot in a bucket then step on a rake and knock himself out, before the first punch was thrown. I rate Goofy pretty highly as a character design, but would strongly bet against him in a fight.
What was the best thing that happened to you or the best thing you did in 2015?
It's been my best year yet as an artist—I've reached places and people through my art that I barely felt possible just 12 months earlier. I released multiple zines, shirts, and did all kinds of collaborations. It's been challenging and awesome.
Plans or goals for 2016?
Keep making art.
***