Last month, I headed through to Design Butler's second solo exhibition entitled Replica at East London's Old Truman Brewery. With the show being heavily buzzed about across Instagram and beyond, it was only right that we documented the occasion for those unfortunately unable to attend. With that being said, you really did have to be immersed within the exhibition space itself to appreciate it all as intended.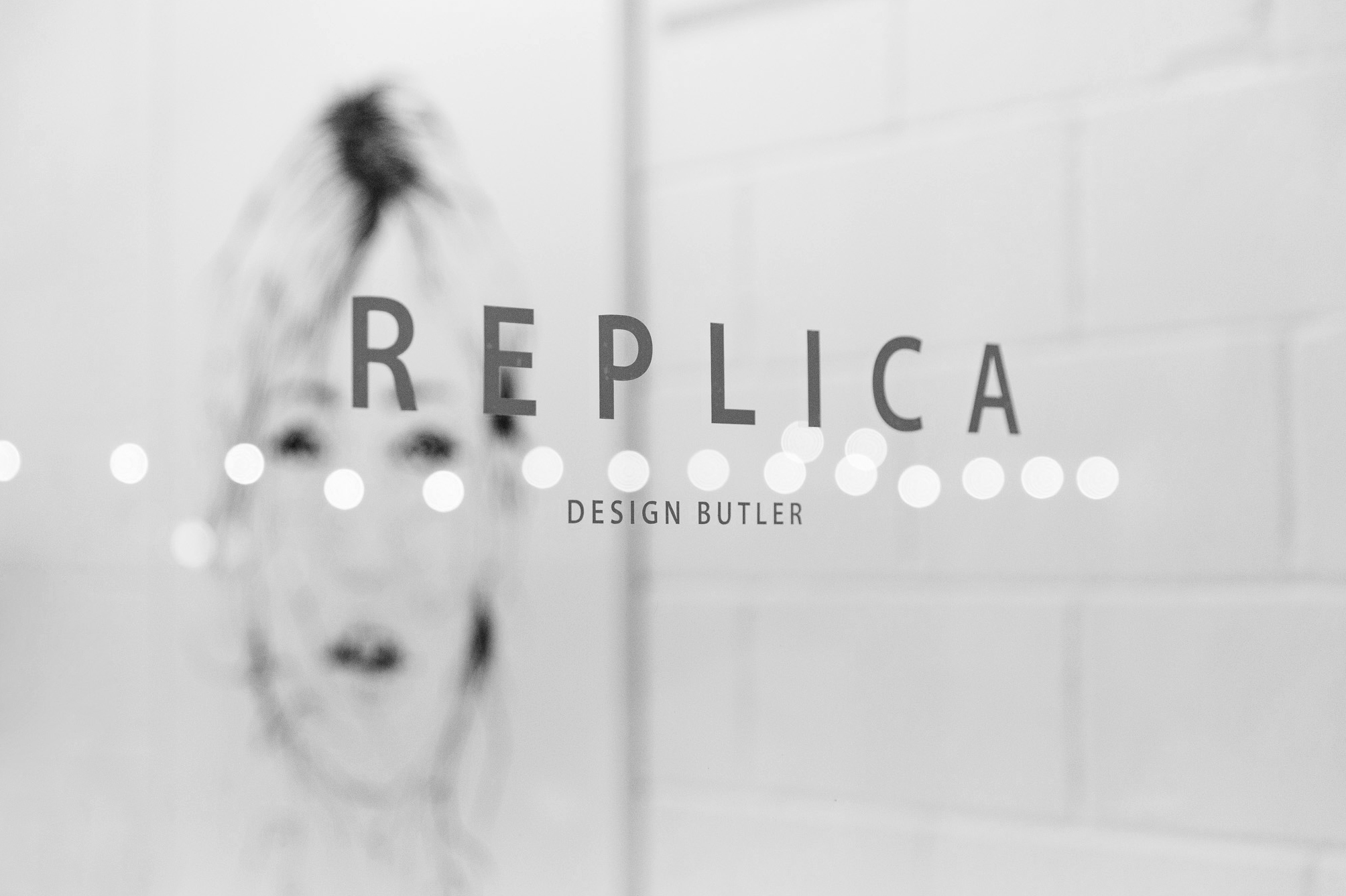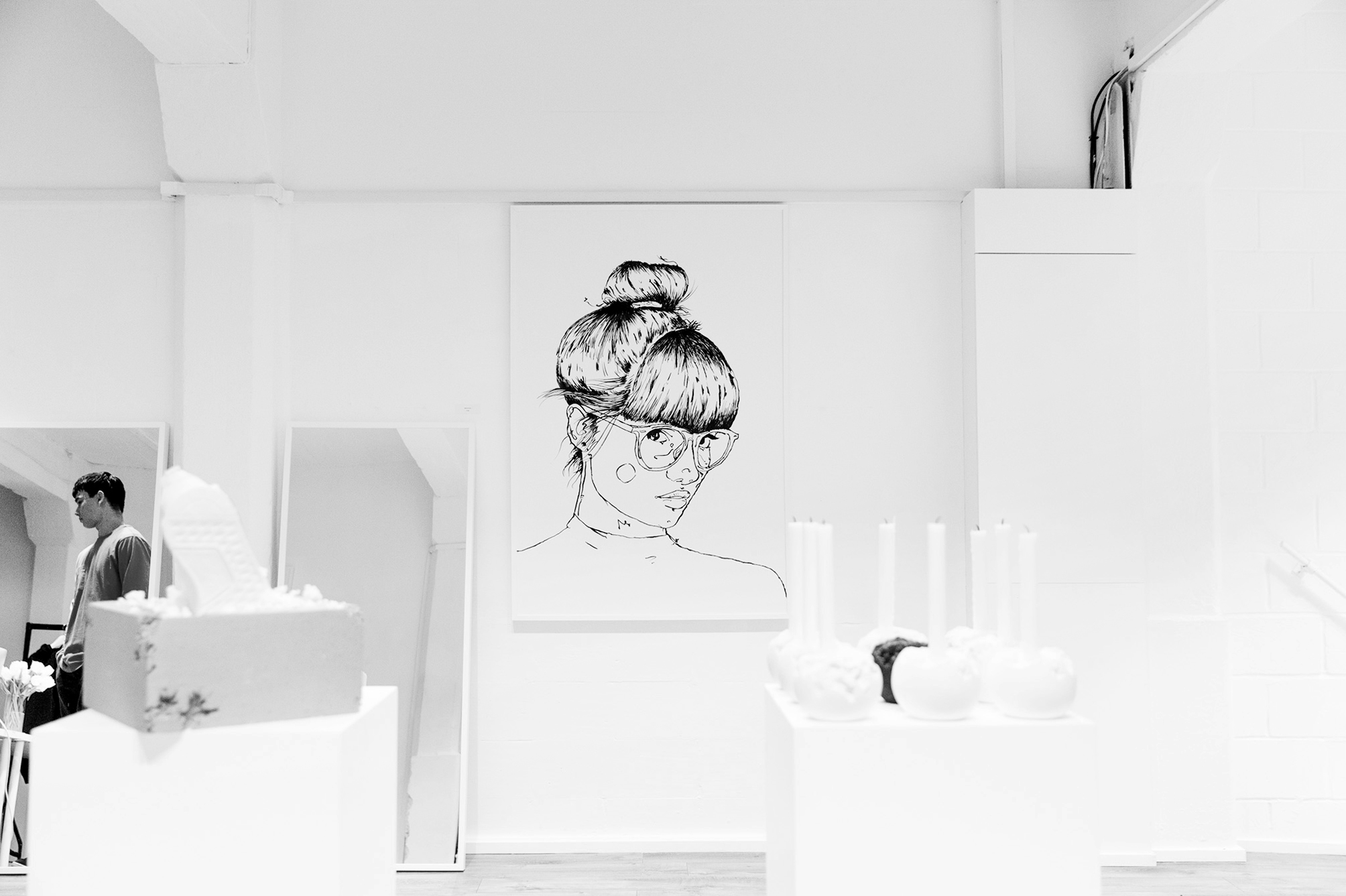 Everything had been considered—from the light piano music playing from the back of the room, to the smell in the air and the temperature of the space itself. Whilst taking off my jacket, Design Butler AKA Tej Adenuga came over to me with a curious smile on his face—"Are you feeling warm, man?" "Good, that was the intention." The beauty was in the details, a concept that spreads further than the fragile line work seen in his signature illustrations.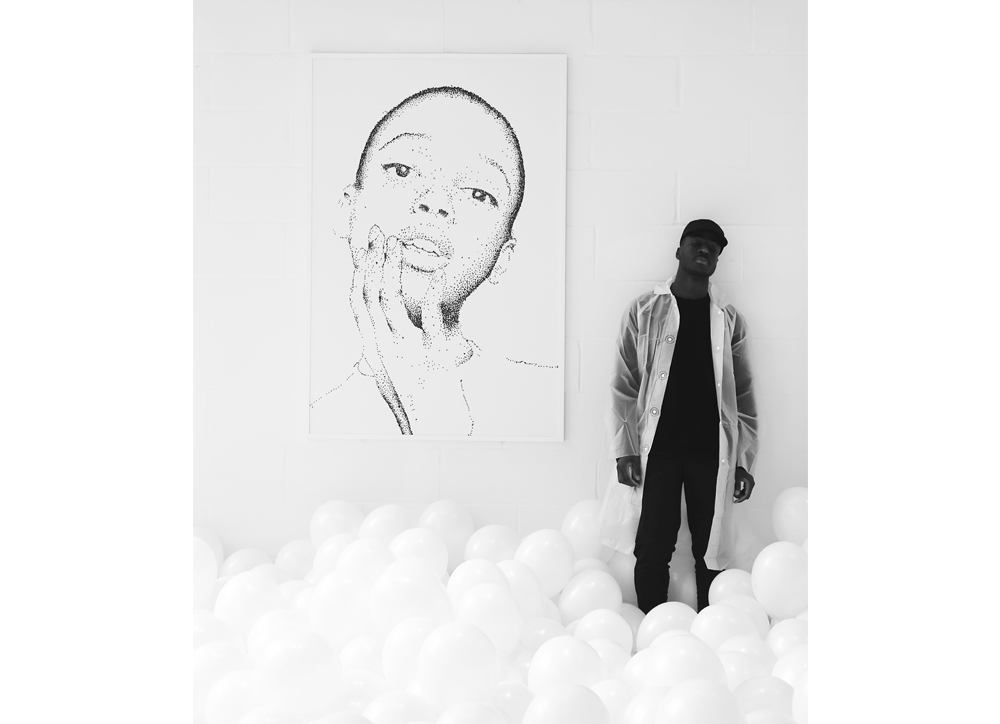 Tej Adenuga aka Design Butler
The most important thing I took away from the hour or so that I spent inside the space was how it resonated with those in attendance. Families, couples, friends and individuals—all stopping by and appreciating the work in their own way. Multiple generations, too. Maybe they were just passing by and were intrigued by a room full of white balloons, or perhaps they came down especially to see the illustration and sculpture on display; either way, all those who entered the space seemed to leave with a smile on their face.
Following Replica, I sat down with Tej to explore the inspiration behind the show itself, including the NMD centerpiece created in partnership with adidas and his ambitions moving forward from here.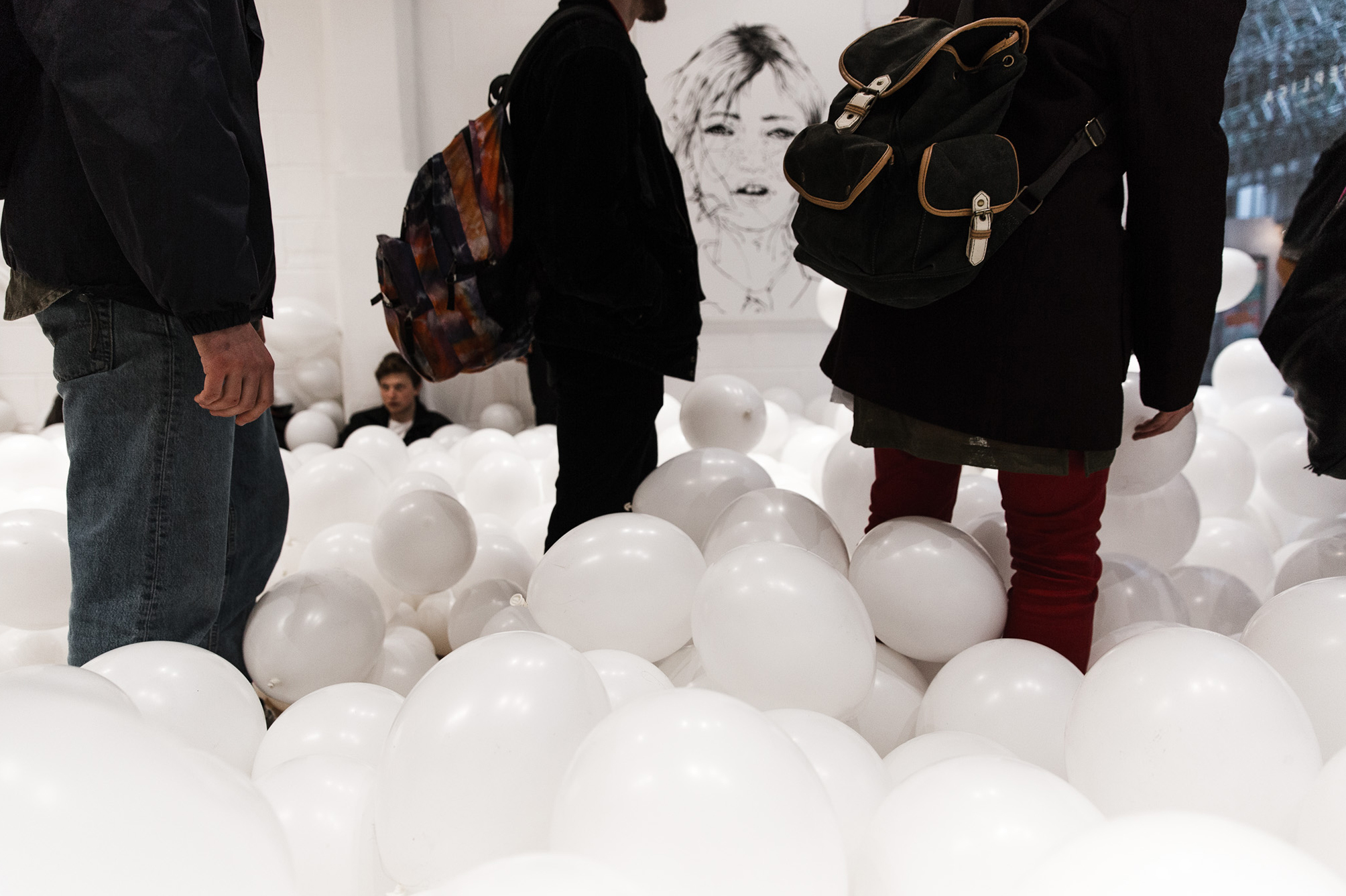 TOM WINSLADE: Let's talk about Replica. This is your second solo exhibition, so how does this differ from the first one?
DESIGN BUTLER: If I was a rapper, the first exhibition was my 5 track EP—Replica is my album. Basically, Replica takes the smaller illustrations that I did back then and blows them up to a massive scale. I wanted to challenge myself. They're all still original pieces in themselves, but they're replicas of the original work.
So the name itself has a very literal meaning?
Yes, the name also applies to everything else that was in the exhibition space. The frames I used for the canvases are the same frames I used for mirrors and for A3 illustrations, the soda can paperweights—there's lots of them, they're all replicas—the tables, they're all multiples of each other. We used the balloons because, again, they're all multiples. It challenges the idea of things having a lesser value just because there's a lot of them, even though they're the same. The amount of detail I go into on paper is the same amount of detail I apply to canvas. It's all relative. It questions the concept of exclusivity and something being "rare."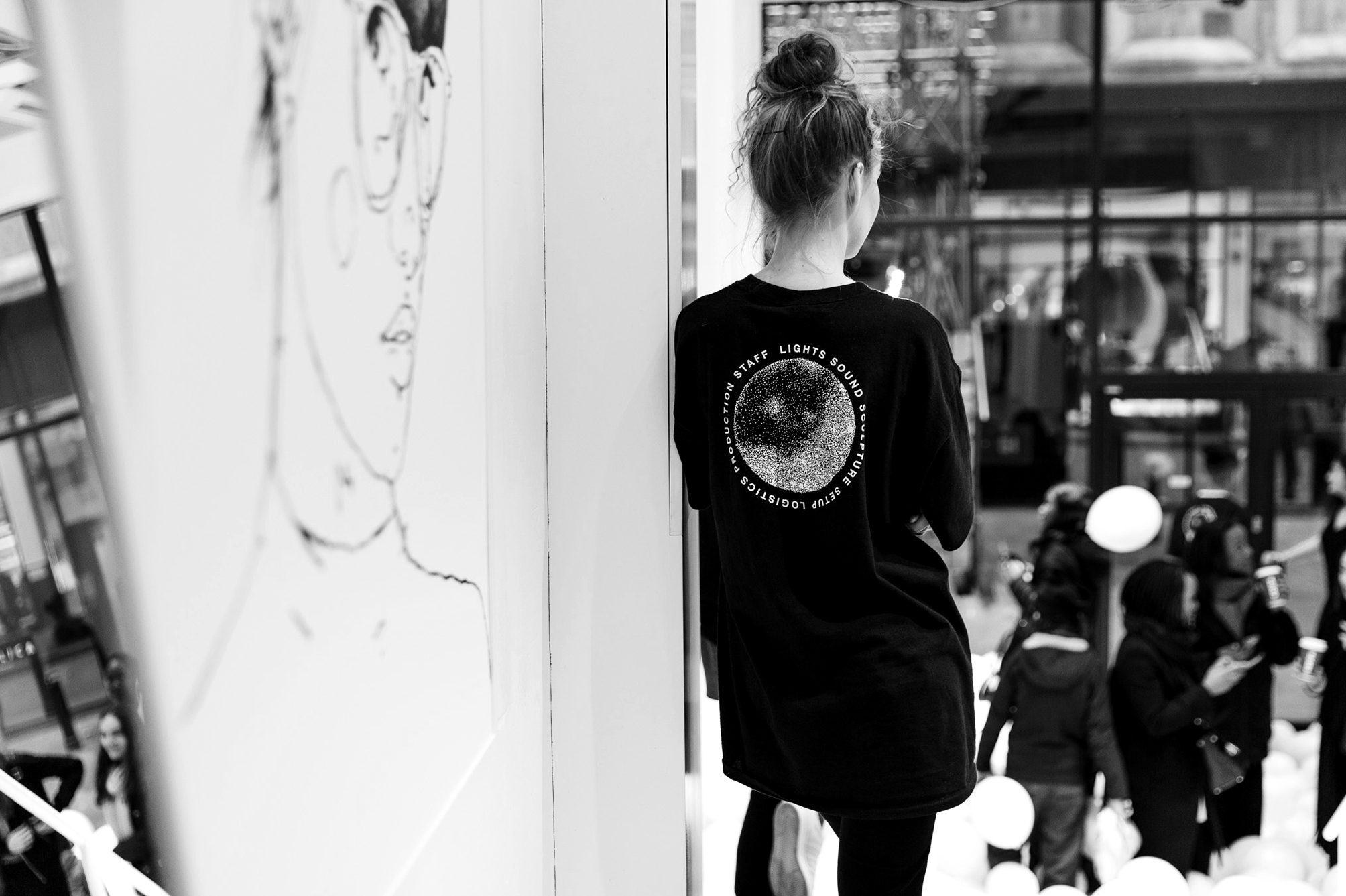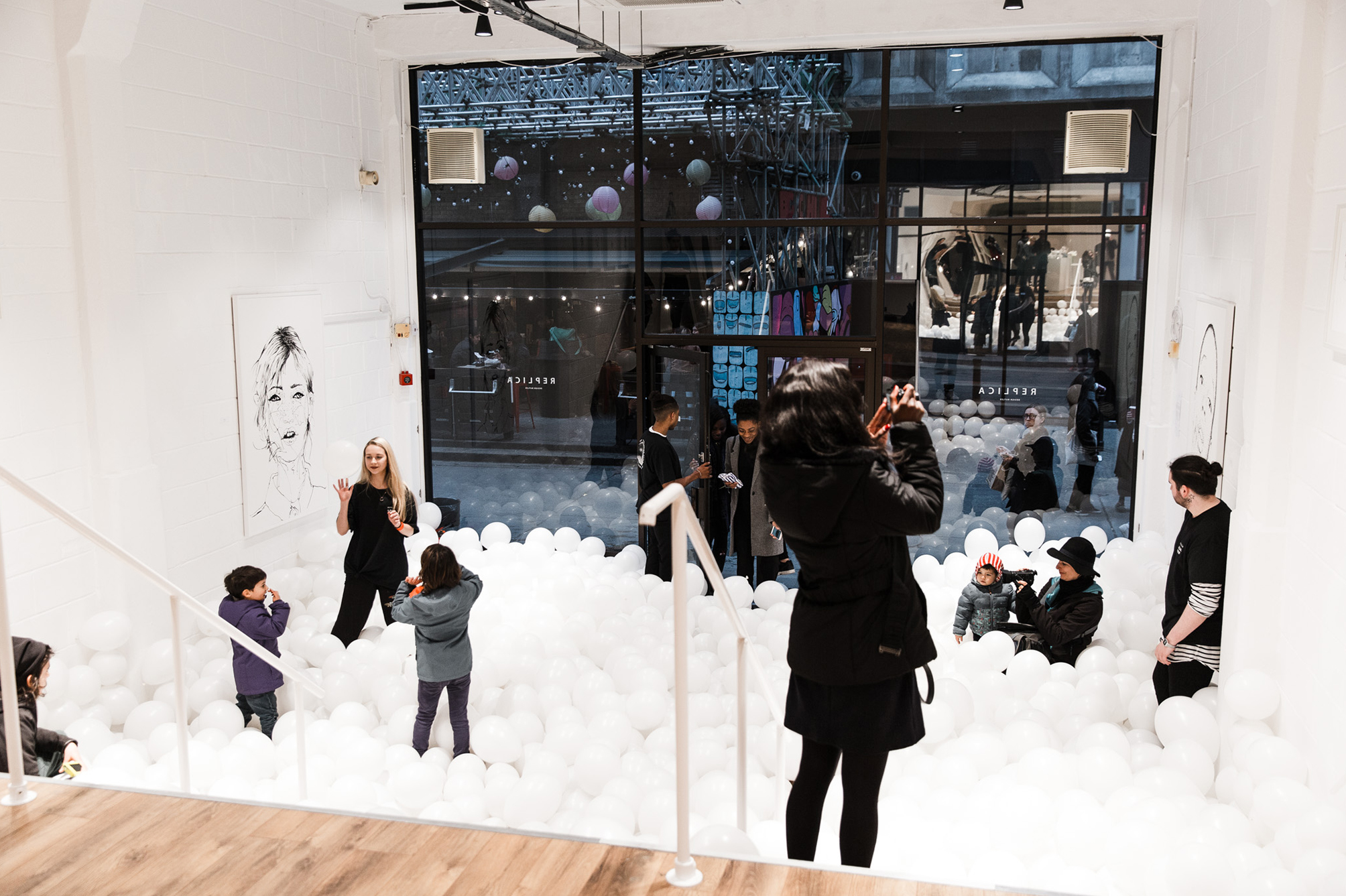 That's interesting, especially with regards to modern are, because the value of artwork is often intrinsic to it's exclusivity rather than the art itself. Comparing it to your first exhibition again, I guess Replica can be taken as a reflection of that, whilst also showing progression in your work?
The first one was very small scale in comparison, with all of my illustrations being in A3 frames. I had balloons too, but not as many. I had the cans on display there also, which was the first step into sculpture. It was a little hint towards the future. Over time, my work will transition from 2D to 3D. For the next exhibition, I want everything to be three-dimensional. I want each exhibition to evolve.
Let's dig into the sculpture work some more. The centrepiece of the Replica show was the casting of the adidas NMD shoe, which ties in of course with yourself being a global brand ambassador for the Three Stripes. How did the NMD sculpture come to life and what was the particular concept there?
It was inspired by the NMD campaign itself, and the idea of this new product "landing." adidas set us on a creative project, where we essentially had to come up with an idea surrounding the "Future" campaign and then execute it. I was originally going to illustrate something but that was too obvious. It's not surprising enough. I actually saw some imagery online depicting a meteorite landing in Iceland or something, a digital illustration—and that sparked the concept of the NMD shoe physically "landing" in London. The sculpture is set in polystyrene, but it's intended to represent a concrete block that the shoe has landed in and has then been excavated and moved into the exhibition space.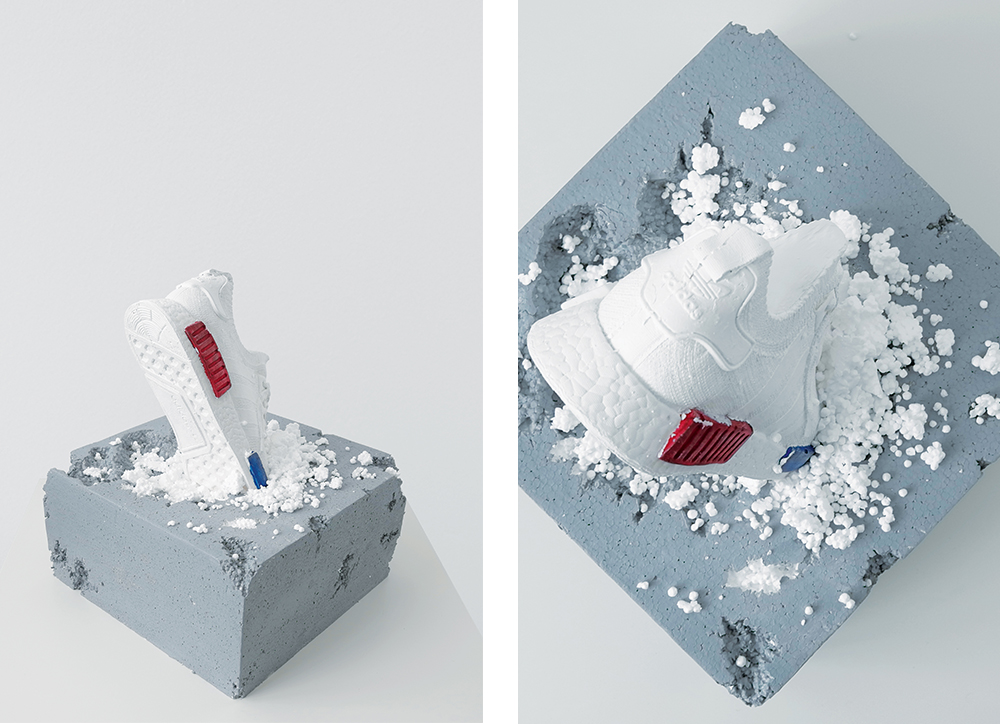 That's dope. Without getting into specifics, would you say that one of best parts of your relationship with adidas is that they put that trust in you, by giving you that creative freedom?
Definitely. I told them what I wanted to do, and they just said, "Okay, perfect. Let's go." As an artist, I believe you have to continually reinvent yourself—in my case, that hopefully keeps giving the brand new reasons to reinvest in me. That's how I look at it anyway. It's all about bringing new ideas to the table. I've seen artists blow up and start working with all these large companies and after a while it dips down or they become bored of using the same style continually, but I want to keep people interested and excited about my work.
That makes total sense. I think that perspective on innovation is actually what aligns yourself with adidas so well, even before aesthetics come into play. If we look backwards though, how did you first fall into art and design—where does that spark come from?
I never sat down and decided it or anything like that. I mean, everyone drew as a kid, right? I was just that kid that never stopped. It has just continued from that point until today. I gradually evolved into it, like, "Okay cool, I'm an artist now."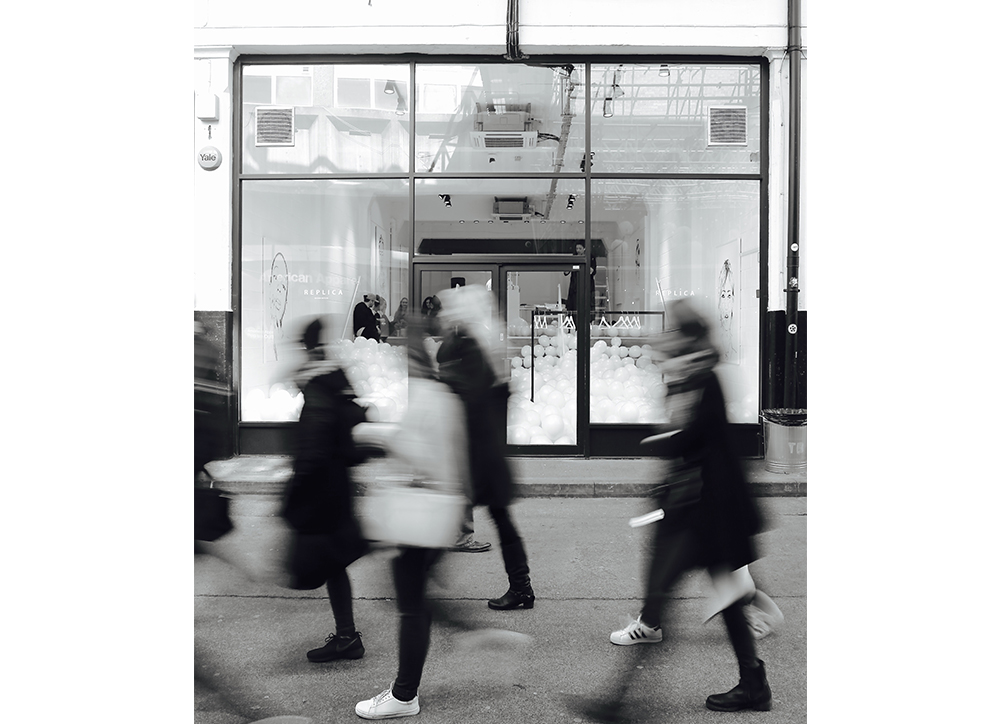 That's real. And what about your illustration style? The minimalistic approach, with the dot-work and the freeform lines—that's where I first started recognising your art. Firstly, how did that develop? But maybe more importantly, your aim is to grow past that, correct?
My work is based on reduction. That's the common theme—reducing everything to a fundamental point. People think it's one of the easiest things to do, but it's actually one of the hardest. Even though I love paint and I love texture, if I make a mistake, I can just paint over it and cover it up. With my line-work, where it's so fragile and you can see through it, there's no room to hide. I feel like there's a lot of people out there trying to make their art as eye-catching as possible blah blah blah, but I'm more into the subtle stuff. Especially when it comes to drawing women, instead of them being insecure about freckles or spots, I like to remove texture and focus on their pure form. I want to take that whole approach and apply it to sculpture and beyond.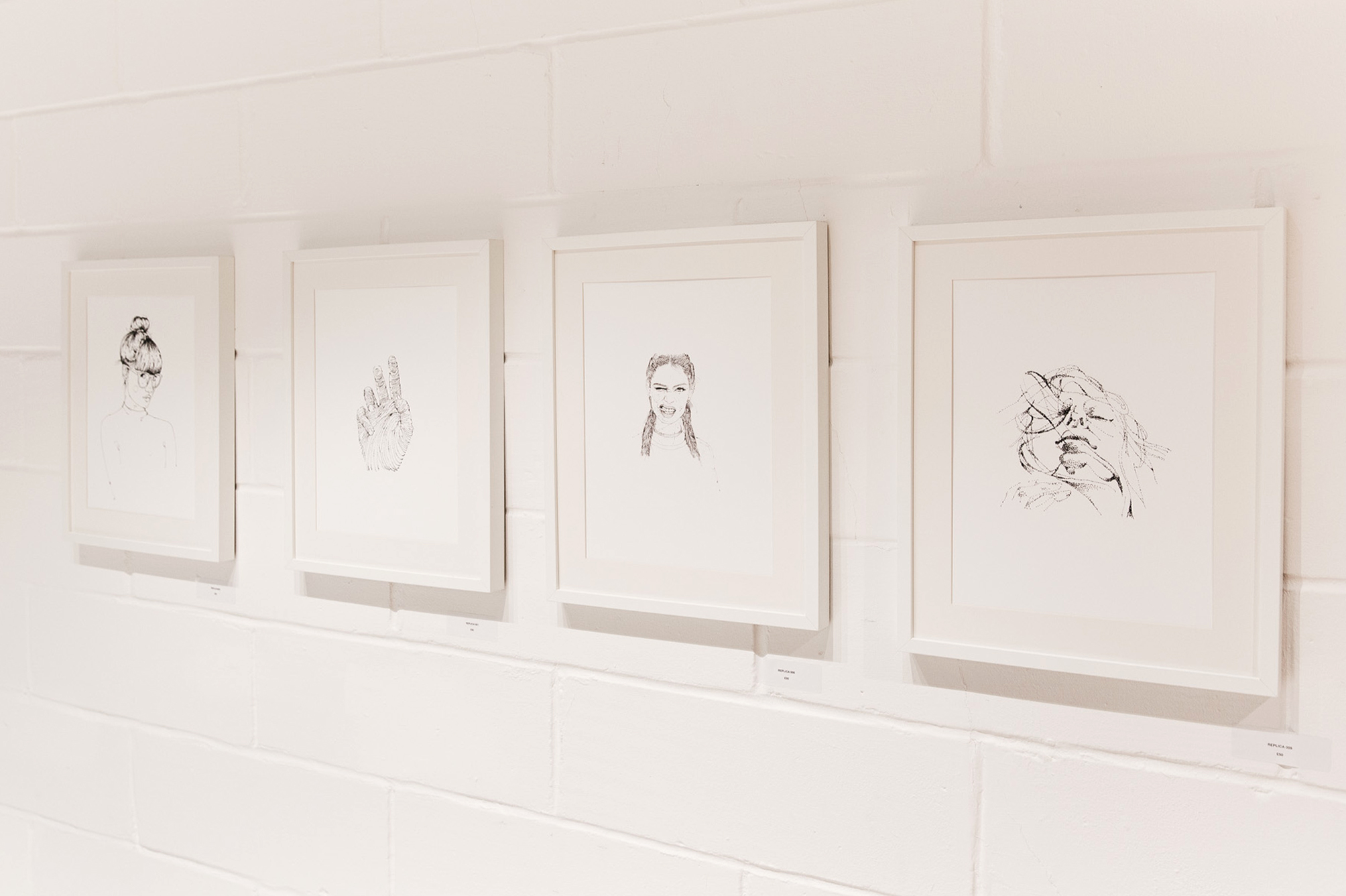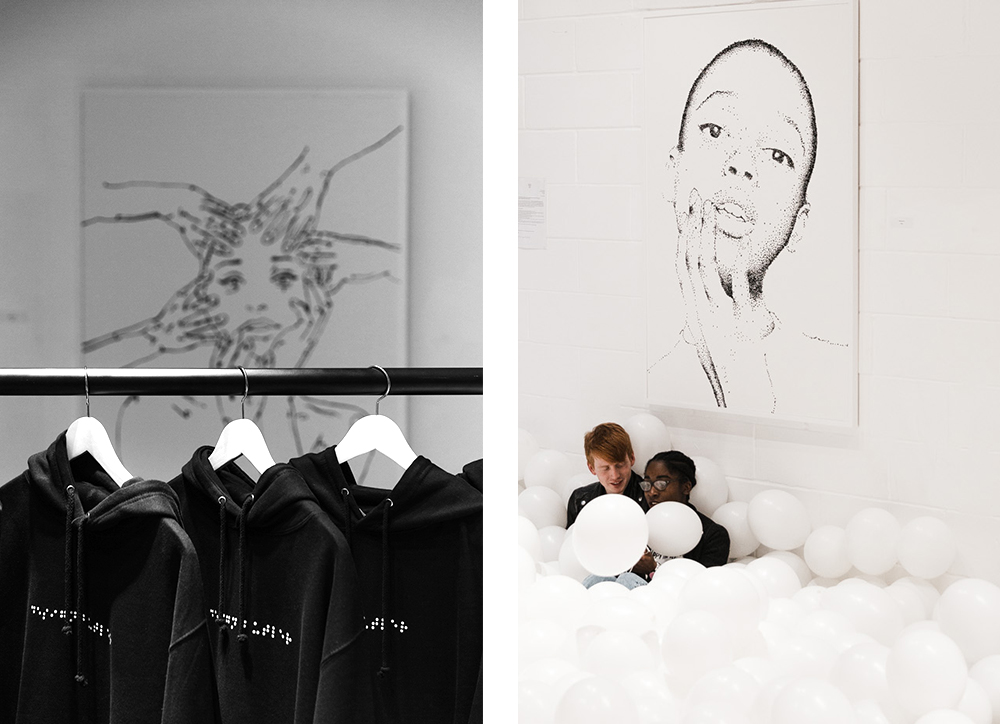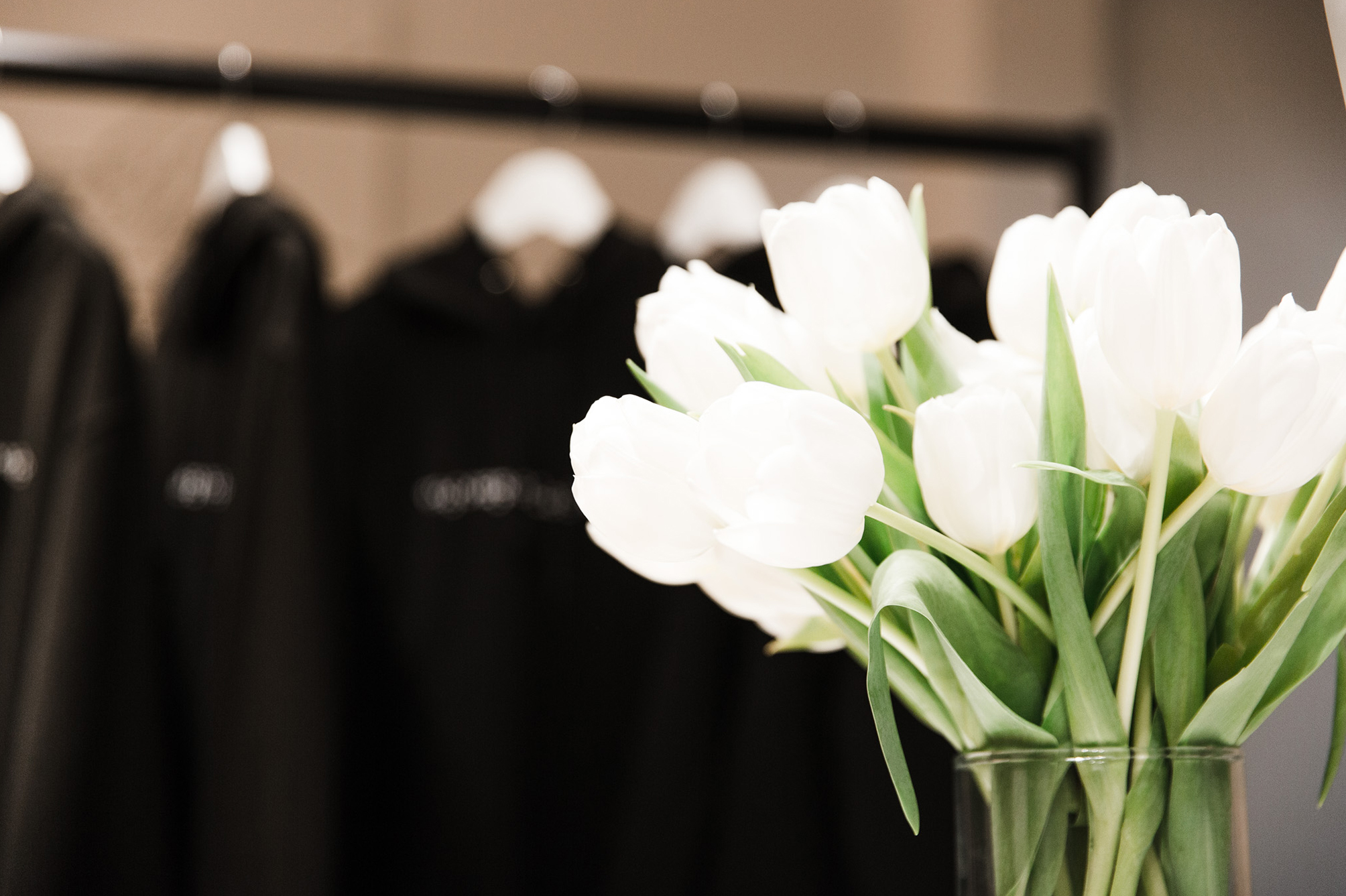 I don't want to ask you the cliché "so, what's next?" question, but it's too appropriate. So, what's next?
I literally have no fucking idea. I'm focusing on continuity, but also trying new things and experimenting. I just want to continue working and slowly try out things that I haven't done before. A bit like when I first started playing with the casting and 3D work, I'm super interested in exploring that further and seeing what different materials I can use. People have asked me if I'd tour the Replica exhibition or take it to the US, and the answer is yes, I'm 100% down. Real talk—I just need that financial backing. I'd want to take this everywhere in the world. I was planning this exhibition for the last 6 months, so it's essentially an culmination of everything I've done so far. The next body of work will level up again.
***
Stay up to date with Design Butler's work via Instagram.