Scrolling through this year's Pow! Wow! Hawaii participant roster is overwhelming. With over a hundred artists, brands, and musicians, though, one particularly clever Taiwanese street artist stands out from his seemingly bruised and bloodied shirtless avatar: CYH Jayson. Bridging graffiti and fine art through an often aggressively crude lens, CYH Jayson's work revolves around themes of Taiwanese nationality, sex, religion, and desire – resulting in Keiichi Tanaami-like hallucinatory colors and textures, paired with an appetite for the grotesque. In our interview below, learn more about how the PangeaSeed project he's involved in is working against our over-consumption of sea life, his Taiwanese artist commune Polymer, and the disciplined approach to creating that keeps him productive.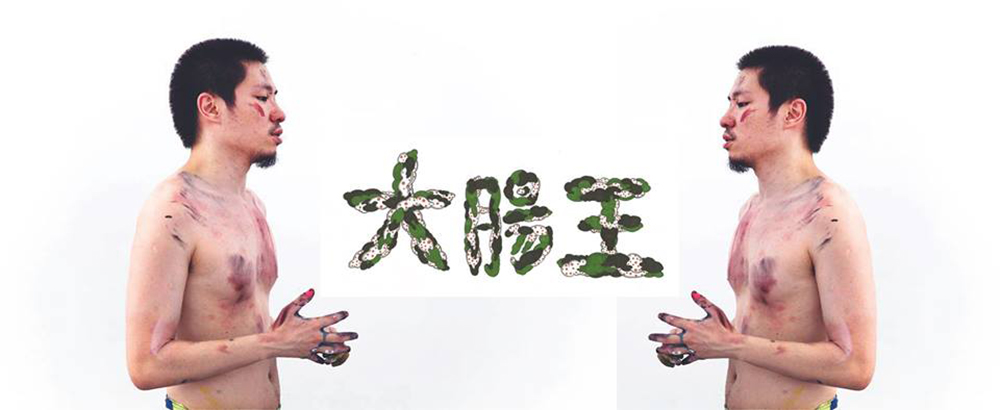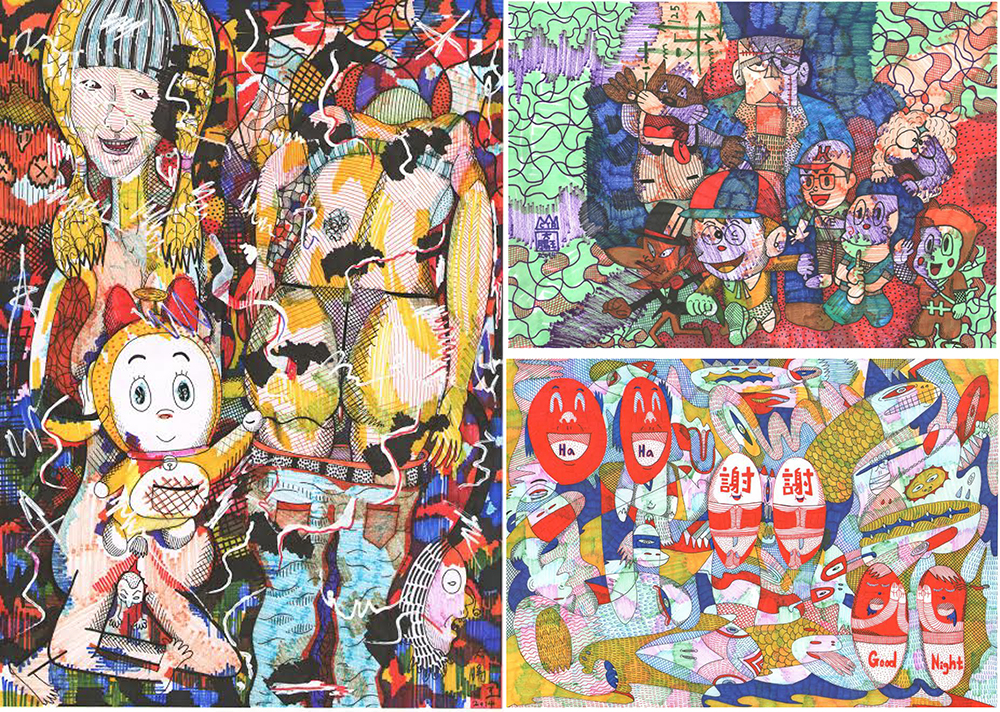 For readers not accustomed to your work, can you explain who you are, where you're from, and what you do in your own words?
My name is CYH Jayson, 30 years old, AKA "The King of the Large Intestine." I am from Taipei, Taiwan. I moved to USA when I was 15 years old and came back Taiwan at 25 years old. Now I am living and working in Taipei, Taiwan, as an artist.
I do many different fields of art, for example, street art, graffiti, and illustrations, and comic and fine art. I always try to mix many different styles of art together because I want to create something new and original – that only I can do.
"I AM VERY DISCIPLINED ABOUT MY DRAWING SCHEDULE… [ARTISTS] CAN'T JUST DO IT WHEN WE FEEL LIKE IT."
Can you tell me more about the PangeaSeed project and your involvement in it?
PangeaSeed (pangeaseed.org) is an international organization who collaborates with members of the art, science, and environmental activist communities. PangeaSeed is dedicated to raising public awareness and education surrounding the conservation and preservation of sharks and other marine species in peril.
Sea Walls – Murals for Oceans: Taiwan X 12 Endangered Ocean Animals. 2 years ago I collaborated with PangeaSeed sea wall project. Me and my friends did a street art mural addressing 12 endangered ocean animals and "seafood" over-consumption and conservation. And this year I am planing to bring the PangeaSeed sea wall project to Taiwan, hoping more Taiwanese people will realize the problem we have in our sea. I also want to bring the best art talents around the world to Taiwan to exchange and share new different skills and knowledge with local artists. This link below has our mural process video and more information about this project. Click HERE.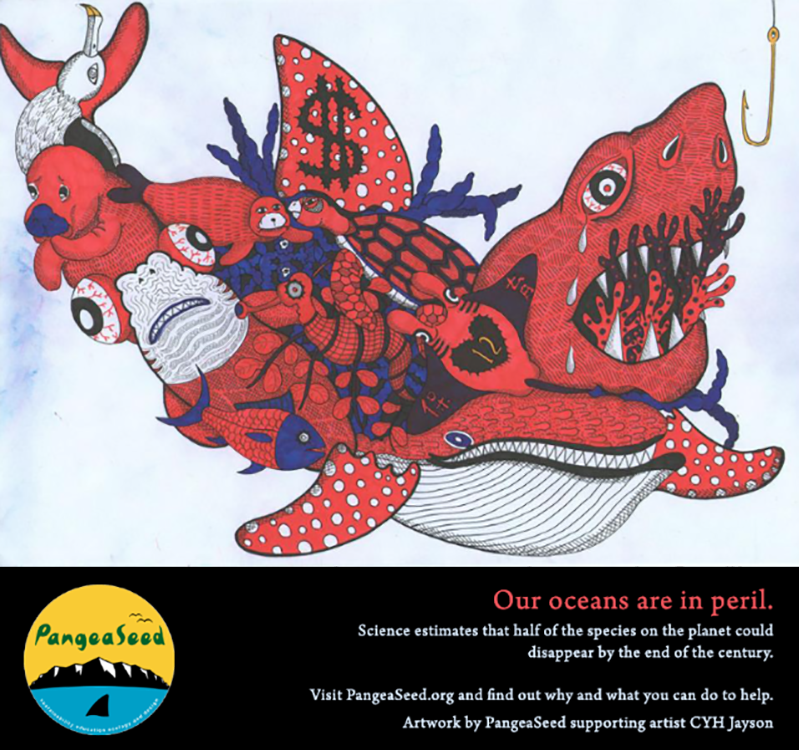 Explain what your creative process is like, from idea to conception.
For my creatine process, I love to do small drawings first before I do big ones. So these past 5 years I did more than 3500 small A4 drawings, so it's about 2 or 3 small drawings per day.
I am very disciplined about my drawing schedule because I think that is very important for an artist – we can't just do it when we feel like it. A lot of the time we must force ourselves to draw and make art everyday.
My ideas come from my life and everyday random daily news and everything around me. My concept is about identity, human instinct, and our true nature. So nationality, culture, sex, desire, longing, contradiction, religion, violence, usually shows in my art works. This is because I try to figure it out who am I and our humans nature.
What motivates you?
I am also a very big sports fan and I played high school varsity basketball team before, so basketball motivates me, and every time I watch NBA, that just pumps me up!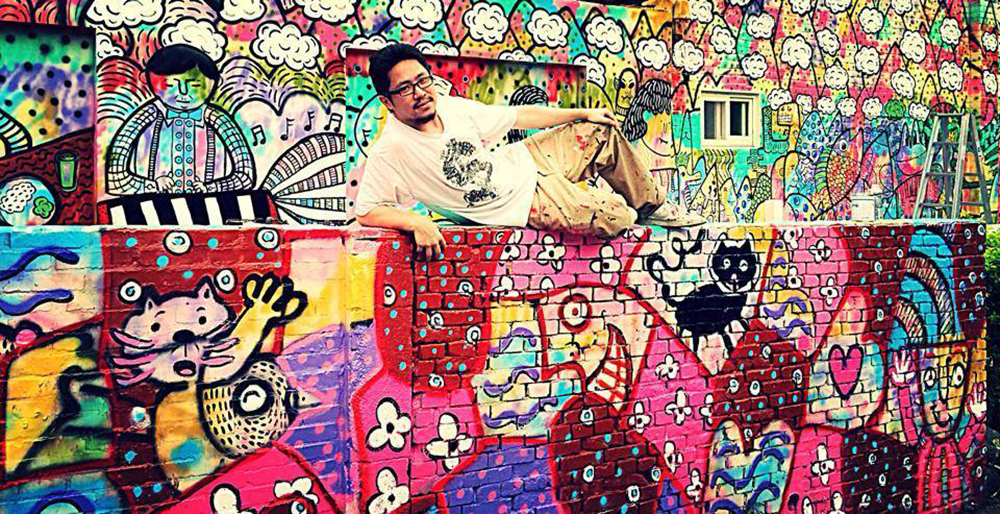 What does national identity mean – or how does it translate in terms of your art?
National identity means you need to know who you are and where you come from – never forget your roots. And appreciate your own culture and share your good points with other cultures, and learn good things about other cultures so that we can improve our own. Therefore, in my art I try to put Taiwanese Eastern elements in it. For example, Chinese characters, food, religion, history, building, people. Anything related to our own specific, unique culture.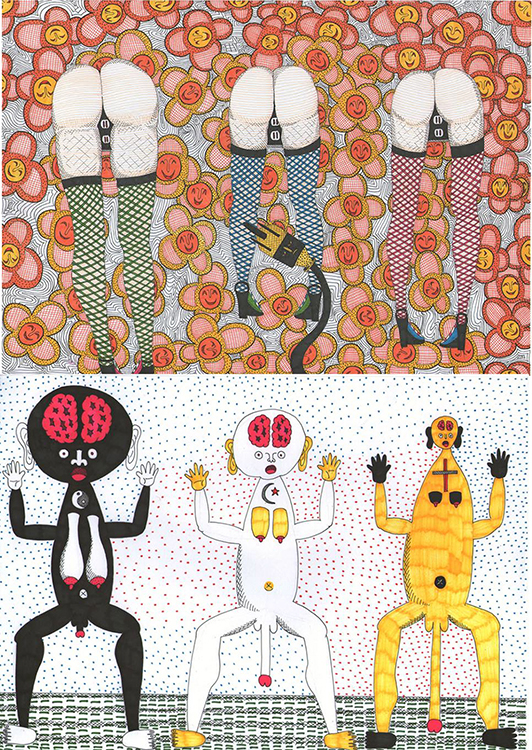 Tell me more about your artist commune Polymer.
Polymer is an artist village located in Taipei, Taiwan. It used to be a textile factory 50 years ago, now we rent this space for  artist collective. Our goal is to mix in many different kind of fields of artists who work together and plan event together. We have artists from the fine art painting field, a sculptor, children's book artist, paper cut artist, executive producer (films), graffiti artist, and more.
We have about 20 artists at Polymer, so in total we have about 22 studios, with 2 other rooms for visiting local or international artists.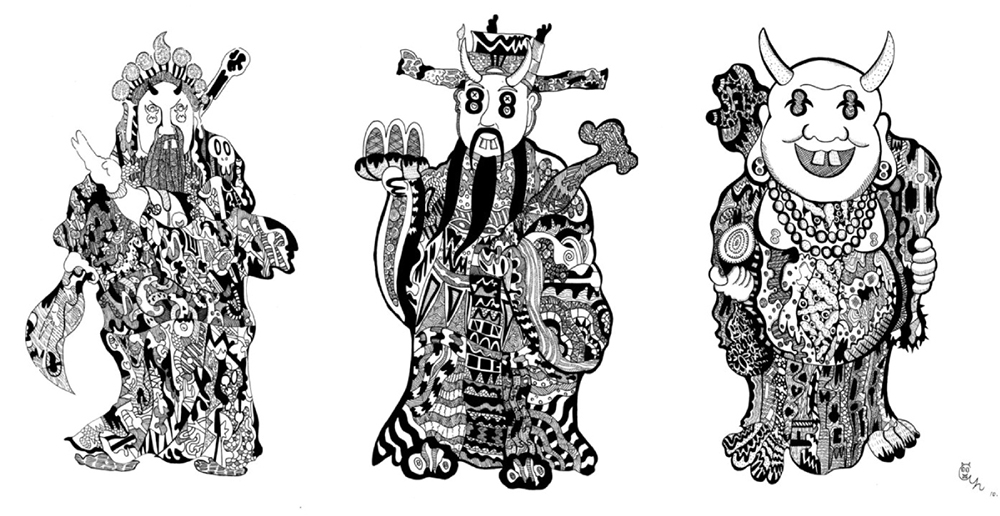 You've mentioned before that when you participated in the last Pow! Wow! Taiwan, you hoped that your work could help people in the US get a better understanding of Taiwanese culture. What do you hope for them to understand?
Taiwan is a very civilized and multicultural democratic country. People are very friendly and we have very delicious food and rich culture here. Sometimes people will get confused and mix up Taiwan and Thailand, or confuse Taiwan as part of China, but Taiwan is an independent country with our own unique culture. I hope more people understand and know about that. And I am hoping more international people can visit here to share and exchange more new and different knowledge with us.
Taiwanese artists can be more international and share more about Taiwanese culture, not just copy other styles that already exist. Make something original – original art from Taiwan that people will appreciate in the world. That is what I am working on and hoping more people will do in Taiwan.
::
Keep up with CYH Jayson on Facebook and see much more of his work on his StreetVoice page.