Casey Gray's studio, located in the Dogpatch neighborhood of San Francisco, once belonged to the rock band Journey. So in addition to 3,000 square-feet of workspace, it includes a full recording studio, in which bands such as Jefferson Airplane, The Grateful Dead, and Lynyrd Skynyrd used to record in. "I've always felt like there was this incredible energy left over from that period," Casey says, "and I'm sure it has had an influence on what I'm doing."
Casey channels that energy into spray-paint still lifes of exotic arrangements that include flamingoes, cactuses, and watermelons. "I'm pretty obsessed with still life painting in general, be it contemporary or historical. Over time, the work has moved closer and closer toward a relative realism," the artist explains. "And now that I've hit one end of the spectrum, so to speak, and the pendulum is starting to swing the other way – the work is finally opening up into new directions."
One new direction is his recent single-subject studies of pop-culture items such as a slice of pepperoni pizza or a firecracker popsicle, which Casey transforms with a trippy, ripple-pattern technique. "The subjects are usually optimistic and very common," he says, "but by distorting the image, I'm able to inject a bit of uneasiness or uncertainty into the symbolism."
In this studio visit with Casey, we admire his recent work and discuss his trajectory as an artist, how California influenced his aesthetic, what he likes to listen to while he works, his interest in the natural world, and much more.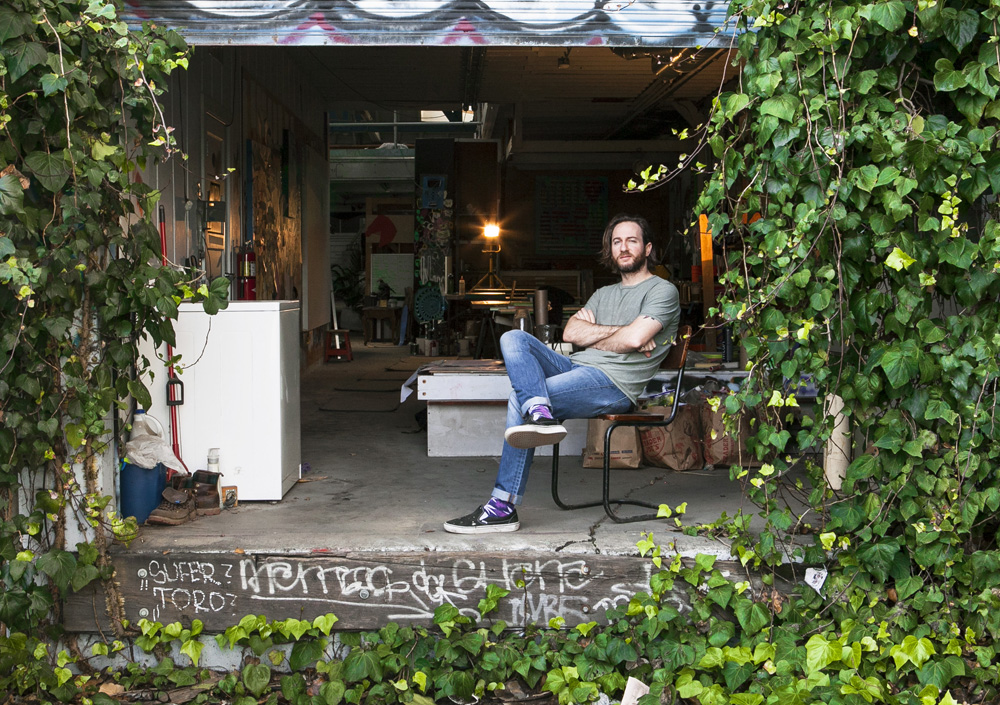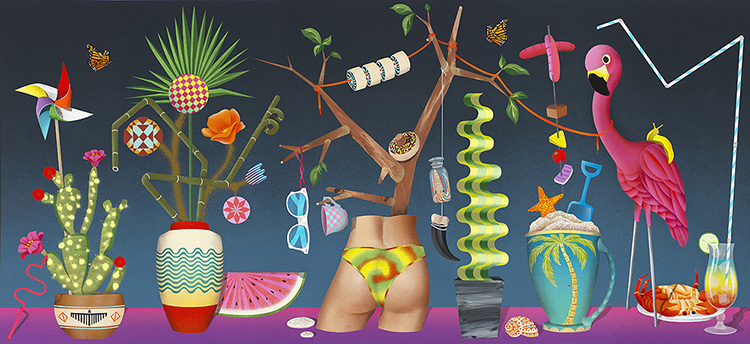 ZIO: How did you develop your aesthetic?
CASEY GRAY: To be completely honest, I sort of just fell into my aesthetic. There was a natural progression over the years, sure, but I never intended early on for my work to become what it is now. I was trained with acrylics and oils in high school and college, but made a conscious decision to drop the brush altogether and commit fully to spray paint about 10 years ago now.
My work really changed again when I discovered masking film and how to use it to move "backwards" within the layers of a painting. The limitations of traditional paper stencils were no longer an issue. Faced with the problem of what to paint, now that I had this new perspective and skill set, it seemed most natural to start at the beginning, which to me was still life painting. I'm pretty obsessed with still life painting in general, be it contemporary or historical. Over time, the work has moved closer and closer toward a relative realism. And now that I've hit one end of the spectrum, so to speak, and the pendulum is starting to swing the other way – the work is finally opening up into new directions.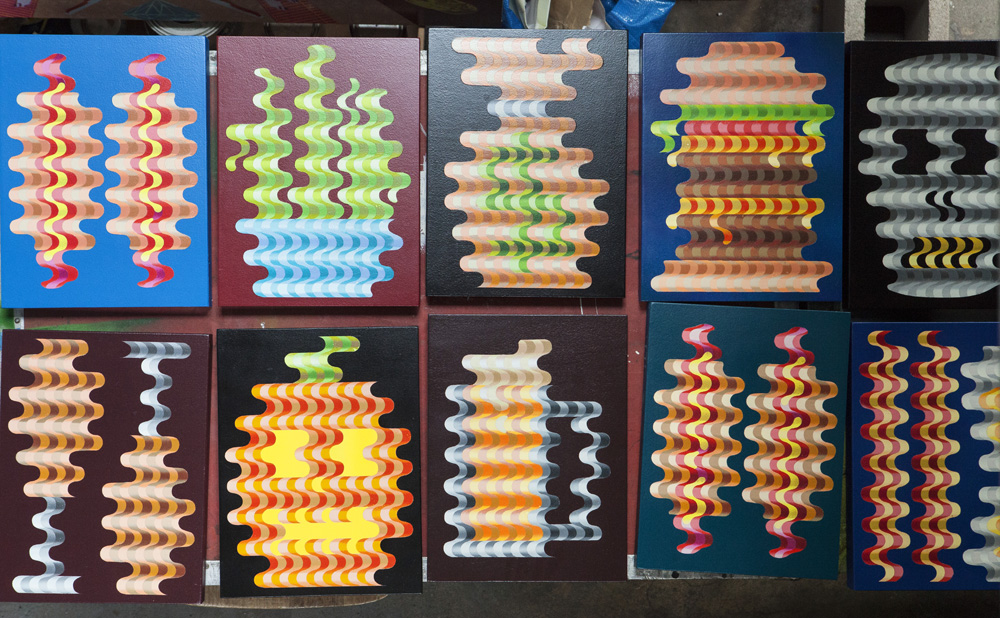 How do you think growing up in California impacted your style?
Growing up in California, in hindsight, has had a profound impact on my aesthetic and subject matter. Someone from outside the U.S. once told me that there is a "blind optimism" to Californians that you don't get anywhere else in the country. Exploring that idea has been an important facet of my work over the years, whether I intended it to or not. The simple fact of warm weather and sunshine most of the year has to play a role. I grew up a short drive from the beach, and have been a skateboarder for almost 20 years now, so naturally I've been heavily influenced by those cultures. They're a huge part of me and cannot be separated from my work.
"I FIND IMPOSING LIMITATIONS ON MYSELF CAN BE A GREAT WAY TO OPEN THINGS UP IN THE STUDIO WHEN THEY'RE FEELING STALE."
In 2013, you did a lot of elaborate still life paintings, which continued into this past year, but you also started doing these rad single-object studies of things like a slice of cheese pizza or a pineapple. How did this shift occur?
Yeah, I'm really excited by these new pieces. The ripple paintings, as I'm calling them for now, started as an experiment when I was feeling a bit of painter's block one day. I cut a simple template out of paper with the idea that I had to make something from it. I find imposing limitations on myself can be a great way to open things up in the studio when they're feeling stale.
My recent show in Dallas this September had still life paintings, figurative works, as well as a few of these abstract ripple pieces. Maintaining multiple bodies of work is crucial to my process and personal growth as an artist. I'm not interested in only one thing. I have a multitude of ideas and interests, and to limit the manifestation of those ideas to only one "style" is not only unrealistic, but also completely archaic in my opinion.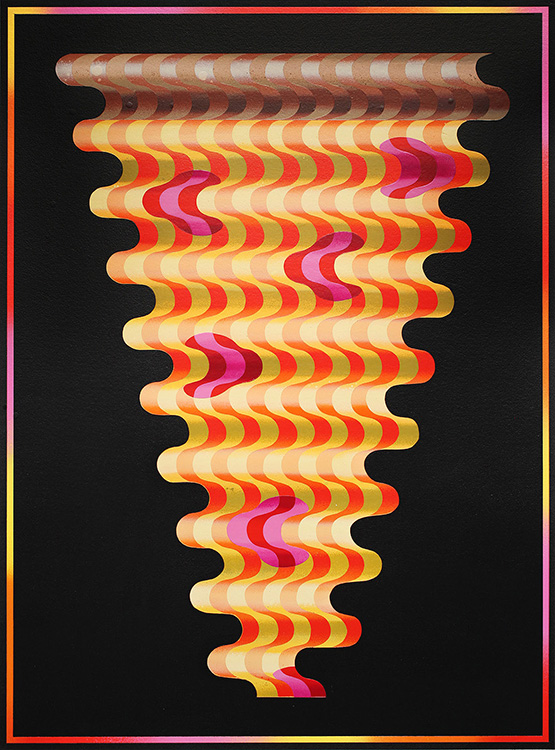 Why did you pick certain subjects over others? Why, for example, a slice of pizza and firecracker popsicles, for example, over something else?
It took a little bit of time to figure out how to actually create shapes within the template, so at first I made things that were simple. The pieces that were in my last show, Of Land & Sea, at Circuit 12 Contemporary, were the last things I made for the exhibition and were in response to the rest of the work and overarching themes of the show. The pizza, anchor, firecracker popsicles are all related to exploring that idea of blind optimism I was talking about: This summertime, all-the-time utopian notion of California. The ripple effect is saying, "Hey it's this, but maybe it's not this, too."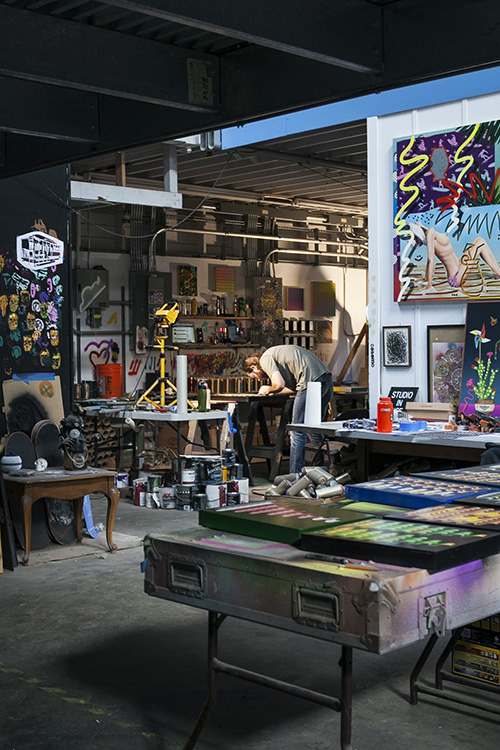 Okay, so your recent subject matter was related to the idea of blind optimism, but is there also a significance to the ripple pattern?
The ripple pattern has become somewhat of a metaphor for skepticism I feel around certain issues: The current state of the art world, San Francisco's identity crisis – in a nutshell, change. The subjects are usually optimistic and very common, but by distorting the image, I'm able to inject a bit of uneasiness or uncertainty into the symbolism. That being said, it is not important to me for the viewer to feel this way. People can take what they want from them. They're fun as much as anything else. I also really like how they can read similar to emoji characters in a text message when viewed together. The idea of creating sentences with them is something I'm still exploring, but seems like fertile ground.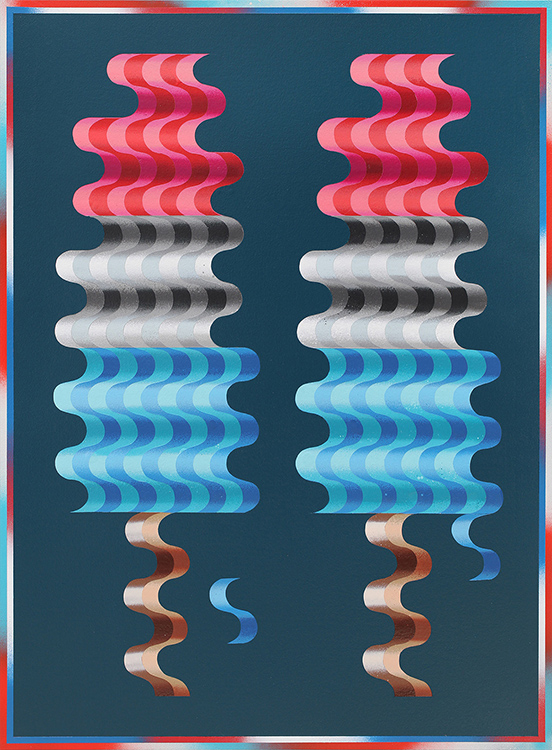 What are the main themes in your work? Why do you think these themes are reoccurring?
That's a hard question to answer because this is something that is constantly evolving. The search for happiness and balance is probably one of the most ongoing [themes in my work]. I see my work as living in this conceptual space where reality and our digital experience overlap. Exploring that overlap is a big part of what drives me to create. I was once told that the "definition of art is the organization of experience," by a professor of mine in graduate school, and I think my work is very much a testament to that idea. I want my work to have this sense of leisure and order on the surface, but with critical and also humorous undertones.
Besides art supplies, what things do you need to have in your studio at all times?
Beer is important [laughs]. In the winter, I am constantly drinking tea with my electric kettle. I have a lot of random stuff around for inspiration too. Music is important to me. I can't work without it.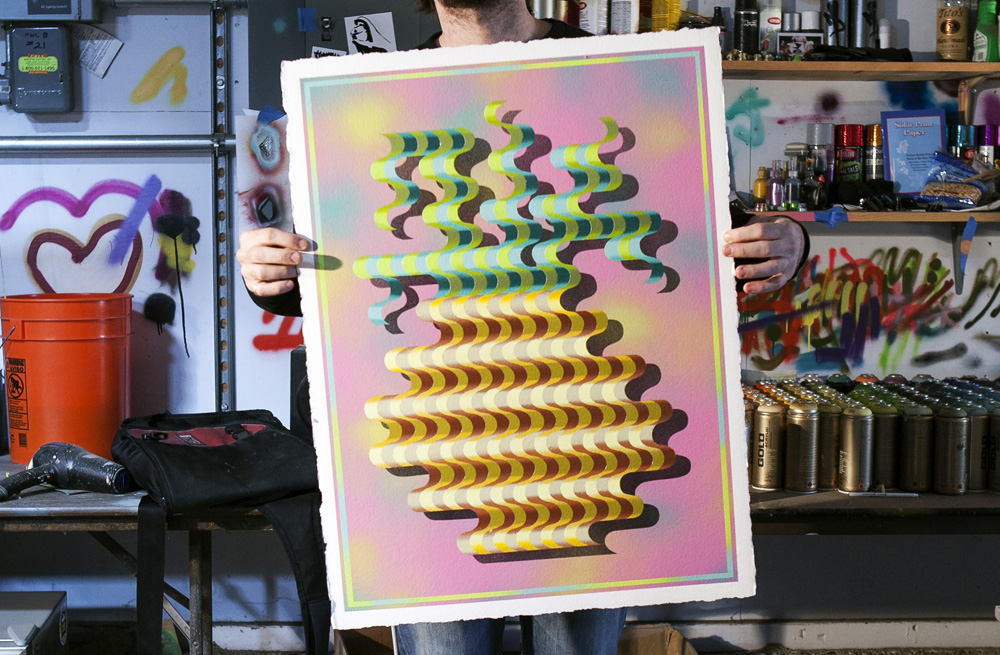 What are some of your favorite songs, artists or albums to listen to while you work?
People that visit my studio are always surprised by my music and how loud it is. On any given day, I have thumping house and techno blaring for hours on end while I work [laughs]. It's a serious one-man dance party in there sometimes. I find it hard to think with lyrics or podcasts or books on tape. I need the rhythm of the music in order to focus. It drowns out the rest of the world and I can just work. Fridays are always the best because I can leave BBC Radio 1 on all day. Annie Mack, Pete Tong, B. Traits, and the Essential Mix. I've been listening to a ton of Oliver Heldons, The Magician, Gorgon City, Redlight, Tensnake – I could go on forever.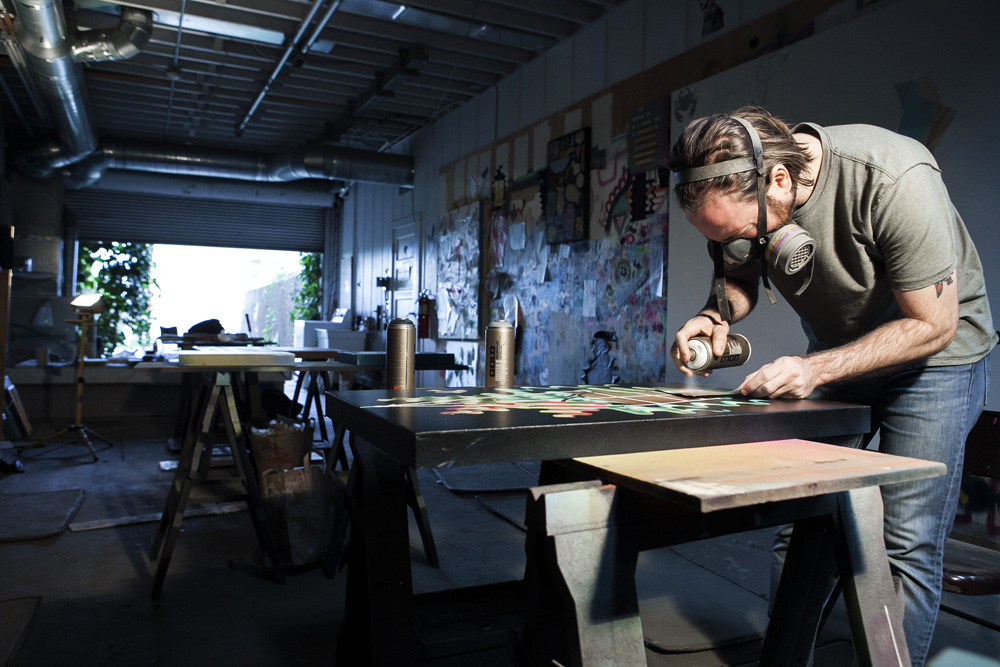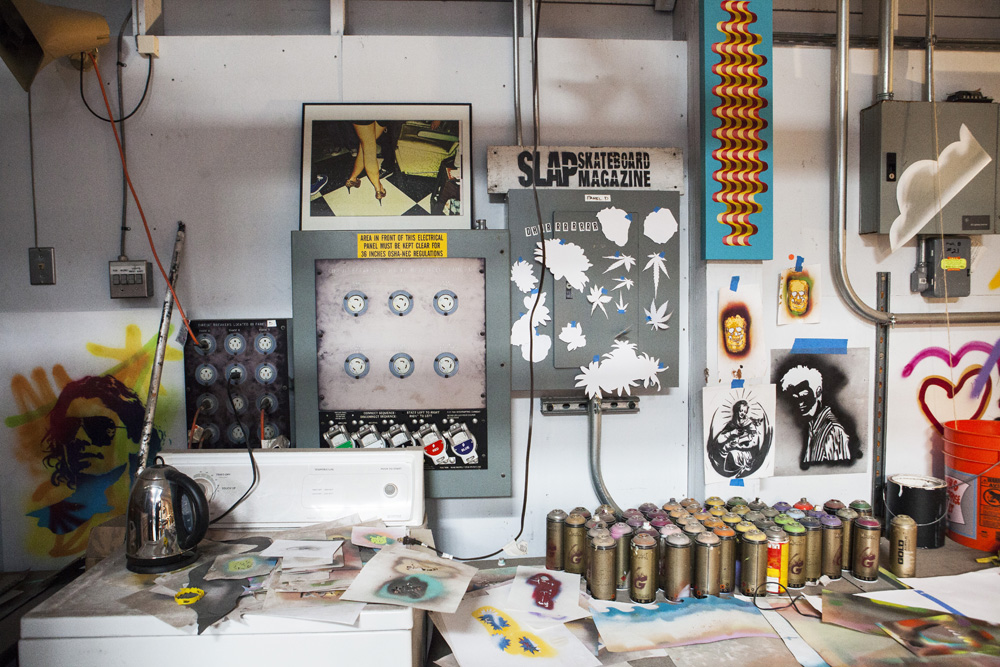 There are a lot of plants in your work, as well as in your studio. Can you tell me a little bit about the plants you keep in your studio and/or home?
Yes, plants are prominent in my work for sure. I'm very inspired by the natural world, and I love how any type of mark can be a plant or a flower. Put it in a vase and it's automatically a plant. There's something very freeing about that to me in contrast to how controlled my techniques are.
In my studio, I have a bunch of faux kentia palms left over from an installation, a couple little cacti and some potted plants in the backyard. My studio roll-up door, however, has these long vines of ivy covering the majority of the opening like a curtain. You can find those leaves in a lot of my work.
At home, I have a small but growing collection of different plants. We have a few succulents, a large fiddle leaf fig (I know, super trendy), bromeliad, and a few I don't know the name of. My parents' house has tons of different plants, as well as a small garden too. One of my absolute prized possessions is a cactus I bought from Home Depot when I was 4 years old. It was 3-inches tall at the time with one arm, and now, 27 years later, it is over 2-feet tall with literally like 200 different arms. It's also found its way into a few paintings over the years, and I'm sure it will in many more in the future. I love painting cacti.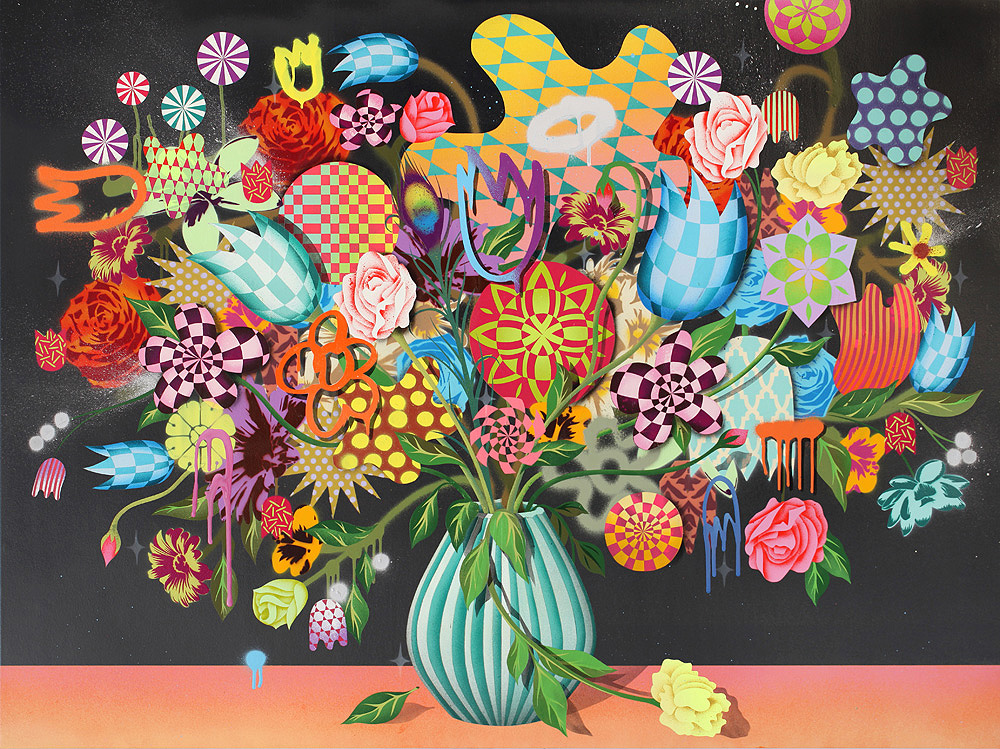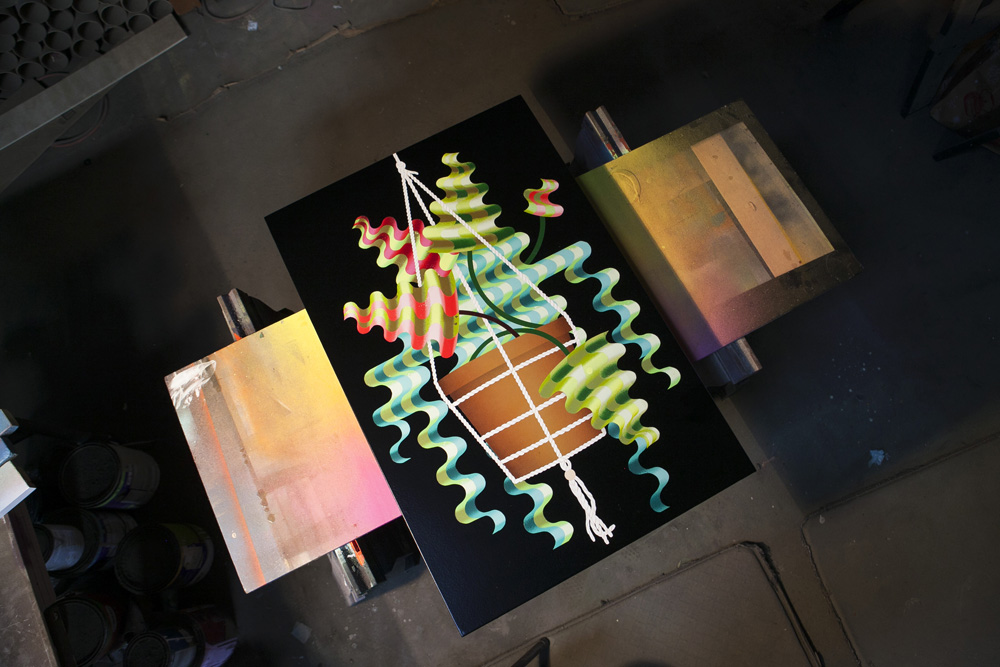 I know that you just finished a big commission for a collector. What else are you working on now or having coming up?
I'm very excited about an upcoming solo show I have with Park Life Gallery here in San Francisco in April of 2015. The show will feature a large installation of the new ripple paintings along with a few other works. I'm also getting married next spring and pretty excited for that, obviously.
If you could have anything you wanted for Christmas, what would it be?
A forever lease on my studio would be great [laughs]. I'm seriously stressing about having to move out next year. But, I talked my soon-to-be wife Lauren into a mid-century bullet planter and a new Beavertail cactus this year. It's gonna make a great addition to the collection.
::
Instagram: @caseygraysf
Photos shot by Brock Brake.