When you think about beef, plenty of things come to mind before burgers. Perhaps a personal rivalry of yours from way back, a grudge that you've held onto forever, or perhaps The Notorious B.I.G.'s "What's Beef," a classic song from his Life After Death album that defined beef as, among other things, "when I see you, guaranteed to be in ICU." But for anyone who followed the burger wars of the 1980s, beef came in the form of McDonald's, Burger King, and Wendy's competing to be number one in the fast food industry.
Whether you prefer the Big Mac, Whopper or Dave's Single Cheeseburger (or if you're on Twitter embroiled in a heated argument about Shake Shack vs. In-N-Out Burger), there's no arguing that McDonald's—founded in 1940—has long been the frontrunner when it comes to fast food chains.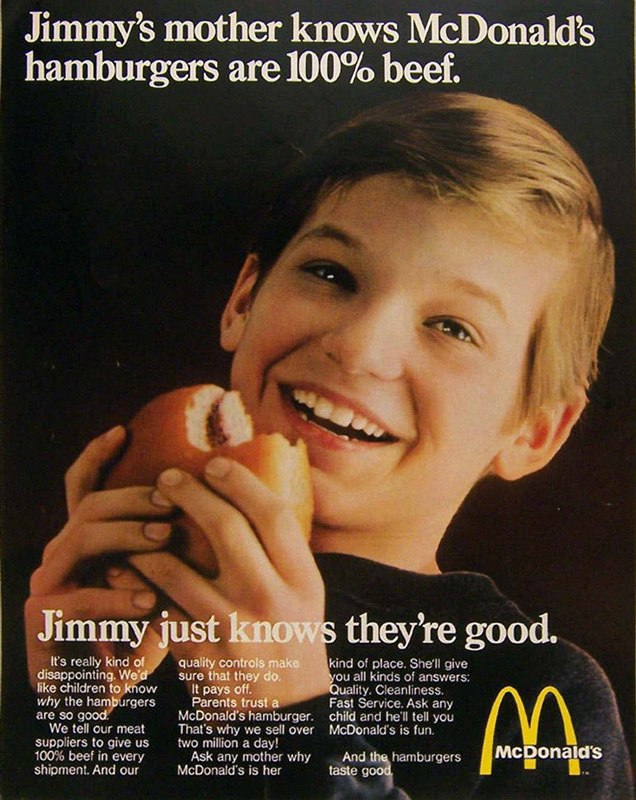 A McDonald's ad from 1969.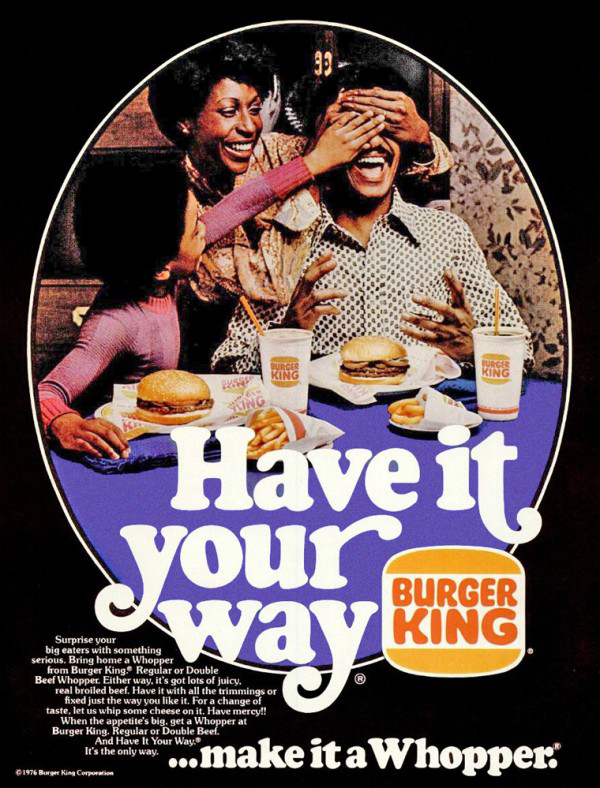 A Burger King ad from 1976.
Burger King arrived on the scene in 1953, while Wendy's was founded by Dave Thomas in 1969. To gain a larger share of the market and win over the hearts of burger-lovers across the country, fast food companies started pouring millions into marketing campaigns, and thus the pettiness ensued. In the early 1980s, Burger King ads emphasized their flame-broiled burgers over McDonald's offerings which were fried. As a result, McDonald's actually filed a lawsuit in 1982, suing Burger King for false advertising, claiming that they often steamed and reheated their burgers in microwaves. The lawsuit was later dismissed.
Elizabeth Shue begins this commercial saying, "Burger King would like to suggest that everyone from McDonald's, please leave the room…"
The beef did not end there. In 1984, to compete with Burger King's signature Whopper, McDonald's introduced a McDLT (McDonald's Lettuce and Tomato) with an ad campaign that featured a pre-Seinfeld Jason Alexander. The McDLT was a novel concept, where the burger was packaged in a two-sided container, with the meat and bottom half of the bun on one side, and the lettuce, tomato, cheese, pickles, sauces and top half of the bun on another. Yes, you were expected to put the two sides together yourself after ordering it. And no, it didn't work out for McDonald's. The McDLT was retired after a brief run (for the record, the best failed McDonald's burger remains the Arch Deluxe). The marketing campaign for it reported cost upwards of $100 million. In several commercial spots including this one, Burger King responded to the McDLT directly, which further fueled the war between the two chains. Burger King was arguably the most relentless in going after the number one spot in the industry through their ad campaigns.
Meanwhile, Dave Thomas and Wendy's was watching the burger war unfold in front of them and struggling to distinguish themselves, until a game-changing advertising campaign in 1984:
The 1984 ad spot, titled "Fluffy Bun," opens with three elderly ladies inside a burger spot with a sign that reads "Home of the Big Bun." In front of them on a table were two massive hamburger buns. Upon closer inspection, the ladies open the bun to discover that there's just a very tiny piece of beef inside. And then, Clara Peller—who was 81 and had gotten into acting in commercials just the year before—uttered arguably the most famous burger slogan of all time: "Where's the Beef?"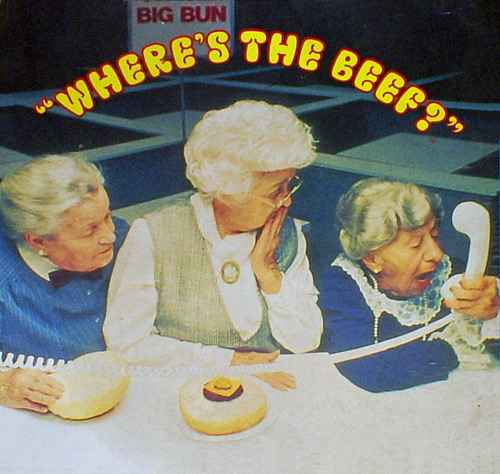 The commercial was simple, to the point, and was self-aware in the sense that the premise of the ad and the size of the burger buns was so absurd it almost acknowledged just how ridiculous the burger wars were. The "Where's the Beef?" slogan was an immediate hit and became a part of mainstream pop culture. During the 1984 presidential election, Walter Mondale used the catchphrase against Gary Hart, insinuating that his promises and policies were lacking any substance. You could find "Where's the Beef?" merchandise everywhere, including, mugs, pins, t-shirts and jigsaw puzzles. In 1999, "Where's the Beef?" made Advertising Age's list of top 10 slogans for the 20th century.
It would not be a true beef story without its own complicated subplot, though. In 1985, Peller appeared in a commercial for Prego Plus spaghetti sauce with beef and onions. Sitting on a couch, with a knowing grin on her face, juxtaposed against close-up shots of the sauce with large chunks of beef on a bowl of spaghetti, Peller said, "I found it. I finally found it." It was an obvious play at Peller finding the beef she had asked for in her Wendy's commercial, but no one at Wendy's found it particularly humorous. After the Prego Plus ad, Wendy's terminated their contract with Peller, citing a violation of a non-compete clause.
Peller passed away at the age of 87 in 1989. According her obituary in the New York Times, the "Where's the Beef?" campaign boosted Wendy's annual revenue by 31 percent in 1984. But even that didn't last. By 1987, both Wendy's and Burger King were lagging behind McDonald's. According to an article in the New York Times, Burger King laid off 15% of its corporate workforce while Wendy's had its first quarterly operating loss since their company was founded in 1987.
Wendy's would eventually recover and find its signature campaign by featuring founder Dave Thomas, who ended up starring in over 800 commercials, before he passed away in 2002. In 2011, the "Where's the Beef?" campaign made a comeback, in a commercial featuring Reid Ewing (of Modern Family fame). Browsing in a thrift store, Ewing finds a vintage "Where's the Beef?" tee, which he wears around town and is recognized by strangers everywhere, who repeat the slogan to him. The commercial ends with him outside a Wendy's, with a giant poster saying "Here's the Beef."
Today, the burger wars remain, although a one day peace treaty was offered by Burger King in 2015, in the form of a marketing campaign where the burger chain offered to collaborate with McDonald's to release a McWhopper burger. The campaign featured a masterfully designed website, which included an elaborate plan on product and uniform packaging for the launch of a store collaboration. McDonald's declined the offer, but the campaign won the Grand Effie award at the 2017 North American Effie Awards.
Today, McDonald's, Burger King and Wendy's are still jostling for their own share of the fast food market, although the growing wave of gourmet burger joints makes it a much tougher fight. More competitors means more marketing campaigns, which means the next iconic burger war commercial is probably just around the corner. In meantime, next time the discussion of beefs come up, don't forget about Clara Peller and the best burger war commercial from the 1980s.
***
For Fall 2017, we at The Hundreds created a graphic T-shirt called "Beef"—an homage to Wendy's iconic commercial—as commentary on the Streetwear industry and its ongoing clash of egos.