Minnesota likes beer. No, really. It likes beer a lot. With damn near 60 breweries around the state (and counting), it's become increasingly evident that MN is making up for lost time in its quest to prove itself as a serious contender in the craft brew world. One could argue there's always been an interest in craft beers, home brewing, and the like, here in MN. But, the ability to open craft (aka small) breweries has been stifled by a law older than most people's great-grandparents. The law was put in place not to curb drinking itself, but rather to attempt to limit corruption in the distribution of alcohol at a time when organized crime's grip on the industry was as tight as they get. Additionally, the proliferation of the tied house system had eliminated competition among pubs and led, again, to more crime.
Over 90 years later, things finally changed. By creating a loophole in the existing law, breweries could finally sell their suds on site. You might not consider that to be the big deal that it truly is/was, but without onsite sales, funding these start-up brew facilities presented a hurdle not many could or would reason to take on.
With all that drama and missed opportunity happily in the rear view mirror, Minnesota is in the midst of what is nothing shy of a brewery explosion. We've got a long ways to go to exceed the over 100 small breweries that once existed, but our numbers are climbing back quick. Most importantly, the brews coming out of these facilities and the people behind them are top notch.
Besides doing "research" at a number of taprooms, I met with key people at 2 of Minneapolis' better known breweries: Fulton Beer and Bauhaus Brew Labs. The former being arguably the largest of the first crop of newly opened breweries after the law changed. The latter is one of the most recent to open, to much fanfare. What follows are highlights from 3 exceptionally interesting conversations with folks from both breweries ranging from unexpected backgrounds in law, tales of extreme expansion and calculated ambition.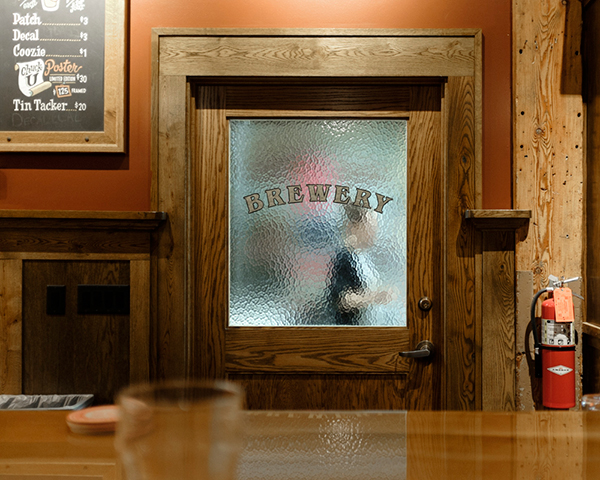 Door to the brewery behind Indeed Brewing's taproom in NE Minneapolis.
FULTON BEER
A conversation with Mikey Salo of Fulton:
TUCKER GERRICK: What's up Mikey? What's your title here at Fulton?
MIKEY SALO: Head Brewer. Technically speaking, Pete, who's one of the co-founders is the brewmaster. I'm the head brewer. Neither of us are certified "master brewers." We haven't gone through the whole process. It's a pretty vague term... it's not like in the kitchen [where] you have [an] executive chef, sous chef, etc. It's kinda how you set up the structure within the company. The way we split things is I have more of a scientific mindset and background whereas Pete is extremely mechanically inclined. So as far as how things function correctly and making sure things are right down there [at the brewery]. He handles that. I spend more time fine-tuning processes, making sure the beer is being made the way we want it to be made. Also on recipe development, I like to play around with different flavors. I do all the sodas too [for the taproom]. I do day-to-day production and scheduling, train employees, manage that stuff. Work with sales.
It's like Santa's workshop down there [in the brewery]. I'm gonna try not to have 1000 questions.
It's pretty cool man, I'm excited. We didn't take any shortcuts or anything with this one. We wanted certain things and I put my foot down on "NO, we need this…" I didn't want to just "get by" on it all. When we're making this much quantity of beer, things have to be a certain way. You can't say, "We'll put this in in 2 years and we'll put this in in 3 years." There needs to be a certain baseline at the beginning.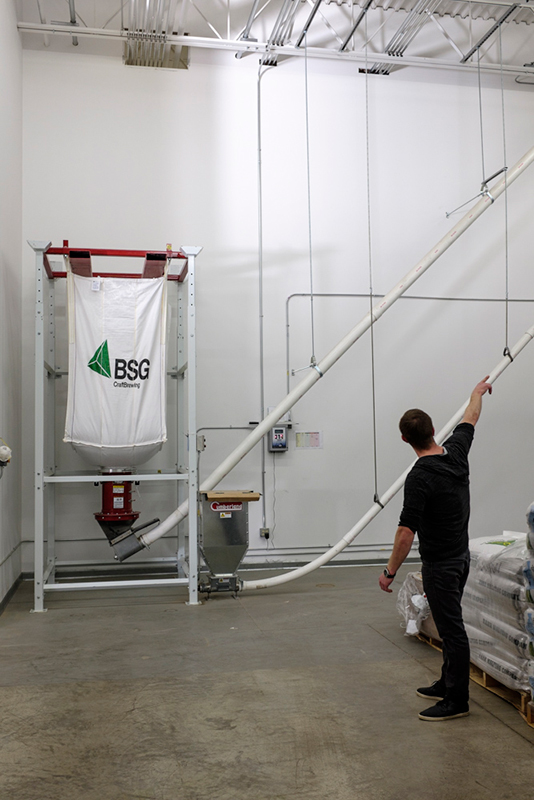 Mikey Salo of Fulton explaining something that went right over my head as I likely stared with my mouth open.
You guys were making what amount of beer downtown in the first facility? Now with the new spot what does that look like, volume-wise?
In 2013, we did about 13,000 barrels. This year, we're on track to do just under 20,000 barrels.
And this facility has only been open a few months right?
Yeah. The amount of square footage we have now, the way the brewhouse is set up, without expanding the building into the property we own on either side of, filling it up with fermenters and maximizing the space that's already here and ready should get us up to about 175,000 barrels annually. So, for comparison, Summit will probably do 150,000-170,00 barrels this year.
Damn.
It's a pretty big move for us. Right now we're the 5th largest brewing company in the state.
Really? Who's 1-2-3-4?
Schell's, 3rd Street – they're large cause they contract brew for others. Then Summit, Surly, and us.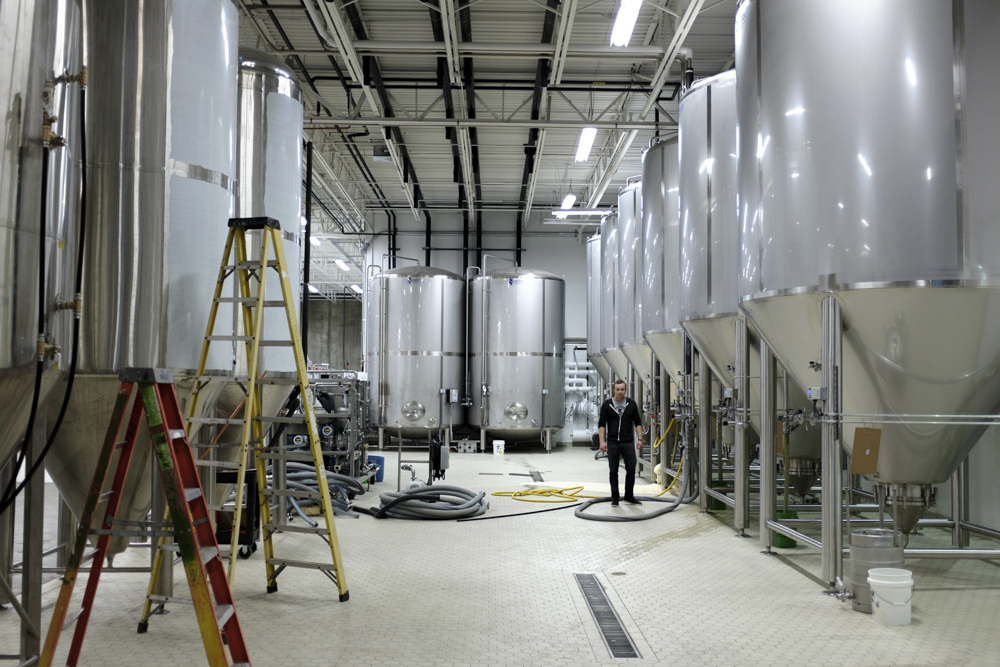 How far out of the city do you guys serve?
We are entirely in Minnesota with the exception that we have one distributor that goes slightly into North Dakota. But otherwise it's just here. And we just recently we expanded into southern andnorthern MN. Before, it was just a 45 mile radius from the Twin Cities where we served.
I don't even know what to say, I can't believe there's that much demand for product in such a small area. That's incredible.
It's crazy. I just heard a statistic the other day, I think  it said there was 10,000 pints of Fulton consumed every day in September in the metro area. It's incredible.
"I wholeheartedly give a damn." – Mikey Salo
How did you get into brewing? How did this all happen? I mean, you're a young dude, you're in a pretty killer position.
I went to school for food science and nutrition at the U of M. I had some fermentation classes. Then I got super into home brewing. The way my brain works – the way I like to process things – with home brewing, I got super deep into it. Really nerdy, but I love that shit. Though when I graduated in 2010, there wasn't really brewing jobs available at that point in time.
Well, the law hadn't changed yet.
It was pretty tough. I did a few job shadowing things with Gerri Kustelski, the brewing chemist at Summit. Tried to get my foot in every door I could.
In a super limited market/industry at the time.
But I guess, after school, I just did a ton of independent/self-guided study on the science, chemistry, and micro biology behind it. I just decided at a pretty young age that's what I wanted to pursue professionally.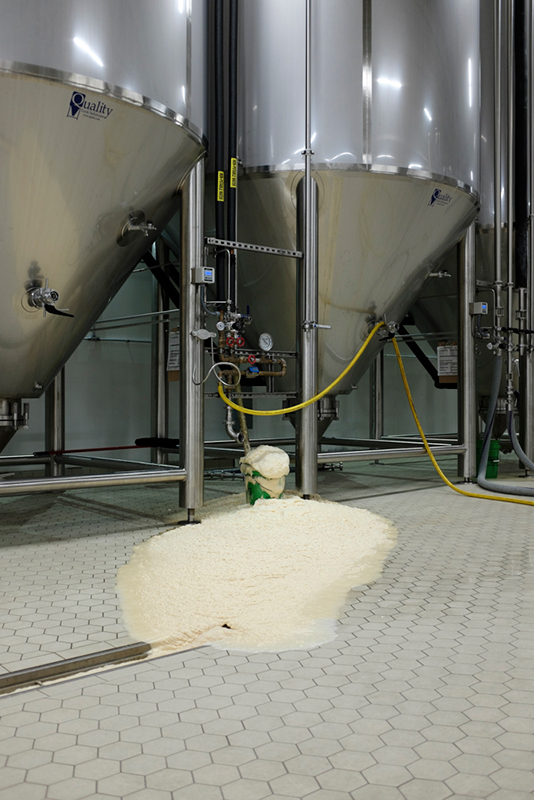 Not a lot of people know what they wanna do, ever even.
I was working at Brasa (killer local restaurant, heavy on the meats), doing the house-made sodas project there, was kinda the kitchen supervisor. The front of the house manager was Joe Altan, one of the main guys behind the Beer Dabbler festival and now he's the editor at the Growler magazine. He introduced me to Fulton guys at the very first festival that they were at.
Was that when they were still doing garage beers still?
That's when they first contracted out of Black River Falls,WI. I met those guys, told them my background and that I wanted to help em' out. Stayed in touch with em while I was still in school. They hired me as an independent contractor to travel to Wisconsin to work with the brewmaster there who was making their beer. I'd go out there 2-3 times a month. I did that for a while, it was still pretty open still, not full time. Working with Todd the brewmaster there in WI was good too, I understood it all on paper but in practice was a different thing. It was rad.
I finished school and was still doing the temp thing with [Fulton], working at Brasa still. I had applied to the Siebel brewing program, I got accepted to the masters program at UC Davis for brewing science too. The guys were still on the fence about whether or not they were going to build the downtown brewery. I told them I was going to do this thing with someone, but wanted to do it with them. They made the offer and we did the brewery. I've been here since. Last year they gave me a piece of the company too, so cool.
That's epic! That's testament to your expertise and the passion you bring to it everyday.
I wholeheartedly give a damn.
Exactly! Yeah. But so many people don't. Especially when you're starting a small business, it's such a leap of faith. People don't appreciate passion and expertise. They don't happen together very often.
The company is turning 5 years old this month. We've gone from brewing 15 gallons at a time to the 5th largest brewer in the state in 5 years. It's so rad.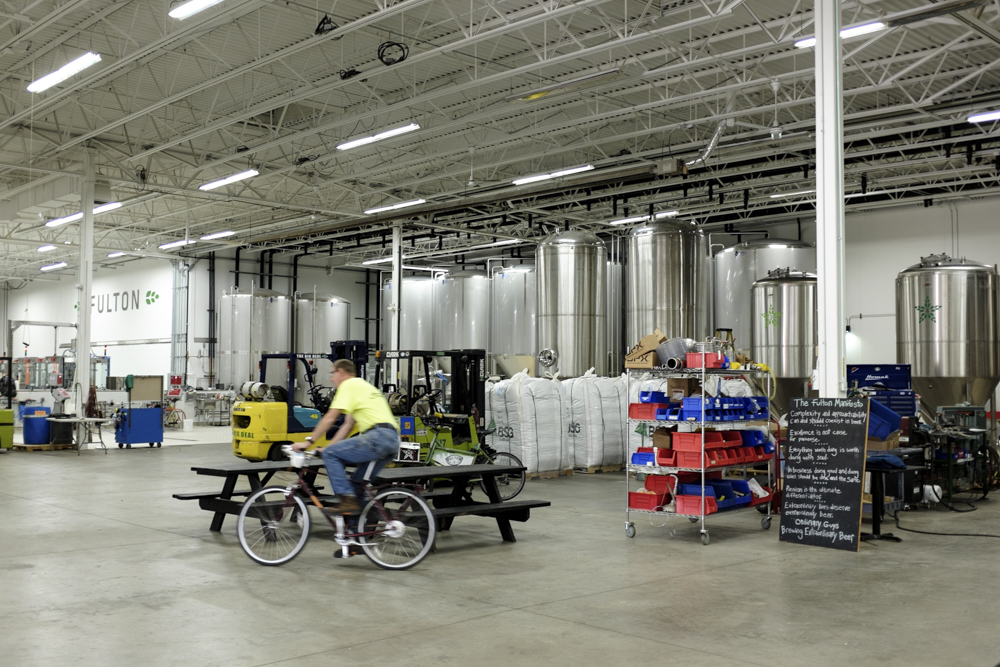 Occasional games of S.K.A.T.E. have been known to happen after the end of a shift on this new concrete.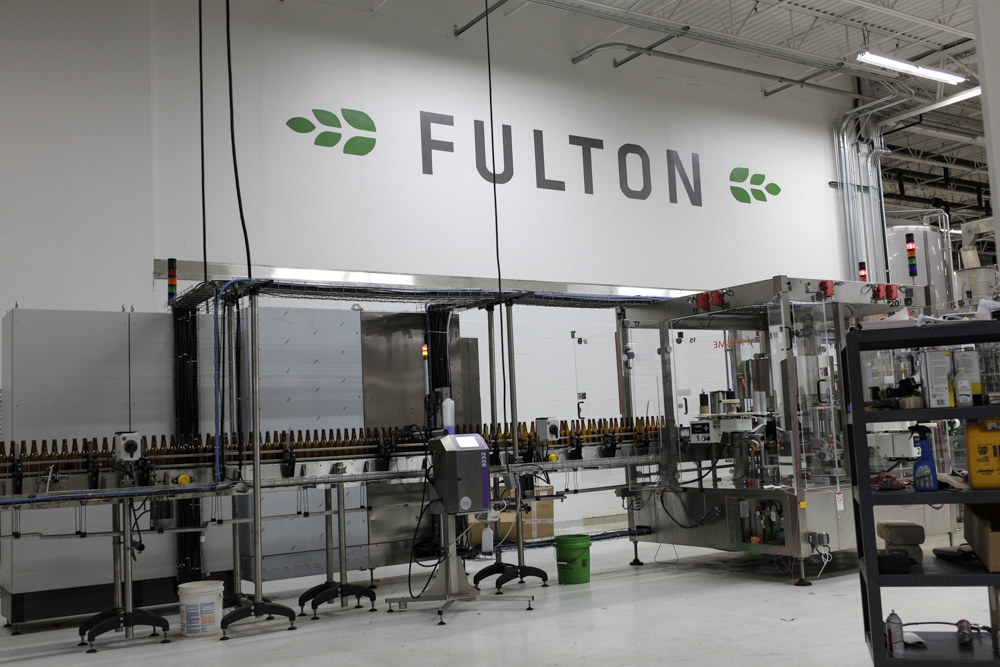 Fulton's bottling line.
A conversation with Laura Preston of Fulton:
TUCKER: What's your title here at Fulton? There's probably a better way of saying it; What is it that you don't do?
LAURA: On my biz card it says "Tap Room General Manager and Orchestrator of Cool."
Really?
I wouldn't lie to you! So, I help run the tap room. I also help with events and promos. Sponsorships, figuring out what's best for Fulton and our personality, our brand. What's a good fit, etc.
Do a lot of people approach you guys for that kind of stuff?
A lot. We're on the good side of it though, cause so many are cool. Like with the Gran Fondo this spring and the Fulton cyclocross team we're pretty well known in the bike community. And Minneapolis is known for it's cycling culture, and there's TONS of biking events always going on and they approach us a lot of time. We help when we can.
How did you come to work here then? What was the path you took to get here? I ask because you can't just walk into a job like this I assume.
Ha. Yeah, it's a lot of networking. I ran the BLB beer program before here. And when you run a program like that with all the events and promos you do, and you meet a lot of people... There was a point I realized I had hit my limit there. I had to decide what I wanted to do, what path I was gonna take. The thing I liked the most about BLB was the events I got to plan and the beer program I got to curate. Working on the big block parties. So I had to find a way to do that on a different spectrum; I figured I had to go work for a brewery.
You just knew?
Being to different breweries, going to their events. There are some crazy caliber events, to establish themselves as "destination breweries" that's what these breweries are doing. I approached 4 breweries, this was the one that was a perfect fit. I love the guys, the timing was right. I love Fulton, the brand, the beer.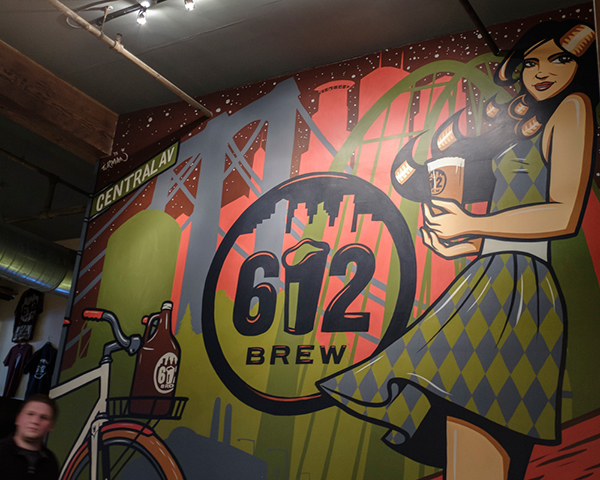 An Adam Turman mural inside NE Minneapolis' 612 Brew
And that segues into why I wanted to do this feature in the first place: Had the 2011 law not happened then, all these other breweries wouldn't have opened. Truly, looking at how if laws are changed, jobs are created.
Exactly. And if we wouldn't have been able to open that taproom, there's no way we would have been able to build two breweries in five years. Without all the capital that comes from that taproom, we wouldn't have been able to... This wouldn't exist. They wouldn't be able to grow and therefore bringing in more jobs. Honestly, I don't even know if I'd be here had they not known this other brewery was coming. We're hiring some QA/QC guys. Some more brewers as things get going more.
So since the law changed, there's been nothing shy of an explosion of new local breweries. As someone who can see the business side of it: You can see the wholesale and overall business is. But since you're running the taproom too, you can see what the volume is like there. Do you sense with every new taproom that opens does it get slower? I guess the bigger question is: Is there a saturation point?
No. People always want to check out the new thing. They always want to go hangout at the new place. But they always have a place they're comfortable with that they love going to in their neighborhood, or close to them. There's enough people out there that are looking for craft beer and are excited by the movement. They think it's fun and want to be a part of it. It's not just a weekend thing. People want to have a beer everyday of the week, so there's enough room and enough for everyone to go around and try it out. Also, some breweries will make it, some might not. So far everyone has made it. As long as you establish yourself and you put out good quality and you have a fun, knowledgable staff behind the bar in the taproom that creates a great "face" for your brewery, I think you're gonna be fine. I mean, look at how many restaurants have opened recently?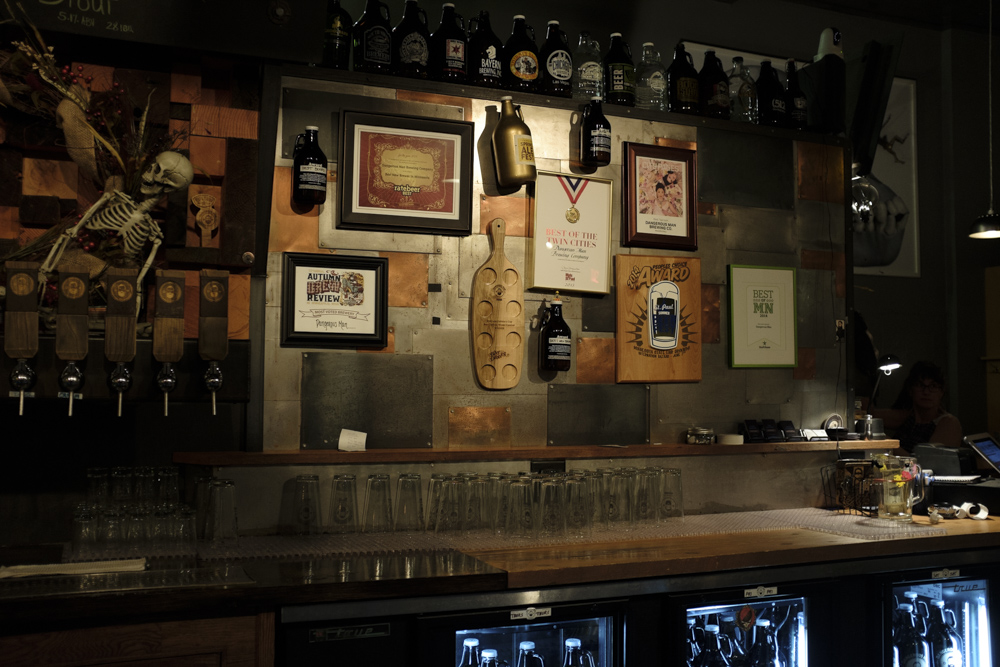 Behind the bar at the Dangerous Man taproom.
That leads me to my next question: The local food truck laws changed here too recently. I don't know why such a progressive/liberal state has been so behind on these things. But it's like peanut butter and jelly: food trucks and taprooms. Perfect combination. Where your taproom is, it's gotta be a huge bonus to be next to the Twins Stadium right?
The North Loop neighborhood where the taproom is has gone through a resurgence. There's so many people living a block or less from us in all these condos and lofts. There's great bars and restaurants there, but it's still far enough from the rest of what's going on downtown. You can't go to some fancy cocktail spot every night. We're a super, easy, relaxed alternative to all that.
It's a neighborhood bar where all you can get is beer.
And people appreciate that.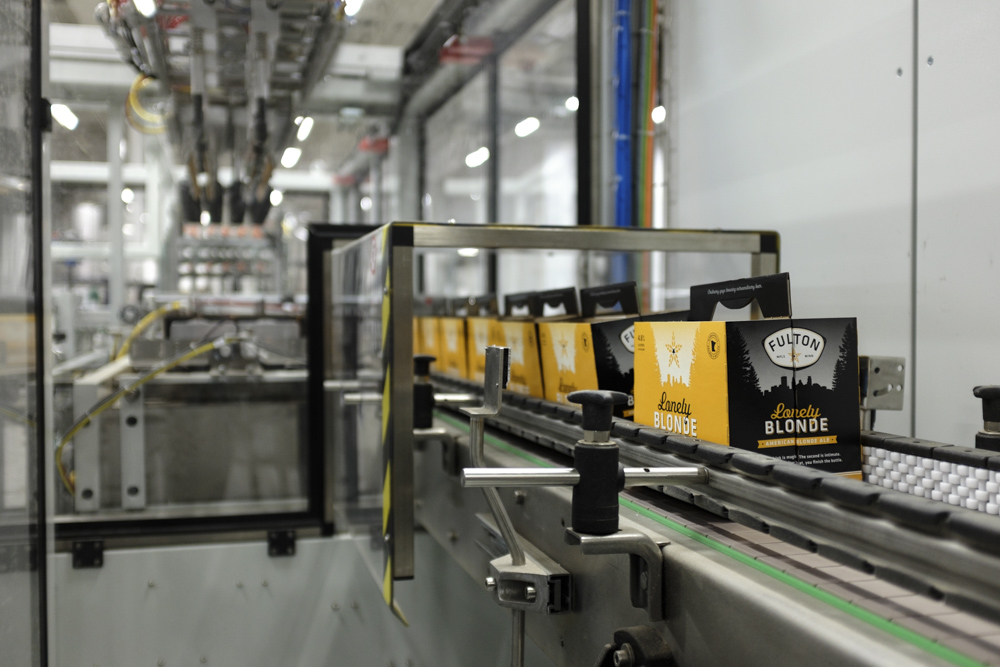 A portion of Fulton's bottling operation.
——X——
BAUHAUS BREW LABS
Coffee (& beer) break with Lydia Haines and Matt Schwandt of Bauhaus Brew Labs:
TUCKER: You guys wanna tell me what it is that you do and/or who you are?
MATT: I am pretty sure we have a non-linear professional history. Which, I'm sure is a common thread in the craft brewing industry. Everyone jumps ship from some bullshit corporate job and opens a brewery.
Chasing the dream?
Matt: We started out as musicians in Nashville, TN back in 1997-2005. The band broke up, there was no money. We were thinking of moving to LA. We even had an apartment there.
Classic Rock N' Roll story.
Matt: Yeah, exactly. Then we decided we didn't want to start over at square one again. It's too hard.
Lydia: Well, and even best case scenario; you're a touring musician, you're always gone, I'm here. We never see each other and that's not the life we wanted. We wanted a life where we could be together and have time together and have roots. For a little bit that meant stepping back from music and being like, "Let's see what happens." And as is the story of our life, the polar opposite direction happened; Matt goes to law school and I was getting ready to apply for med school.
Oh shit. I was waiting for the band to beers story.
Lydia: Then we had a baby. On accident. [laughs] All of a sudden after living in Nashville, we moved back here and we're surrounded by the family. We decided, "Let's sit still a minute and think about what we want to do."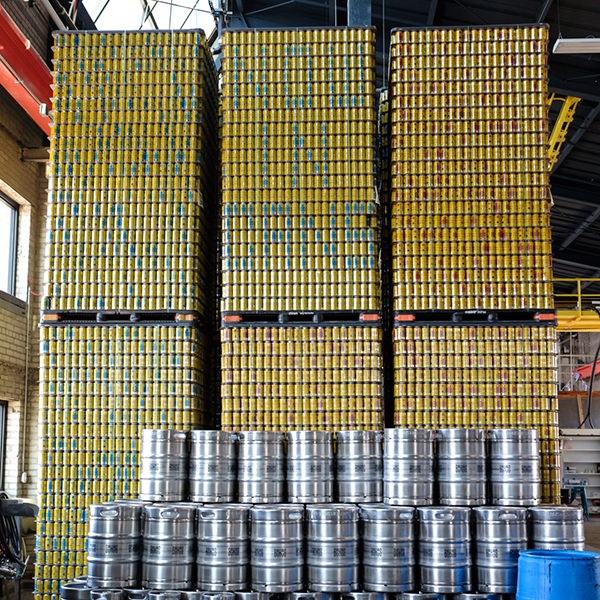 Heavy metal at Bauhaus Brew Labs. Subtle messaging when you squint a little.
Adult type things to think about.
Matt: I did what I thought was the responsible thing for a person with a bachelor's degree to do that they didn't really know what to do: go to law school. I actually kinda enjoyed it, in a sort of a weird masochistic pursuit of knowledge way. But afterwards I hated practicing law. And I was even lucky just to even find a job. I worked for the state for 2 years. Then private firms for a couple years. Got so sick of it. It didn't drive me.
Lydia: It's not who you were. I think they could smell it on you. They knew it.
Matt: I guess backing up a couple years, right before I started law school I got into home brewing. That was sorta sparked by when I was a musician I was working at this really great brew pub in Nashville called Boscos. They have a few locations around the mid-South. They've won a lot of GABF medals for their beers. They've been featured in pretty prominent publications. They make great beer.
"I am pretty sure we have a non-linear professional history. Which, I'm sure is a common thread in the craft brewing industry. Everyone jumps ship from some bullshit corporate job and opens a brewery." -Matt Schwandt of Bauhaus Brew Labs
You were back up here in MN doing home brew stuff?
Matt: Yeah.We kinda geeked out about it really early. Her dad and I kinda teamed up and started brewing and over the next 10 years we got really good. We brewed a lot on the home level and never really thought about starting a brewery. But then my career prospects in the legal field: I just decided I didn't want to follow this path. I wanted to start my own business because it taps into a creative sense that I missed not having music as a major part of my life. So now we have a brewery, my brothers and I play in a band. [laughs]
Now you can do everything!
Lydia: It is really cool. It was a random trail that led us here. But from the minute Matt started brewing, he's always been this way with everything; He never does anything a little bit. Like, "I'm just a home brewer." No, he brewed one batch that way and was instantly hooked. And my dad is the Walter White of the family, he's got more rambling stories than us even. He was a substitute janitor, a milk man, a ski lift operator, lived in a teepee in on Lake Superior. Lived in a geodesic dome on top of a mountain in Boulder.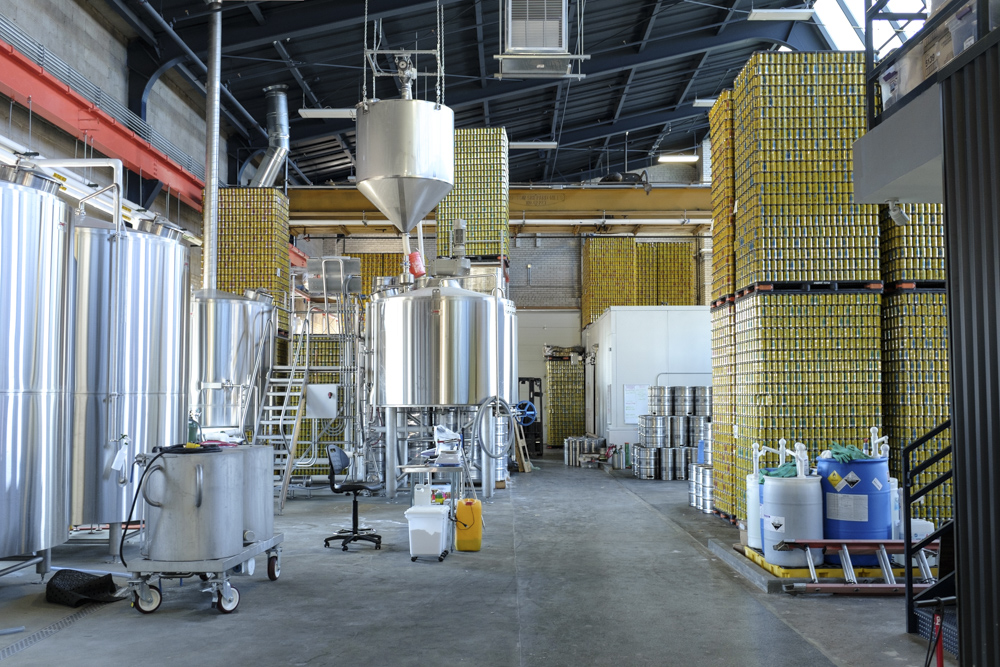 Ready to brew!
What was the jumping off, "oh shit" moment that got you guys to take [your brewing] out of the basement and into the next stage?
Lydia: I think it was my mom pushing [Matt] out of the door.
Matt: It took 2 years. From deciding we were going to start the business to the planning stages. I guess the core reason we started it is that is for the last 5 years of home brewing I got into making German style and continental style lagers and perfecting that. It's a challenging beer to do well, and not not a lot of smaller startups are doing this kind of beer cause they're more time and cost-intensive. We saw a big void in the market in Minnesota. When I'd walk into my local bottle shop, I'd think, "Where is the really great, refreshing pilsner from a local brewery that's not boring?" We thought that's what we're doing anyway, so let's do it on a commercial level and try to add something to the market instead of just being another brewery and have the same line up as the next guy.
Lydia: We absolutely would not have opened another brewery that we thought would fall into the line up of what already exists. We wanted to do something really different. And really, just kinda unhinge people a little bit with who we are.
It's an interesting difference to have. By being different, you're knocking out of the park something that is so ubiquitous in that industry on it's own, but done terribly.
Matt: Yes! That's also part of the goal. Let's not just let the majors have the entire market on lager beer… Instead, let's take it to their doorstep and say, "No, this is what lager beers should taste like and did taste like before prohibition."
Lydia: Another thing about them is that these days they're made a lot of the time with corn syrup and hop extracts.
Matt: Fake ingredients.
Lydia: It doesn't taste real. If you drink ours, there's all these crazy hops we throw into our pilsner you'd never expect.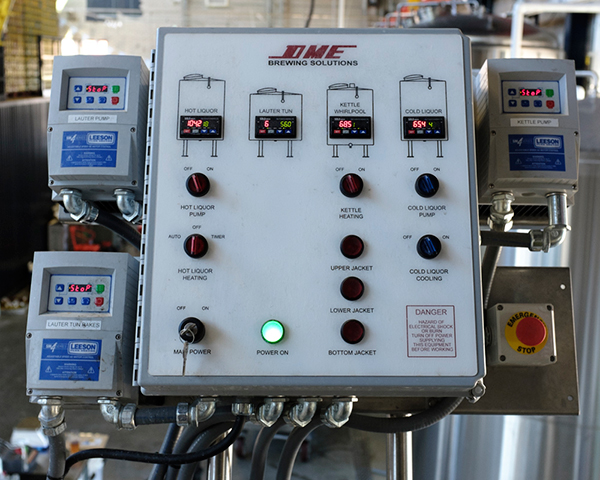 I would like a "hot liquor heating" button in my kitchen.
My friend calls that stuff, like, whenever you get something that's like a classic or regular or normal of something (like beer), but it's quality still,  he calls that a "beer-ass-beer" or a "I just want a burger-ass-burger" or whatever. The right thing done the way it should be done. That's what I consider you guys: a beer-ass-beer.
Lydia: Fuck yeah. [laughing]
Matt: I think that's exactly right.
Lydia: That should go on a T-shirt.
"Let's not just let the majors have the entire market on lager beer… Instead, let's take it to their doorstep and say, 'No, this is what lager beers should taste like and did taste like before prohibition.'" -Matt Schwandt 
Is it just you two who own Bauhaus?
Matt: No, there's 8 founders. We're the principles. But it's a family business: me, my 2 brothers...
Lydia: Me, my dad, my mom, my sister. Sister-in-law.
When did you guys open officially?
L: July 16th. We were on tap at about 25 places before we opened. Basically, some beers finish faster than others. The pilsner is the slow one, it's a beer that will not be rushed. It needs time to lager and condition or it won't taste good. But the Wagon Party, that one finishes quickly. We're looking around us and we've got 2 weeks before we open. We've got 60 kegs... sell 'em! Now!
Food truck eats from Anchor Fish at the Indeed taproom.
"We never saw each other, we have 2 kids, we're running around like crazy. I want a place were I can bring the kids with me. We can just be a family, it's ours. Work is play and life is celebration."
Did you guys have a feeling about starting this when the taproom law changed? Did you think of it then and then shelf it for a year?
Lydia: It was like a "someday goal." It was like, "Someday we'll do it when the student loans are paid off, when this happens when that happens..." But then some "day" was like now. We just thought, "Why wait?"
Matt: The taproom bill has helped out so many breweries. We have instant revenue. We never could have done something on this scale without that bill being passed, for sure. One of the other cool things, is that there's a whole culture of taprooms now that are part of what is otherwise just a manufacturing facility. Now there's a retail component and we wanted to, from a design perspective, to build that into the space, so that it wasn't just an afterthought and rather an integral part of the space. We wanted to give people the experience of the brewery without having to give a tour. So they can just walk in and see it.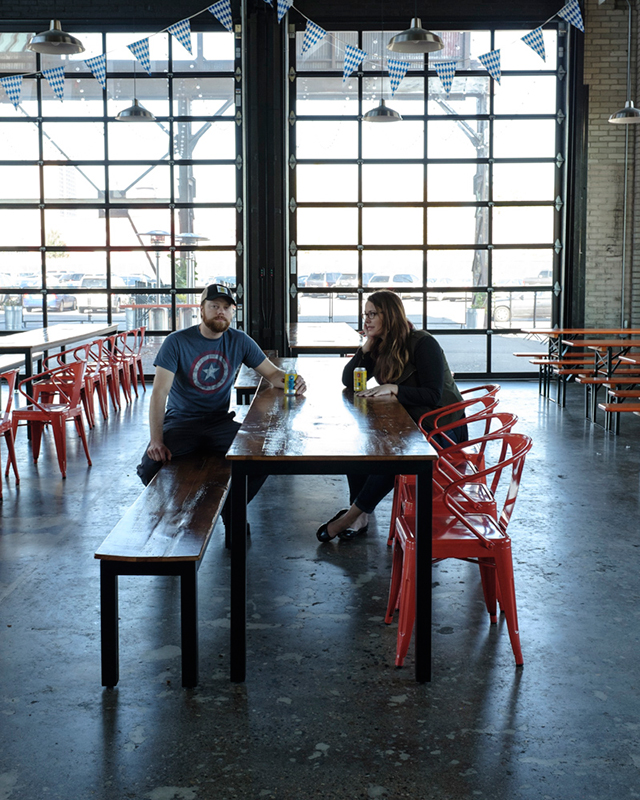 Matt & Lydia of Bauhaus Brew Labs.
[Starting our own brewery] was like a "someday goal." It was like, "Someday we'll do it when the student loans are paid off, when this happens when that happens..." But then some "day" was like now. We just thought, "Why wait?" -Lydia Haines
It's one thing to be an innovator. It's another thing to take it all in and do it best.
Matt: We've certainly benefitted from the experience of our predecessors. It's great that, for the most part, that everyone's friends. There's a big sense of community.