The Know Show Trade Show is happening right now in Vancouver, so I thought it would be an ideal time to share some of my favorite places to eat and drink in the city. While I claim "living" in Los Angeles, I still spend about a third of the year up north in my hometown visiting my Pops and having Canadian time. This is in no way any kind of end-all, be-all list for Vancouver – it's just a compilation of places I like to eat at when I go home.
PS. I am not an expert, I just eat a lot and I'm not a food photographer.
COFFEE
I can't function without a cup of strong coffee and I'm sure many of you are the same. Vancouver was once known to have three Starbucks in one intersection, so it pleases me that more independent coffee shops are opening. *A handy tip: If you want your coffee made right, listen for a barista with an Aussie or Kiwi accent and ask them to make you a long black or a flat white. Trust me*
On my last trip to Vancouver, I frequented Matchstick Roaster's new location in Chinatown. Matchstick roasts their own coffee and each drink is made to order. Their first location is in the Mount Pleasant neighborhood, but they recently opened a new location in Chinatown on Georgia Street. If you're looking for a place to get some work done when you're in town, this location has long tables for you to set up with a laptop. It's a perfect "coffice."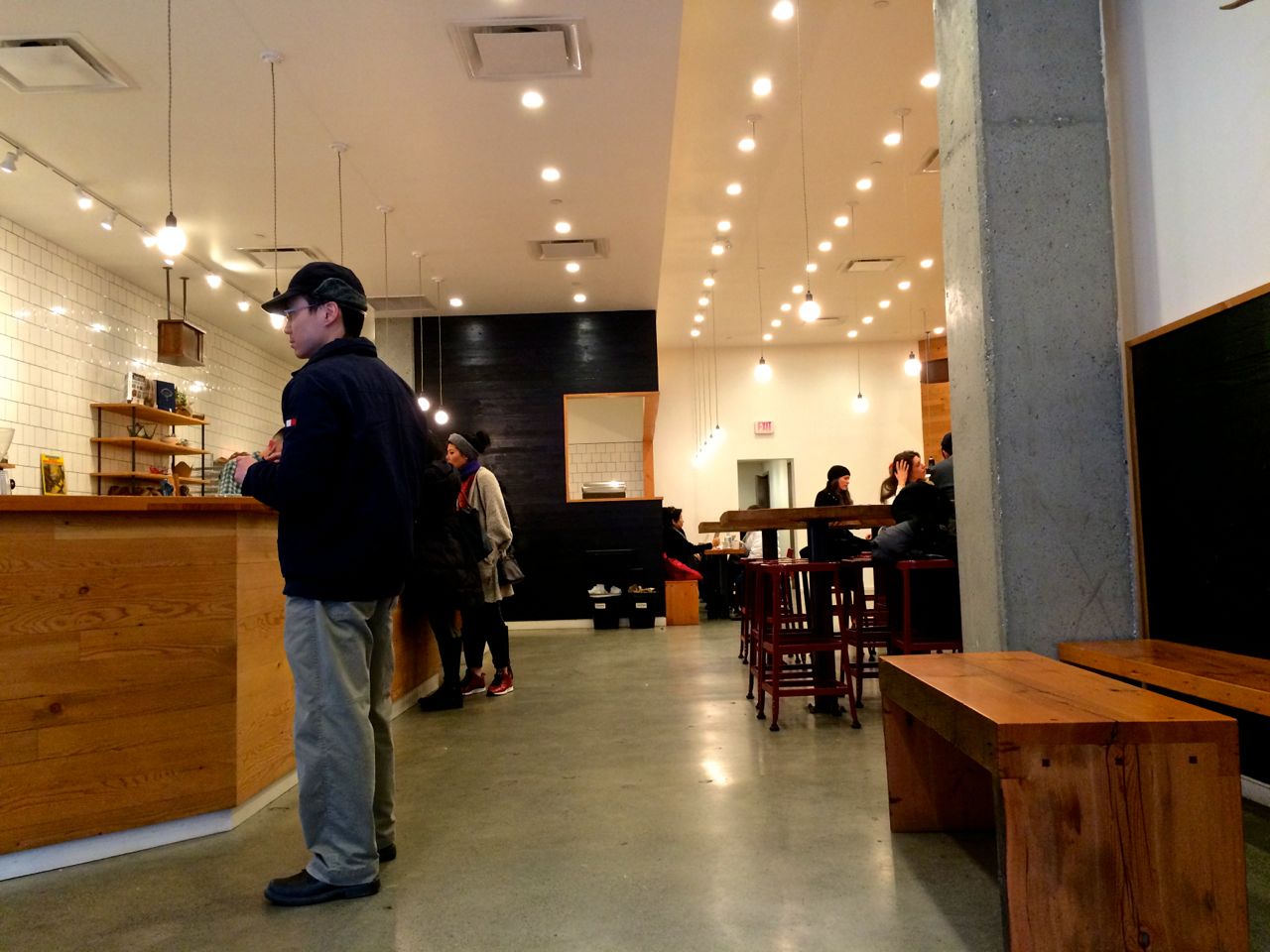 Matchstick Chinatown.
It's hidden away in the West End and is the definition of a neighborhood coffee shop. I was staying a few blocks away while Christmas cat-sitting for a friend when I walked by. I became an instant fan when I saw Spanish tortillas (omelette) and cortados (an espresso cut with a small amount of warm milk) on the menu and the Root's Things Fall Apart album upstairs in their vinyl collection.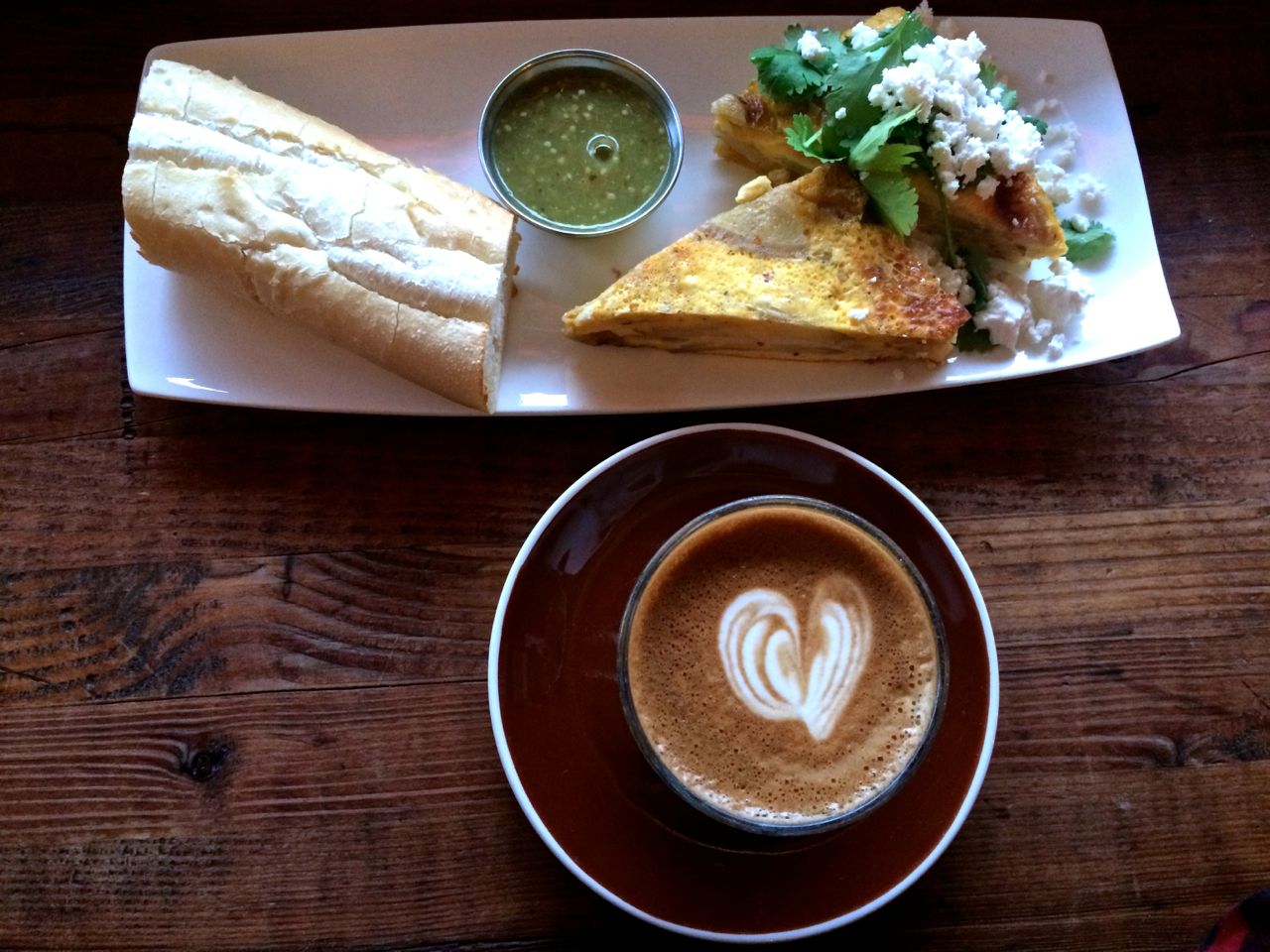 Greenhorn's cortado and Spanish tortilla.
Located in Riley Park, Le Marche St. Georges is another spot hidden away. This cafe isn't a place you would normally come across on a trip to Vancouver, but you'd find it on social media and it's a fan favorite of locals. It's in the Riley Park neighborhood, just off of Main Street and East 28th Avenue. It's a cafe in an old converted home that serves coffee, tea, crepes, and pastries. The market sells locally-sourced gourmet food items and other items.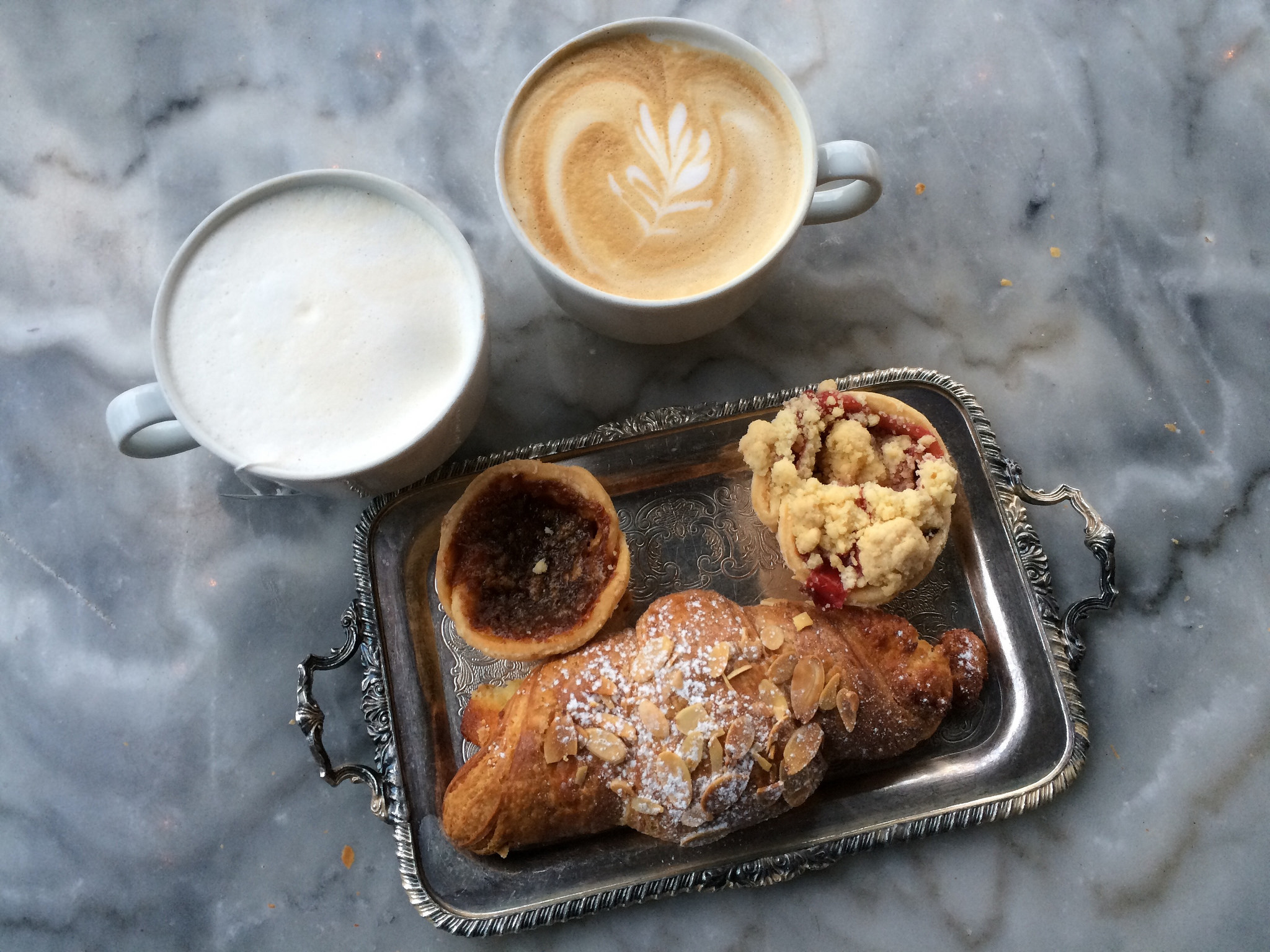 Delicious pastries and drinks at Le Marche St. George.
BREAKFAST
Breakfast and brunch are my favorite meals. Some days I'll go heavy on brunch and don't eat anything else for the rest of the day. Some days, all I drink is coffee and that will tie me over till almost dinner.
My favorite place for breakfast and brunch in Vancouver is Cafe Medina. Year after year, enough awards and accolades roll in to cause a line to get through the doors. Medina serves Belgian waffles along with savory breakfasts and lunches with a Mediterranean and Moroccan influence. I recommend trying the fricassee (not just because it's fun to say and the Bugs Bunny reference), tagine, and the waffles. My tip for Medina is avoid the weekend, go at off peak times, don't go absolutely starving, and bring a friend so you can complain together about the wait time.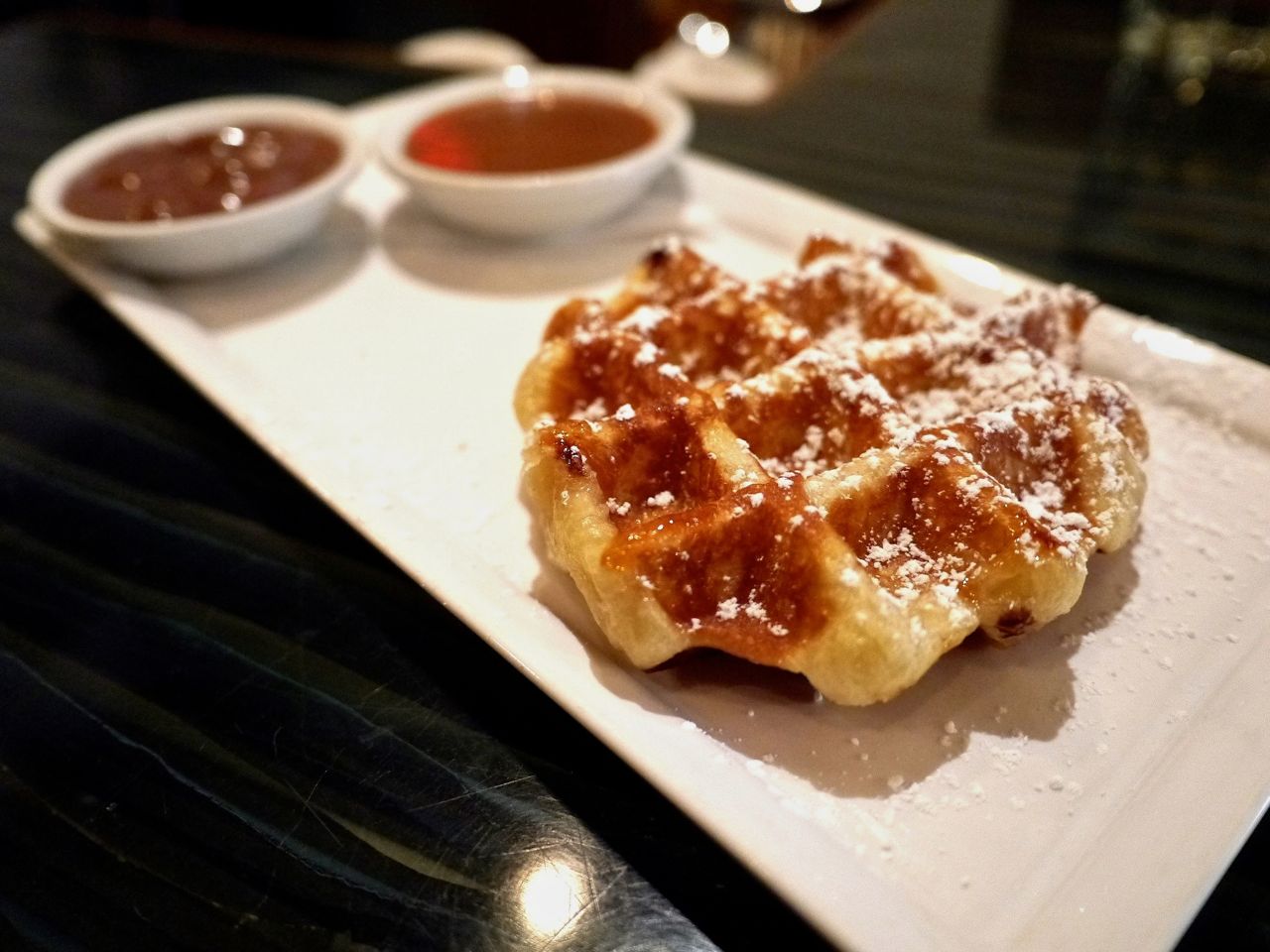 The Liege style waffles at Medina.
Yolks is one of the local success stories of starting out as a food cart and expanding into an empire. They still have a food cart but have added a food truck and, now, a sit down restaurant to their repertoire. I went to their commissary space on a Monday and it was quite busy. Perhaps it was the holidays or that people in Vancouver don't have 9-5s. I like going to the food cart because it's quick. I recommend the poached egg sandwiches, truffle lemon hash browns (on a skewer if you're ordering from the truck or cart), and fried chicken and waffles at the commissary.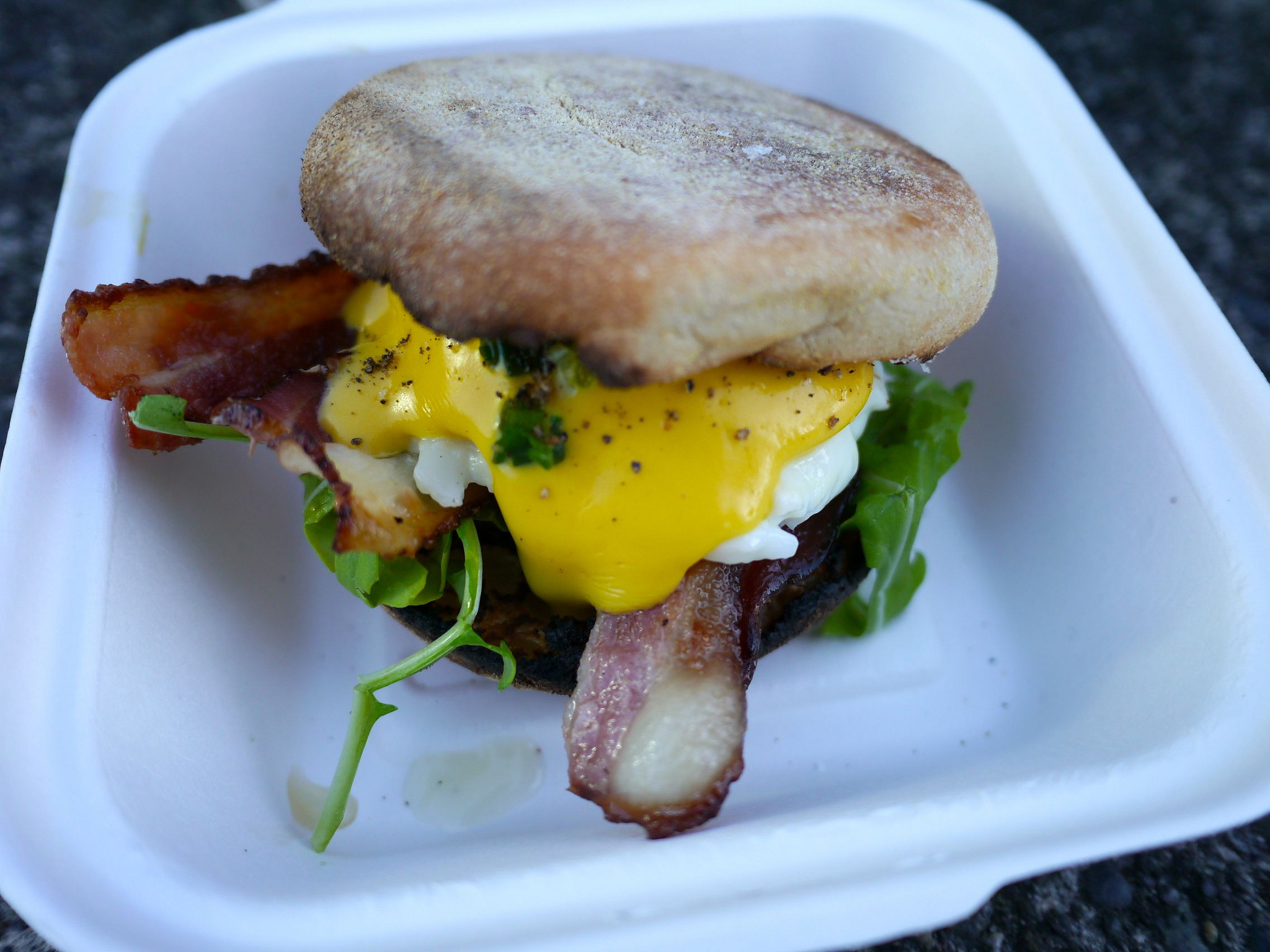 Yolk's Breakfast sammy!!
LUNCH
Finch's buzzes at lunch and has even opened up another cafe in the Strathcona neighborhood. Come here for their sandwiches. I love their baked blue brie with roasted walnuts, pear, proscuitto, oil, and vinegar. This sandwich satisfies all of your cravings in one go.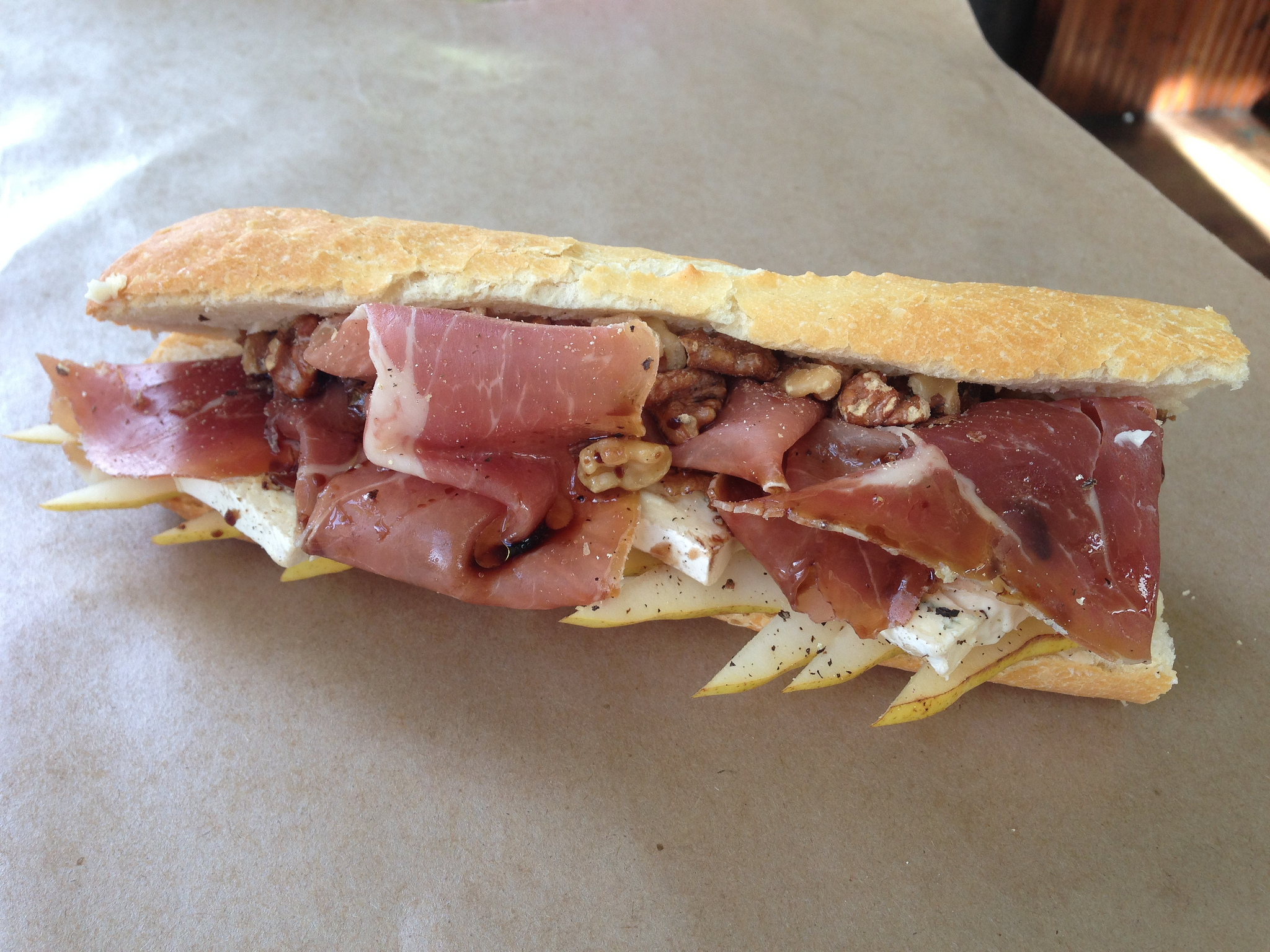 What about this sandwich?!
Like sandwiches? I kind of love places that just make one thing. Meat and bread does just that. Different locations have different menus but they usually have porchetta, a meatball, grilled cheese, and a special. For all you Know Show folks, there's a location on Pender between Thurlow and Burrard.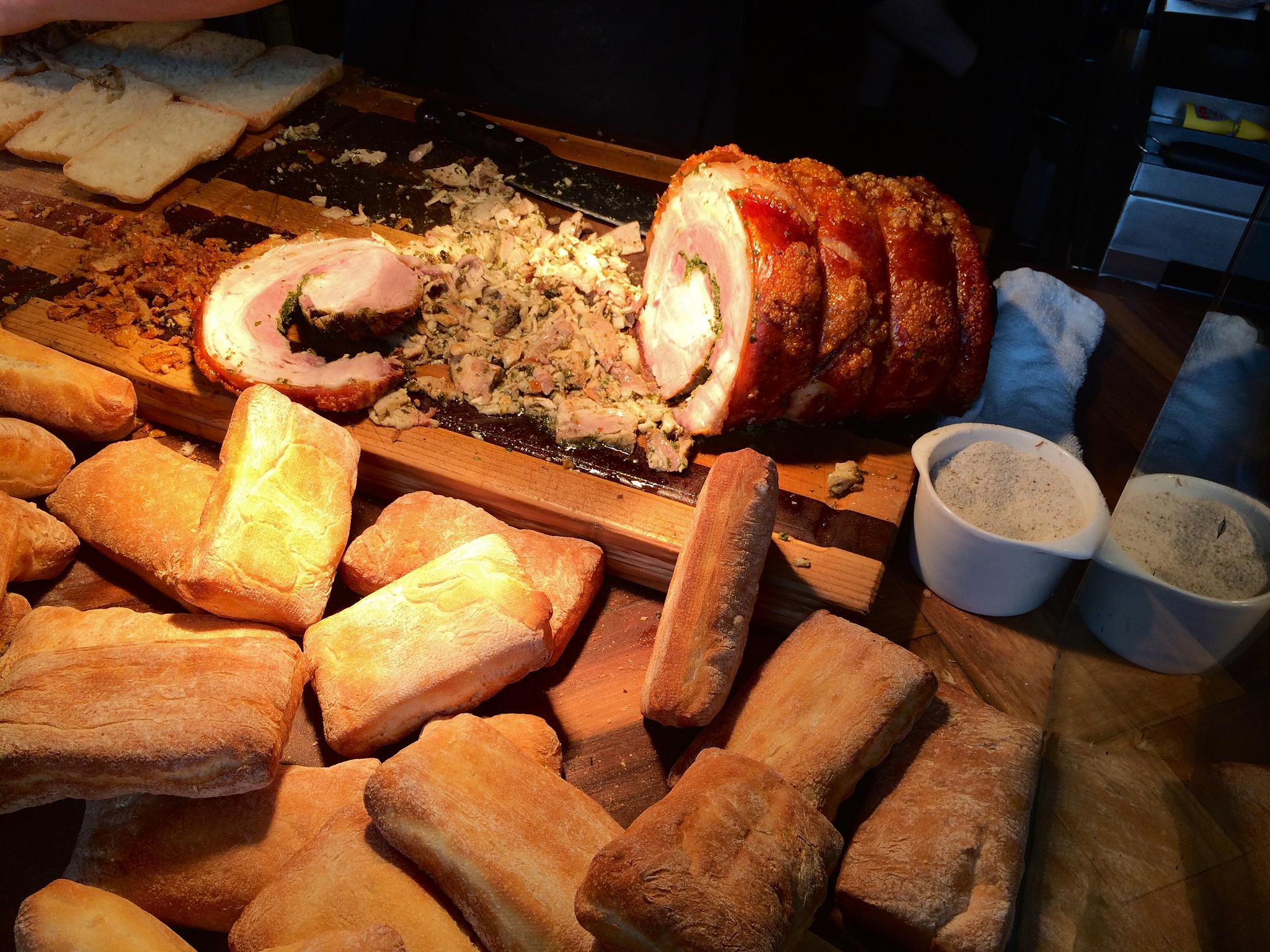 Meat and Bread's meat and bread!
Vancouver is izakaya central. There are a handful of izakayas in the city and they've even expanded eastward to Toronto. If you don't know what that is, it's like a Japanese pub that serves small plates of food. I like the Kingyo family. Kingyo is located on Denman Street near Stanley Park and English Bay. I put them in this section because they have lunch specials and a limited number of bento boxes they make at lunch. They sell out quick so you have to get there super early. They have sister restaurant Suika in Kitsilano. It's boisterous and fun and you should order the box sushi, hellz chicken, and the Chinese poutine when you go.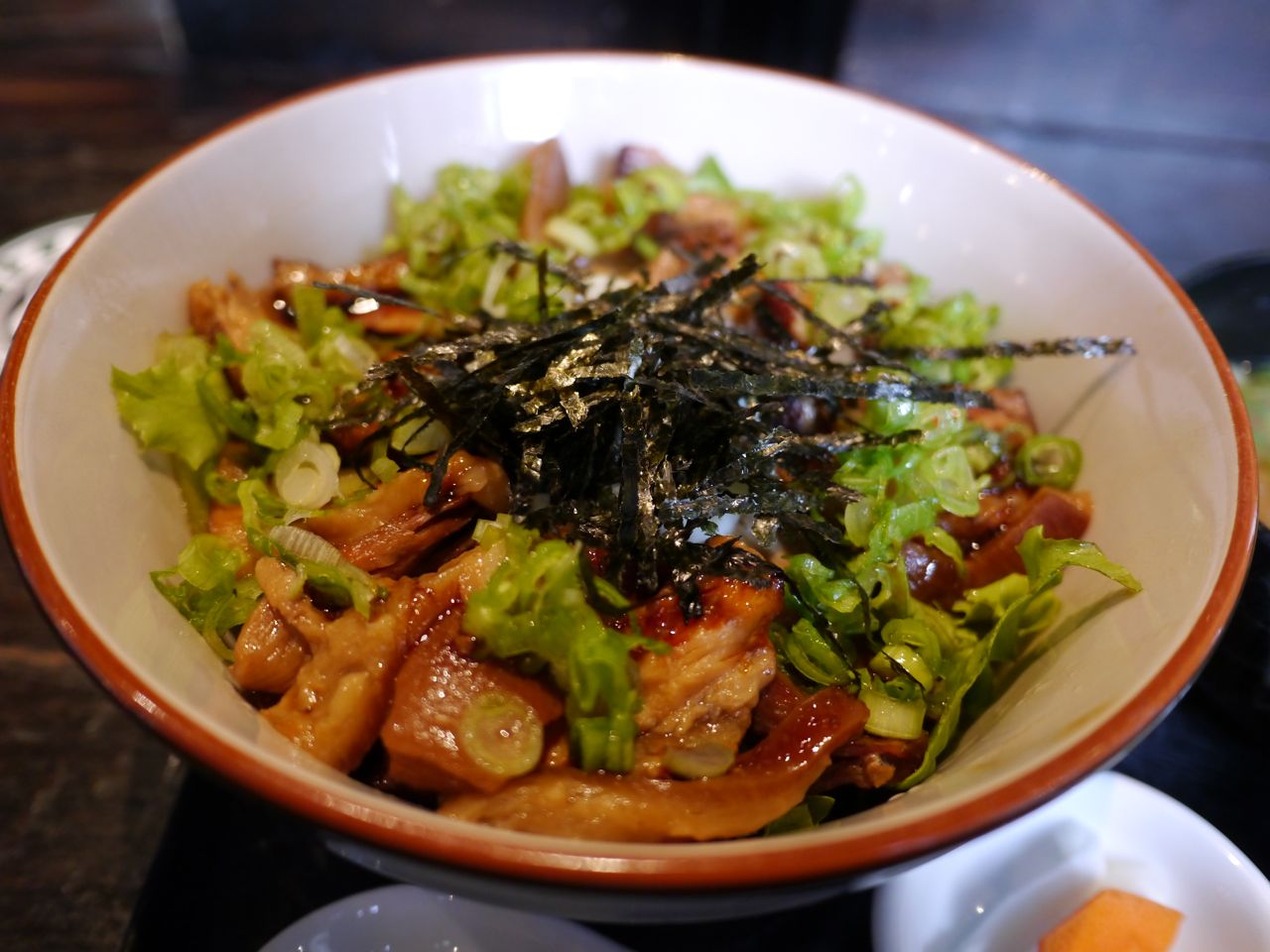 Lunch special at Kingyo.
Famous hot dogs with Japanese toppings – even Anthony Bourdain loves them. Since opening their first hot dog cart in 2005, Japadog has expanded to 4 more carts (their Burrard and Pender location are somewhat close to the Convention Center) and a cafe on Robson Street and just recently opened in Santa Monica, California. I always order the Kurobuta Terimayo dog but love the Tonkotsu dog at the Robson storefront. I get a side of their Shake fries topped with butter and shoyu – aka soy sauce. I bet you had no idea that was a thing. It is and it's gooood.
See previous post with my friend Alex: Alex Rhek's favorite Japadog.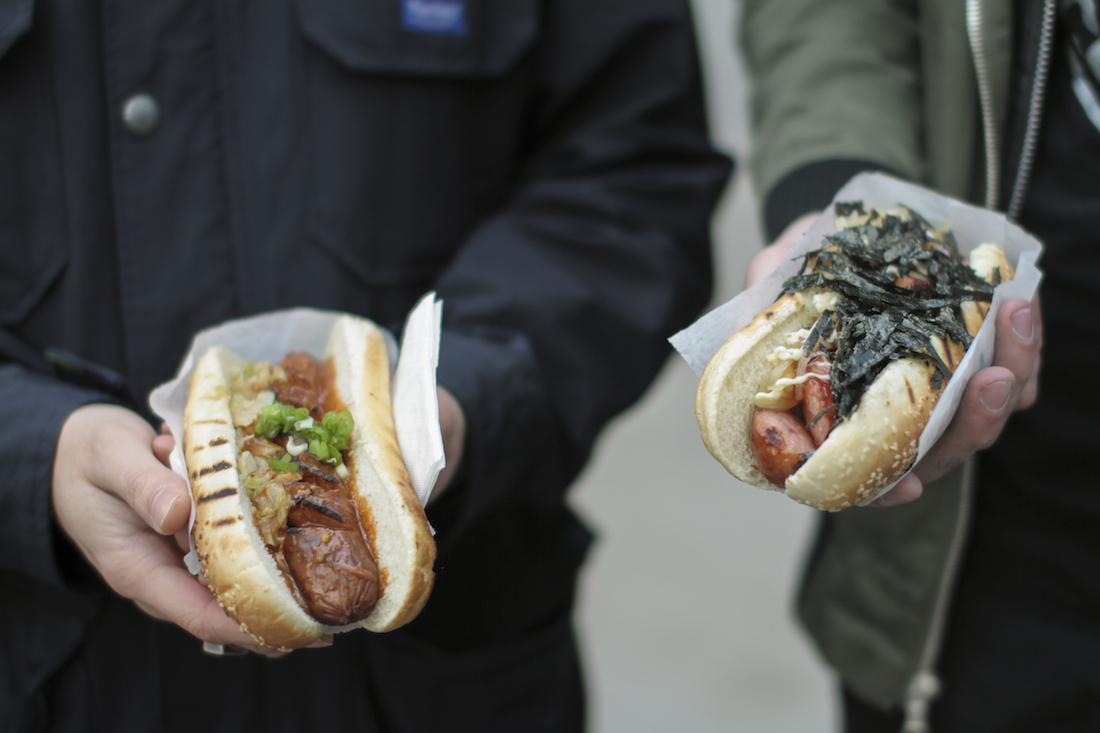 Japadog!
Clearly, I have a thing for sausage. Pause. If you're in Chinatown, check out Bestie. They're an awesome eatery inspired by German street food. They serve up things like currywurst and brats with local craft beer. Open for lunch, dinner, and late night on the weekends.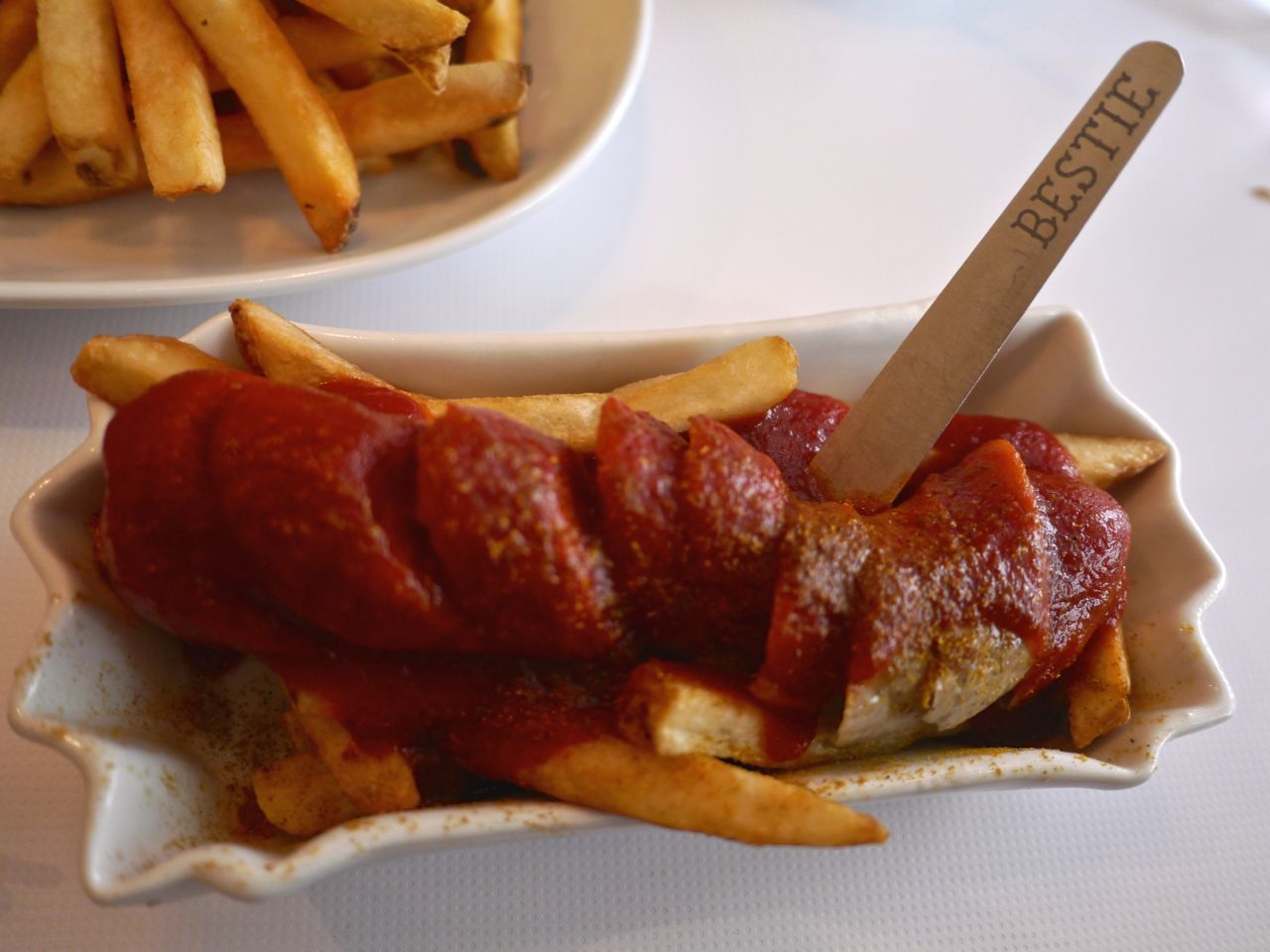 The currywurst at Bestie.
Another food truck success story. After two years in a sleepy beach town on Vancouver Island (go there!), taco slingers decided to try out the Vancouver market with a food truck to sell their Baja style tacos. They have a brick and mortar Hastings called the Tacofino Commissary and most recently opened Taco Bar in Gastown which also has a grab and go window. If fish tacos are hard to come by in your hood, do try them out. They are damn tasty.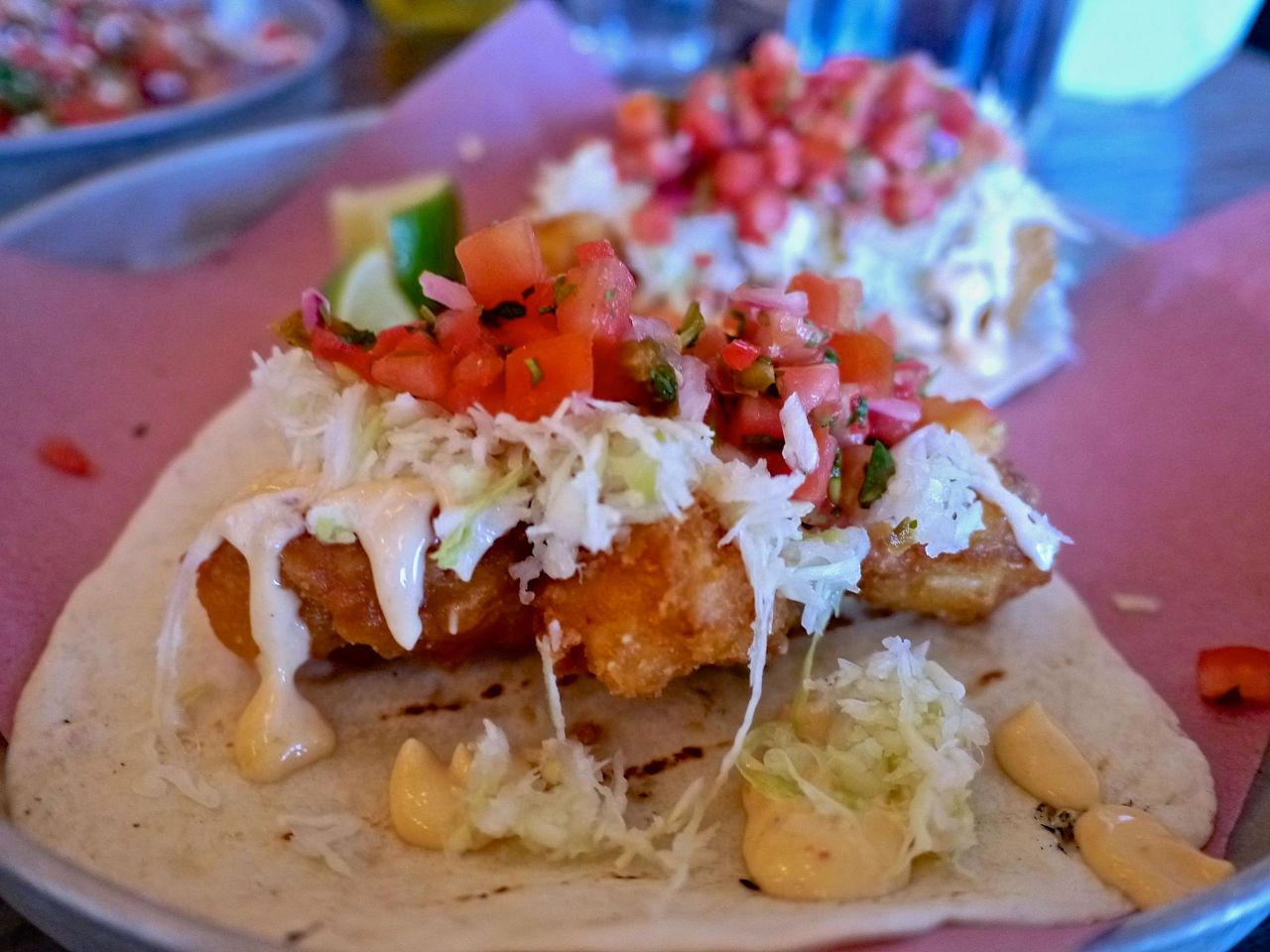 Taco time at Tacofino.
Phnom Penh is in Chinatown and is a Vietnamese and Cambodian restaurant that's been around forever. I come here and order the chicken wings and the bo luc lac (shaken beef). It's cheap and tasty. It gets busy at peak times, but it's an Asian restaurant so the turnover is pretty quick. Come here with a group of friends and order a whole load of things to share.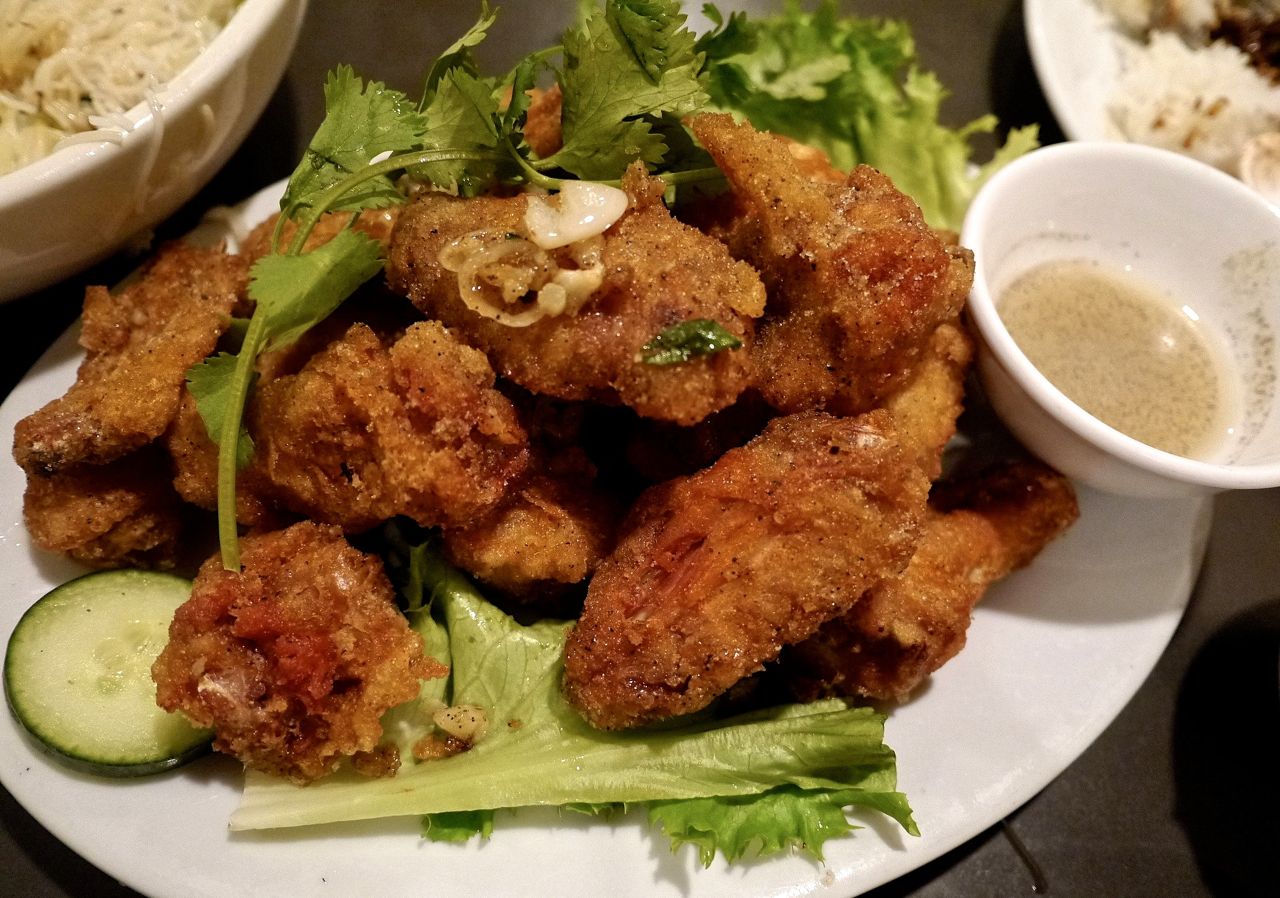 Ain't no thing like some chicken wings!
CHINESE FOOD
A New York Times writer once claimed that the best Chinese restaurant outside of China was in Richmond – a suburb south of Vancouver. Sadly, I was not able to experience this claim since it has since shuttered. Another restaurant on her list is Sun Sui Wah on Main Street. I haven't been there in ages, but I do go to Kirin which has several locations through the Vancouver area. I go here to have dim sum with my Pops. After moving out of the house and off to 'merica, my empty nester parents went upscale and only ate here. It's not the kind of dim sum place where you flag down ladies and order from carts. You check things off of a menu and then your server brings said food to your table.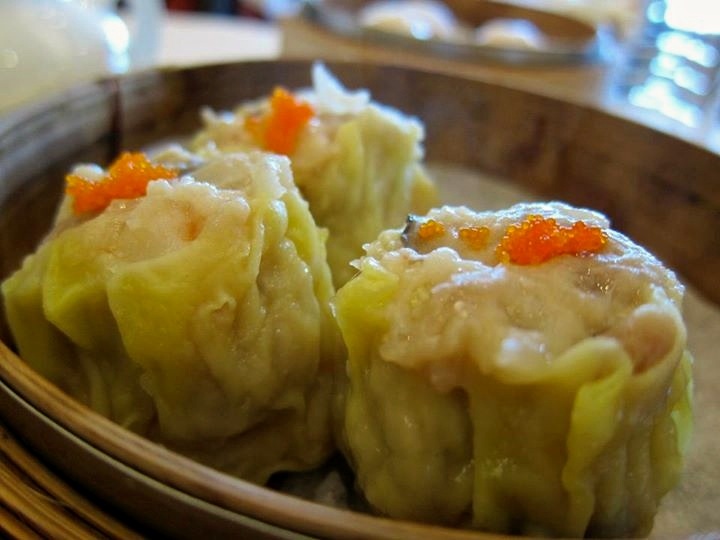 Dim sum and then some at Kirin
DINNER
Ajisai (no website – 2081 West 42nd Avenue)
Vancouver has a ton of Japanese restaurants and lots of sushi bars. I will be bold and say that Ajisai is the best. It's my favorite any way. It's located in Kerrisdale and not the easiest place to get to, but it's worth the trek. I always try to come here because the quality of the fish and the price is really a great bargain. They don't serve cooked food here, just fish. Order off of the specials sheet. Locals will be pissed that I'm blowing up the spot, but anyone who can do a bit of research will find the real deal if they tried. It's a small spot so there are line ups.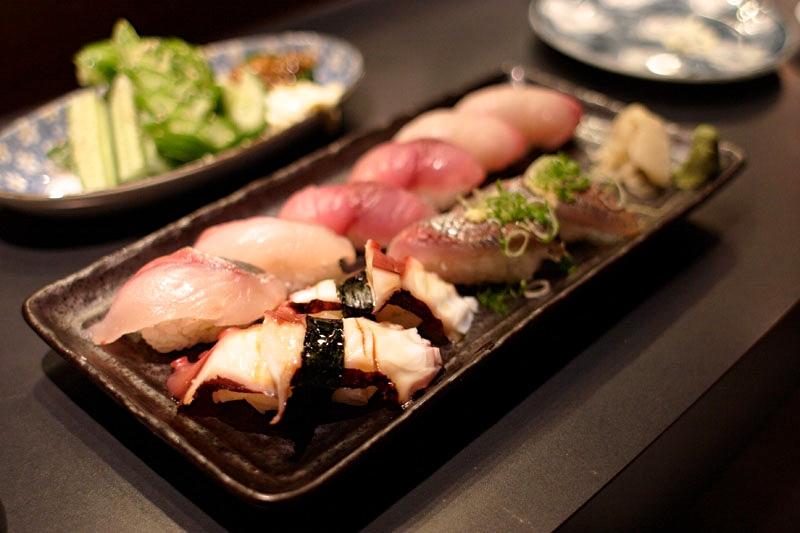 Photo courtesy of K. Goto for VancouverSlop.com
If you're looking for a more refined meal in Vancouver, I recommend Burdock & Co. I'm a fan of Chef Andrea Carlson. She has moved up in the ranks at several of the key restaurants in British Columbia and is a big supporter of working with local growers and farmers. She has since opened up Burdock & Co and Harvest Community Foods. Say what you want about the whole locavore movement but I like knowing where my food comes from. The menu is organic and changes frequently to feature what is in season. Burdock is located in on 11th Avenue and Main in Mount Pleasant, has a super casual vibe, and open kitchen and bar seating. They don't take reservations and are only open for dinner.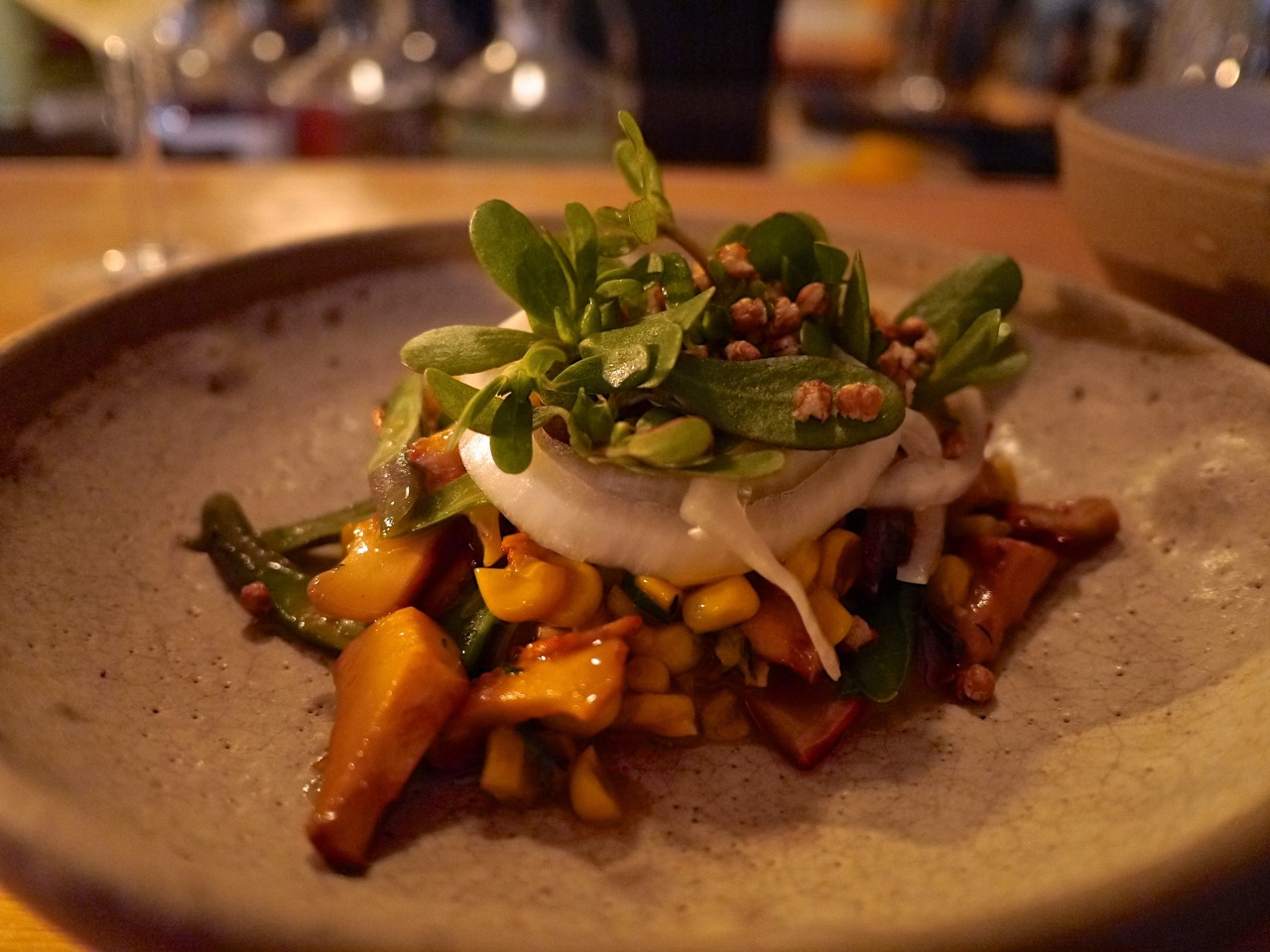 Rough and refined at Burdock & Co.
CLASSICS
When I was in town over the holidays, I grubbed with The Hundreds's Distributor, Take 5. The homeys and I ate at some classic Vancouver jams that no one really talks about anymore, but that are still around for a reason. First we had lunch at Nick's Spaghetti House. This place is at 631 Commercial Drive and doesn't need a website. It's an Italian spot that's been around for over 50 years and has that classic vibe with the checkered table cloths. I always get the lasagna. But seriously, order the cheesecake, yo!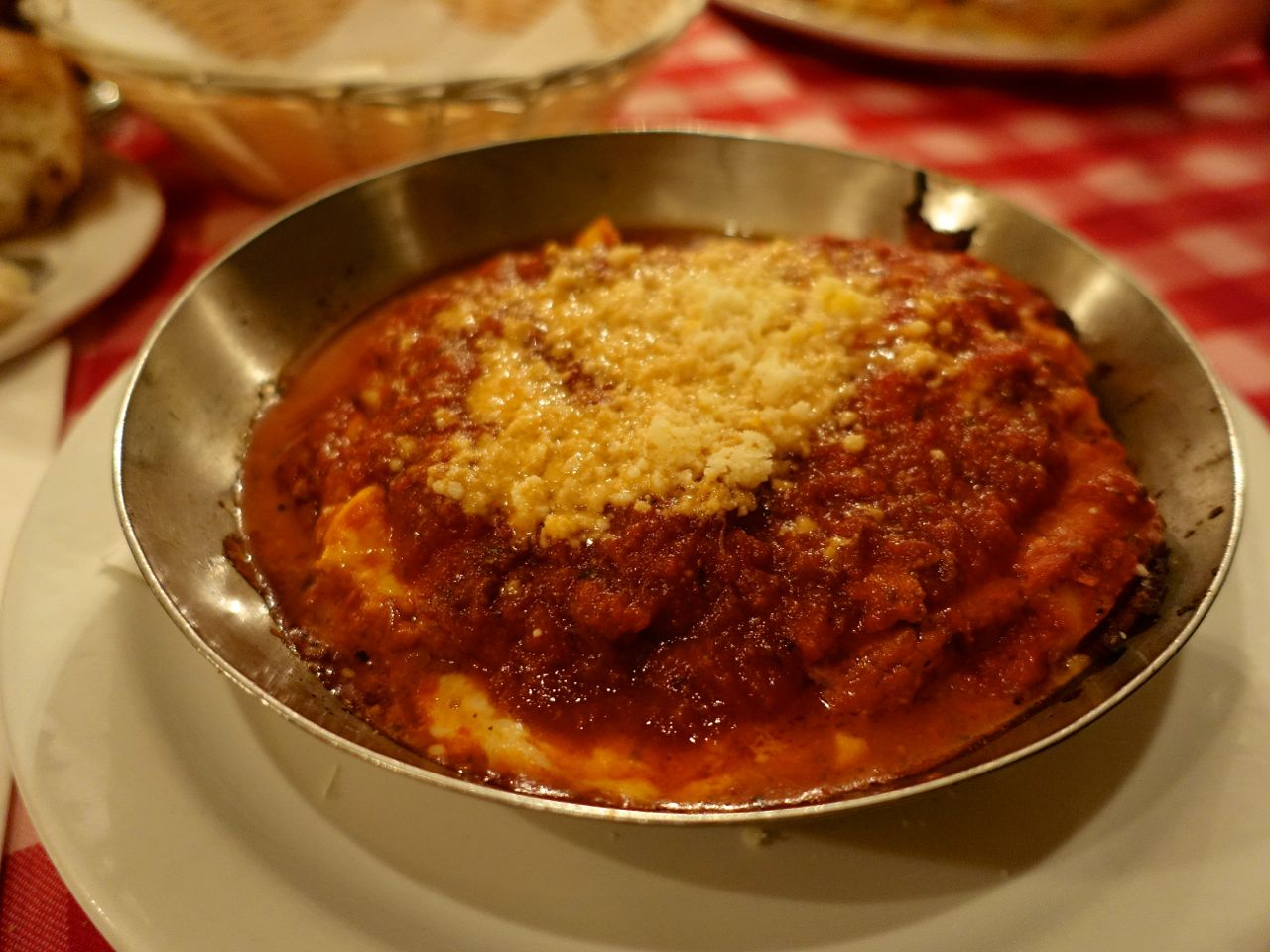 The lasagna.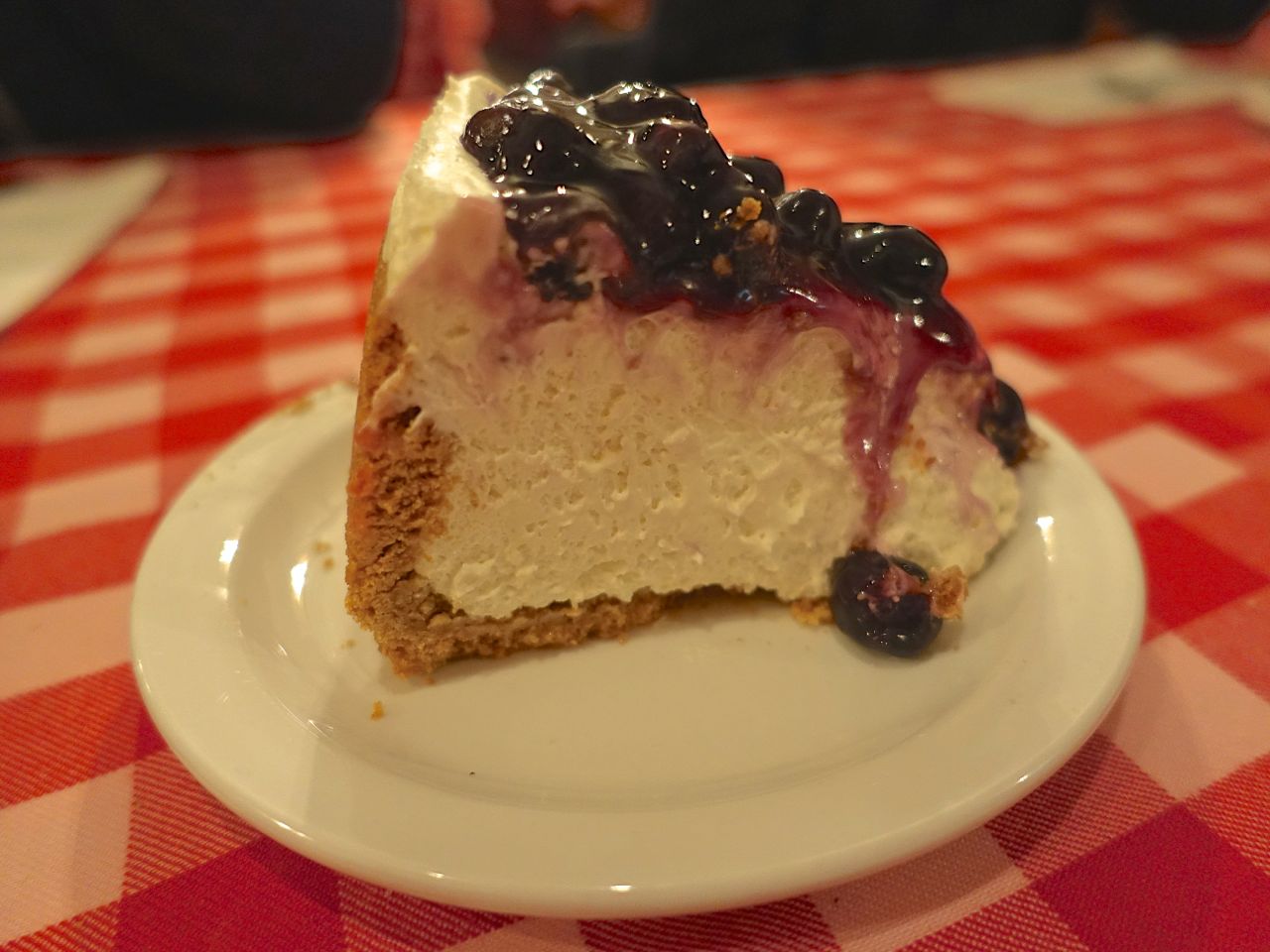 Cheesecake, mmmmm.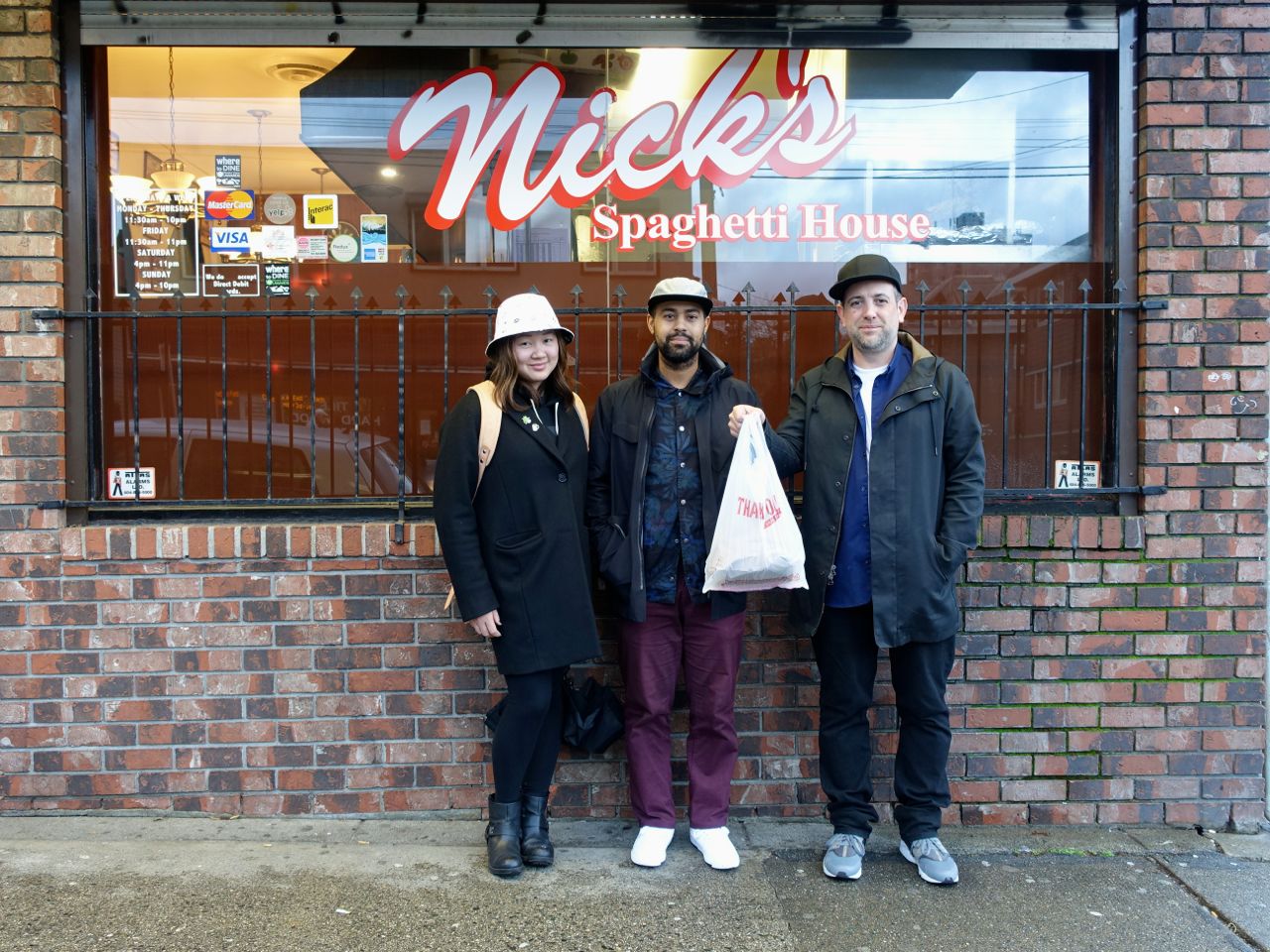 Some of the Take 5 Family: Vanessa, Wade, DJ Science 
The Take 5 Crew and I also dined at Tomahawk. It's not fancy and has been feeding the locals of North Vancouver since 1926. I hadn't come here in ages and was stoked to grub on some comfort food. If this isn't classic Vancouver, I don't know what is. I love their collection of North Shore and West Coast First Nations artifacts. If you're checking out the Capilano Suspension Bridge or snowboarding on one of the North Shore mountains, eat here.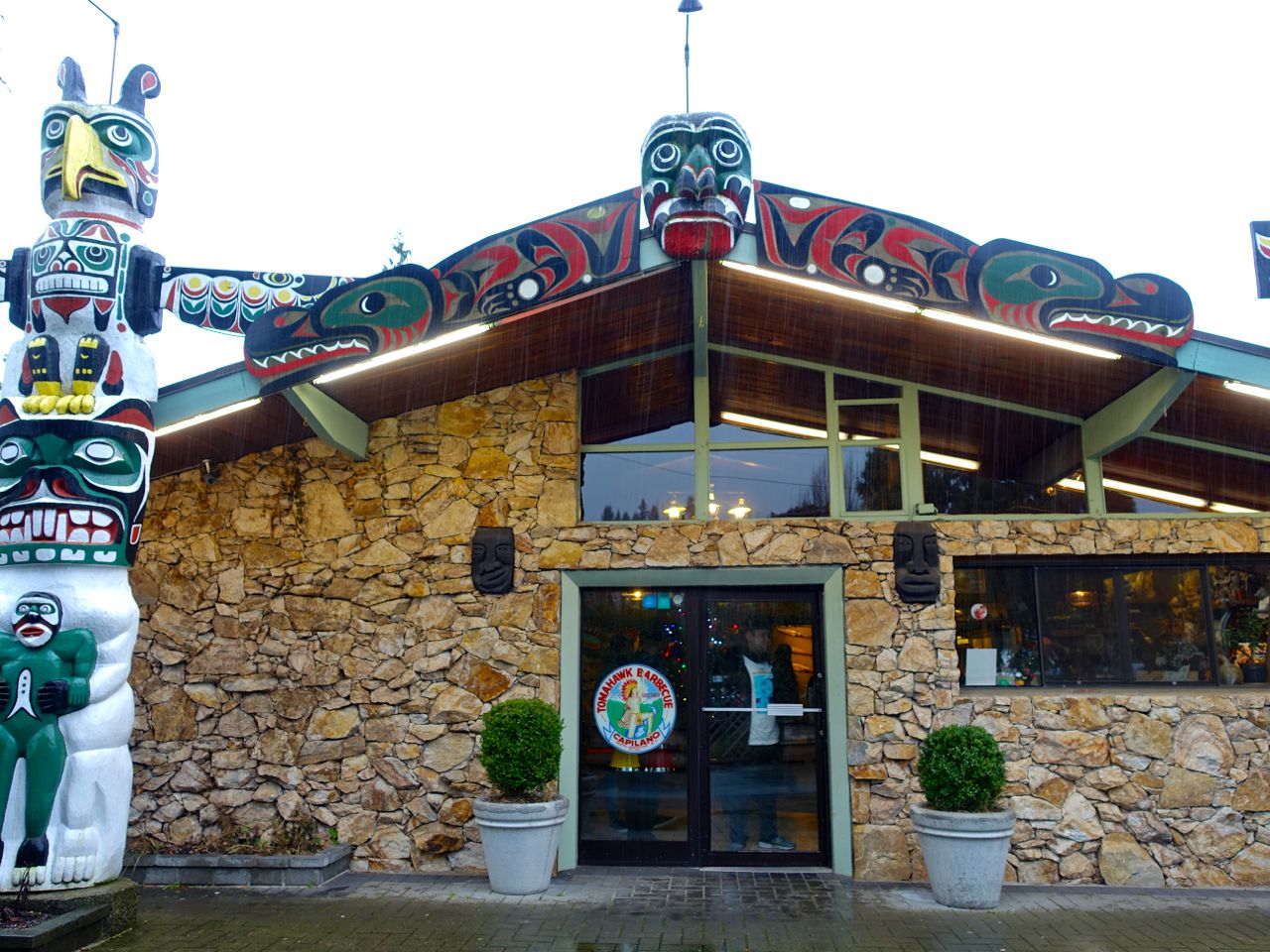 Tomahawk vibes.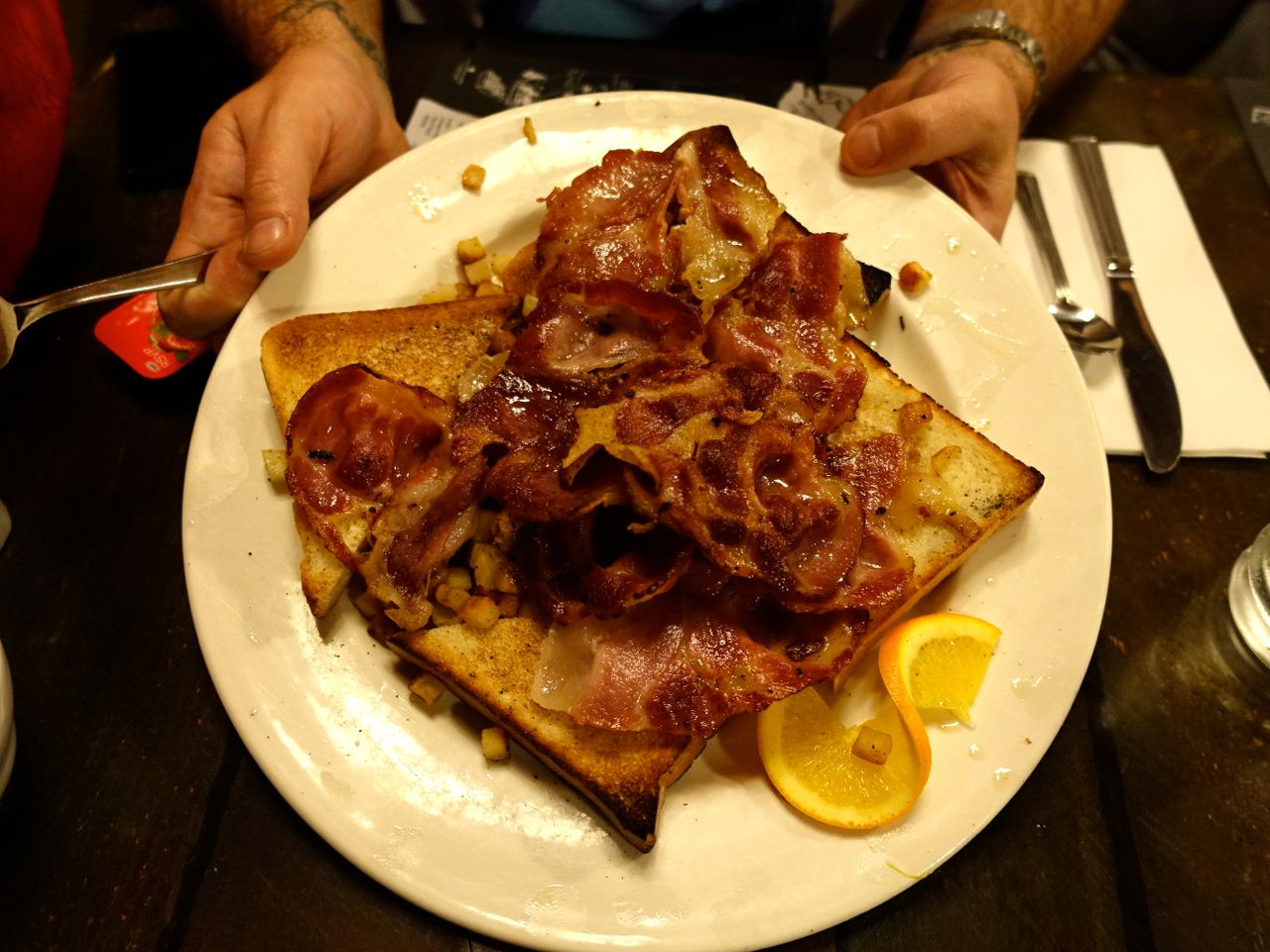 DJ Science doesn't like eggs so he substituted more bacon on his breakfast plate.
SWEET TOOTH STUFF
Bella is award winning gelato. It's amazing and has garnered awards from gelato competitions around the world. The owner James Coleridge went to gelato university in Italy. Yes… there's a gelato school in Italy. Their location on West Cordova (super close to the Convention Center) has huge lines but they've opened up another location in Yaletown.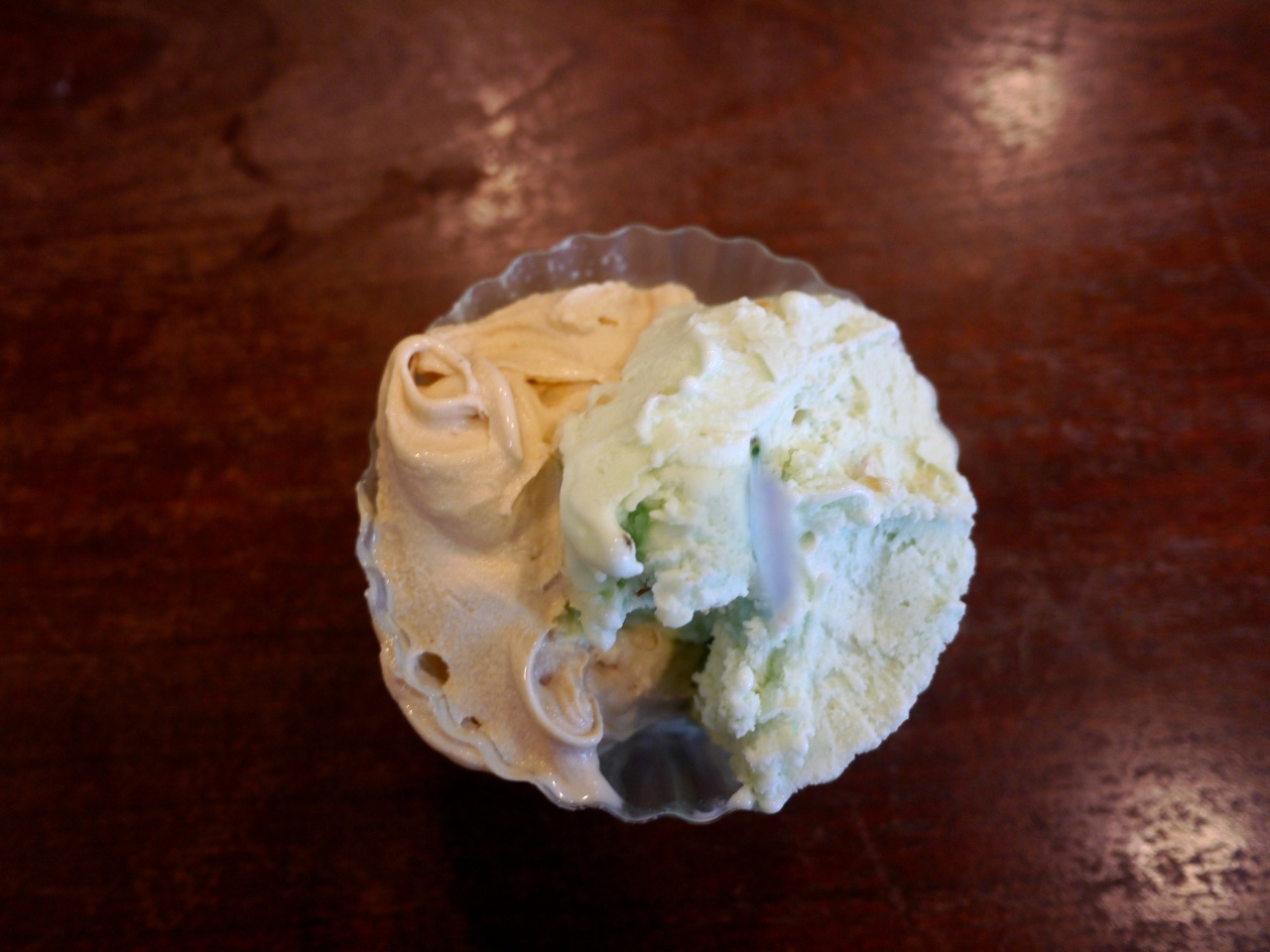 I have a sweet tooth and love Cartems Donuterie. They are located on Pender and even have vegan and gluten free donuts. Get the Canadian whiskey bacon (duh) and salted caramel.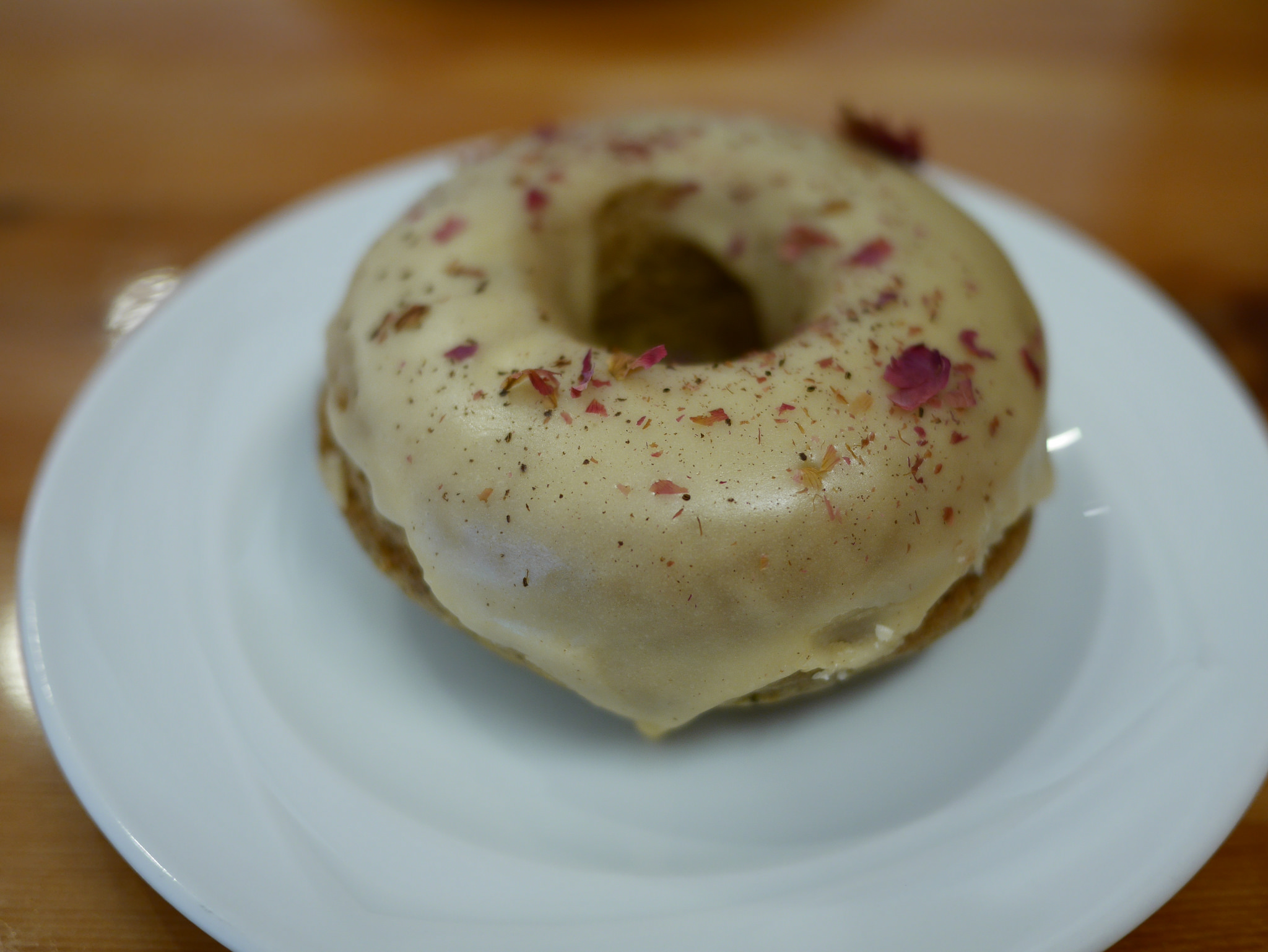 Photo credit: Kendra K on Flickr
VEGETARIAN AND VEGAN
I totally eat meat but I have a lot of friends with dietary restrictions. Plus, sometimes I like to eat healthy… sometimes only.
This cute little casual joint is on Victoria Drive. The sisters who run this spot helped their parents with their restaurant and then opened Chau. All the food here is vegetarian and vegan and it's pretty tasty so you won't miss the meat. The names of the dishes are hilarious too like Jungle Power Shower and Ploughing Through The Rice Fields.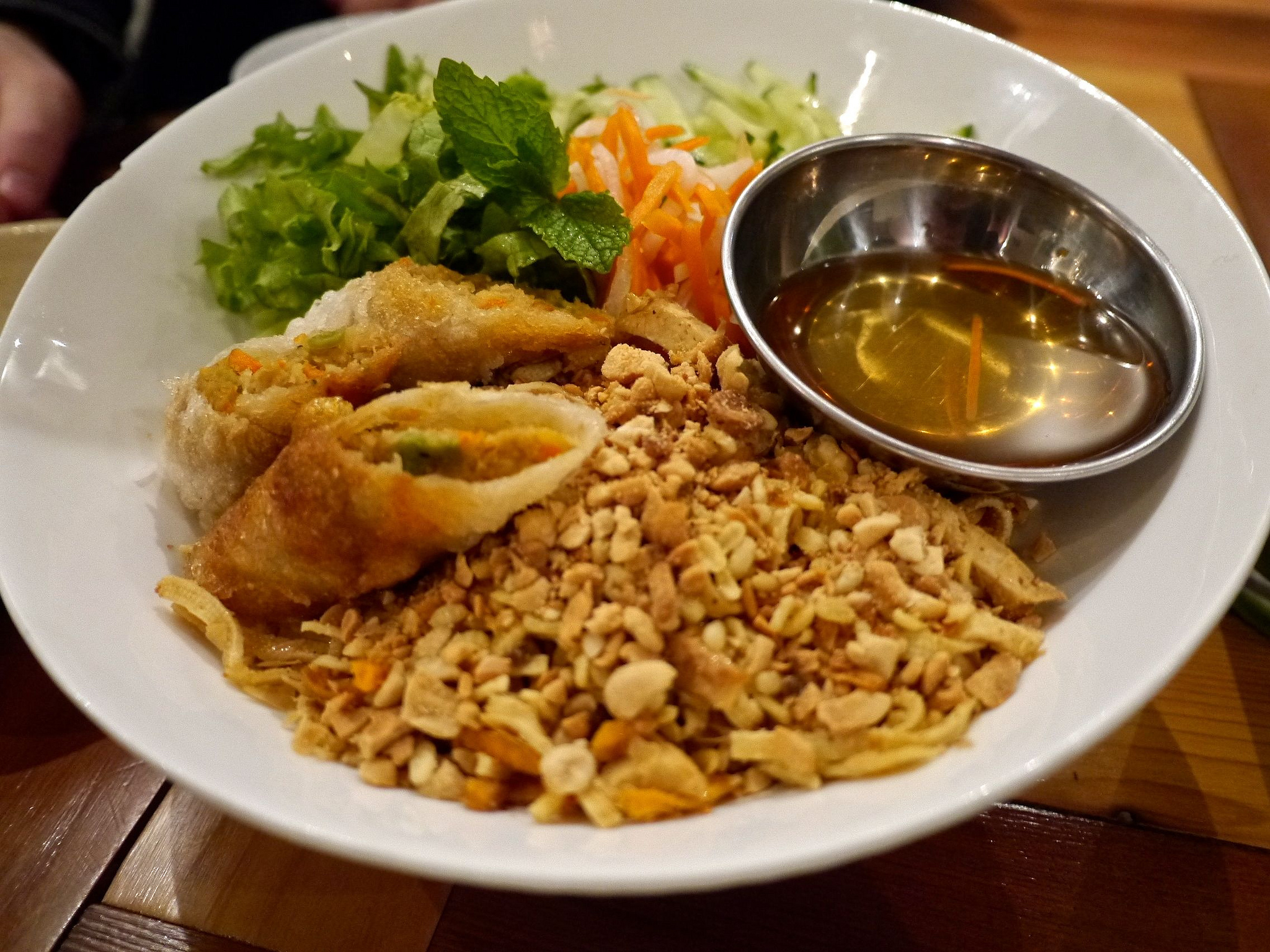 The chow at Chau
I love Lebanese food and I love the vibe at Nuba. They've got four locations dispersed throughout the city. It's healthy but don't think it's not tasty… it is. I love the Najib's special or roasted cauliflower and the falafels. They serve beef, lamb, and chicken but have a handful of vegan items so if you've got one in your crew, everyone eats happy here.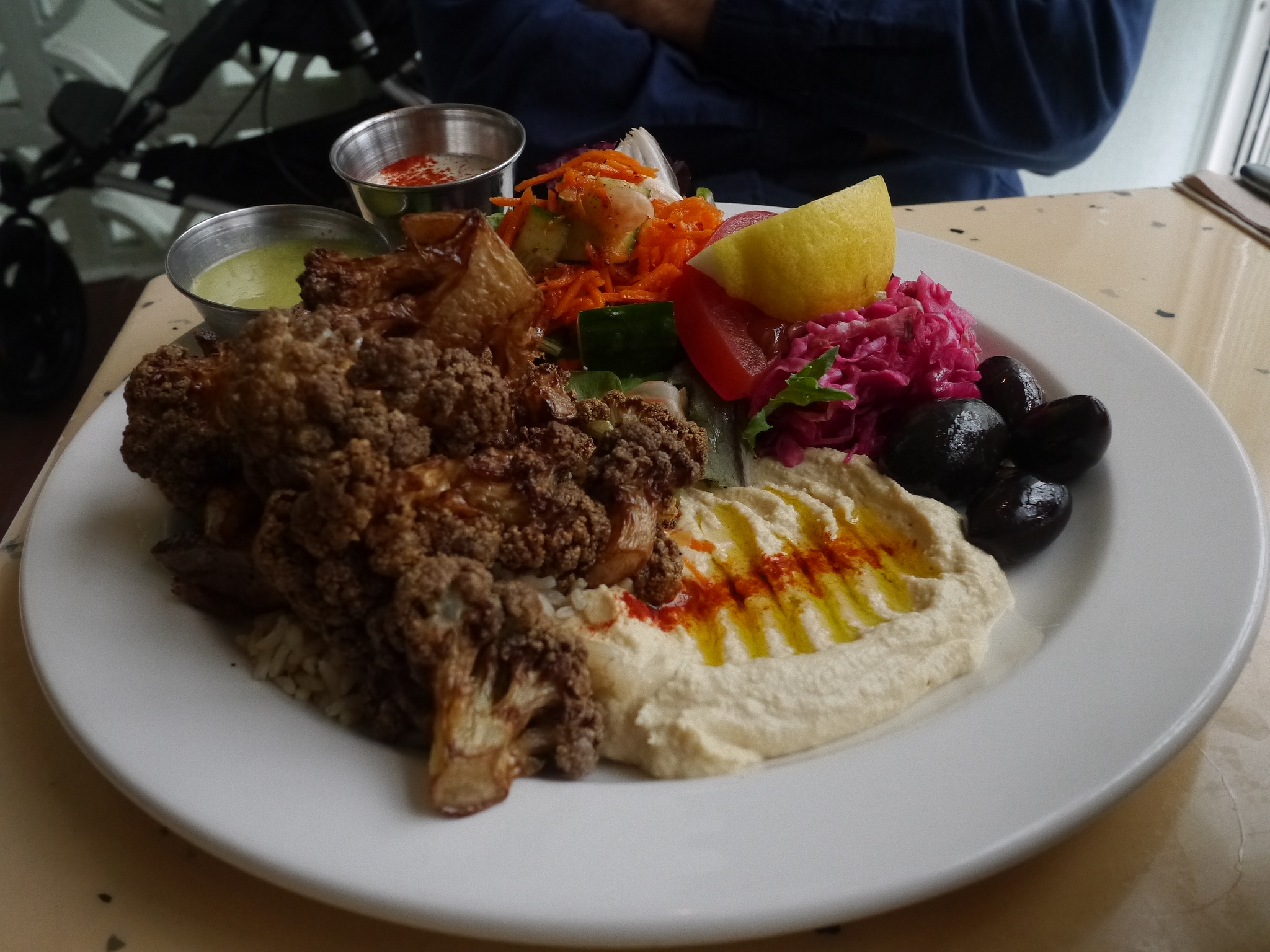 LATE NIGHT
You can't come to Canada and not eat poutine. While poutine is a French Canadian thing, I can't say no to French fries topped with melted cheese curds and gravy. I have to say that I only eat poutine between the hours of 2 and 4AM. Fritz on Davie and Granville is my favorite in town. If you don't like the idea of poutine, they serve Belgian style fries here in a paper cone with dipping sauces. Be wary of the Granville Street aftermath crowds if you're down here late at night.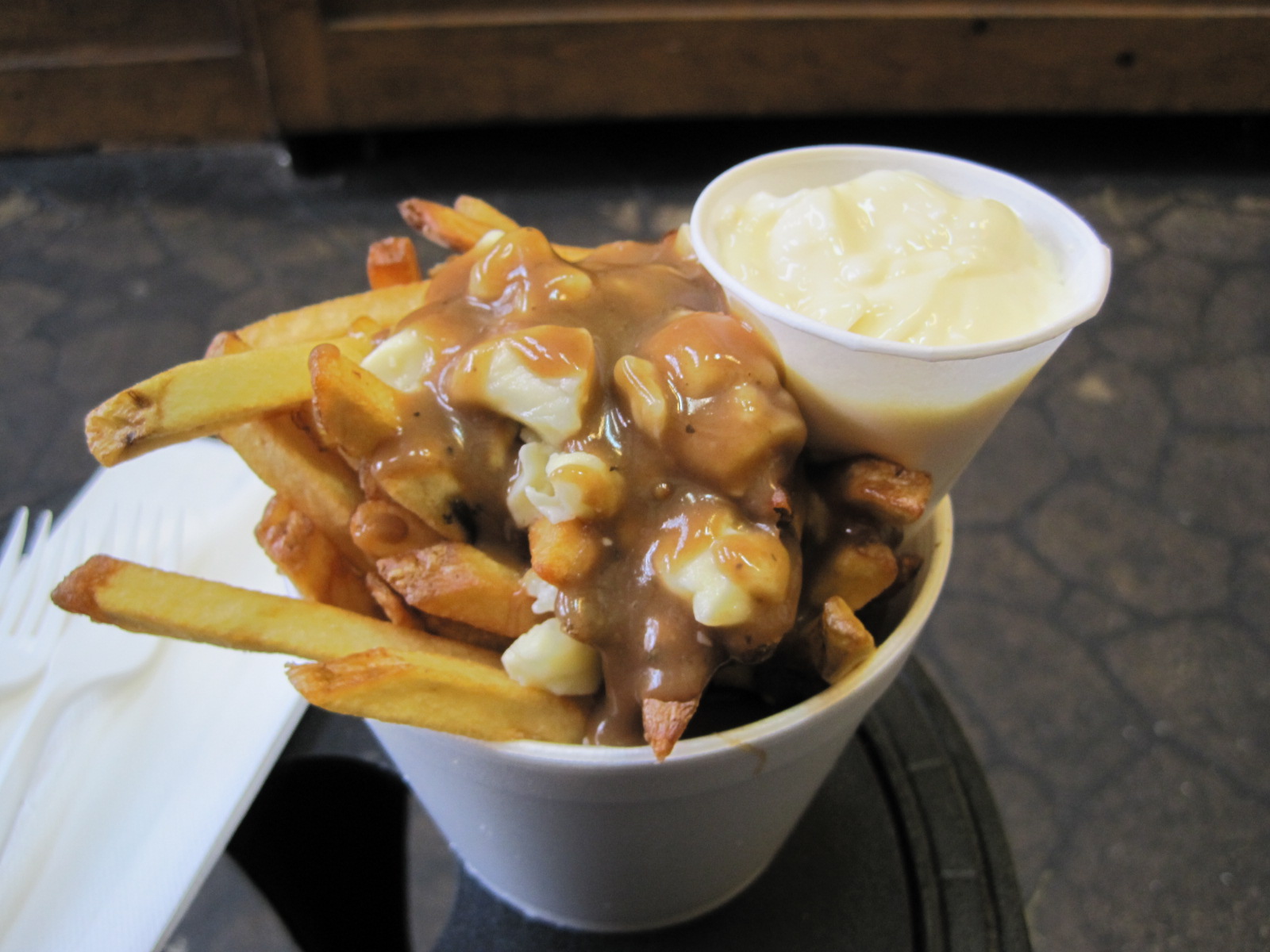 Photo credit: Jason Walsh on Flickr
*See also Bestie above for late night eats.
DRINKS
I spend a lot of time in Gastown and Chinatown, so I've been coming to the Alibi Room since it opened and was owned by Vancouver's own Jason Priestly. You know… the 90210 guy. It has since changed hands and the owners now focus on craft beer. They have over 50 local and imported craft beers on tap and a list of boutique and organic wines. I'll often come to Alibi when I'm rolling deep with a crew because it's a decent size and we can usually snag a table to drink at.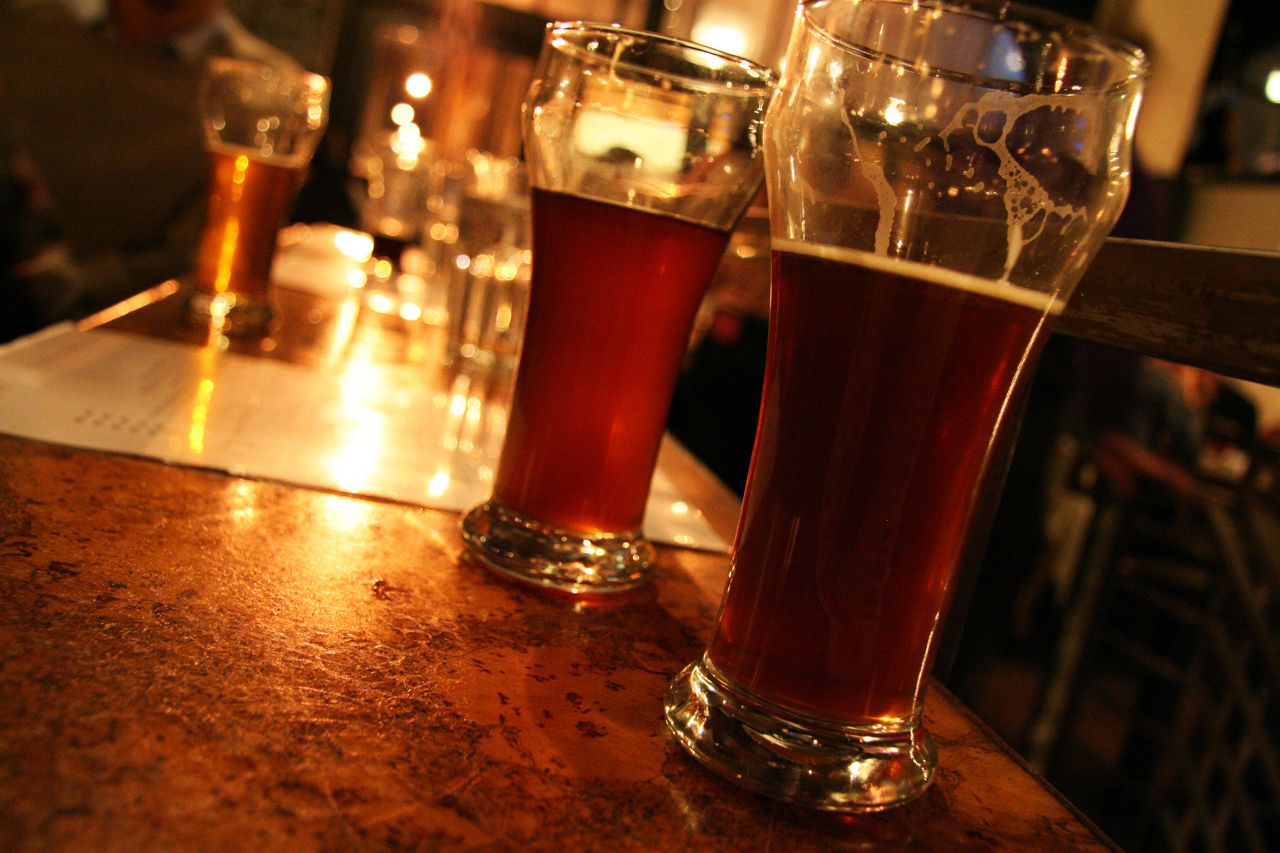 Photo Credit: Jan Zeschky on Flickr
Craft Breweries
I was not much of a beer drinker until I went to Belgium just a few years ago. From there, it all changed and I started appreciating craft beer. Maybe it's a Pacific Northwest thing, but Vancouver's craft beer scene is also exploding. Every time I come back I hear about a new brewery that has just opened.
My favorite craft breweries, Brassneck and 33 Acres, are in Mount Pleasant. You can order a tasting flight, pints, or fill up a growler at Brassneck. They don't serve food here but they have different food trucks rotating and you can bring in to eat along with your beer. I'm still a newbie craft beer drinking, so I lean to the light and like Brassnecks' Multiweizen. 33 Acres is a family-owned and operated craft brewery. It feels like a little clubhouse. When I first originally went they only had 2 beer on tap but I believe they've increased their offerings since.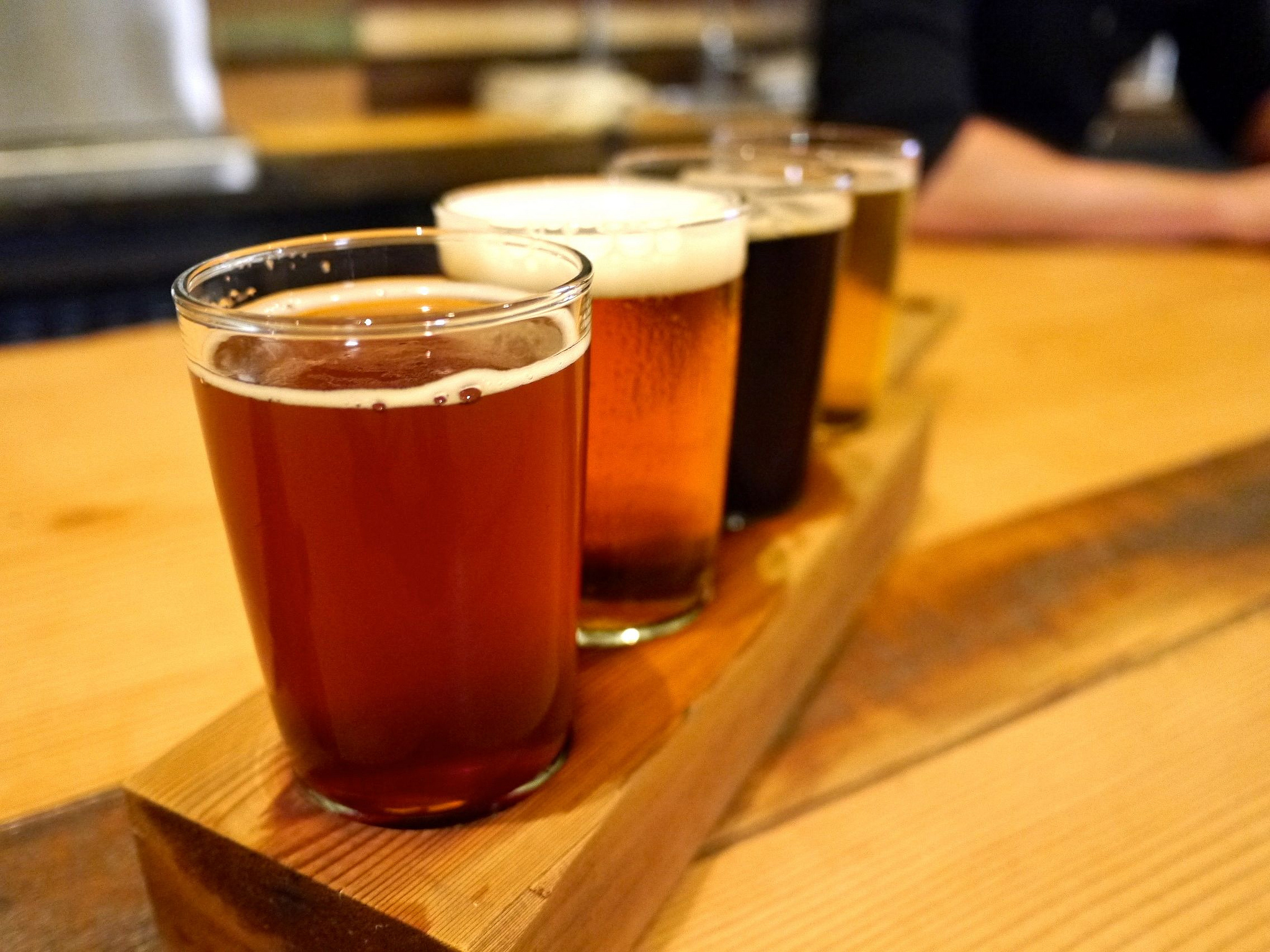 Brassneck Flight.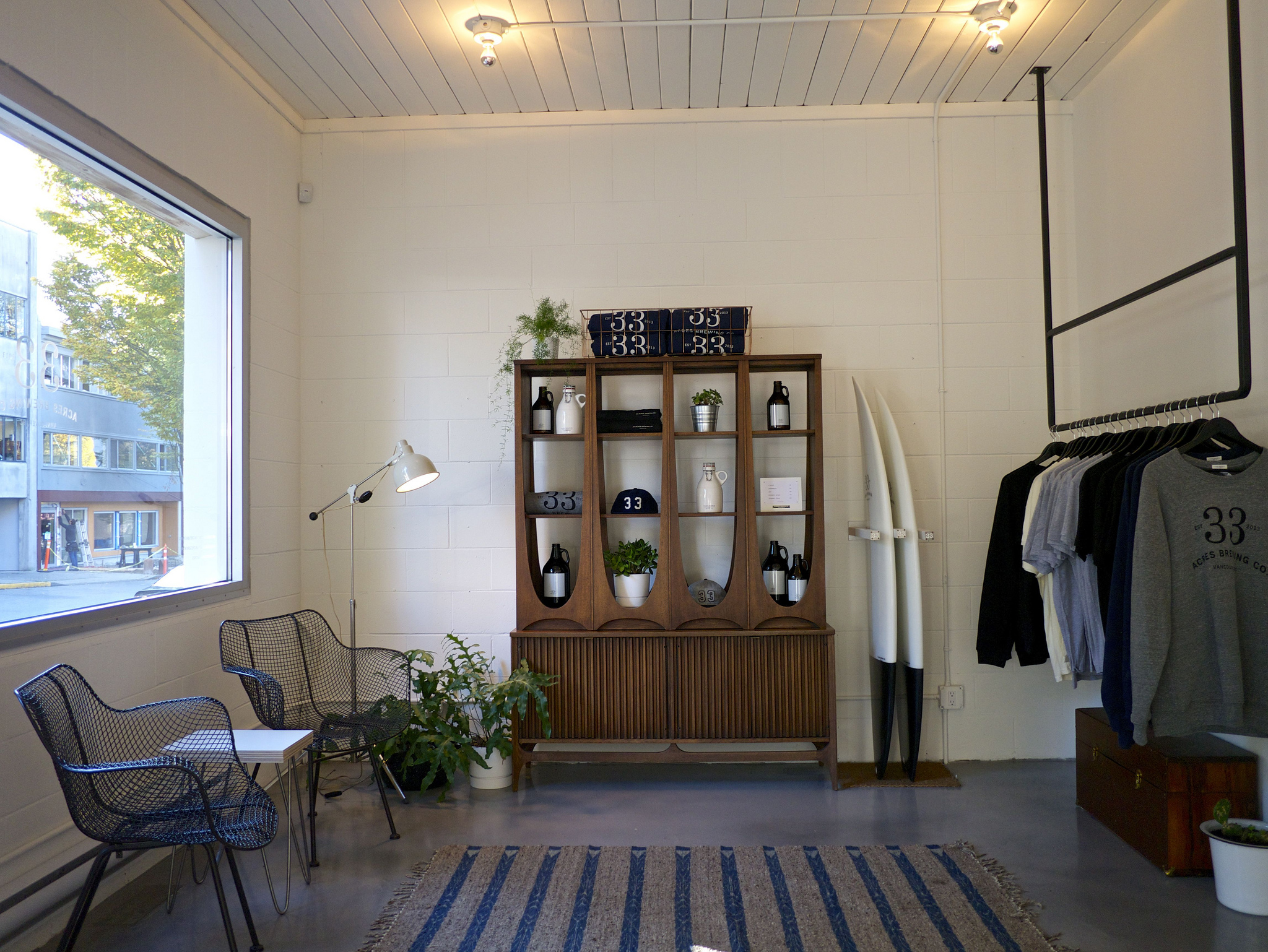 Inside 33 Acres Brewery.
And there we have it. My long list of favorite places to eat in Vancouver. Happy eating and drinking friends!