Ed. Note: We're publishing stories about the storied West Coast imprint, Death Row Records, in celebration of our second collaboration with the label, available now at The Hundreds stores, select retailers worldwide, and thehundreds.com. Happy 25th anniversary, Death Row Records.
The reason why early rap records sounded so cohesive in the '80s and early '90s is because rappers and producers typically grew up in the same neighborhoods. A Larry Smith could sonically understand and build up the sound palette that fellow Queens natives Run DMC wanted orchestrated in order for them to craft a classic like Raising Hell. It's hard to imagine what the Wu-Tang Clan would have sounded like without the dark sinister beats from Staten Island's RZA.
Ironically one of the most heralded debuts in rap annals made in '94 by a 19-year-old underground phenom from Queensbridge completely ruined this time-honored tradition in hip-hop. The release of Illmatic saw in the production credits every sought-after hip-hop producer of the time (Large Professor, Pete Rock, DJ Premier, Q-Tip, and LES) forever severing the bond between reciter of rhyme and creator of sound. After this release, every rapper seemed to release records with representations of multiple sounds, oftentimes clashing with one another when it came down to sequencing (later Nas records being the perfect example).
Meanwhile, on the other side of the country, the West Coast was in the midst of a golden renaissance with less emphasis on sampling and more focus on live instrumentation with wavy bass lines. Nothing more than Ice Cube's (produced by South Central's Sir Jinx) Death Certificate eloquently captured the bubbling black anger in the streets that would soon be funneled into the LA Riots. The Pharcyde's Bizarre Ride II the Pharcyde produced by J Swift was the alternative culmination of an underground scene that had been developing for years outside of the gangster rap bubble that LA was becoming known for.
At the helm of this gangster rap ethos in LA was label Death Row Records, ran by Suge Knight, manned by a roster of local artists who grew up and were influenced by the crack and gang-heavy era—best showcased in movies like Colors and Boyz n the Hood—who endeavored to capture this moment in time via music. While, for most in hip-hop, we attribute this shift sonically into what's generally known as the G-Funk period to the larger-than-life producer Dr. Dre, many in LA look towards the in-house producers at Death Row, who together helped shape the sound of what artists on that label came with. Today, with the label's 25th anniversary, we want to honor and commemorate some of the oftentimes forgotten architects of sound who together built a musical legacy at Death Row that will always keep the heads ringin'.
Johnny "J"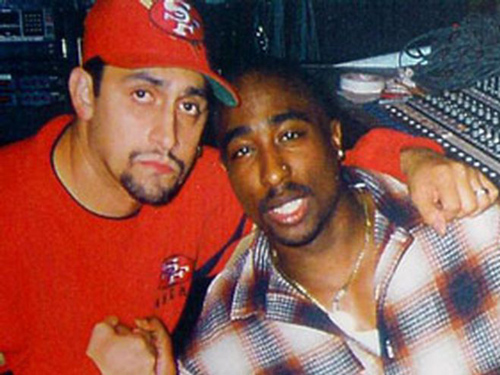 Johnny J and Tupac, RIP.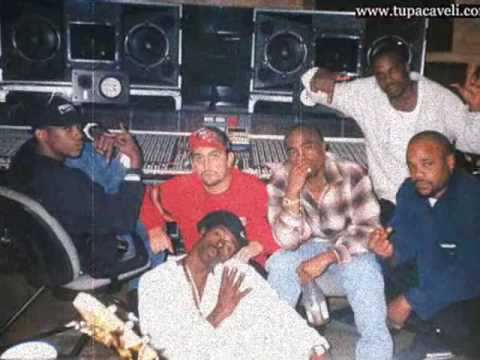 The bond between South Central's Johnny "J" and the rap star 2pac first began during the filming of Above the Rim whose soundtrack was a Death Row love affair. Already known locally as a super producer for his work with Candyman in the late '80s, the two instantly became best friends, recording 9 tracks in the span of 3 days. One of these became "Pour Out a Little Liquor" a standout from the Above the Rim soundtrack. When Pac was bailed out of jail by Suge Knight in '95 and flown out to LA to fulfill his contractual obligations to Death Row, one of the first people he called up to the studio was Johnny.
With 11 records ("How Do U Want It" instantly comes to mind) later on the blockbuster release that became All Eyez on Me, the Mexican American from Washington High more than anyone else served as the designer of the new sound that 2pac would be forever known for. Armed with a SP1200 and a Kurzweil keyboard, it was his dedication to live instrumentation that helped build his name up and his relationship with local session players who through him quickly got work playing with the biggest names on the West Coast.
Daz Dillinger
Nate Dogg, Daz Dillinger, and Kurupt (photo by Chi Modu via Tumblr)
Infamously known as the ghost producer of the West, Daz came into prominence as a producer and rapper with his cousin Snoop Dogg due to his appearance on the seminal solo debut by Dr. Dre, The Chronic. The prolific producer from Long Beach has been behind the scenes from day one with his eerie keys coming into play for many of the releases at the time. It was his work in front of and behind the boards at Death Row that certified his place in West Coast history, arguably claiming to be the sole producer on many of the Dre productions of the time that he was given co-producer credits for ("Ain't No Fun" being the most controversial).
When his time to shine came he delivered to critical acclaim with his group Tha Dogg Pound whose debut Dogg Food actually led to Time Warner dropping its distribution deal with Interscope. Dogg Food is known as the last true addition to the G-Funk canon with its thumping production firmly reaching what many hold to be the pinnacle of the genre. It was his house in Silverlake that played refuge for a homecoming 2pac who he's alleged to have made over 700 records with alone. When Dre left Death Row in '95, it was Daz that Suge entrusted with directing the new sound of the label as ably as possible, achieving this with Tha Doggfather record done by Snoop, as well as the later Gridlock'd soundtrack for Pac's last movie with Tim Roth.
DJ Quik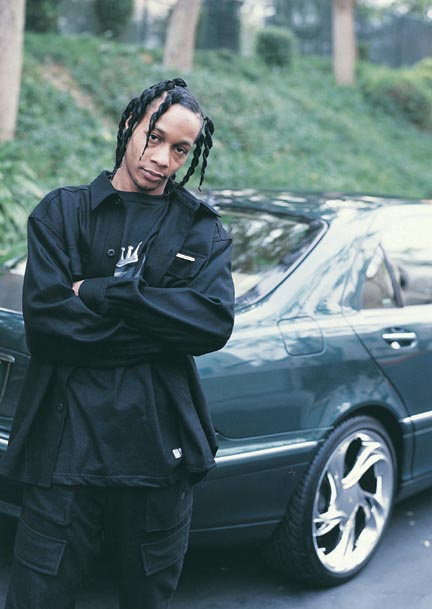 David Blake, known to the world by his moniker DJ Quik, has been one of the most routinely slept on contributors to the West Coast sound since the late '80s. There have been few artists to have been consistently dropping heat over the years at the level of Quik. His self-produced work from The Red Tape in '87 to this year's Rosecrans EP has been a musical journey of a young man in LA constantly developing and improving his craft. It was an early business relationship with a young bodyguard named Marion Knight's fledgling management Funky Enough that paved the way for some great musical moments in history.
When Marion (Suge Knight) stopped moonlighting as a bodyguard and focused on building up his acumen as a music executive, he enlisted some old friends to help him. Quik proved his worth serving as an early engineer for many Death Row releases (Dogg Food and Tha Doggfather) as well as getting many uncredited placements for his own production ("Heartz of Men" on All Eyez). An early advocate for the P-Funk sampling that made LA famous, his later production style for many best encapsulated the G-Funk sound of the times placing emphasis on deep bass lines and the analog sine wave synth popularized by later NWA production. His production team, consisting of Battlecat and Robert "Fonksta" Bacon brought the musicality that hip-hop was known for back in the '80s back into the forefront.
***