Earlier this year my grandmother, Hettie Viola Armentrout, passed away. Cancer took her early one morning as she slept. I was asleep on the other side of the country, hoping to board a plane that morning to see her for the last time. I did board that plane and I did see her one last time, but it was not in the way I'd hoped. My grandma helped raise me when my parents split up. My personal favorite quote from her was, "Can't never did do nothin'." She'd use that when my cousins and I would tell her we couldn't do something. She was halfway calling us on our bullshit and halfway telling us we could do whatever we wanted as long as we tried hard enough. In the months since her passing, there isn't a day that goes by where I don't think of her. And now, thanks to Touché Amoré's new record Stage Four, I'm thinking about her more than usual and processing feelings left unchecked.
Stage Four's album art
We'll find connections through extensions to not feel so alone
– "Posing Holy"
Sorry for the mournful intro, but you'll get more sentiments like that throughout this article. As much as Stage Four is a tribute and memorial of Jeremy Bolm's mother, my review will be a tribute and memorial for my grandmother. That may seem selfish, but Stage Four is one of those albums that serendipitously releases just when you need it. It's one of those albums that becomes a sonic placeholder in your life that you can always come back to. Inside its lyrics and music are bookmarks and notes jotted only where your mind and heart can see and feel them—one of those albums that helps you move forward from dark times, or provides audio snapshots of better ones. Because this album released months after my grandmother's passing, I now share a connection with Jeremy Bolm (and countless others). A connection of grief, confusion, anger, and despair. Every passionate music fan has an album, or albums, that are important to them. Stage Four is one of those albums for me.
For those unfamiliar, Touché Amoré is a melodic hardcore band from Los Angeles. They're known and celebrated for their open, honest, and heartfelt lyrics as much as they are for their brief songs and sharp musicianship. Their albums have ranged from 19 minutes to 35 minutes long; they don't waste words or time. They live by the "All Killer, No Filler" ethos of songwriting, and for four albums now, it's worked out great for them. Stage Four is the latest in a catalogue of albums that will be praised by fans, other bands, and critics alike. It feels like the culmination of years as being one of post-hardcore's most talented groups mixed with heartbreak and loss in their purest forms. Add a touch of experimentation and Stage Four takes Touché Amoré to a new level. In her review for Pitchfork, Zoe Camp says, "Stage Four is a glowing testament to the post-hardcore band's melodicism, honesty, and unconditional empathy." Heavy praise for a heavy album that is deserving of such. Consider me one of those fans (and critics, I guess) because I love this album. It's more intimate than previous efforts and in being so it feels like their most important.
I took inventory of what I took for granted and I ended up with more than I imagined
– "Flowers and You"
Stage Four starts off misleadingly. The song "Flowers and You" begins with bright guitars and and a hopeful bass line before crashing in on you with the lyrics "I'm heartsick and well rehearsed." Bolm's train of thought (or train of feeling?) lyrics cover his feelings of being at a loss when confronted by his mother's symptoms: "I apologize for the grief when you'd refuse to eat." Knowing how to react and knowing what to say is tough when you're fighting to keep your emotions in check. Often times words are used more to fill the awkward, empty space between you and the ailing person you love than they are to actually say what you mean. As far as taking things for granted, that theme pops up on the album more than once. On "Rapture" we hear the words, "I saw the glass as half full, so I felt I could ask for more." This feeling of guilt struck a particular chord with me as I tend to look back questioning myself—Could I have done more? Could I have been there sooner? Did she know I loved her? As cliché as it is, you don't know what you've got until it's gone.
The album doesn't progress in a linear fashion—it's not a beginning to end retelling of Bolm's experiences. Instead, it's an album full of various emotional snapshots. In an interview with Exclaim!, Jeremy spoke on his inspiration, noting that, "There were so many different aspects with going through something like this. So many emotions, so many different things you think about." He's not lying. When I learned of my grandmother's passing I didn't immediately break down the way I thought I would. I wasn't distraught the way I felt I would be. Those things came later. The guilt was there. The anger and disbelief was there. On "Displacement"—which is probably my favorite song—Bolm speaks on his anger at a god he doesn't believe in: "I couldn't worship the god that let her fall apart." You learn throughout the album that his mother had spiritual views that conflicted with his own, and I remember feeling the same way when seeing my grandmother before she passed. She spoke of how God had a plan for her, and all I could think about was that she wouldn't be in my life whether God had a plan or not. A line from the song "Eight Seconds," full of self deprecation and guilt, sums up the feeling: "She passed away about an hour ago while you were onstage living the dream." In this line, Jeremy's referring to being out on tour when he got the call about his mother's death. I'm not in a band, but the distance between me and my family coupled with the feeling of uselessness made me feel shameful.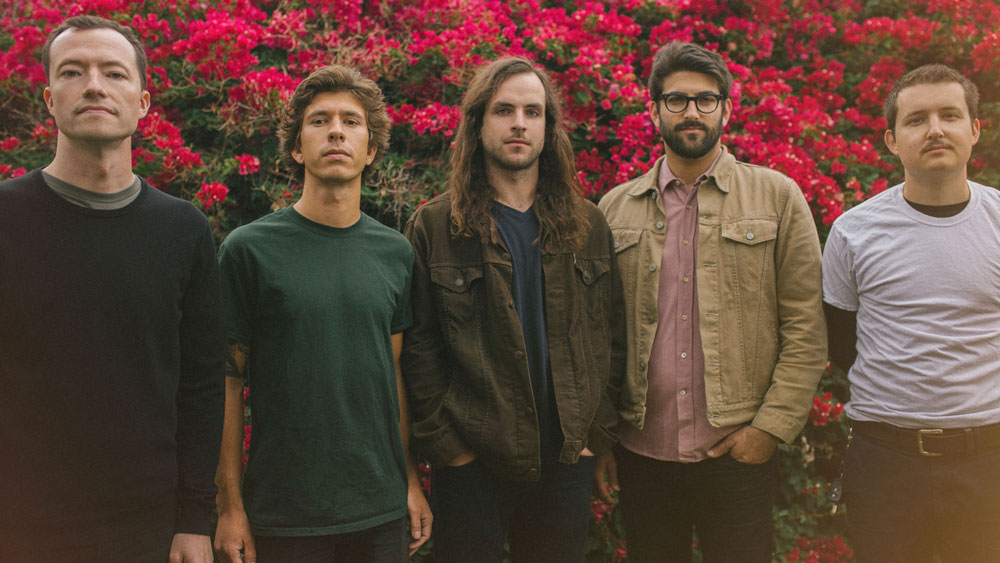 Touché Amoré
Photo: NPR
As the album moves forward and the topics shift, the music follows suit. On previous albums, maybe due to their brevity or maybe due to their more aggressive nature, the music seems to blast off and rarely slow down. Throughout Stage Four, the music sways and surges. It can still be as loud and as explosive as previous albums, but it's definitely more subtle, more reflective. The more contemplative moments highlight and strengthen the crescendos when the band goes full force. One of TA's musical strengths has always been the way the instruments play around, in and out, on top and under, in front of and behind Bolm's words. They try new things on this release, but don't stray too far from their trademark sound. They get a little more melodic than usual. Their most "experimental" moment comes in the form of Bolm trading in his gravelly yell for some clean vocals on the song "Benediction." Four albums in and Touché Amoré doesn't rely on strong musicality over the weight of the words or vice versa. The lyrics and content may be at the forefront, but they still live with and feed off of the music.
The oscillating toll it's taking on everyone involved.
– "Posing Holy"
On "Posing Holy," Bolm speaks on the hardship everyone experiences while trying to handle a medical situation of such stature. Obviously, family is immediately and immensely impacted, but it's hard to realize how strenuous the situation is until you see it first hand. Everyone you care about is broken down and looking for a way to build themselves back up. "I am still bereaved, come every ocean breeze", Bolm screams on "Palm Dreams." Most of the album lives and breathes in the places between emotionally broken and rebuilt. My family and I partially found that in simple places. Digging through photos, sharing stories, eating pizza from a family favorite restaurant—it all helped close fresh wounds. The mundane was now anything but. On "Water Damage," Bolm finds memories in the simple things around his old home in the same way: "Those patriotic coffee cups that came in a set of four." Again, the little things don't feel so little when they become your last physical connection to someone who mattered to you.
A sad story that is universal…
– "Eight Seconds"
Unfortunately, losing someone to cancer is a story and feeling far too many people know all too well. Luckily, there's people who know the pain and can help put your world back together – whether they know you or they don't. Family and friends reach out as you're looking in and reinforce the idea that cancer can take our loved ones, but it can't take our memories, our stories, our songs. Musicians can help us heal as much as those closest to us. Writing this album (hopefully) was cathartic for Bolm, but in working through his own grief he's helping others through theirs. On "Posing Holy" he describes the exact phenomenon, "We'll find connections through extensions to not feel so alone". Stage Four isn't a record about conquering the feelings that rage through you after the death of a loved one—it's a record about those feelings. I'd like to thank Jeremy and the rest of Touche Amore for making it; I hope I get to in person one day.
***